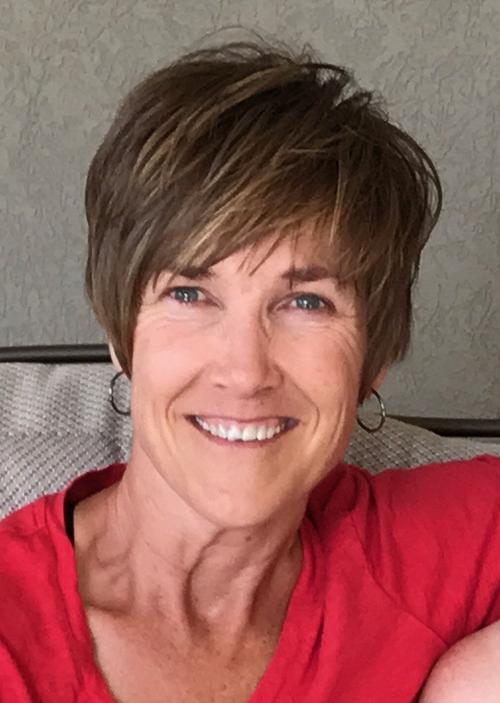 RAPID CITY | Karla Rae Grosz, 58, passed away Sunday, Jan. 20, 2021, at the Hospice House in Rapid City. She passed peacefully with her family at her side after a 15-month hard fought battle with cancer.
Karla was born in Mitchell on Nov. 4, 1962 to Robert and Avis (Turgeon) Leiferman. As the middle child of three, she grew up in Chamberlain. She graduated from Chamberlain High School in 1981 and from Northern State University in 1985, with a degree in Finance. She was active in sports, played the trumpet, and was in the marching band.
Karla started her career in Omaha, NE, working for K-Mart. Afterwards, she held many positions including Norwest Bank in Chamberlain and Rapid City, as well as, Kluthe and Lane Insurance, Western Dakota Insurers, Monument Health, and Psychological Associates of the Black Hills. But no job gave her more fulfillment and enjoyment than working with the staff and students at Wilson Elementary School.
On March 22, 1997, Karla was united in marriage to Evan Grosz at St. Therese Catholic Church in Rapid City. With that union Karla gained an instant family with her two new stepsons and loved every minute of it. In 1999 and 2003 two more sons were born into the family.
Karla was a loving, caring, and passionate wife and mother. Her family meant the world to her. She was a pillar of strength and character. She had a deep faith in God and sowed seeds of that faith in everyone she met. Her dynamic attitude and personality could liven up any conversation.
Karla was competitive and enthusiastic with any sport she played and carried those same traits into her role as a sports mom. It did not matter what sport her sons were playing, whether soccer, basketball, baseball, football, wrestling, golf, swimming, track, or cross country she was all in, loud and proud. Her whistle was unmistakable.
She absolutely adored being a grandmother and could not have been prouder of each and every one of her grandkids. Her face just lit up when she was with them and she cherished every moment with them.
Much like her father, Karla was a self-proclaimed sidewalk engineer and inspected every house being built in the neighborhood over the past 20 years. She loved spending summer nights in the driveway shooting the breeze with our neighborhood friends.
Karla was an avid golfer and loved to spend as much time as possible on the course with her family and league golf buddies. When Tuesdays came around, she always had a little extra pep in her step as that was Ladies League night at the Elks Lodge.
She will be cherished forever as a wife, mother, daughter, sister, aunt, grandmother, and friend.
Karla is survived by Evan, her husband of 23 years; sons, Logan (Kaylee) Grosz and Hayden Grosz; stepsons, Brett (Heather) Grosz, and Drew (Linnea) Grosz of Belle Fourche; her mother, Avis Leiferman of Chamberlain; brothers, Monte (Cathy) Leiferman of Chamberlain, and Mark Leiferman of Pierre; grandchildren: Teegan, Madelyn, Theodore, Olivia, Terrance, Riley, and Isabella; several nieces and nephews; as well as extended family members.
She was preceded in death by her father, Robert Leiferman.
Memorial visitation will be held from 9-11 a.m. on Wednesday, Jan. 27, at St. Therese the Little Flower Catholic Church (in the basement).
Mass of Christian Burial will be at 11 a.m. on Wednesday, Jan. 27, at the church with Father Kerry Prendiville as Celebrant. Anyone wishing to attend Karla's service will be asked to wear a mask. Karla's service will be livestreamed at www.kirkfuneralhome.com. Inurnment will follow at Mountain View Cemetery.