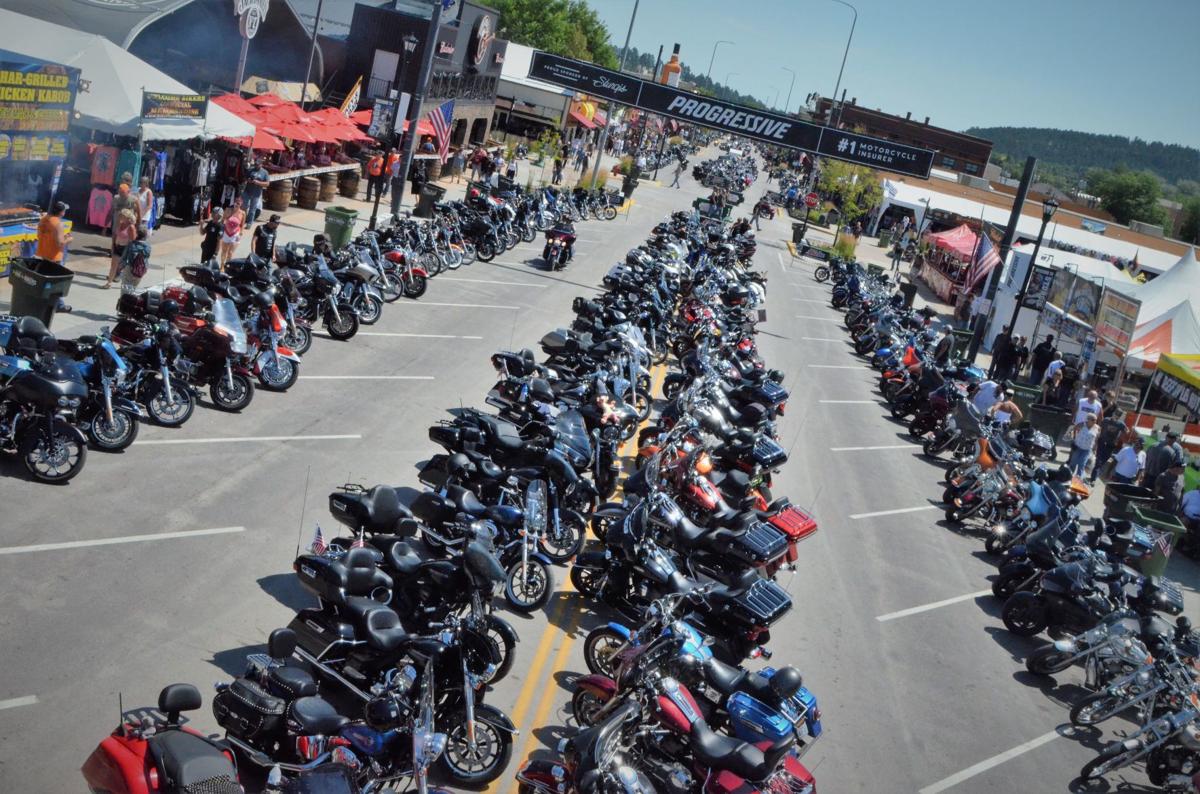 STURGIS | A strong opening weekend for the 2019 Sturgis motorcycle rally helped overcome flat attendance over the final days, with final official attendance numbers down slightly from 2018.
Sturgis City Manager Daniel Ainslie said Thursday that 490,000 people attended the 79th annual rally during its 10-day run from August 2-11.
That compares to the official attendance of 495,000 during the 2018 rally. The milestone 75th rally in 2015 drew a record 739,000.
Ainslie, addressing the annual Sturgis Post-Rally Summit at the Sturgis Community Center, said the six parameters used to measure attendance included a mix of up-and-down numbers.
"It's really easy to know the actual number of people when it's a ticketed event, when you're actually able to have a gate and sell a ticket to each individual person that comes in," Ainslie said. "Sturgis is not that sort of event."
Ainslie said the city uses six parameters, or metrics, to estimate rally attendance:
Mount Rushmore attendance during the 13-day period covering the rally.
Tonnage of garbage hauled daily during the rally, compared to daily averages gathered in the weeks prior to the rally. Ainslie said garbage tonnage was up this year.
South Dakota Department of Transportation traffic counters set up on major routes into Sturgis, which showed an overall decline in the number of vehicles, 499,654 vehicles, compared to 505,969 vehicles in 2018.
Numbers of people counted in daily photos taken in downtown Sturgis.
Counts of vehicles parked away from downtown areas.
Temporary vendor sales tax revenues, supplied by the state revenue department.
Ainslie said the city takes the percentage change from each of the six parameters and compares them to numbers from a baseline year, 2010, as well as the previous year's numbers to come up with this year's estimated attendance of 490,000.
"It's a very minor decrease from last year," Ainslie said. "Almost every metric showed a decline of about .5 percent, maybe up to 1 percent. There were a couple metrics that were slightly higher."
Ainslie said the numbers gathered were only for the official 10-day run of the rally. Not included, he said, were tens of thousands of visitors that came in the 10 days to two weeks preceding the event.
Ainslie said $615,116 was raised for various national and local charities during the 2018 rally, with $500,000 specifically earmarked for local charities.
"To put that into perspective, that's the equivalent if there was actually $4 raised from every resident of the Black Hills," he said. "That's a lot of money to have been raised for a town of 7,000 people."
Rally Director Jerry Cole said the rally's economic impact to the state, including direct spending by visitors as well as spending by businesses to prepare and operate during the event, totaled nearly $720.6 million.
Topics of discussion during the summit included demographics of attendees, digital marketing efforts, statistics, identification of new visitor trends, and expectations for the 80th rally, set for Aug. 7-16, 2020.
Get local news delivered to your inbox!
Subscribe to our Daily Headlines newsletter.