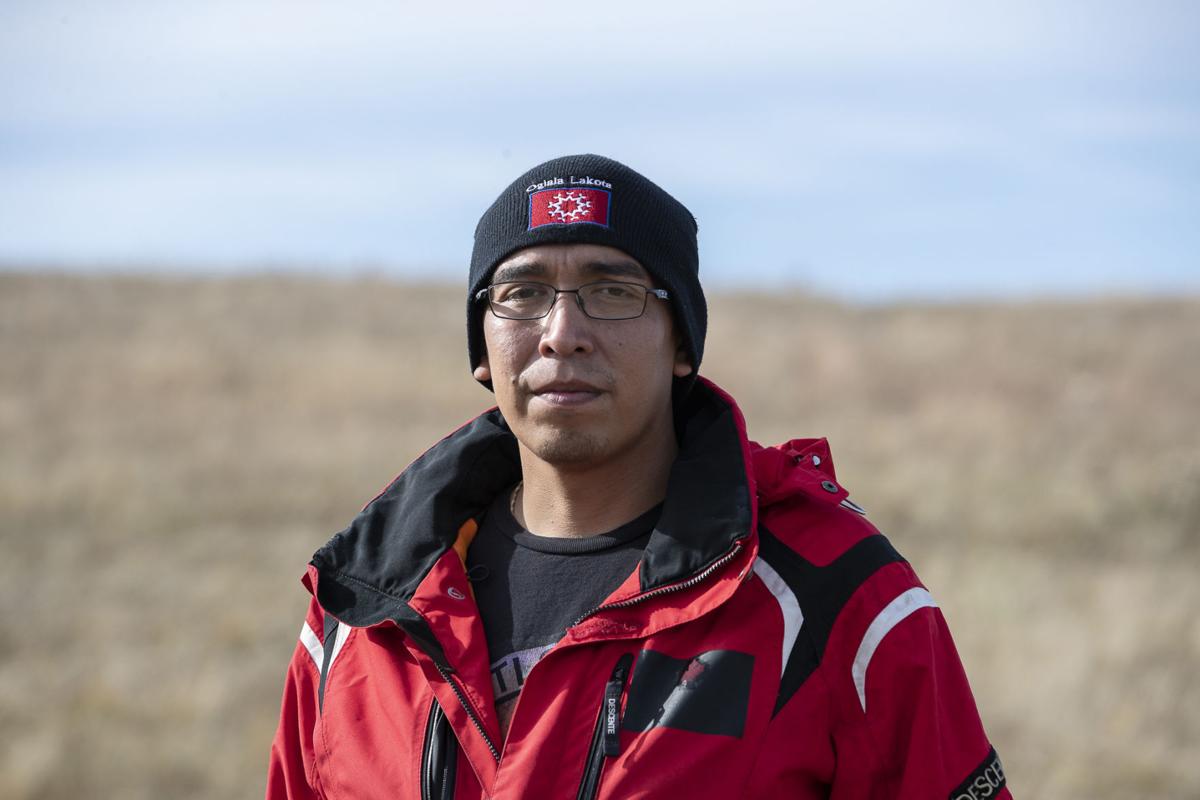 Despite an emotional plea from a young Lakota man, leaders of the Oglala Sioux Tribe decided not to impeach President Julian Bear Runner during a more than five-hour hearing on Monday.
While a majority of the council members present wanted to remove Bear Runner from office, the tally fell a couple of votes short of the two-thirds majority of the entire 21-member council — at least 13 votes — required for impeachment. Eleven members voted to impeach, five voted against it and five did not vote. 
"You guys failed to protect the youth," 18-year-old Richard Weston told the council as the outcome became clear. "You guys failed to protect me."
Bear Runner criticized the council for allowing Weston's mother to file a complaint on his behalf based on her son's "false" Facebook accusation. "This means that from this point forward anybody can falsely submit a complaint from Facebook accusations on any elected official and the same action will be taken," he said.
Weston, who is Oglala Lakota, testified that he was coerced into having oral sex with Bear Runner when he was 17. He said he was later coerced into having sexual intercourse with the tribal president when he was 18. 
The impeachment hearing was held after Weston's mother, Dana Richards Weston, filed an August 19 complaint against Bear Runner and the council voted to accept the complaint on August 24. Bear Runner was placed on unpaid leave until Monday's hearing. 
Elected officials can be impeached if two thirds of the council finds they committed crimes, gross incompetency, corruption or malfeasance.
Weston told the council on Monday that he was 17 on February 10 when Bear Runner picked him up at his home near Porcupine to take him to Pine Ridge to meet the tribe's spokeswoman. He said Bear Runner drove him to a water tower near Wounded Knee and parked his pickup.
Bear Runner then coerced him into allowing him to give the minor oral sex, Weston said.
"After that, I kept to myself because I was ashamed because of what happened," Weston said, fighting tears. "I kept that from my mother and everyone else. The only other person that knew was Julian."
He said Bear Runner kept contacting him afterward, sending messages using Snapchat, a social media app that allows users to send messages that are deleted shortly after they are opened by the recipient. Because of the app's self-deleting feature, Weston said he was unable to provide copies of the messages, including nude pictures that Bear Runner had Weston send him. 
Weston told the council that he had sex with Bear Runner again on June 17 after the president gave him a ride to Rapid City and paid for a hotel room for the two of them. He said he argued with family members earlier that night and Bear Runner had offered to let him stay at his home. Weston later asked Bear Runner to drive him to Rapid City so he could stay with his sister.
When they got to the hotel room, Weston said, Bear Runner took off most of his clothes, got into bed with Weston and began hugging him. The young man said Bear Runner convinced him to have sexual intercourse with him.
"He convinced me to say yes," Weston said. "He said no one would find out."
But afterward, Weston felt ashamed and left the hotel room. He said Bear Runner sent him a text message asking if he was coming back to the room. Weston then asked him to give him a ride to the mall where he could meet his sister.
Bear Runner then drove him to the mall, gave him money for food and left, Weston said.
"I felt violated," Weston said. "I felt disgusted with myself."
Dana Richards Weston testified that her son has a learning disability and was groomed by Bear Runner over several months.
"I thought he was trying to help, but it turned into something else," she said.
She said she didn't know about her son's sexual contact with Bear Runner until he posted the allegations on his Facebook page.
"I couldn't hide it anymore mom. It's bothering me too much," she said he told her. 
She said her son is currently living in Virginia where he's taking online counseling classes and attending his first year of college. 
"It's going to be hard for him to speak but this needs to be heard," Dana Richards Weston said. "There's other kids out there that need to speak up. This could be anybody else's kid in the future."
Bear Runner defended himself against the allegations made by Weston, denying he had sex with Weston during the two incidents he told the council about. The president also says he deserves due process as any regular citizen would receive in such a situation.
Bear Runner admitted that he picked up Weston on February 10 to give him a ride to Pine Ridge to meet the tribe's spokeswoman, Karin Eagle, who planned to take Weston with her to Pierre for a rally and a legislative hearing on a bill that would have penalized doctors for providing puberty blockers and gender confirmation surgery to transgender children under age 16. The legislature failed to pass the bill.
The president said he had picked up Weston around 5:30 a.m. that morning and got him to Pine Ridge shortly after 6 a.m., meaning he wouldn't have had time to engage in sexual activity with Weston.
Weston said he and Bear Runner didn't make it to Pine Ridge until almost 8 a.m., and offered a screenshot to the council showing he sent Eagle a text message shortly before 8 a.m saying they were almost to Pine Ridge. 
It's unclear if Weston's texts would have converted time stamps to his timezone in Virginia or if they captured South Dakota time.  
Bear Runner said if this were a criminal hearing he would have subpoenaed video surveillance footage from Big Bat's Convenience Store in Pine Ridge, where he and Weston met Eagle shortly after 6 a.m.
He said if he and Weston hadn't arrived at Big Bat's until almost 8 a.m., Eagle and Weston wouldn't have been able to make the three-hour drive to Pierre in time for the legislative hearing. Eagle made a Facebook post later that morning of her speaking before the legislature.
The hearing began at 10 a.m. Central Time in Pierre, or 9 a.m. Mountain Time in Pine Ridge. An archived recording shows Eagle delivered a statement on behalf of Bear Runner around 11 a.m. Central Time.
Bear Runner also admitted to picking up Weston on June 17 and driving him to Rapid City to a motel, but said they never had sex.
"I was tired and having a hard time staying awake as I had not slept in almost 24 hours," Bear Runner said. He told the council he had spent most of the prior day focusing on a wildfire on the reservation.
He said he awoke at about 10 a.m. the next morning to find Weston gone. Later, Weston knocked on the hotel room door and asked Bear Runner to drive him to the mall. Bear Runner took him to the mall and gave him $20 for food before driving back to Pine Ridge.
Bear Runner said the tribal court has scheduled a September 22 hearing to consider his request for a cease and desist order accusing Weston and his mother of defamation.
Eagle also testified before the council, saying she received a text message from Weston at 5:53 a.m. that said he and Bear Runner were near the water tower by Wounded Knee and would be to Pine Ridge soon. She said they arrived at Big Bat's at 6:05 a.m. that morning, confirming Bear Runner's account of the morning.
Cameron Cedric Young Bear, a tribal citizen, also spoke in Bear Runner's defense, calling the accusations against his nephew unfounded. He said Bear Runner gave Weston a ride because it was the right thing to do.
"A man's credibility, a man's heart, a man's livelihood, a man's way of life is in front of you," he said. "We're Lakota people. We don't do this."
Several council members questioned Weston and Bear Runner.
Lydia Bear Killer asked Weston why he didn't report the incidents to law enforcement.
Weston said it was difficult for him to talk about the incidents for a long time and that he was a minor during the first incident.
Cora White Horse said it shouldn't be up to the council to determine Bear Runner's guilt or innocence.
"There has been no convictions," she said. "No one has been charged in criminal court."