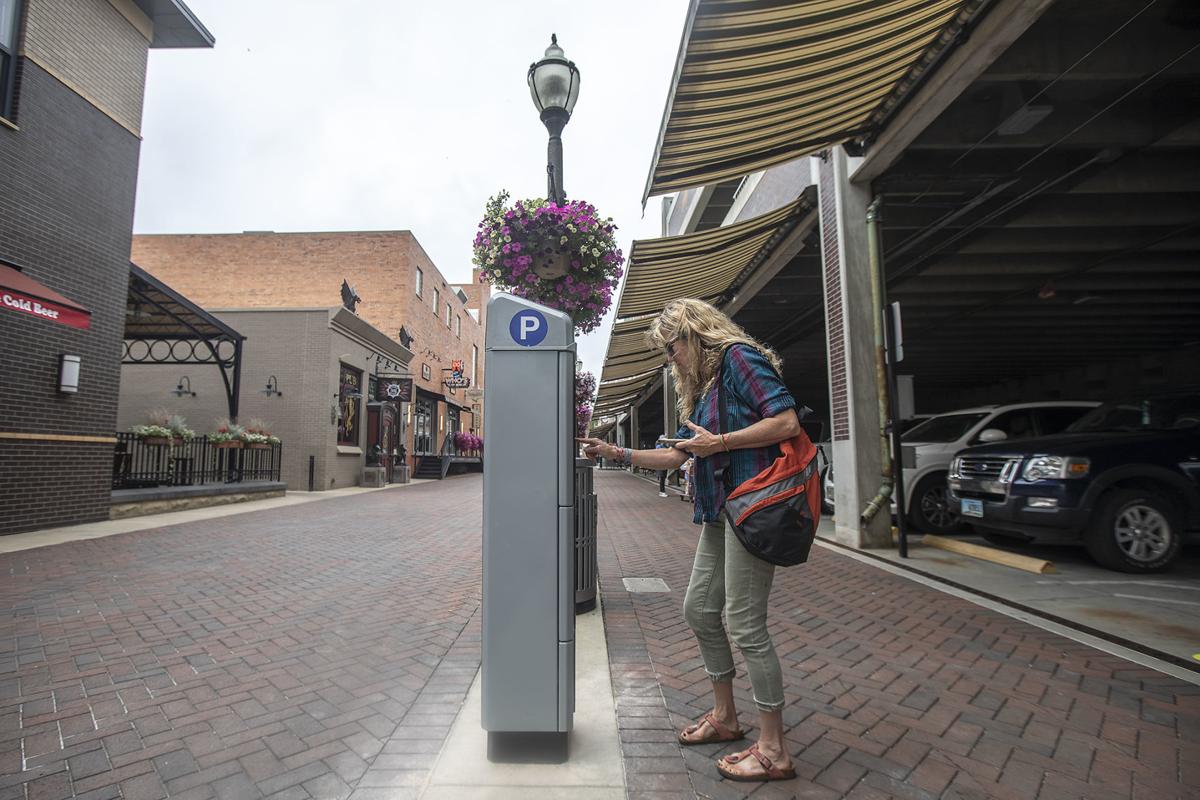 While some business owners appear cautiously optimistic about the impending installation of parking meters in downtown Rapid City, others are outright skeptical.
The meters — 620 of which will be mounted along Main and St. Joseph streets between Fifth and Ninth streets, and along Sixth, Seventh and Ninth streets — are expected to be in position by early June. They will accept payments by coin and by mobile app, or by card for a $1 minimum, replacing free three-hour parking spots and charging 25 cents for 15 minutes.
Too high, said Firehouse Brewing Company owner Bob Fuchs.
"I'm a little concerned about how expensive it's going to be," Fuchs said Friday. "I think that the hourly rate might be way too high for Rapid City, South Dakota."
Fuchs, who also owns Mexican eatery Que Pasa on Main Street, said an hourly rate of 50 cents would be more reasonable. Whether the meters would help or harm businesses, he said, remains to be seen.
Fuchs didn't oppose policy changes the city made in 2015 allowing for three-hour parking in downtown stalls but also acknowledged the current system's potential for abuse.
The "employee shuffle," a term used by city officials to describe what they say is the tendency of downtown workers to move their cars to different hourly spaces throughout the business day, was said by Fuchs to be obstructive to his customers. For that reason, both he and Roam'n Around co-owner Jon Machacek pay for their respective employees to park elsewhere.
"I could make my employees walk four blocks away and not cost our businesses as much, but it's kind of a big picture thing where you want to keep your employees happy," Machacek said Friday.
You have free articles remaining.
"It is an expense, but it's part of an expense of being in business," he continued.
Customers, not employees, are said by Machacek to be most deserving of storefront parking. Attempts the city has made to prioritize shoppers, he said, have not been wholly effective.
"We've got to keep trying things to evolve. Maybe parking meters are the way to go," Machacek said.
Elks Theatre owner Curt Small contends that the city is moving in the right direction on its parking policy but isn't sold on the proposed fine of $25 associated with its violation.
The new parking ordinances tumbling through city hall do increase the number of days violators have to pay off their tickets from three to seven days but more than doubles the late fee to $10. Another $15 would be tacked on after 30 days at which point collection would be managed by meter provider IPS Group.
"My true hope is that they threw that in there as a bargaining tool that they could fall back off of. Because if that's a straight-faced request, they're grossly out of touch with the visitors and customers of downtown Rapid City," Small said Friday.
Inevitably, Small said, there will be customers of his who choose to park in proposed two-hour zones outside of the downtown core instead of feeding the meter. To compensate, he said the city should look at increasing the time limit on those streets to three hours.
"My business model relies on volume, and if things are done to hinder that volume, it puts me in a situation I don't want to be in," Small said.
The ordinance authorizing the meter's implementation, as well as an ordinance laying out a new parking permit program, is headed for city council for its first reading on April 15. A final vote on both measures is scheduled for May 6.
City Finance Director Pauline Sumption has said that the meters alone could generate an additional $2.5 million in revenue in five years' time.