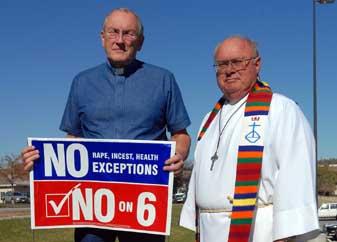 RAPID CITY - As yard signs opposing Referred Law 6 hit lawns statewide Tuesday, a dozen Rapid City area ministers joined a Pastors for Moral Choices news conference to show their opposition on religious grounds to the abortion ban as a "return to a regressive, discriminatory and dangerous way of life."
"We will be voting no on Referred Law 6, the law that would ban abortion, because it is neither just nor compassionate," the Rev. Marc Stewart said. Stewart is a United Church of Christ minister and spokesman for the pastors group.
Pastors for Moral Choices, a statewide group composed mostly of mainline Protestant ministers, exists to broaden the religious conversation on divisive social issues such as abortion and same-sex marriage, as well as social-justice issues of all kinds, Stewart said.
Ministers from Episcopal, Methodist, Presbyterian, UCC and Lutheran churches read from their denominations' positions on abortion rights. The national governing bodies of those five denominations have taken official positions that abortion should be legal and safe, something that may surprise voters who are under the misconception that all Christians support a ban on abortions, Stewart said. Some Christian, Jewish and Muslim religious authorities believe that abortion is permissible in the early weeks of a pregnancy and that an abortion may be called for to save the health or life of a pregnant woman, the abortion-rights clergy stated.
"In continuity with past Christian teaching, we recognize tragic conflicts of life with life that may justify abortion," the Rev. Lin Jennewein, a UMC pastor, who read from the United Methodist Social Principles, said.
As a Christian who supports abortion rights, Rosie Stoebner said, she is tired of being portrayed as pro-abortion.
"I'm pro-choice, but I'm not pro-abortion," Stoebner said. She is the wife of retired UCC minister Don Stoebner, an interim pastor at a Custer church.
Stoebner was among the ministers who donned clerical robes, stoles and collars to declare that Referred Law 6 restricts religious freedom.
Making abortion illegal would prohibit faithful people from living according to their religious laws, traditions and understandings, without the threat of criminal indictment, they said.
The Rev. Bruce Baum hosted the news conference at his church, Faith Lutheran, although he won't allow political yard signs or other campaign literature on church grounds. He did so, he said, because he feels a moral obligation to be compassionate, open and understanding on the difficult issue of abortion and to "leave the judging up to God, not to us."
Like all of the participating pastors, Baum said he recognized that there are "people of faith in our congregations who will vote differently. We respect their right to do so."
The Rev. Dale Bartscher, a proponent of the abortion ban, said the vast majority of church pastors in the state endorse Referred Law 6.
Responding to the charge that the lack of a rape and incest exception shows a lack of compassion for women, Bartscher disagreed.
"Pro-life pastors believe Referred Law 6 is the compassionate law," he said, because it encourages rape victims to seek immediate medical care that would allow them to prosecute the perpetrator, get counseling and receive emergency contraception.
"The noncompassionate thing is to add the trauma of abortion to it," he said.
Meanwhile, two of Baum's parishioners, Kirsten Barraclough and Dorothy Brewick, applauded Baum's opposition to Referred Law 6.
"I am not in favor of abortion," Brewick said, "but I do believe that it is a decision between a woman and her God, her doctor, her family, her support system."
Barraclough said she lives with a medical condition that could make another pregnancy a health risk, and she likes knowing that her pastor would be there to support her in that difficult decision.
"If I had to have an abortion, that's when my God would be there to lift me up, not condemn me to hell," she said. "If we lived in a perfect world, it would be nice, but we don't. The world isn't black and white; it's gray, and so is the issue of abortion."