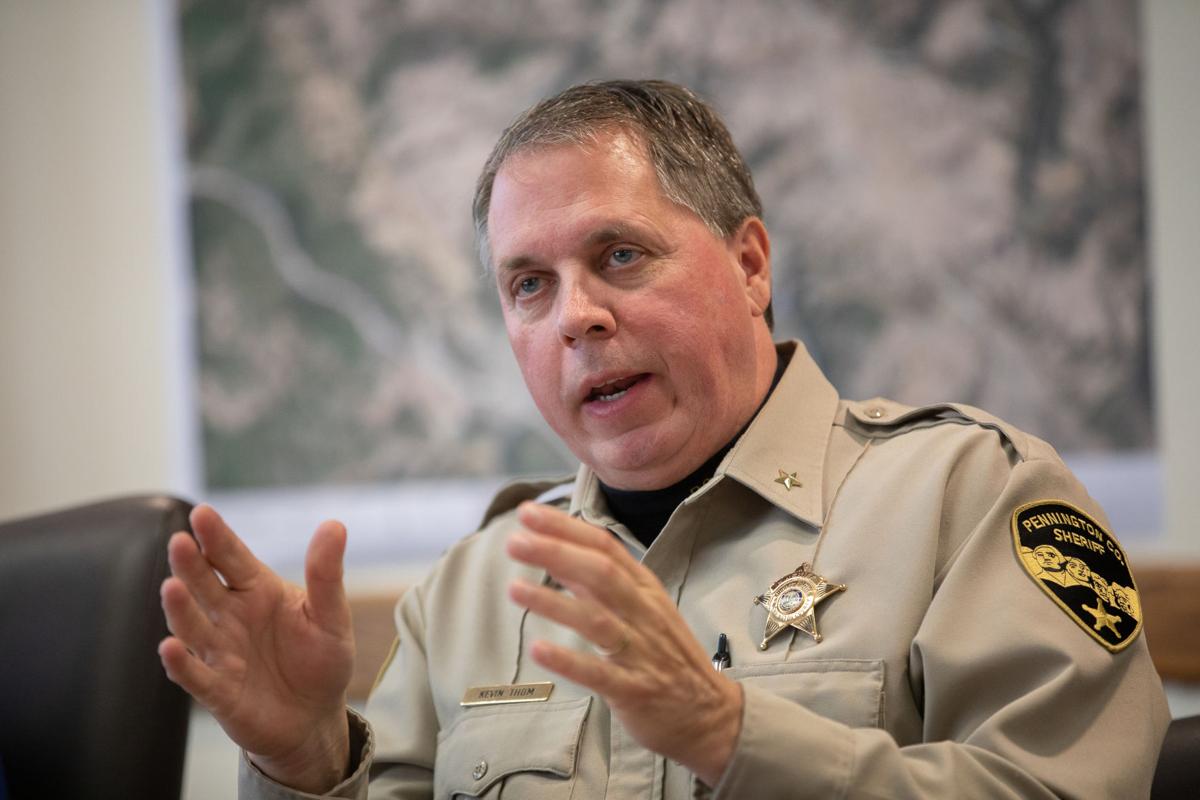 It's unclear what rating out of five stars the page had before Sheriff Kevin Thom and the Highway Patrol Superintendent filed the lawsuit on Friday afternoon. But the rating dropped to two stars by Saturday afternoon. By Sunday morning, the rating was at 1.8 stars and Facebook temporarily locked reviews.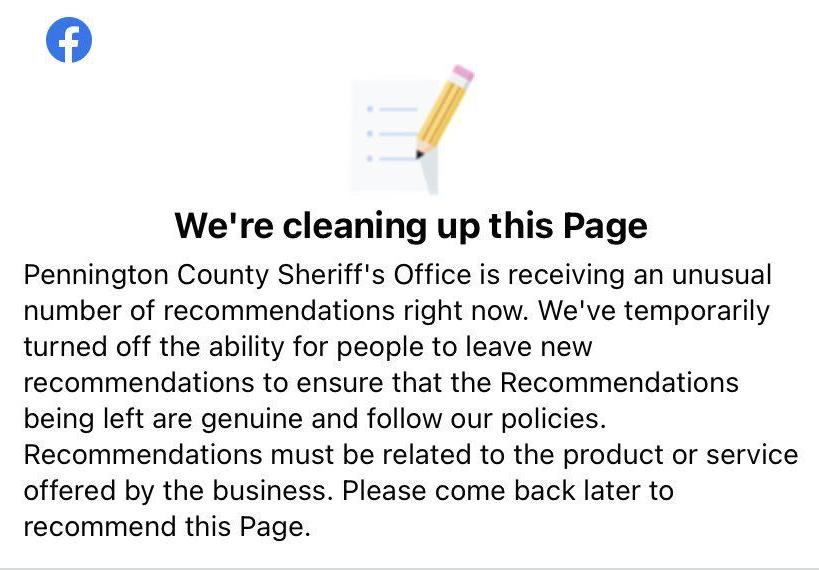 The "Pennington County Sheriff's Office is receiving an unusual number of recommendations right now," a note from Facebook read. "We've temporarily turned off the ability for people to leave new recommendations to ensure that the recommendations being left are genuine and follow our policies. Recommendations must be related to the product or service offered by the business."
Facebook unlocked the reviews by Wednesday afternoon, when the page had a 1.6 rating. It appears that Facebook deleted reviews made between Friday afternoon and Tuesday morning.
"The Pennington County Sheriff's Office has made no changes to our social media accounts. We did not delete nor block any comments, other than a standard filter for profanity," spokeswoman Helene Duhamel said Wednesday.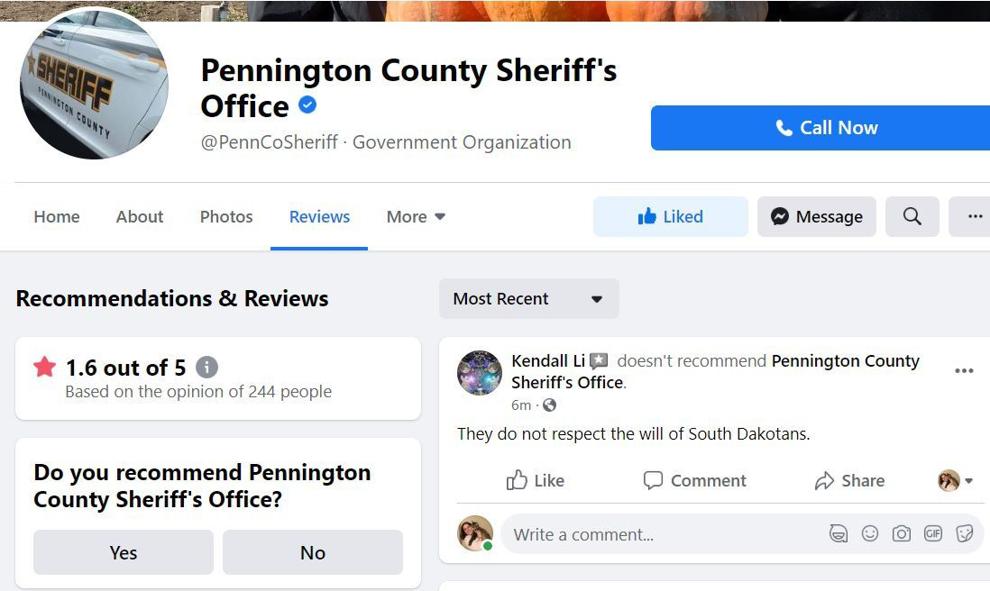 Thom and Rick Miller's lawsuit asks a judge to void the recreational marijuana amendment that was approved by 54% of voters statewide and 59% in Pennington County. They argue that Amendment A violates the South Dakota Constitution because it doesn't follow the "one-subject rule" and because it's actually a revision, not an amendment. 
People aren't just leaving negative reviews but are also criticizing the lawsuit under the page's posts about completely unrelated topics such as a news release about a homicide, a Thanksgiving message, and a post about an employee of the month. 
The reviews and comments appear to be mostly from people who live in Pennington County and elsewhere in South Dakota. Some are from out of state. 
Most comments accuse Thom of using taxpayer money to violate the will of the people.
"Failing South Dakota tax payers by using our tax money to fund a lawsuit against the favored vote of the people, all while being paid by tax payer dollar as far as I'm aware. This is crazy this is being allowed. Fund your own lawsuit!" one review says. "Your employees are paid by taxpayers and are using taxpayer funds to go against the will and voice of the people in this state. Nothing could be more corrupt than that," another one reads. 
State/taxpayer money is covering Miller's legal fees, the governor's spokesman told the Journal. Duhamel said tax dollars aren't covering Thom's legal fees, but she declined to share if that means he or a third party are paying the legal fees. 
Thom said in a Friday news release that he's trying to uphold the constitution, not dispute the vote. 
"I respect the voice of the voters in South Dakota, however in this case I believe the process was flawed and done improperly, due to no fault of the voters," he said. 
Another common theme is people wanting the sheriff's office to focus on serious crimes and hard drugs, not marijuana. 
"The plant we voted on saved my life from meth. I'm now a productive member of society. Stop trying to subvert the will of the people and worry about actual crimes, not a plant," a woman wrote under a post. "Focus on catching real criminals like pedophiles, not marijuana offenders," another comment reads. 
"Don't we have larger scale problems to worry about than recreational Marijuana? I know meth and many other things should be much more of a concern," another wrote. "Since meth is 70% of your felony drug arrests, maybe you should focus on getting rid of that instead of going after a plant that the majority of the voters said yes to," another person echoed.
Other reviews on the Facebook page focus on legal arguments. 
"The amendment encompass one entity, marijuana," one person wrote. "Your jobs are not to make or influence laws, only enforce them. We have other entities to create law, stay in your lane," another person wrote. 
Some reviews threaten to vote Thom out of office, use derogatory words towards him and law enforcement, accuse Thom of being a dictator and point to a Nov. 3 post from the sheriff's office that said "Vote. Your voice matters." Others accused the office of harming people through marijuana-related arrests and civil asset forfeitures stemming from them. 
"These guys are literally suing to overturn a voter-approved amendment because they're mad they can't ruin people's lives with weed arrests and enrich themselves with civil asset forfeiture," someone wrote.