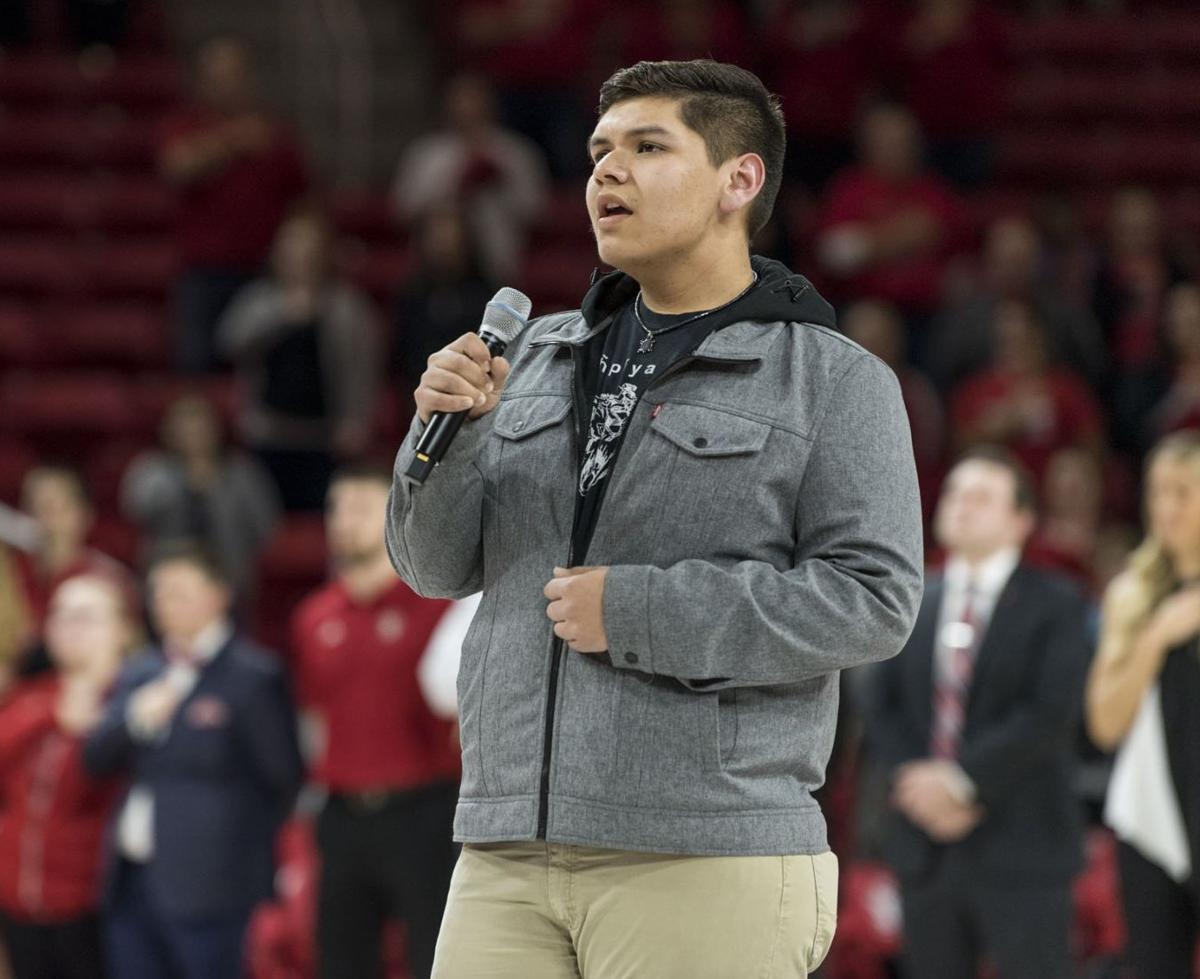 A Pine Ridge man will take center stage later next month when he sings the National Anthem in Lakota at the first presidential forum dedicated to issues impacting Native American communities. 
"I think it's an honor to be able to represent the Oglala Lakota people," 20-year-old Steven Wilson said Wednesday. "For a long time Native Americans have gone without a voice in the government" so the forum is "really monumental in my mind because we have presidential candidates that are taking the time to learn and express their stance on Native American issues." 
Wilson will sing the anthem during the opening ceremony of the forum at 9 a.m. on August 19 and again on August 20 at the Orpheum Theatre in Sioux City, Iowa. The event, titled the Frank LaMere Presidential Candidate Forum, is named after a Winnebago activist who died in June and is known for helping to shut down the stores in White Clay, Nebraska, that sold alcohol to people on the Pine Ridge Reservation. 
"We're just very honored that (Wilson will) be singing the national anthem, especially in Lakota," said Matt Samp, spokesman for Four Directions, the Mission-based Native American voting rights organization that's hosting the forum. Wilson "really has a message to people. He isn't just singing the national anthem, he recognizes the sacrifices that Native Americans have made for their country, even though land was taken from them."
Four Directions invited all of the 2020 presidential candidates and President Donald Trump to the forum, Samp said. Democratic candidates who've confirmed their attendance are Vermont Sen. Bernie Sanders, Montana Gov. Steve Bullock, author Marianne Williamson, former Maryland Rep. John Delaney, and Julián Castro, former secretary of the U.S. Department of Housing and Urban Development. Mark Charles, an independent candidate and citizen of the Navajo Nation, is also participating. 
The other Democratic candidates and Trump have not yet responded while Bill Weld, a former governor of Massachusetts who is challenging Trump in the Republican primary, said he is not attending, according to Samp.
"The whole culture around this event is about the optimism of a brighter day tomorrow and bringing the issues that are affecting Native American people" on reservations and cities to the table, Samp said. "You can't ignore" the millions of Native people in this country, he said. 
Native voters can help determine election outcomes in swing states yet no questions related to their experience were asked during the Democratic primary debates in Miami, O.J. Semans, co-executive director of Four Directions, said in a news release.
The upcoming forum will focus on treaty obligations, sovereignty, addressing the Missing and Murdered Women crisis and improving Native American infrastructure, economic development, health care and education, according to the release. Candidates will also be asked about their position on the Remove the Stain Act, a bipartisan bill that would revoke the medals given to soldiers who carried out the Wounded Knee massacre.
Presidential candidates will take the stage one at a time for 45-minute sessions where they answer questions from social media users, the audience, the moderator and a three-person panel made up of two tribal presidents and one Native youth, Samp said. The panels will change for each candidate and the event will be moderated by Mark Trahant, editor of Indian Country Today and member of the Shoshone-Bannock Tribe.
Wilson said he's most excited to hear what Sanders has to say and that he will be excited if Massachusetts Sen. Elizabeth Warren and California Sen. Kamala Harris attend.
Wilson, a graduate of Red Cloud Indian School who hopes to return to the University of South Dakota to finish his degree in medical biology, said he began to sing about five years ago. He can understand Lakota and while he's not a fluent speaker, he learned to sing the anthem in Lakota and began performing it at local high school games. He was later invited to sing at high school tournaments and college games. A video of him singing at a University of South Dakota women's basketball game went viral and gained media attention last year.
He said he'll prepare for the event by working with his vocal coach and practicing the song.
"Especially right before the performance, I get very nervous," Wilson said. "But as soon as I'm up there with the mic ... it just comes very naturally."
The event costs $3 to attend and tickets will go on sale at fourdirectionsvote.com at 3 p.m. Mountain Time on Thursday. The event will also be livestreamed on the website and its social media outlets.