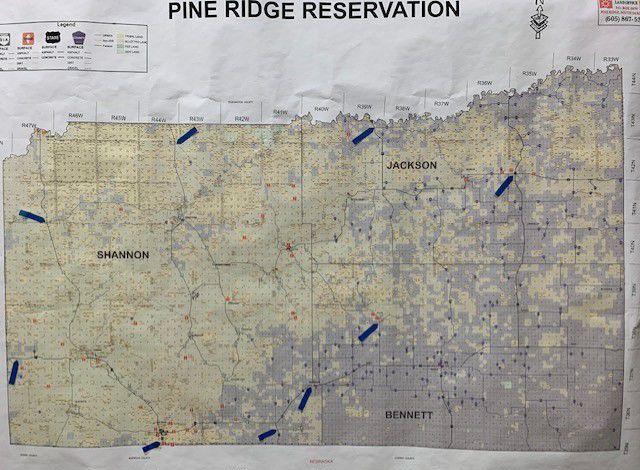 The Oglala Sioux Tribe has banned non-residents with non-essential business from the Pine Ridge Reservation in order to prevent the spread of the coronavirus.
"Indian tribes and reservations are among the most vulnerable populations and locations for this COVID-19 pandemic," the border ordinance says. "There is significant travel to, from and through the Pine Ridge Reservation with many coming from areas where there is confirmed community spread of the COVID-19 virus which increases the risk of exposure to the reservation population."
The tribal council unanimously approved the ordinance on April 1. It went into effect Friday.
Non-residents are still allowed to enter the reservation if they are driving through on state highways, the ordinance says.
Non-residents can also enter the reservation if they are engaging in essential business, which is defined in an earlier shelter-in-place ordinance. Essential business include health care, social services, infrastructure, media, gas stations, grocery stores, agriculture production and banks.
Anyone who violates the ordinance will be fined $1,000. Police officers and authorized private security guards will help enforce the rules at checkpoints at several entrances to the reservation, said tribal spokesman Chase Iron Eyes.
A map posted to the Facebook page of the tribe's Attorney General Office shows nine planned checkpoints around the 2.1-million acre reservation.
Iron Eyes said said the tribe has both strengths and weaknesses in fighting COVID-19.
He said the tribal government has been passing more aggressive ordinances than South Dakota cities, and residents are doing a good job following the rules, which are shared on social media and the KILI radio station. COVID-19 task force members also drove around neighborhoods with megaphones announcing the shelter-in-place ordinance and reminding people to practice social distancing.
But Iron Eyes said medical facilities lack masks, respirators and other supplies. Access to running water is also an issue for some residents who are being urged to wash their hands regularly to protect themselves from the coronavirus.
About 40% of residents sometimes struggle to pay water bills and have their water shut off, Iron Eyes said. But the water company is keeping everyone's water on during the viral outbreak. He said about 10% of residents may still not have running water if they live in remote areas that aren't connected to the water system.
Iron Eyes said many citizens are already "financially vulnerable" and may now be struggling more due to job losses and other economic impacts of the COVID-19 virus.
"6.6 million know what it's like to feel indigenous now," Iron Eyes said in reference to the number of Americans who filed for unemployment last week. "That's how we live every single day."
So far, no reservation residents have tested positive for the virus, Iron Eyes said. A few dozen people have been tested at the Indian Health Service hospital in Pine Ridge but all came back negative.
The federal coronavirus stimulus bill provides more than $1 billion to the IHS, according to a news release from the agency. The IHS is immediately giving $570 million to IHS and tribal health programs, and $30 million to urban Native American health programs.
This funding is in addition to the $134 million IHS announced last week for COVID-19 testing and response, and the $80 million announced two weeks ago — including $40 million available as grants — from the CDC for tribal and urban Native American health programs, the release said. The White House announced Thursday that the IHS will have priority access to rapid point-of-care coronavirus tests.
The Oglala Sioux Tribe has taken other steps to protect against the coronavirus.
The council created a curfew that also went into effect on Friday. The curfew ordinance says people must stay inside between 10 p.m. and 6 a.m., while businesses must close between 8 p.m. and 6 a.m.
The ordinance exempts people traveling to and from work, medical appointments, funerals or religious ceremonies. Violators will be warned before being fined $100.
The March 27 shelter-in-place ordinance closed all non-essential businesses and orders people to stay home unless they are engaged in essential business or "essential activities."
Essential activities include buying groceries and household supplies, obtaining health care, or exercising outdoors with social distancing. People can also travel to take care of a relative or pet.
The order says people must follow social distancing when possible, which means staying at least six feet away from others, regularly wash their hands, and clean high-touch surfaces.
People and businesses who violate the shelter-in-place ordinance are given a warning before being fined. 
The Pine Ridge IHS has created COVID-19 screening questions for all patients and visitors and have limited the amount of people who can visit patients. And Emergency Management is organizing community gardens to help with food sovereignty during the viral outbreak.
Concerned about COVID-19?
Sign up now to get the most recent coronavirus headlines and other important local and national news sent to your email inbox daily.