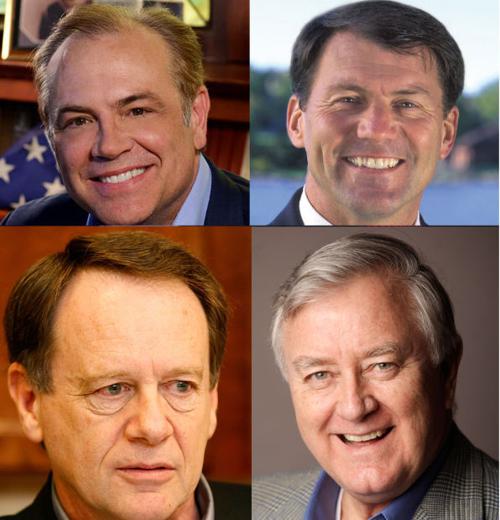 Recent poll results continue to indicate a close U.S. Senate race in South Dakota, with one new twist: pollsters say if Democrat Rick Weiland dropped out, Republican frontrunner Mike Rounds and independent Larry Pressler would be virtually tied.
Results supporting that conclusion come from a poll conducted Sept. 21-25 by Nielson Brothers Polling in Sioux Falls. Support levels in that poll showed Rounds at 39 percent, Weiland at 26 percent, Pressler at 24 percent, undecided at 7 percent, and independent Gordon Howie at 4 percent.
Further results showed that if Pressler withdrew, Rounds would lead Weiland 45-37 percent. If Weiland withdrew, Rounds would lead Pressler by only one percentage point, 40-39 percent.
"If Weiland dropped out of the race, Pressler and Rounds would be in a virtual dead heat," said NBP partner Paul Nielson in a news release. 
A separate poll conducted Sept. 29-30 by Public Policy Polling of North Carolina found lower levels of support for Rounds, but still had him leading with 35 percent. Next were Weiland with 28 percent, Pressler with 24 percent, Howie with 8 percent and undecided at 5 percent.
"With under five weeks to the election, South Dakota has the potential to join Kansas as a previously unde-the-radar Senate race that could confound Republican efforts to get control of the Senate," reads a news release from PPP. "This race is just as competitive as the ones in places like New Hampshire and Michigan that have drawn far more attention."
The results of both polls closely resemble results of another poll commissioned last month by three South Dakota media outlets and conducted Sept. 3-7, in which the ranking was Rounds, 39 percent; Weiland, 28 percent; Pressler, 25 percent; undecided, 5 percent; and Howie, 3 percent.
The election on Nov. 4 will determine who wins the U.S. Senate seat now held by the retiring Democrat Tim Johnson.