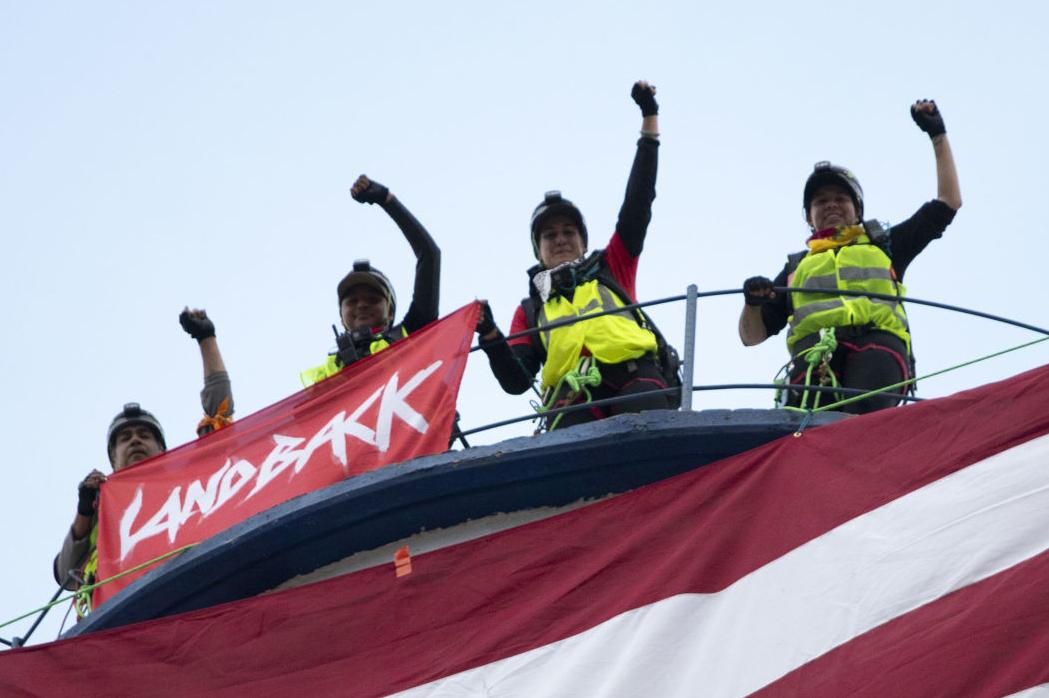 The four out-of-state residents who were arrested for trespassing after scaling the Dakota Mill and Grain silos and unfurling a large upside down U.S. flag on Sunday have been released from the Pennington County Jail on personal recognizance bonds.
Martin Aranaydo, 44, of Oakland, Calif.; Tytianna Harris, 27, of Page, Arizona; Nadaya Tannous, 29, of Berkeley, Calif., and NDN Collective's Land Back campaign organizer; and Krystal Two Bulls, 36, of Lame Deer, Montana, and NDN Collective's Land Back campaign director, were released after a public safety assessment, or PSA, Helene Duhamel, spokesperson for the Pennington County Sheriff's Office, said Tuesday.
The PSA measures the likelihood of a person committing another offense while waiting for their next court appearance, according to the sheriff's office website. 
Aranaydo, Harris, Tannous and Two Bulls were arrested during NDN Collective's protest after they hung the American flag with "Land Back" emblazoned on the front on the 100-foot-tall silos.
NDN Collective, which is based in Rapid City, asked for donations to pay the legal fees for the four who were arrested.
The Fourth of July protest began at Halley Park and proceeded down Saint Joseph Street with protesters waving flags representing tribal nations and the Land Back movement while chanting and singing.
The Rapid City Police Department monitored the march and blocked streets to prevent traffic from interfering. But once the group reached the mill and grain building and the Hubbard Feed building, the South Dakota Highway Patrol and police officers dressed in riot gear warned anyone who left the sidewalk with arrest because the buildings are on private property.