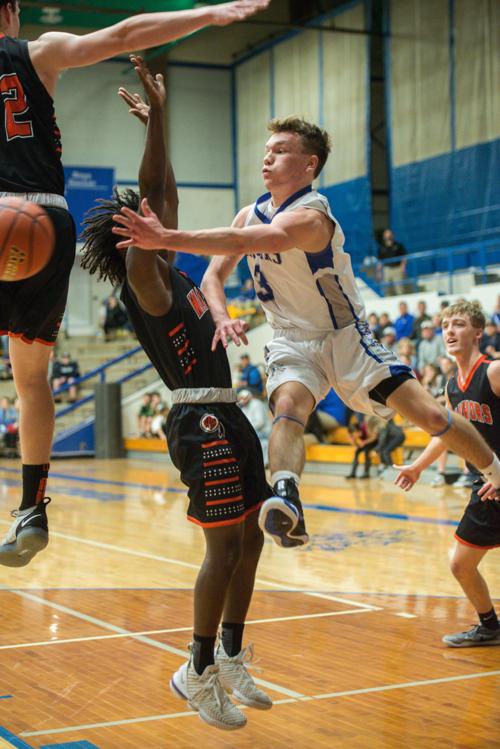 Rapid City Stevens got 27 points from Mason Steele and 20 from Daniel Vigoren, as the Raiders came back after trailing for much of the game to snatch a 62-55 win from Sioux Falls Washington in high school boys' basketball action Friday at Heier Gymnasium.
While Steele was a steady force in the middle throughout the game — he scored 13 points in the first half and 14 in the second — Vigoren came to life over the final 16 minutes. He scored 15 points after halftime as Stevens pulled out the victory.
"I don't know how we came back, really," Raider coach Chris Stoebner said. "I know we did, but just the way we came back. We started getting stops and the key to that is holding them to one shot. We started rebounding better and we hit some big threes. And obviously, Mason had a heck of a game. He was just dominant for us when we needed him."
"I've got to thank my teammates for that," said Steele, a 6-foot-8 senior. "They opened the floor up a lot of me, and them cutting really pulls that defense away from me and allows me more space to get things done."
Steele was much of the reason the Raiders were still in the game at halftime. He scored 13 points on 5 of 9 shooting from the floor, while his teammates struggled to get good looks and shot 3 of 15 from the floor.
Washington, on the other hand, hit 9 of 13 2-point shots — many of them in the paint — as the Warriors jumped ahead 30-19 before settling for a 30-22 lead at the half after Steele converted a traditional 3-point play.
Stoebner switched from zone to man on the defensive end of the floor and overtime the game swung back in the Raiders' favor.
Still, Stevens trailed 48-37 with 2:08 left in the third quarter when Eli Williams rebounded a missed 3-pointer by Akok Aguer and put it in for a basket.
Steele came through with another post-up basket. Then Vigoren was fouled on a 3-point attempt just seven-10ths of a second before the end of the third quarter. A technical foul on the Warriors compounded the personal foul. Vigoren made 3 of the 5 free throws and Stevens went to the quarter break down six instead of nine.
You have free articles remaining.
"That was big for us," Vigoren said. "It gave us energy, the crowd gets hyped and we're back in it."
"That was a huge momentum lift for us," Stoebner said. "You go into the fourth quarter down six instead of nine. That's huge. It's was a momentum-changer for us, and we took advantage of it."
Warrior big men Ganin Thompson and Tahj Two Bulls were both battling foul troubles in the fourth quarter, so Steele went right at them for two quick baskets. Vigoren hit a floater in the lane to tie the game at 48-all.
After Williams hit a free throw to give the Warriors a 49-48 lead, Steele canned a 10-foot jumper and Stevens had its first lead since 4-3 at the 6:56 mark of the first quarter.
Kemmer Shramm hit a jumper to give Washington its last lead of the game at 51-50.
Vigoren hit a 3-pointer on Stevens' next trip down the floor to make it 53-51 and the Raiders, who outscored the Warriors 20-7 in the fourth quarter, made six straight free throws to take control of the game.
"Mason was a monster tonight," said Stoebner, looking at Steele's scoring line of 10 of 16 shooting from the floor, going 7 for 7 from the free throw line and grabbing 11 rebounds. "The way we were shooting the first half, he kept us in the game.
"We hit some timely threes, but if he doesn't have the game he had, we have no chance."
Washington, winners of five of six games heading into Friday's game, got a quietly efficient night from Nate Gilbertson. Gilbertson hit 8 of 10 shots on his way to scoring 18 points, with 12 coming in the second half. Williams finished the game with 10 points.
Stevens (10-6) is back in action at 2:30 p.m. today when the Raiders take on Sioux Falls Lincoln (8-6) at Heier Gymnasium. Washington (8-7) faces Rapid City Central at 3 p.m. today at Rapid City Christian's gymnasium at Hart Ranch.