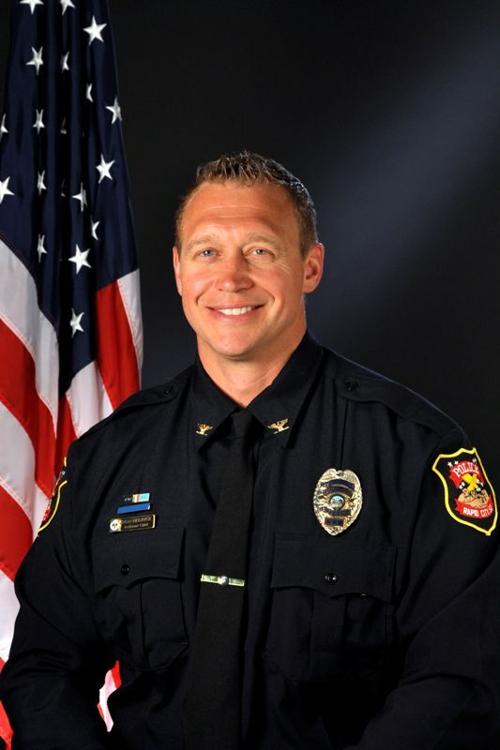 Four police officers may focus on neighborhoods experiencing the most gun violence in the city if the Rapid City Police Department receives one of two Department of Justice grants that are available.
Police Chief Don Hedrick said the officers would also be tasked with building trust among residents in those neighborhoods and working with housing managers and service providers.
The Community Oriented Policing Cops Hiring Program has about $140 million in funding for fiscal year 2021. The program provides funding to hire law enforcement officers to increase community policing capacity and crime prevention efforts, according to the program website.
The RCPD would apply for $500,000 with a maximum federal share of $125,000 for each office. A 40% match is required from the city.
The department will also apply for the Crime Gun Intelligence Center Grant, which would be $700,000 over 36 months that goes toward a two-detective investigative unit and an interagency project coordinator/analyst who would be dedicated to violent gun cases.
The Rapid City Council approved applying for the grants' possible acceptance if awarded during its Monday night meeting.
"Unfortunately here in Rapid City, we've witnessed an uptick in gun-related violence," he said. "For example, calls involving firearms have increased, assaults involving firearms have increased, and... we've seen this trend nationwide, and unfortunately we've seen that trend here locally as well."
In 2019, the department had 32 incidents of weapon-related calls. In 2020, it increased to 75. In 2019, there were three homicides where a gun was used with six in 2020, and 43 cases of aggravated assaults in 2019 with 74 in 2020.
Hedrick said the department had at least 50 instances of offenders being arrested for possessing stolen firearms while engaged in crimes like robbery or felony level drugs over the last year.
He also said the department has seen an increase in the number of firearms taken from vehicles.
"We have been pretty public in our messaging in regards to vehicles do not make good gun safes," he said. "It's especially challenging for us when vehicles are left unlocked and a weapon is left inside because now you've introduced a weapon to somebody who is out doing criminal activity in that moment. Now, they have a gun in their hands, and that's concerning to us in a lot of ways."
Hedrick said the city's growth could be a factor in the increase of gun violence, but it's hard to speculate.
The officers and detectives that focus on gun violence would be taken from the department's ranks with their current positions backfilled, Hedrick said. 
Without the grant funding, Hedrick said the department would have to find additional ways to bring about the programs. The other way of moving forward would be to ask the council for additional positions.
"We believe we're at a point where we can intervene on these violent crimes now before they get worse," Hedrick said. "I believe that's the kind of thing our community wants us to be looking at, wants us to be researching, and wants us to find ways to address specific violence like this in our community."
Both grants are for three years, Hedrick said.
He said the department has stepped up its enforcement activities but needs help from the community.
"That's why one of these grants is focused on building trust and relationships because violence itself is bigger than the police department alone," he said. "We need folks living in the communities, folks that are sick and tired of the violence, that when they see something they say something and give us a call."