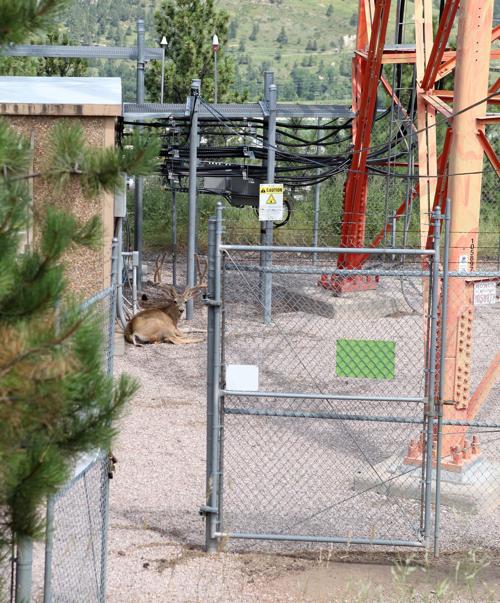 Rapid City officials are gearing up for the annual deer harvest within city limits, scheduled for late 2019 and early 2020.
The city's Public Works Committee approved a memorandum of understanding Tuesday between the city of Rapid City, the South Dakota Game, Fish & Parks Department, South Dakota Sportsmen Against Hunger, and the Black Hills Sportsmen Club to define the responsibilities of each entity for the deer harvest.
Rapid City Parks and Recreation Director Jeff Biegler said the Rapid City Deer Management Program, in effect since 1995, is an important event to help with controlling the population of urban white-tailed and mule deer for the safety of the deer and the residents of Rapid City.
"It's been demonstrated that there are a number of deer-vehicle crashes that occur every year and also property damage that occurred because of the excess deer in the area," Biegler said. "This is a herd management program that's been developed by the city in cooperation with South Dakota Game, Fish & Parks. We try to maintain a sustainable herd within the city limits of Rapid City, so this is an effort to do that through the harvesting of deer at that time of the year."
The memorandum will now go before the full Rapid City Council for consideration Monday night.
Biegler said if the City Council approves the memorandum, city staff will work with GF&P to complete a deer population survey within the city limits later in October. After the survey is complete, the state will determine the amount of hunting permits to be issued — up to 250 deer.
In the 2018-2019 season, 226 deer were harvested through the program. Biegler said the amount of deer within the city limits continue to rise, especially with the near-record rainfall the Rapid City area has seen so far in 2019.
During the 2017-2018 harvest, 150 deer were hunted, providing 4,800 pounds of venison for the nonprofit group Feeding South Dakota.
Biegler said the harvesting program not only meets the need of reducing vehicle-deer collisions, but also benefits South Dakotans who need food.
"The (deer) carcasses are taken to a processor that processes the meat into hamburger and then given to the Feeding South Dakota organization. They look forward to it every year," Biegler said.
Pending the final approval of the agreement, the city plans to begin the harvest after the holidays. The harvest will target antlerless deer in the late evening hours.