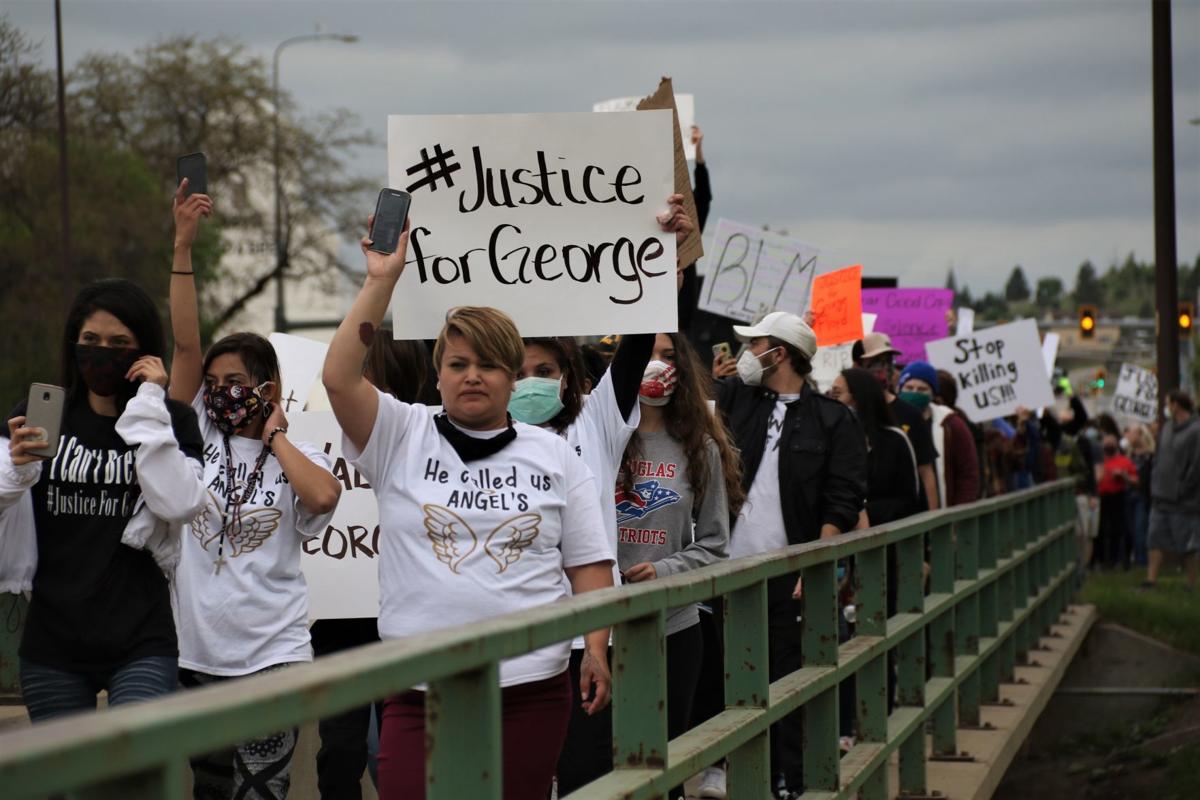 Those in cars raised their fists in the air as a sea of people walking down North 5th Street raised signs and chanted, "No justice, no peace. Say his name — George Floyd."
Floyd's name rang throughout Memorial Park, from the Band Shell to 5th Street and down toward Omaha Street during the Walk/Stand Up for George event Saturday afternoon.
His uncle Selwyn Jones along with his first cousin joined those walking through and around the park. Jones said he couldn't have asked for anything more.
"It gave me butterflies," Jones said. "It made me think with all the bad stuff that we're hearing that's going on in Minneapolis, Los Angeles and all these other places, it blew my mind that I never once thought we were going to have any kind of situation."
Jones was contacted and invited by the event organizers, Rebecca Thompson, Jodi Prue, Shaylene Cordero and Madysen Castaneda, for the peaceful walk through Memorial Park.
For all five of them, the peace was key.
"Rage is not the answer here," Cordero said.
"You see the riots happening in the bigger cities and that's not what we wanted here," Thompson said. "We just wanted to bring awareness and do this in memory of George and do it peacefully."
Although the group at Memorial Park remained peaceful and ended shortly after 3:45 p.m., a separate group headed toward the courthouse and Main Street, and then back to the Band Shell, some walking in the street.
Prue said they underestimated how many people would come to protest. Thompson said it was nice to see the compassion their hometown had to show.
Jones said he was shaken up by the number of people and the unity that was shown by the diverse crowd, but with the number of people passing by in their cars and raising their fists, "you couldn't have written the script any better."
"The energy we felt here was something that was absolutely mind blowing," he said. "I thank Rapid City, South Dakota, for being the way they are."
PHOTOS: Rapid City walked through Memorial Park in memory of George Floyd
Jones said there wasn't one bad thing done at the event, and that's how it's supposed to be. He said it's important to show unity, respect and change, and seeing what he did Saturday was absolutely beautiful.
Chyna Sanders and Indago Banks, two participants in the walk, said they felt a responsibility to be at the walk as two young women of color.
"Doing all of it and yelling out the chants we were saying, saying his name out loud just releases so much pressure off of you," Sanders said. "Knowing we're doing this for a reason, for justice. If you get justice, you will have peace."
Banks said she has a 6-year-old and the last thing she wants to have to worry about is him not coming home. 
However, both said the walk and its meaning extends beyond their experiences and ethnicities.
"I've heard a lot of people complain about black lives matter, all lives matter and the difference between it," Banks said. "Every single person, again, we are all human no matter what race, and nobody should be judged based on the color of their skin. Everybody should be treated the same."
Rapid City Police Chief Karl Jegeris posted on the department's Facebook page stating he could not attend Saturday's walk but stands with the family and participants in spirit.
In the post, Jegeris notes that RCPD officers receives training on the topic of trauma-informed policing with "historically accurate information specific to this area we all call home."
He said officers also receive education on Adverse Childhood Experiences and how they can affect individuals.
"We feel that a trauma-informed and compassionate approach to community policing is the most effective way to foster positive change in our community," he said in the post.
The post then linked to a single-question survey for those in the community to offer ideas on ways the department can connect with the community.
Jones said after today's walk, he's going to keep spreading the word until he's exhausted all of his energy.
"I've been dealing with this situation for 54 years," he said. "Every time you see an injustice happen to a person of color, it breaks your heart. … If this doesn't make a change because this is going out to more people than anything that's ever been in this category, if we can't make a change with this one, I don't think change is ever going to come."
Concerned about COVID-19?
Sign up now to get the most recent coronavirus headlines and other important local and national news sent to your email inbox daily.