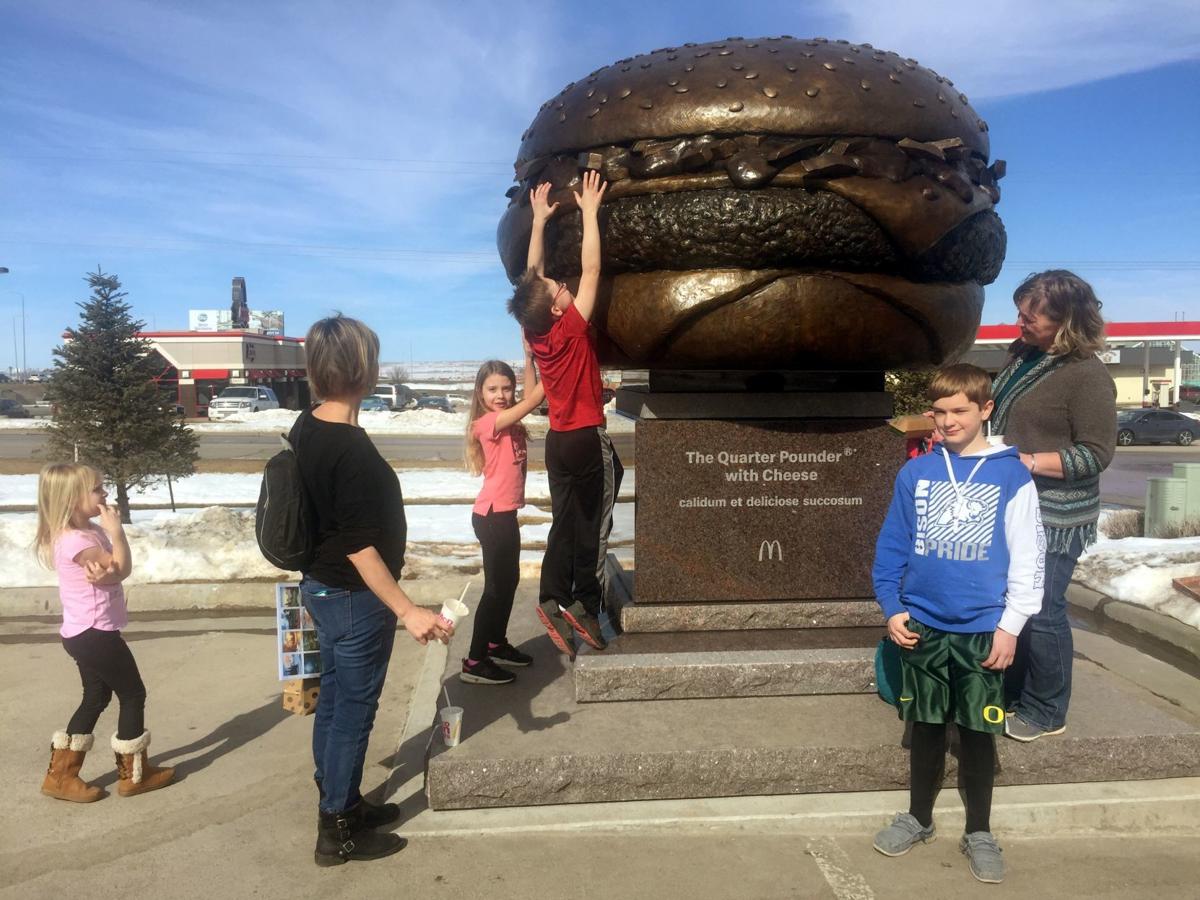 Customers gave a hearty welcome to McDonald's ultimate supersized burger — an 11.5-ton bronze Quarter Pounder statue installed this week that further cements Rapid City's reputation as a city of statues.
The 8-foot-wide statue sits atop a 9-foot granite base inscribed with the phrase "hot and deliciously juicy" in Latin. The statue is topped with "sesame seeds" 20 times the size of actual seeds sprinkled on Quarter Pounder burger buns. The monument sits outside the McDonald's at 3919 Cheyenne Blvd., within view of Interstate 90.
The statue, which was unveiled Wednesday by City Council member Darla Drew among others, is part of McDonald's celebration of its iconic burger, which will mark its 50th anniversary in 2021. McDonald's social media touted the statue and Rapid City's love for the Quarter Pounder on Friday.
"It's awesome. I couldn't believe how many people were having their picture taken with it even in this weather," said Josh Ullmark, district supervisor for McDonald's. "I'm super happy we got it. The customers Wednesday definitely loved it. A lot of regulars are going to appreciate it. I can't wait until tourist season comes."
The Cheyenne Boulevard location is the only McDonald's that will have such a statue, Ullmark said. The statue and pedestal weigh 23,000 pounds and could hold 30,000 actual Quarter Pounders, he said.
The burger sculpture was designed by Utah-based sculptor Raymond Gibby, and Bott Monument of Riverton, Wyo., created the engraved pedestal. Gibby's work is displayed at locations nationwide, including Lincoln Financial Field in Philadelphia where he designed a statue commemorating the Philadelphia Eagles' "Philly Special" Super Bowl play. 
Several factors made Rapid City the winning location to receive the supersized Quarter Pounder.
"Rapid City was selected as having the most Quarter Pounder with Cheese fans per capita and McDonald's wanted to celebrate the city's passion for this classic menu item," Anne Christensen, field brand reputation director for McDonald's, said in an email this week.
Rapid City was identified as a top market because it uses fresh beef and all the city's McDonald's locations have extremely high volume in general, Ullmark said.
Rapid City's affinity for statues was an added bonus.
"It worked out perfect that way since we're known for the monuments anyway," Ullmark said. "I can't wait until spring. We'll get some landscaping and lights put on it. It's going to be beautiful."
Ullmark had input into which of Rapid City's McDonald's would receive the statue. He selected the McDonald's off Elk Vale Road because it had the biggest lot and because of its proximity to the interstate. 
The burger statue was unveiled on Ash Wednesday, the beginning of the Lenten season when people often choose to give up indulgences such as fast food. Catholics in particular are urged to abstain from meat on Ash Wednesday and on Fridays during Lent. However, the timing — which was not chosen by Ullmark or local franchise owner Wendy Walla — didn't affect consumers' desire for Quarter Pounders, Ullmark said.
"We gave away 500 free Quarter Pounders. It was definitely busier than normal, but we sell a lot of Quarter Pounders anyway. That's why they put the monument in Rapid City," Ullmark said.
The Quarter Pounder statue further strengthens franchise owner Walla's ties and long family history with McDonald's. Walla's father, Jim Klinefelter owned all the McDonald's locations in Rapid City, and Walla owns them now.
The statue installation is the pinnacle of McDonald's' Quarter Pounder celebration, which was announced on Feb. 18. McDonald's launched a Quarter Pounder Fan Club "to give everyone a tangible way to publicly display their affection for the hot and deliciously juicy 100% fresh beef Quarter Pounder," according a McDonald's news release.
McDonald's GoldenArchesUnlimited.com released a new limited-time line of fan club swag — including Quarter Pounder scented candles — exclusively for enthusiasts as part of the Quarter Pounder celebration, but most items have already sold out.
Get local news delivered to your inbox!
Subscribe to our Daily Headlines newsletter.