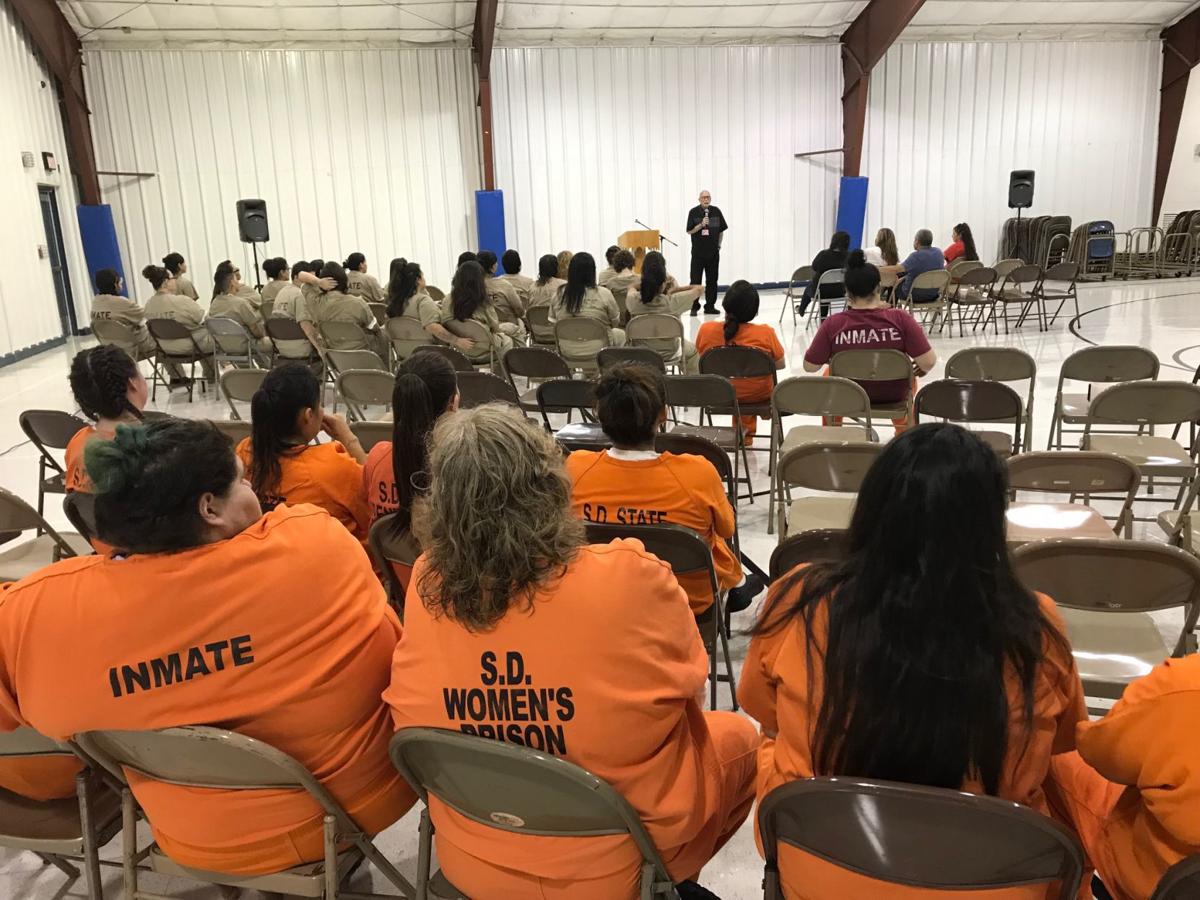 Now, after 20 years of drug use, she's on a mission to educate others about the impact of meth and need for better treatment. 
"I see the impact (of meth) every day," Shooter said during a phone interview from the women's prison in Pierre. But "there is hope and there are people being changed behind these walls." 
Shooter, a member of the Cheyenne River Sioux Tribe, became part of that change when she helped organize the first female-led anti-meth rally that was held on Sept. 12 in the women's prison.
She teamed up with fellow inmate Julia Gregg to plan the event after being inspired by a rally at the women's prison last year that was planned by Fathers Against Meth (FAM), a group formed by men at the Mike Durfee State Prison in Springfield. 
FAM first organized a rally for fellow male inmates in July 2017, said Michael Winder, spokesman for the Department of Corrections. 
After getting the go-ahead from the prison to plan their own event, Shooter said, she and Gregg wrote letters inviting musicians, pastors and activists to participate. 
"The whole prison pretty much came" to the event, Shooter said.
Inside the prison gym, guests and inmates spoke about how they've been impacted by meth. 
"Many of the invited guests are tribal leaders," Winder said. "The stories shared are powerful and heartbreaking."
"That was really emotional," said Shooter, explaining that many women were crying because they could relate to the testimonies. 
One of the guest speakers was Vincent Brewer Jr., whose son Vincent III was killed in a meth-fueled murder outside a youth center in Pine Ridge in 2016. Vi Waln, editor of the Lakota Country Times, also spoke about her experience with the drug. 
Shooter was one of the inmates who shared her story. 
"I'm a mother that fell into a life of addiction," Shooter said. "I never thought that I would want to quit" meth in the past.
She called her arrest an "eye-opener" and said she's done a "complete 180" in her life after she finally realized that her meth use could have harmed innocent pedestrians and her son.
"There are a lot of 'could haves' that cross my mind every day," she said.
The rally also included performances by inmates and guests. 
"Everybody was dancing and cheering," said Shooter, who performed at the rally. "It was awesome. It was the first hip-hop entertainment that we've had here."
"Meth has became a huge epidemic in our society," the 35-year-said said of why he agreed to perform. 
Shooter and Gregg are "very driven and motivated" women who are making something positive out of negative situation, Knudsen said. 
"I feel great," after organizing the rally, Shooter said, adding that many of the women told her they felt encouraged, could relate to the speakers and thanked her for planning the event. 
Shooter, who became sober by attending a prison group that blends Christian and Native American spirituality, said she's not done with anti-meth activism. 
She said while there's a general narcotics-anonymous group and an off-site meth-treatment program for low-security inmates at the women's prison, there's no meth-specific programs inside the facility. She hopes to "bring light" to that lack of treatment by creating a support group within the prison and creating a nonprofit to help users. 
Winder said the Department of Social Services does provide substance-abuse services, but the agency is having difficulty hiring chemical-dependency counselors and have multiple unfilled positions at the women's prison. 
Shooter, who is set to be paroled in August 2020 according to the DOC website, said once she is released from prison, she plans focus on being a good mother for her two children. She also wants to return to college so she can become a drug and alcohol counselor. 
---