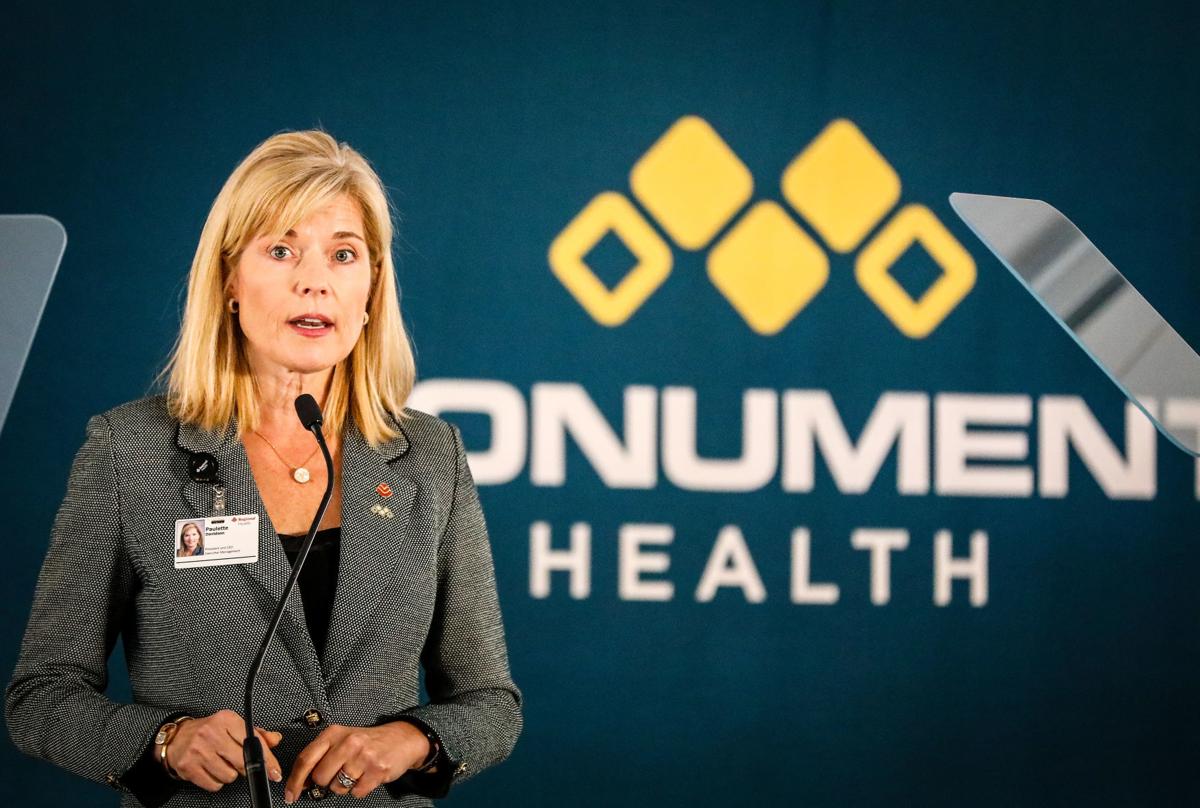 The most visible signs, so to speak, of Regional Health's rebranding as Monument Health have already begun.
The public rebranding is a monumental task in its own right, starting with installation of external signage at the health care provider's five hospitals, eight specialty and surgical centers, and 40 medical clinics and health care service centers, spread among 20 communities in eastern Wyoming and western South Dakota.
"There's a lot of aspects to the rebranding," said Robin Zebroski, Monument Health vice president for Strategic Marketing and Communications.
The name change, announced in November, became official with the South Dakota Secretary of State's office on Jan. 2.
Regional Health officially becomes Monument Health and also becomes an affiliate of the Mayo Clinic Care Network today, but even that benchmark is just another step in the process.
"There's not a lot of magic in Friday," Zebroski said. "We start answering the phones differently."
The changing of external signage on Monument Health's numerous campuses is by far the largest expense, Zebroski said, but much of the cost, which she didn't specify, was included in existing budgets.
The continuing $92 million reconstruction of Monument Health's Rapid City campus, for example, included the cost of new signage.
"We had budgeted to replace all of the external signage over the next year anyway," Zebroski said. "So if we were going to change our name, now was the time."
Other recently revamped hospitals in the system, including those in Sturgis, Spearfish and Custer, were designed with signage easily updated by swapping out panels.
Other changes will come more gradually. Name tags for 4,500 employees will eventually be replaced with those carrying Monument Health's five-diamond logo.
The tags, costing $8 apiece, carry scanning technology which allow health care providers and employees to quickly log on to computers and enter secure areas of the hospital.
Temporary vinyl stickers with the new logo will cover the Regional Health heart-and-cradle logo on tags, which are replaced every five years anyway, Zebroski said.
You have free articles remaining.
Other printed materials such as business cards and letterheads will be replaced through an in-house print shop as needed.
"We have a very long list that they will be working through and prioritizing to print as they're able," Zebroski said.
Email addresses ending in regional.org will now end with monument.health. Messages sent to the old email addresses will automatically transfer to the new addresses, she said.
Zebroski said the rebranding could take more than a year to complete. Some details, including the name of a city street, Regional Way, leading from Fifth Street to an administrative office building, may remain indefinitely.
"It's not like there's a deadline that says every single thing that says Regional has to be removed from the system. We want to do it over time," Zebroski said.
Hospital CEO Paulette Davidson said the change had been under consideration for nearly a decade, with the name Regional dating back to the 1973 merger of two Rapid City hospitals, Bennett-Clarkson Memorial and St. John's McNamara, into Rapid City Regional Hospital.
As the non-profit health care system grew, the name was shortened to Regional Health in 2005, but in recent years the moniker was considered to have become too generic.
Davidson told the Journal in November the new name was chosen because it connotes a sense of permanence and lasting impact.
It also inspires thoughts of area monuments and monument-like attractions, such as Mount Rushmore and Crazy Horse.
"It's a bit of a tribute to where we live," Davidson said.
Monument Health also announced it will pay $3.6 million for 10 years for naming rights for the new Rushmore Plaza Civic Center expansion, to be called The Monument upon its completion in 2021.
Zebroski said long-gone snippets of the health system's past can still be found years later.
Touring the Monument Health Spearfish Hospital as part of the rebranding process, she found wheelchairs still carrying the facility's former name, Lookout Memorial Hospital, which hasn't been used in 18 years
"There's things that will last a long time," Zebroski said. "That's OK. That's our legacy."