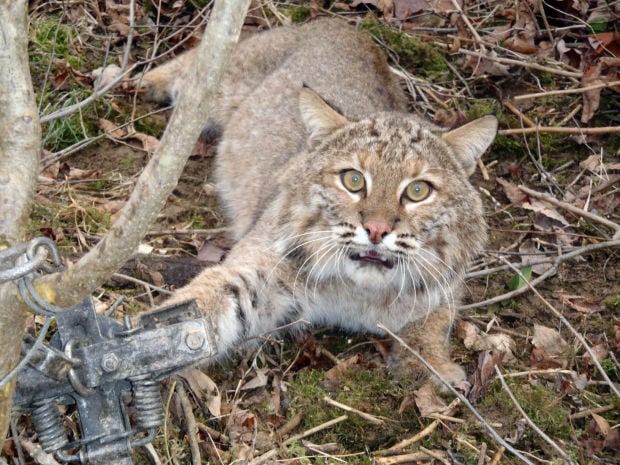 State game officials say it's time to outlaw the use of live mammals as bait in trapping fur-bearing animals.
And representatives from trapping and fur-harvesting organizations in the state agree.
"We were appalled that there isn't a law on the books and that it was even allowed," said Anna Hermanson of Newell, president of the South Dakota Trapping Association. "Everybody pretty much agreed that live animals should not be used for bait."
Reports of live animals — including domestic cats, rabbits and birds — used to bait coyote and bobcat traps prompted the South Dakota Game, Fish & Parks Commission to propose a ban at its May meeting.
A public hearing on the proposal is set for the commission's next meeting in Yankton on June 5.
Keith Fisk of Pierre, wildlife damage program administrator with GF&P, said the department mulled prohibiting the use of live mammals in traps after investigating increasing reports of the activity in the northern Black Hills. Some cage traps have a small compartment where a live animal can be placed as bait to entice a fur-bearer.
"Most of the complaints we've heard, we've got people hiking or walking in the Hills and they come across a small cat in a trap that hasn't been fed or watered for several days and it becomes a humane issue," Fisk said.
"It's been going on for several years and we just decided to address that issue," he said.
Larry Bowden of Hot Springs, president of the Western South Dakota Fur Harvesters, said the organization wanted to be the first to oppose the use of live bait for trapping.
"We are against the use of live bait. We see no need for it. It doesn't appear to be humane," Bowden said. "I'm a lifelong trapper, been trapping for over 50 years, I don't see the need for it or know anyone that would."
Hermanson said she has also heard reports of live bait being used for trapping.
"As you get new trappers ... who aren't aware of the norms of trapping or ethical trapping practices, you're going to get behavior that's not reflective of what trappers promote or what trappers would normally do," she said.
Fisk said a steady rise in the prices paid for bobcat pelts in the past three or four years could compel an inexperienced or unscrupulous trapper to use live bait.  
"As fur prices have increased for bobcats over the past three or four years, we've seen an increased number of people pursuing those critters, and sometimes those individuals are more novice trappers or people who aren't real frequent trappers," Fisk said.
According to the North American Fur Auctions website, buyers from Russia and China kept demand for furs high in 2012-2013, with a cold winter in China only adding to the demand.
Prices paid for bobcats peaked in 2012-2013 with 295 pelts sold in South Dakota fetching an average of $373. More than half of the 619 bobcats taken that season were sold out of state or in Canada and brought even higher prices, Fisk said.
"The last few years the bobcat market has just been extremely hot," Fisk said. "The fur market is so dynamic and there's so many international players, it depends on what the fashion market is in other countries."
Bowden said prices have eased 30-40 percent from last year's peak. He said the WSDFH stresses the role that hunting and trapping plays in wildlife conservation.
"We have a spring and fall convention each year with youth trapper education classes. We want to teach them how to do it right in the most humane way possible, and we stress the responsibility of setting traps and checking traps," he said.
"A lot of our membership do predator control for ranchers, harvest coyotes and foxes that might be affecting their livelihood, eating their calves and sheep," he said.
The SDTA celebrated its 50th anniversary in 2012. Both organizations promote what trappers call Best Management Practices.
"We like to promote ethics and sound trapping practices and (use of live animals for bait) is not something we would stand behind," Hermanson said. "Both organizations favor (a ban) and most trappers favor it."
Fisk isn't surprised to have both organizations on board in favor of a ban.
"Anything that portrays trapping in a bad light, that's not good for anybody," he said. "They want to be responsible and have a good public image so that's why they're supporting it. It's just the right thing to do."