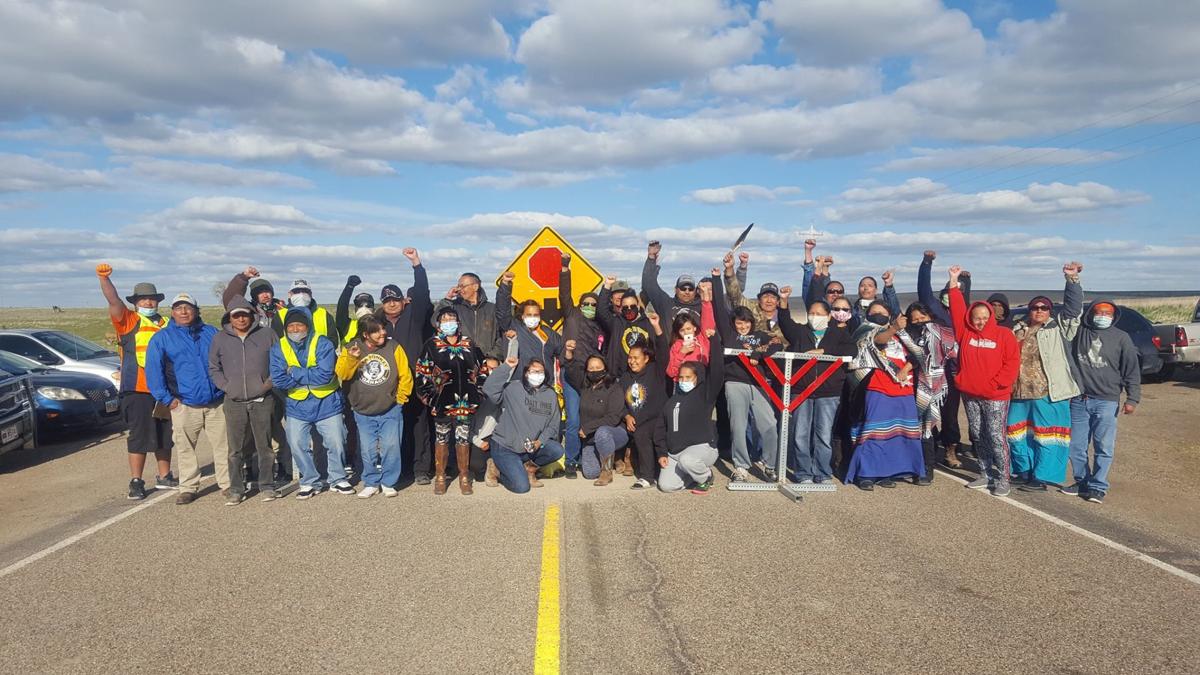 Gov. Kristi Noem says she's received complaints that state workers, ranchers and business owners are having trouble delivering or receiving essential services after vehicles were blocked from traveling through COVID-19 checkpoints on the Pine Ridge and Cheyenne River reservations.
"What's happening on the ground appears to be different," than what tribal ordinances and rules say is supposed to happen," Noem said Monday. She did not discuss specific examples.
The Journal learned of multiple complaints related to the Cheyenne River Reservation but just one related to the Pine Ridge Reservation.
Harold Frazier, chairman of the Cheyenne River Sioux Tribe, said there may have been glitches when the checkpoints began and problems can be fixed. 
"Give us a call and give us some suggestions," he said, adding that Noem is invited to observe a checkpoint with him.
Noem also said she fears tribes would block first responders from entering the reservations.
"It's a priority that we make sure if somebody needs an ambulance on a reservation one can get to them, and I'm not sure of that today with these checkpoints operating the way that they are and the stories that we've heard," she said.
Jim Strain, assistant chief of the Fairburn Volunteer Fire District — which has a contract with the Bureau of Indian Affairs to fight fires on the Pine Ridge Reservation — responded to a grass fire north of Oglala on April 6.
"We got waived through the checkpoint," in our fire truck, which had its sirens on, said Strain. "That was no big deal."
"Absolutely not," Chase Iron Eyes, spokesman for the Oglala Sioux president, said when asked if the checkpoints would ever turn away first responders. 
"I think she's operating completely out of fear" and "misinformation," he said of Noem.
Noem says the state will sue the Oglala and Cheyenne River Sioux tribes if they don't take down their COVID-19 prevention checkpoints on state and federal highways. Frazier and Julian Bear Runner, president of the Oglala Sioux Tribe, say they have no plans to stop the checkpoints since they're on tribal land and the state hasn't taken enough precautions against COVID-19. The leaders and health experts say tribal members are especially susceptible to contracting and dying of the virus due to lack of medical resources and socioeconomic health barriers.
The ordinance defines "essential travel" in its shelter-in-place ordinance: travel related to essential jobs, deliveries and services. First responders and those delivering gas, agriculture and food supplies are considered essential.
All commercial vehicles are allowed to pass through or stop on the Cheyenne River Reservation, according to the tribe's COVID-19 website. In-state private vehicles traveling from hotspots and all out-of-state private vehicles are only allowed to enter the reservation if they're a resident, tribal member or have a travel permit.
Some drivers entering the reservation are questioned about their health and where they are coming from and going. The tribe says it's asking these questions in case it needs to conduct contact tracing.
The South Dakota Stock Growers, Cattleman's Association and Chamber of Commerce say none of their members have complained about the checkpoints. The Trucking Association did not return a message from the Journal.
Nathan Sanderson, director of the South Dakota Retailers Association, said he's received more than a dozen complaints about checkpoints on the Cheyenne River Reservation but none regarding the Pine Ridge Reservation.
Sanderson said the complaints came in three weeks ago from retailers in towns within or bordering the reservation. He said gasoline deliveries have been blocked at least twice and there's "inconsistent application on the ground with the regulations."
Drivers with permits are sometimes immediately let through but may later be stopped to answer questions that are already on the permits, Sanderson said. And he said some retailers feel the checkpoint workers are purposefully trying to make things difficult.
Ryan Maher, a senator from Isabel on the Cheyenne River Reservation, said he received "nonstop" complaints about the checkpoints, especially after the permit system was created.
He said he knows of two gasoline, one tire and one fertilizer delivery that have been turned around. And he said a rancher who lives on the reservation had to re-route multiple outgoing and incoming vehicles.
The senator said the permits are handled differently at each checkpoint and non-tribal members — who usually aren't under the tribe's jurisdiction — can face tribal fines or banishment if they violate the terms on the permit. He said some non-members are afraid the tribe will retaliate against them if they speak up about problems with the checkpoints. 
Frazier said the permits are supposed to expedite travel and any inconsistencies can be fixed. And he said it makes sense for people to be subject to the jurisdiction they are living in or passing through, just like he would face charges if he broke a rule in another state he was visiting.
Lynn Janis, a member of the Oglala Sioux Tribe who lives near Kyle, said she supports the checkpoints because the tribe lacks health care resources and "there's a whole bunch of people who are high risk," including her mother who has an immune deficiency and her son who has asthma.
Janis said she drives her mother to a medical appointment outside of the reservation every two weeks, and they have no problem as long as they provide proof of the appointment. She said the border workers ask if they have any COVID-19 symptoms when they leave and again when they return.
Janis said the checkpoints encourage residents to stay home and are also meant to educate drivers about the reservation's COVID-19 rules.
A co-owner of a Wisconsin trucking company emailed the Journal April 8 to say one of her drivers was not allowed to pass through the Pine Ridge Reservation. Justin Kuehl, another owner, told the Journal on Tuesday that a border worker tried to turn him around in early April but eventually let him through.
"He did stop me but they allowed me to proceed after I told them which route I was taking" and that they can't block interstate traffic.
The Journal spoke with two ranching families — one who is white and another who is a member of the Cheyenne River Sioux Tribe — who live on the Pine Ridge Reservation. Both say they've had no problems transporting and receiving materials.
Mia Cuny is a member of the Cheyenne River Tribe who lives and ranches near Oglala with her husband, Scott, who is a member of the Oglala Sioux Tribe. She said a vet from Nebraska was able to visit their livestock after she told border monitors about the essential appointment.
Cuny said the checkpoints can be "inconvenient" but the "whole process has our best intent in heart." She said there may be inconsistencies on the ground since the checkpoints are a new system. 
Joni Hunt — a non-tribal member who ranches on the Cheyenne River Reservation with her husband, Jim, a tribal member — said they and their ranching friends haven't had problems using permits to pass through the checkpoints.
"My personal experience with the checkpoints is everybody's super polite, they just ask you how you're feeling and where you've been," said Hunt. "We have agricultural purposes that we go on and off for and it has really not been a problem for us at this point."
She said when the regulations were first announced she saw that someone posted signs in a Faith business urging people upset about the checkpoints to call South Dakota's congressional delegation.
Hunt said the checkpoints can be an inconvenience but the tribe is "trying to keep people safe."