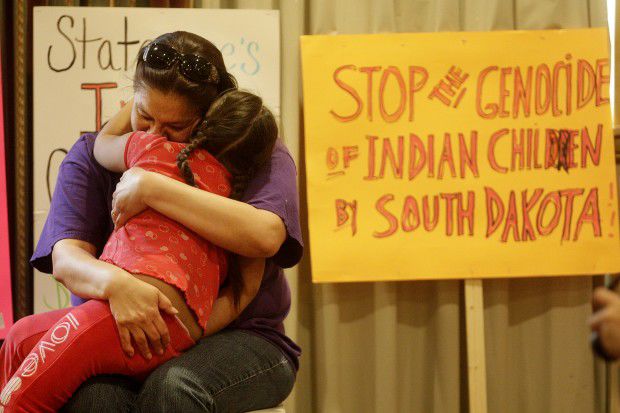 The South Dakota attorney general had decided "to not take sides" in a high-stakes federal lawsuit that could determine the future of a law meant to keep Native American families, communities and culture intact. 
The entire constitutionality of the Indian Child Welfare Act, or ICWA, is being challenged in Brackeen v. Bernhardt, a lawsuit against the U.S. government by Texas, Louisiana, Indiana, a biological mother, and three non-indigenous couples interested in fostering and adopting Native American children. 
A majority of attorneys general have signed a brief in support of ICWA. The 27 attorneys general come from states with a mix of Republican and Democratic leadership, state's with high percentages of indigenous residents like South Dakota, and some of South Dakota's neighbors — Montana, Colorado, Minnesota and Iowa.
Jason Ravnsborg, attorney general of South Dakota, did not sign on, however.
Ravnsborg was approached by both sides of the case this summer and needed to make a decision on whether to sign a brief by June 30, spokesman Tim Bormann said in an email. He said Ravnsborg decided not to sign either brief because of a pending ICWA case out of the Rapid City federal court "with statewide implications." 
Bormann was referring to a 2013 federal lawsuit brought by three mothers and the Oglala and Rosebud Sioux tribes. It challenged the practices of the state 7th Circuit Court that includes Pennington County, the Pennington County State's Attorney Office and the Department of Social Services that occurred during emergency custody hearings taking place within 48 hours of removing a child from a home to determine whether they can be returned or need to be placed in foster care. 
The lawsuit said ICWA and the right to due process were being violated because the hearings were too brief — usually less than five minutes — parents weren't allowed to see the removal petition against them or testify on their own behalf, and the state didn't have to introduce any evidence. Judge Jeffrey Viken agreed, noting that the state always placed the child into foster care and ordering the defendants to change their policies.
However, Mark Vargo, Pennington County state's attorney, said his office will continue to voluntarily follow the changes ordered by Viken. Dana Hanna, a Rapid City-based lawyer who represented the plaintiffs with the ACLU, wrote in a November open letter that he agreed the "fundamental changes" ordered by Viken remain intact. 
"The Attorney General has made the choice to not take sides on this argument, and we continue to monitor the case," Bormann said when asked if Ravnsborg would ask to join a brief in the Brackeen case now that the local case has concluded. 
Sen. Mike Rounds said he supports ICWA and believes it's constitutional, but didn't explain why he didn't sign the brief. 
"I support the Indian Child Welfare Act, which seeks to preserve Native American culture by keeping Indian children near their families and tribes," Rounds wrote in an email. "It has been upheld as constitutional for more than 40 years." 
A spokeswoman for Rep. Dusty Johnson said the Native American Caucus asked all representatives to join the briefs in November, but he decided not to sign "because he believes this decision is best determined by the judicial branch."
"I support tribal self-determination, and I also support keeping children with their families. This case is incredibly complicated and should be left to the courts to decide," Johnson wrote in the email. 
Sen. Thune's office did not respond to requests for comment. 
ICWA was passed in 1978 to "protect the best interests of Indian children and to promote the stability and security of Indian tribes and families," the law says. It was created in response to states removing Native American children from their families at disproportional rates and for often unfair reasons and usually placing them with non-Native families. 
"An alarmingly high percentage of Indian families are broken up by the removal, often unwarranted, of their children from them by non-tribal public and private agencies and that an alarmingly high percentage of such children are placed in non-Indian foster and adoptive homes and institutions," the law says. And states "have often failed to recognize the essential tribal relations of Indian people and the cultural and social standards prevailing in Indian communities and families."
Studies at the time found that 25-35 percent of Native Americans were removed from their families, and 85 percent were placed in non-Native families.
ICWA allows abuse and neglect cases to be transferred to tribal courts, said David Simmons, director of government affairs and advocacy at the National Indian Child Welfare Association, a group that supports ICWA. 
If the case stays in state court, tribes must be notified and can intervene in proceedings, and the state must make "active efforts" to keep families together, he said. For example, a child welfare worker shouldn't just tell parents about parenting classes, but connect them with a culturally relevant program and make sure they have transportation to get there.
But if a child does need to be removed for their safety, Simmons said, the child must be placed in foster care in this order of preference: 
A relative, whether they are Native American or not;
A licensed foster parent within the child's tribe;
A licensed foster parent from another tribe;
A group home approved by the child's tribe.
A child can be fostered or adopted by non-indigenous parents if there's proof that officials put serious effort into finding a family that falls into these preferences but no one was available, Simmons said.
Simmons said cases where children are removed from non-indigenous foster families they've bonded with over several months or years raises questions about whether state officials put serious effort into finding a preferred family in the first place. He said states often fail to identify family members, do a poor job at recruiting Native American foster parents, and create biased requirements for foster families — such as requiring certain sized bedrooms for children  — that can exclude some Native American parents. 
The plaintiffs in the Brackeen case include two couples who were able to adopt Native American children, but the ICWA process was frustrating and discouraged them from fostering Native American children again, according to court records they filed. The plaintiffs also include a couple who wanted to adopt a Native American child — with the approval of her birth mother — but the child was removed and placed with her maternal grandmother, whose foster license had previously been revoked.
In Oct. 2018 a federal judge in Texas agreed with the plaintiffs that ICWA is unconstitutional. Judge Reed O'Connor said ICWA is a "race-based statute" because it defines Native American children as any child who is not just a member of a tribe but is eligible to join based on their ancestry. And he said ICWA doesn't pass the "strict scrutiny review" that shows a race-based law is narrowly tailored and furthers a compelling government interest.
O'Connor also said ICWA illegally gives tribes the power to legislate federal rules and allows the federal government to dictate state practices.
But O'Connor's findings were reversed in August 2019 by a three-judge panel in the 5th U.S. Circuit Court of Appeals, which said the U.S. Supreme Court has long recognized that federal legislation related to Native American tribes and people is about the "quasi-sovereign" political status of tribes, not race.
When it comes to ICWA, the panel noted, the law defines an "Indian child" as any child enrolled in or eligible to join a federally recognized tribe. Some tribal membership laws grant membership to not just people with "Indian blood" but also to descendants of tribes' former slaves or descendants of adopted white people, the panel wrote. And some "racially Indian children," such as those belonging to non-federally recognized tribes, don't qualify for ICWA. Therefore, ICWA is about a political classification and not race, the panel said. 
The plaintiffs then asked and received permission for an en banc hearing — a hearing before all of the 5th Circuit's judges  — that's scheduled for Jan. 22 in New Orleans.
Many ICWA supporters fear that other federal Indian laws will be at risk if ICWA is found to be race-based and unconstitutional. 
This would "throw much of federal Indian law into question, and could sow confusion about judicial review of other diverse areas of law," a group of Indian law professors wrote in a brief. 
Opponents of the law reject that argument. 
These fears "are radically overblown" because "ICWA is unique among federal Indian statutes in being triggered solely by biological eligibility for tribal membership," the libertarian Cato and Goldwater institutes and other groups wrote in a brief. 
Get local news delivered to your inbox!
Subscribe to our Daily Headlines newsletter.