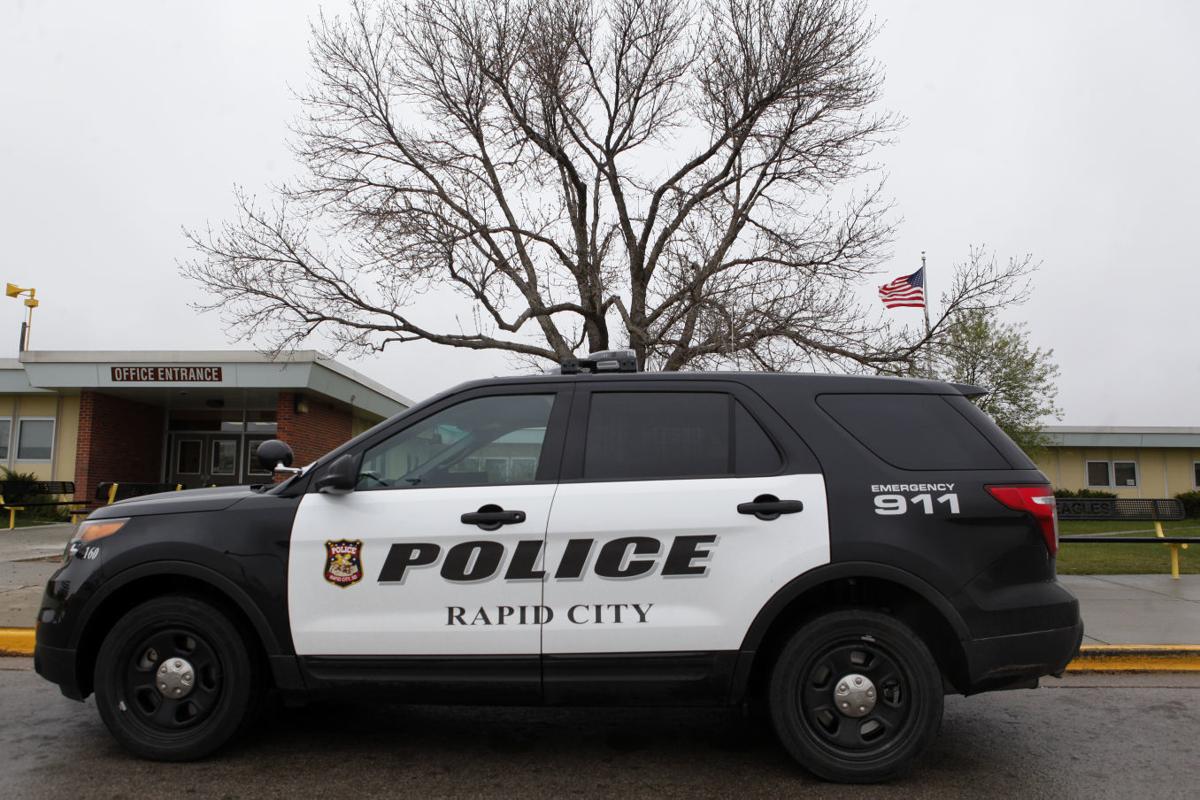 The state Department of Health is sharing the names and addresses of people with COVID-19 with the Department of Public Safety in order to protect law enforcement, medics and the greater community.
"This is one more tool we are now provided with in order to keep our officers safe as they go to work for the community," said Brendyn Medina, spokesman for the Rapid City Police Department.
The DOH shares daily information with the DPS which then shares local information with dispatch centers across the state, officials told the Journal. The dispatch centers then only shares information with first responders if they're responding to a call where someone has the virus.
"This process has worked well and has had a positive impact on how law enforcement and first responders safely support people with COVID-19 while protecting themselves and others around them," said DPS spokesman Tony Mangan.
Mangan said police officers were recently dispatched to a passenger in a car who was having medical issues and were able to put on extra personal protective equipment after learning the person was positive. The officers then helped the passenger into an ambulance.
South Dakota officials say the information sharing is necessary to keep first responders safe and done with strict privacy protocols. Law enforcement officials across the country told the AP that they're already entrusted with confidential information such as Social Security numbers and criminal histories. 
But civil liberty and community activists across the country have expressed concerns of potential racial profiling in communities that already have an uneasy relationship with law enforcement, the AP reported. Critics also ask why first responders don't just take precautions with everyone, given that so many people with the virus are asymptomatic or present mild symptoms.
Medina said it wouldn't work to just ask people if they're sick because "our officers encounter deceitful and untruthful behavior from the public every day."
At least two states have decided to stop sharing COVID-19 information with first responders, according to a May 27 AP story. Tennessee is halting its program after its Republican governor said it may have created a false sense of security for first responders. Colorado stopped sharing the information because the virus is so widespread there. 
The Journal spoke with five people who had the virus or have loved ones with it. The group had diverse opinions on the information sharing program and just one said they knew it existed. 
Theresa Rose Farmer, a 48-year-old from Sioux Falls, said she knew about the program from working in the health field, reading the AP story and because she's heard dispatchers discussing COVID-19 statuses on the scanner.
I "fully support" the information sharing, said Farmer, who's still recovering from the virus after contracting it a month ago. First responders "have families too, they have families to go home to" so they need to keep safe.
Will Baxter, a 47-year-old from Brookings, said the DOH texted him each day when he was sick to monitor his symptoms, but "they didn't tell me they were giving out any of my information."
"It's definitely a privacy invasion," he said. "I get the need for it, but they should have said something" and had me sign something at the very least.
Alexis Wilson, a 29-year-old from Sisseton, is caring for her 8-year-old son who has the virus. She said she has no problem with the program.
"It's just a heads up to them — a be prepared kind of thing," she said.
"I understand the need to protect themselves" Chantelle Blue Arm said of first responders. But "police officers should be assuming that everybody has the virus. They should be reacting and responding in a way that keeps themselves and others safe."
Blue Arm, a 34-year-old from Flandreau who recovered from the virus, said officers should wear protective gear like medics do since so many people with COVID-19 are asymptomatic. At the very least, she said, the program shouldn't be sharing names.
South Dakota law says that all health care providers must report communicable diseases, such as the coronavirus, to the Department of Health, said Dan Daly, spokesman for Monument Health.
This sharing of information is allowed under the Health Insurance Portability and Accountability Act (HIPAA) and medical providers don't need to tell patients that it will be shared, he said.
The Department of Health has never shared communicable disease information with law enforcement in the past "but is doing so in this event at the request of law enforcement and first responders," said spokesman Derrick Haskins.
Disclosing protected health information to first responders is allowed if "necessary to prevent or lessen a serious or imminent threat to the health and safety of a person for the public," the guidance says.
Haskins said the DOH sends a daily list of positive cases to the South Dakota Fusion Center, which is part of the Office of Homeland Security under the Department of Public Safety. People are removed from the list once they are released from isolation.
The Fusion Center typically collects and shares information with South Dakota first responders that's related to criminal cases and terrorism prevention. But its privacy policy also says records can be shared for "legitimate" public health purposes.
Dispatch centers across the state can then request information from the Fusion Center but only for the counties they serve, Mangan said. In other words, they don't receive the entire list.
"Dispatch center staff have been trained on data security, confidentiality and HIPAA, and have signed confidentiality agreements," he said.
Dispatch staff share the information with first responders on a "case-by-case basis," only when there's "an incident involving a call for service involving a positive case," Mangan said. First responders can't "directly access or look up that information."
Kevin Karley, director of Pennington County 911, said the dispatch center needed to request access to the Fusion Center database. One employee was granted access after going through a short training session and signing a confidentiality agreement.
Staff check the DOH list once a day and add a notes to people's names and addresses in the dispatch system, Karley said. The note is removed from the system as soon as the name and address is taken off the DOH list.
"If a first responder comes in contact with someone who has been noted in the system, or sent to an address that has been noted in the system, they are alerted," Karley said.
"Pennington County dispatchers handle information of a confidential nature every day as part of their normal duties," Karley said. They're not allowed to share COVID-19 or any other information with family or friends.
Jason Culberson, head of medical operations at the Rapid City Fire Department, said staff wear gloves, eye protection and a mask to every call.
"We approach every call the same" but if dispatch says we're transporting a patient with COVID-19, staff also follow a decontamination procedure, he said.
Rapid City police officers wear gloves, masks and face shields when they're told they're responding to a person or location with COVID-19, Medina said.
He said officers sign contracts that prevent them from sharing confidential information outside of their work duties.
"Breaking this contract is grounds for discipline or termination," Medina said.
Concerned about COVID-19?
Sign up now to get the most recent coronavirus headlines and other important local and national news sent to your email inbox daily.