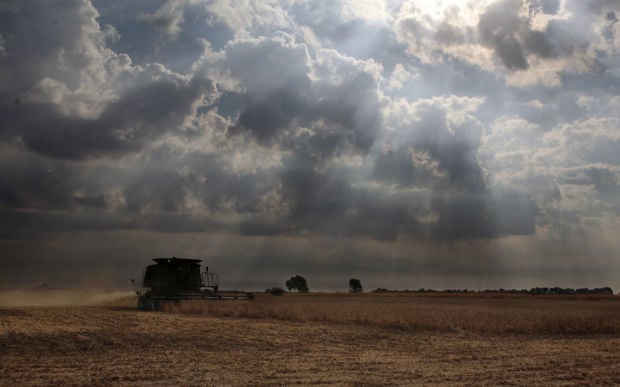 The EWG said Monday that it had obtained data from the U.S. Department of Agriculture through a Freedom of Information Act request. The nationwide data covers 87,704 payments made through Oct. 31 from USDA's Market Facilitation Program, or MFP, totaling $356 million. That's less than 8 percent of roughly $5 billion expected to be paid out during the first round of the program's funding.
The data show 2,895 payments to farmers and farm operations in South Dakota. At the low end, some individual farmers have received payments as low as $2, the data show, while the top South Dakota recipient is Pugh Bros., of Miller, with $207,860 in payments.
Fifty-five of the payments in South Dakota have gone to Hutterite colonies, which have received a total of $1.89 million.
MFP is administered by the Farm Service Agency. For each commodity covered, a payment rate has been established based on the severity of the trade disruption and the expected period of adjustment to new trade patterns. A USDA website lists rates including $1.65 per bushel for soybeans, 86 cents per bushel for sorghum, 14 cents per bushel for wheat, 1 cent per bushel for corn, and 12 cents per hundredweight for dairy.
To calculate the MFP payment, the applicable commodity rate is multiplied by 50 percent of the producer's total 2018 actual production.
Trump farm payments to South Dakota
Trump administration Market Facilitation Program payments to South Dakotans through Oct. 31, according to data obtained and released by the Environmental Working Group through a Freedom of Information Act request.
Field 1
Field 2
Field 3
Field 4
Field 5
PUGH BROS
MILLER
SD
SOYBEANS
$207,860
SUPREME PORK INC
CLEAR LAKE
SD
HOGS
$125,000
JEROME MACK FARMS LLC
LEOLA
SD
HOGS
$125,000
DAVID RUSSELL SALMEN REV LVG TRUST
WESSINGTON SPRINGS
SD
SOYBEANS
$125,000
MITCH TRUEBENBACH
FREDERICK
SD
HOGS
$122,584
STEPHANY KAY KOPMAN
BRYANT
SD
SOYBEANS
$114,023
LEONARD EDWARD KOPMAN
BRYANT
SD
SOYBEANS
$114,023
POINSETT HUTTERIAN BRETHREN INC
ESTELLINE
SD
SOYBEANS
$111,372
R & B MIELKE INC
CONDE
SD
SOYBEANS
$108,306
COLLINS HUTTERIAN BRETHREN INC
IROQUOIS
SD
SOYBEANS
$105,604
KRAIG JACKSON
ZELL
SD
SOYBEANS
$103,958
UPLAND HTT BRETH INC
ARTESIAN
SD
HOGS
$103,561
RENELT BROTHERS FARMS
WILMOT
SD
SOYBEANS
$97,350
CHRIS BAKER
SAINT LAWRENCE
SD
SOYBEANS
$92,229
SCOTT HATCH FELLER
GROTON
SD
SOYBEANS
$91,563
BARTZ GRAIN FARM INC
SISSETON
SD
SOYBEANS
$87,399
TODD BUSHONG
TULARE
SD
SOYBEANS
$84,706
BLY BROS
VALLEY SPRINGS
SD
SOYBEANS
$80,888
EGGERS FARMS INC
NEW EFFINGTON
SD
SOYBEANS
$80,850
SHANNON HUTTERIAN BRETHREN
WINFRED
SD
HOGS
$76,862
HEATH R PETERSON
REVILLO
SD
SOYBEANS
$76,238
BON HOMME HUTTERIAN BRETHREN INC
TABOR
SD
HOGS
$75,149
LESLIE SCOTT HEINECKE
SISSETON
SD
SOYBEANS
$72,452
GOLDEN VIEW HUTTERIAN BRETHREN INC
SALEM
SD
HOGS
$71,270
WESTWOOD HUTTERIAN BRETHREN INC
BRITTON
SD
HOGS
$67,680
SHAMROCK HUTTERIAN BRETHREN INC
CARPENTER
SD
HOGS
$67,142
HURON HUTTERIAN BRETHREN INC
HURON
SD
HOGS
$67,095
DAVID RAY HANSEN
WILMOT
SD
SOYBEANS
$66,825
BRANDT FARMS INC
CLEAR LAKE
SD
SOYBEANS
$64,876
NORTHERN SKY DAIRY LLC
BRUCE
SD
DAIRY
$63,523
GREENWOOD HUTTERIAN BRETHREN INC
DELMONT
SD
HOGS
$62,856
PLAINVIEW HUTTERIAN BRETHREN INC
LEOLA
SD
HOGS
$62,843
CEDAR GROVE HUTT BRETH INC
PLATTE
SD
HOGS
$62,836
ROCKPORT HUTTERIAN BRETHREN INC
ALEXANDRIA
SD
HOGS
$62,769
LAKEVIEW HUTTERIAN BRETHREN INC
LAKE ANDES
SD
HOGS
$62,260
NEW ELM SPRING HUTTERIAN BRETHREN
ETHAN
SD
HOGS
$62,069
MIILLER LAND & CATTLE LLC
MOUNT VERNON
SD
SOYBEANS
$60,590
SUNSET HUTTERIAN BRETHREN INC
BRITTON
SD
HOGS
$59,540
WESTWOOD HUTTERIAN BRETHREN INC
BRITTON
SD
SOYBEANS
$59,400
JOHN HARVEY DERKSEN
HURON
SD
SOYBEANS
$59,167
CEDAR GROVE HUTT BRETH INC
PLATTE
SD
SOYBEANS
$58,745
ROLLAND HUTTERIAN BRETHREN INC
WHITE
SD
HOGS
$58,600
GEORGE MELBER LIVING TRUST
SAINT LAWRENCE
SD
SOYBEANS
$58,295
EVERGREEN COLONY
FAULKTON
SD
HOGS
$58,203
TODD E STROSCHEIN
CLEAR LAKE
SD
SOYBEANS
$57,750
JAMESVILLE HUTTERIAN BRETHREN INC
UTICA
SD
HOGS
$57,728
VEFLIN BROTHERS FARMS
SISSETON
SD
SOYBEANS
$57,180
CURTIS LEO GILLEN
WHITE LAKE
SD
SOYBEANS
$56,397
ROE FARM LLC
HAZEL
SD
SOYBEANS
$54,712
M N M FARMS INC
SISSETON
SD
SOYBEANS
$53,626
KEVIN WILLIAM KLEIN
ROSHOLT
SD
SOYBEANS
$53,007
CARLEN D HANSON
BATH
SD
SOYBEANS
$52,837
NEWPORT HUTTERIAN BRETHREN INC
CLAREMONT
SD
HOGS
$52,530
VERHELST BROTHERS INC
HURON
SD
SOYBEANS
$52,144
LOUISE ANN GILLEN
WHITE LAKE
SD
SOYBEANS
$52,059
TODD HANSON
ABERDEEN
SD
SOYBEANS
$51,728
DOUGLAS L SIMONS REVOCABLE LIVING TR
SAINT LAWRENCE
SD
SOYBEANS
$50,929
COLLINS HUTTERIAN BRETHREN INC
IROQUOIS
SD
HOGS
$50,173
PERRY LEE HOFER
DOLAND
SD
SOYBEANS
$50,036
KEVIN JUAN HOFER
DOLAND
SD
SOYBEANS
$50,036
TSCHETTER HUTERIAN BRETHERN INC
OLIVET
SD
HOGS
$49,881
BURY FARMS INC
MILBANK
SD
SOYBEANS
$49,500
BRADLEY JONGELING
ESTELLINE
SD
SOYBEANS
$49,500
P J WERDEL & SONS INC
REE HEIGHTS
SD
SOYBEANS
$49,141
DANIEL MIKE REDERICK
VOLIN
SD
SOYBEANS
$48,982
MAGEDANZ FARMS LLC
REVILLO
SD
SOYBEANS
$48,492
RODNEY P KOCH
DELL RAPIDS
SD
SOYBEANS
$48,449
ROSEDALE HUTTERIAN BRETHREN INCOR
MITCHELL
SD
HOGS
$48,198
JOSHUA JONATHON METZ
PEEVER
SD
SOYBEANS
$48,167
PLATTE HUTTERIAN BRETHREN INC
PLATTE
SD
HOGS
$47,871
MARLA KAY LICHTY LIVING TRUST
WESSINGTON
SD
SOYBEANS
$47,592
LEE WILLIAM LICHTY LIVING TRUST
WESSINGTON
SD
SOYBEANS
$47,592
CHARLES K RABENBERG & SON INC
BRITTON
SD
SOYBEANS
$47,338
BOADWINE FARMS INC
SIOUX FALLS
SD
DAIRY
$45,284
MICHAEL SEBEK
CLAIRE CITY
SD
SOYBEANS
$44,194
THOMAS W SCHMIDT
COLMAN
SD
SOYBEANS
$43,707
TERRY RUDOLPH
SISSETON
SD
SOYBEANS
$43,580
SINGREY FARMS INC
HAZEL
SD
SOYBEANS
$43,074
RICHARD SANDO
ROSHOLT
SD
SOYBEANS
$43,002
GARY D WISEMAN
BRYANT
SD
SOYBEANS
$42,475
DAVID B HANSEN
NEW EFFINGTON
SD
SOYBEANS
$42,356
JEFFREY WATT
ESTELLINE
SD
SOYBEANS
$42,075
DAVID LLOYD PIERCE
WILMOT
SD
SOYBEANS
$41,836
WOLLES FARMS INC
DELL RAPIDS
SD
SOYBEANS
$41,518
GRASS LAND HUTTERIAN BRETHREN INC
WESTPORT
SD
HOGS
$41,467
RIVERSIDE HUTTERIAN BRETHREN INC
HURON
SD
HOGS
$41,300
OLD ELM SPRING HUTTERIAN BRETHREN
PARKSTON
SD
HOGS
$40,906
FOLTZ INC
ROSHOLT
SD
SOYBEANS
$40,488
LED PENCELIN INC
DELL RAPIDS
SD
HOGS
$40,463
NIELAND FARMS INC
SISSETON
SD
SOYBEANS
$40,426
HUTTERVILLE SOUTH DAKOTA INC
STRATFORD
SD
HOGS
$40,246
RONALD J GORDER
ESTELLINE
SD
SOYBEANS
$39,924
TERRY LANE BRITZMAN
WATERTOWN
SD
SOYBEANS
$39,835
ABRAHAM FARMS LLC
HAZEL
SD
SOYBEANS
$39,765
MICHAEL TODD HUTH
WAKONDA
SD
SOYBEANS
$38,858
ODEGAARD FAMILY FARMS INC
LAKE PRESTON
SD
HOGS
$38,831
CURTIS F PENFIELD
CRESBARD
SD
SOYBEANS
$38,732
ROBERT NELSEN & SONS INC
COLMAN
SD
SOYBEANS
$38,502
L & J NIGG INC
SISSETON
SD
SOYBEANS
$38,298
L & J NIGG INC
SISSETON
SD
CORN
$38,298
YACKLEY RANCHES
ONIDA
SD
WHEAT
$37,775
MARK L STENBERG
BROOKINGS
SD
SOYBEANS
$37,496
RM FOLTZ INC
ROSHOLT
SD
SOYBEANS
$37,138
WHITEWOOD ACRES INC
LAKE PRESTON
SD
SOYBEANS
$36,766
LONG LAKE HUTTERIAN BRETHREN INC
WETONKA
SD
HOGS
$36,346
JD FARMS LLC
CHESTER
SD
SOYBEANS
$36,300
D N D PORK
BERESFORD
SD
HOGS
$36,132
HEIDI RAE SCHOOLEY
CASTLEWOOD
SD
SOYBEANS
$35,777
CHAD KENNETH SCHOOLEY
CASTLEWOOD
SD
SOYBEANS
$35,777
RONALD MARONE
CAVOUR
SD
SOYBEANS
$35,678
CLEARFIELD HUTTERIAN BRETHREN INC
DELMONT
SD
HOGS
$35,546
TIMOTHY RUSSELL VEFLIN
SISSETON
SD
SOYBEANS
$35,475
MARK ALAN LACKEY
ROSHOLT
SD
SOYBEANS
$35,433
NOLT FARMS INC
GETTYSBURG
SD
SOYBEANS
$35,232
RANDY PUFFER
HITCHCOCK
SD
SOYBEANS
$35,047
JERRY L RUNIA
ESTELLINE
SD
SOYBEANS
$35,027
ROGER J MERGES
COLMAN
SD
SOYBEANS
$34,994
KENNETH MERGES
COLMAN
SD
SOYBEANS
$34,994
D & L FARMS INC
HAYTI
SD
SOYBEANS
$34,902
KARELS FARMS PART
MILBANK
SD
SOYBEANS
$34,798
RUSTIC ACRES HUTTERIAN BRETHREN INC
MADISON
SD
SOYBEANS
$34,131
RUSTIC ACRES HUTTERIAN BRETHREN INC
MADISON
SD
HOGS
$34,131
KJERSTAD FARM PARTNERSHIP
QUINN
SD
WHEAT
$33,854
MODAK DAIRY INC
GOODWIN
SD
DAIRY
$33,848
NELSON FARMS INC
VOLGA
SD
SOYBEANS
$33,688
FIRESTEEL RCH CORP
WESSINGTON SPRINGS
SD
SOYBEANS
$33,672
KENNY HANSEN
NUNDA
SD
SOYBEANS
$33,653
JESSE J CAMERON
WILMOT
SD
SOYBEANS
$33,112
DAVID MITTCHELL GEURTS
ROSHOLT
SD
SOYBEANS
$32,696
DENNIS R RENSCH
RAMONA
SD
SOYBEANS
$32,536
SPRING VALLEY HUTTERIAN BRETHREN INC
WESSINGTON SPRINGS
SD
HOGS
$32,376
LDI LTD
SISSETON
SD
SOYBEANS
$32,310
VERNON SCHWAB
ABERDEEN
SD
SOYBEANS
$32,081
PLEASANT VALLEY COLONY
FLANDREAU
SD
HOGS
$32,049
DEAN R CHRISTENSEN
MONTROSE
SD
SOYBEANS
$32,046
GLOBAL DAIRY LP
ESTELLINE
SD
DAIRY
$31,987
DUSTIN SCHMIDT
REDFIELD
SD
SOYBEANS
$31,711
DARRELL DEE HOFER
HURON
SD
SOYBEANS
$31,687
RANDY VANGORP
STICKNEY
SD
SOYBEANS
$31,665
TWIN RIVER FARMS LLC
YANKTON
SD
SOYBEANS
$31,196
ALLAN RIECK
LAKE PRESTON
SD
SOYBEANS
$31,139
TUSCHENS M & W INC
SALEM
SD
SOYBEANS
$31,060
ARLIE DEAN ELLINGSON
LAKE PRESTON
SD
SOYBEANS
$30,711
MICHAEL DENNIS MANNING
VERMILLION
SD
SOYBEANS
$30,525
LARRY WAYNE HAWLEY
ELK POINT
SD
SOYBEANS
$30,349
GISSELBECK FARM
CASTLEWOOD
SD
SOYBEANS
$30,108
JEFFRY TODD LONG
SISSETON
SD
SOYBEANS
$29,871
BRIAN JON HUTH
WAKONDA
SD
SOYBEANS
$29,865
VAN CLEVE FARM INC
WILMOT
SD
SOYBEANS
$29,700
DOCKTER FARMS INC
MILBANK
SD
SOYBEANS
$29,373
NORFELD HUTTERIAN BRETHREN
WHITE
SD
SOYBEANS
$29,173
HOWELL FARMS INC
VOLGA
SD
SOYBEANS
$29,026
SCOTT POPHAM
HAYTI
SD
SOYBEANS
$29,010
HINCKLEY BROTHERS PTN
GETTYSBURG
SD
SOYBEANS
$28,976
TRAVIS ANDREW RINAS
SISSETON
SD
SOYBEANS
$28,890
S & A FARMS INC
HAYTI
SD
SOYBEANS
$28,680
KDO FARMS INC
HAYTI
SD
SOYBEANS
$28,680
JAMES L ANDERSON
WINFRED
SD
SOYBEANS
$28,651
RANDALL L PICKARD
VOLGA
SD
SOYBEANS
$28,586
ROSS MATTHEW HANSON
GARRETSON
SD
SOYBEANS
$28,566
HILLVIEW FARM INC
OLDHAM
SD
SOYBEANS
$28,512
CROW CREEK RANCH LLC
BRITTON
SD
SOYBEANS
$28,452
DONALD MILES JR
DOLAND
SD
SOYBEANS
$28,312
DENENE KAYE MILES
DOLAND
SD
SOYBEANS
$28,312
ROGER SCHWARTZ REVOCABLE TRUST
ESTELLINE
SD
SOYBEANS
$28,263
ELMER JAMES DENKER
NORTH SIOUX CITY
SD
SOYBEANS
$28,179
BRADLEY SCOTT GREENWAY
MITCHELL
SD
HOGS
$28,124
ARHART FARMS INC
ALPENA
SD
SORGHUM
$28,082
PRESTON JOHN MILES
DOLAND
SD
SOYBEANS
$28,060
SCOTT JOSEPH MEYER
HURON
SD
SOYBEANS
$28,030
ERIK T SCHLIMMER
VOLGA
SD
SOYBEANS
$27,869
JOHN T RAVE
DELL RAPIDS
SD
SOYBEANS
$27,788
MARLEN TIM WINTER
SAINT LAWRENCE
SD
SOYBEANS
$27,775
POST LIVING TRUST
VOLGA
SD
SOYBEANS
$27,642
CHRIS L JOHNKE
MADISON
SD
SOYBEANS
$27,535
DOUGLAS LANGAGER JR
SISSETON
SD
SOYBEANS
$27,516
CHAD ARVIN BALLHAGEN
WILMOT
SD
SOYBEANS
$27,209
SPINK HUTTERIAN INC
FRANKFORT
SD
HOGS
$27,200
CORY CLIFF STEMWEDEL
CASTLEWOOD
SD
SOYBEANS
$26,789
CONRAD BALSTER
GANN VALLEY
SD
SOYBEANS
$26,587
METZ FARMS INC
PEEVER
SD
SOYBEANS
$26,542
KORTH FARMS
WATERTOWN
SD
SOYBEANS
$26,494
RHONDA NILSSON
MANSFIELD
SD
SOYBEANS
$26,467
MARLIN NILSSON
MANSFIELD
SD
SOYBEANS
$26,467
WAYNE EUGENE BERKLAND
VOLGA
SD
SOYBEANS
$26,288
JOEL S JONS
BONESTEEL
SD
SOYBEANS
$26,158
JEFFREY JOHN MILES
CONDE
SD
SOYBEANS
$26,107
TRENT COWAN DAMM
ARLINGTON
SD
SOYBEANS
$26,002
TIMOTHY N BROWN
SPENCER
SD
SOYBEANS
$25,965
PAUL H KOCH
SHERMAN
SD
SOYBEANS
$25,923
KAREN MARIE KOCH
SHERMAN
SD
SOYBEANS
$25,923
TIMOTHY GORDON LEVERSON
SISSETON
SD
SOYBEANS
$25,678
BRIAN SCOTT LEVERSON
SISSETON
SD
SOYBEANS
$25,651
DAVID MICHEAL JOSEPHSEN
ARLINGTON
SD
SOYBEANS
$25,554
R & G TROSKE FARM INC
TURTON
SD
SOYBEANS
$25,280
TROSKE LAND AND CATTLE INC
TURTON
SD
SOYBEANS
$25,279
JOHN R MINNAERT
MADISON
SD
SOYBEANS
$25,241
LARRY R SORENSEN
FLANDREAU
SD
SOYBEANS
$25,134
JAEGER FARMS
GOODWIN
SD
SOYBEANS
$24,988
WILLIAM JOHN SOLHEIM
REDFIELD
SD
SOYBEANS
$24,875
KEITH ARNOLD SCHLOTMAN
VOLGA
SD
SOYBEANS
$24,617
SMALLFIELD FARMS INC
ELKTON
SD
SOYBEANS
$24,235
BUNKERS FARMS LLC
CHESTER
SD
SOYBEANS
$24,200
ALAN WARREN CHRISTENSEN
ARLINGTON
SD
SOYBEANS
$24,048
LINDSKOV RANCH GEN PTR
ISABEL
SD
WHEAT
$24,004
HOOT FARMS INC
HURON
SD
SOYBEANS
$23,742
DONALD SCOTT LITTLE
CASTLEWOOD
SD
SOYBEANS
$23,511
MARK MUELLENBERG
ROCKHAM
SD
SOYBEANS
$23,442
DEERFIELD HUTT BRET INC
IPSWICH
SD
HOGS
$23,406
E & M FARMS INC
MILBANK
SD
SOYBEANS
$23,395
JASON STREET
MILBANK
SD
SOYBEANS
$23,351
JEFFREY BERNARD DONNAY
WILMOT
SD
SOYBEANS
$23,179
RANDY WILTS
FLANDREAU
SD
SOYBEANS
$23,125
STEVEN C BAKKEN
PLATTE
SD
SOYBEANS
$23,080
JESSE J RAVE
DELL RAPIDS
SD
SOYBEANS
$22,997
TROY KONTZ
COLMAN
SD
SOYBEANS
$22,991
DOUGLAS ALLEN ZELMER
SALEM
SD
SOYBEANS
$22,972
NORFELD HUTTERIAN BRETHREN
WHITE
SD
HOGS
$22,887
PLEASANT DUTCH DAIRY LLP
BRUCE
SD
DAIRY
$22,232
RYAN DEAN OLSON
ERWIN
SD
SOYBEANS
$22,082
TERRY L KJENSTAD
BRANDT
SD
SOYBEANS
$21,866
NEAL L KJENSTAD
BRANDT
SD
SOYBEANS
$21,866
MICHAEL L KJENSTAD
ASTORIA
SD
SOYBEANS
$21,866
GARY L KJENSTAD
BRANDT
SD
SOYBEANS
$21,866
RODNEY JATON
NUNDA
SD
SOYBEANS
$21,858
VETTER FARMS
CASTLEWOOD
SD
SOYBEANS
$21,728
CUZ
PLATTE
SD
WHEAT
$21,704
RODNEY PARKHURST
NEW EFFINGTON
SD
SOYBEANS
$21,696
DEBRA LAUBE
BRYANT
SD
SOYBEANS
$21,666
DAREN W MEDENWALD
NEW EFFINGTON
SD
SOYBEANS
$21,607
WAYNE FRERICKS
NORTHVILLE
SD
SOYBEANS
$21,509
RICHARD RATHJEN
HURON
SD
SOYBEANS
$21,471
EARL GENE HORSTMAN
CANTON
SD
SOYBEANS
$21,428
DALLAS L LAUBE
BRYANT
SD
SOYBEANS
$21,339
ANTHONY D BROWN
DELL RAPIDS
SD
SOYBEANS
$21,326
DAVID I ROLING
MADISON
SD
SOYBEANS
$21,265
FOX ANGUS FARMS
WATERTOWN
SD
SOYBEANS
$21,234
JAMES F HINRICHER
FLANDREAU
SD
SOYBEANS
$21,083
HAROLD VERNON SINGREY
HAZEL
SD
SOYBEANS
$21,075
PRH FARMS INC
GETTYSBURG
SD
SOYBEANS
$21,055
HOUCK FARMS INC
GETTYSBURG
SD
SOYBEANS
$21,055
LAKEVIEW FARMS LLC
MISSION HILL
SD
SOYBEANS
$20,940
MARK LAUREL PISTORIUS
SISSETON
SD
SOYBEANS
$20,745
RONNIE DALE GILBERT
HITCHCOCK
SD
SOYBEANS
$20,731
MATTHEW JOHN BAKER
MOUNT VERNON
SD
SOYBEANS
$20,432
GILBERT LEE MOHRHAUSER
HARTFORD
SD
SOYBEANS
$20,403
DAIRY DOZEN - MILNOR LLP
VEBLEN
SD
DAIRY
$20,379
MARK ALAN WENDLING
BRYANT
SD
SOYBEANS
$20,218
DANIEL RAY TVEDT
VOLGA
SD
SOYBEANS
$20,212
MUNDT FARM PARTNERSHIP
AGAR
SD
WHEAT
$20,200
FRANCIS J RENELT
ROSHOLT
SD
SOYBEANS
$20,139
CHARLES K HUSS
FAULKTON
SD
SOYBEANS
$20,028
CREEK SIDE FARMS INC
NORTHVILLE
SD
SOYBEANS
$19,872
PLEASANT VALLEY COLONY
FLANDREAU
SD
SOYBEANS
$19,865
TUSCHEN PROPERTIES LLC
SALEM
SD
SOYBEANS
$19,841
CHAD KAHRE
WOLSEY
SD
SOYBEANS
$19,795
DAVID AND MARTHA WITTNEBEL FAMILY LLC
RAPID CITY
SD
SOYBEANS
$19,766
KARLEN RANCH
RELIANCE
SD
WHEAT
$19,748
ARLO D NELSON
PLATTE
SD
SOYBEANS
$19,718
WARRINER EUGENE/JOAN
BLUNT
SD
SOYBEANS
$19,686
CALVIN JAMES THOMPSON
SISSETON
SD
SOYBEANS
$19,653
DEAN RAMLO
BROOKINGS
SD
SOYBEANS
$19,652
BENJAMIN L WAXDAHL
FLANDREAU
SD
SOYBEANS
$19,642
JOBY TIMMERMAN
PUKWANA
SD
SOYBEANS
$19,605
ROBERT BERNDT
WHITE
SD
SOYBEANS
$19,603
KEITH WILLIAM OGREN
LANGFORD
SD
SOYBEANS
$19,527
RODNEY GENE REMILY
DOLAND
SD
SOYBEANS
$19,402
NEW HORIZON DAIRY LLP
VEBLEN
SD
DAIRY
$19,355
ROE FARMS JTV
HARROLD
SD
WHEAT
$19,268
ANDERA RANCH LLC
PUKWANA
SD
SOYBEANS
$19,078
EDWIN HAIGH
HITCHCOCK
SD
SOYBEANS
$18,997
DAVID R JOHNSON
WINFRED
SD
SOYBEANS
$18,976
RONALD D TVEDT
BRANDT
SD
SOYBEANS
$18,911
SCOTT A THOMPSON
ESTELLINE
SD
SOYBEANS
$18,864
DALE K FOSTER
ESTELLINE
SD
SOYBEANS
$18,864
BRENT LARSON
HAYTI
SD
SOYBEANS
$18,864
KEVIN KELLOGG
SAINT LAWRENCE
SD
SOYBEANS
$18,824
DOUGLAS BOOMSMA
FRANKFORT
SD
SOYBEANS
$18,821
AUSTIN GROSS
BLUNT
SD
WHEAT
$18,797
JEFFREY T NEUHARTH
EUREKA
SD
SOYBEANS
$18,755
TODD HENRY KOESTER
REDFIELD
SD
SOYBEANS
$18,742
STUART D BENSON
FLANDREAU
SD
SOYBEANS
$18,596
JAMES OSTERBERG
SALEM
SD
SOYBEANS
$18,434
WAYNE EUGENE HOKANSON
ROSHOLT
SD
SOYBEANS
$18,350
TODD VOLMER
WINNER
SD
SOYBEANS
$18,323
WALLACE JANZEN
CANISTOTA
SD
SOYBEANS
$18,284
DAVID A LITTLE
WATERTOWN
SD
SOYBEANS
$18,181
DONALD CLELLAND
ARLINGTON
SD
SOYBEANS
$18,113
LINDE DAIRY LLC
WHITE
SD
DAIRY
$18,109
COREY J JOHNKE
MADISON
SD
SOYBEANS
$18,008
ERNEST M WALDNER
RAYMOND
SD
SOYBEANS
$17,918
CODY HANSEN
NUNDA
SD
SOYBEANS
$17,847
SIOUX RIVER DAIRY INC
WATERTOWN
SD
DAIRY
$17,828
CLAYTON ELROY PALMQUIST
WILMOT
SD
SOYBEANS
$17,814
MICHAEL WAYNE CURRENCE
SISSETON
SD
SOYBEANS
$17,594
KENNETH ROBERT CURRENCE JR
SISSETON
SD
SOYBEANS
$17,560
MARVIN PIOTTER
SISSETON
SD
SOYBEANS
$17,490
JASON LYLE MALLON
HURON
SD
SOYBEANS
$17,452
DALY BROS %ROBERT
GROTON
SD
SOYBEANS
$17,452
PATRICK WESTENDORF
GEDDES
SD
SOYBEANS
$17,421
GENE HAROLD SAUDER
BRYANT
SD
SOYBEANS
$17,375
PAUL ALLEN SEROCKI
WILMOT
SD
SOYBEANS
$17,366
FERLYN HOFER
CANISTOTA
SD
HOGS
$17,304
RICHARD LOUNSBERY FARMS INC
REVILLO
SD
SOYBEANS
$17,224
ALAN LOUNSBERY FARMS INC
REVILLO
SD
SOYBEANS
$17,224
ISAAC SANDO
ROSHOLT
SD
SOYBEANS
$17,206
EUGENE VANDYKE
GARY
SD
SOYBEANS
$17,188
SHAUN A GUTHMILLER
YANKTON
SD
SOYBEANS
$17,183
LINDA LOBERG
NEW EFFINGTON
SD
SOYBEANS
$17,159
JAMES ALAN HOING
KIMBALL
SD
SOYBEANS
$17,051
BRYAN MIEDEMA
WOLSEY
SD
SOYBEANS
$17,047
DARWIN OCHSNER
ALPENA
SD
SOYBEANS
$17,026
STEVEN J SUTTON
BROOKINGS
SD
SOYBEANS
$17,016
OBERLANDER FARMS
NEW UNDERWOOD
SD
WHEAT
$17,004
KELVIN EDMUNDSON
GARRETSON
SD
SOYBEANS
$16,961
RD RINGLING FARMS LLC
PLATTE
SD
SOYBEANS
$16,960
MARK A HOHN
ETHAN
SD
SOYBEANS
$16,932
DANA A BINDERT
CLEAR LAKE
SD
SOYBEANS
$16,886
FOSTER'S RIVER VIEW FARM INC
BRUCE
SD
SOYBEANS
$16,876
GLOVER AG INC
BURBANK
SD
SOYBEANS
$16,840
JAMES K STACH
LETCHER
SD
SOYBEANS
$16,780
KEVIN SCOTT TRIEBWASSER
VOLGA
SD
SOYBEANS
$16,729
YOUNG FAMILY FARMS LLC
WENTWORTH
SD
SOYBEANS
$16,614
RICHARD SHON MOE
BRUCE
SD
SOYBEANS
$16,597
BRAD KONTZ
FLANDREAU
SD
SOYBEANS
$16,554
HARVEY GLEN CUNNINGHAM
BROOKINGS
SD
SOYBEANS
$16,545
SHANNON DAWN PESCHONG
LABOLT
SD
SOYBEANS
$16,478
GRIESE FARMS
GETTYSBURG
SD
SOYBEANS
$16,340
CODY POPPEN
HOWARD
SD
SOYBEANS
$16,290
RANDY W DEJONG
HUMBOLDT
SD
SOYBEANS
$16,223
KEVIN MANTHEY
BONESTEEL
SD
SOYBEANS
$16,213
OSCAR SOLHEIM
FRANKFORT
SD
SOYBEANS
$16,098
GENE A ATTEBERRY
GREGORY
SD
SOYBEANS
$16,088
MICHAEL JAMES BROWN
DELL RAPIDS
SD
SOYBEANS
$16,061
JOHN RYAN SJAARDA
VALLEY SPRINGS
SD
SOYBEANS
$16,055
DANIEL PETERSON
NORTHVILLE
SD
SOYBEANS
$16,029
DAVID LOTZER
SISSETON
SD
SOYBEANS
$16,025
GALE L FENNEMA
DANTE
SD
SOYBEANS
$15,983
CHARLES GREENEWAY
ARMOUR
SD
HOGS
$15,976
MARELDINE BOOMSMA
WESSINGTON
SD
SOYBEANS
$15,903
JOHN BOOMSMA
WESSINGTON
SD
SOYBEANS
$15,903
LANE R JERVIK
HUDSON
SD
SOYBEANS
$15,896
CURTIS A ADAMS
LETCHER
SD
SOYBEANS
$15,858
JEFFREY HASS
CHESTER
SD
SOYBEANS
$15,846
CHRISTOPHER T CLELLAND
LAKE NORDEN
SD
SOYBEANS
$15,785
RANDY GRIMSRUD
SISSETON
SD
SOYBEANS
$15,760
MARK GRIMSRUD
SISSETON
SD
SOYBEANS
$15,760
LLOYD LAVERNE MEYER
HURON
SD
SOYBEANS
$15,739
BRIAN J DICK
MADISON
SD
SOYBEANS
$15,702
LESLIE SCHILTZ
ROSHOLT
SD
SOYBEANS
$15,663
RICHARD DUNSMORE
WESSINGTON
SD
SOYBEANS
$15,639
JONATHON J GERAETS
DELL RAPIDS
SD
SOYBEANS
$15,523
DENNIS MEYER
HURON
SD
SOYBEANS
$15,519
RANDY MICHAEL HAUSVIK
CONDE
SD
SOYBEANS
$15,518
POINSETT HUTTERIAN BRETHREN INC
ESTELLINE
SD
HOGS
$15,488
BRADY DYLAN SEEHAFER
CORONA
SD
SOYBEANS
$15,428
ENGEL FARMS
HAMILL
SD
SOYBEANS
$15,378
EUGENE SUNDSTROM
LETCHER
SD
SOYBEANS
$15,375
DAVID ALAN LINNEMAN
BRUCE
SD
SOYBEANS
$15,366
ALAN MICHAEL LINNEMAN
BRUCE
SD
SOYBEANS
$15,366
JONATHAN LEE PENNER
IROQUOIS
SD
SOYBEANS
$15,249
WENTON WORMSTADT
ARTESIAN
SD
SOYBEANS
$15,245
LESTER MOELLER LIVING TRUST
SAINT LAWRENCE
SD
SOYBEANS
$15,230
NEAL D RUHD
CLEAR LAKE
SD
SOYBEANS
$15,134
OREN G STAHL
FREEMAN
SD
HOGS
$15,096
HANSEN RANCH INC
FAULKTON
SD
SOYBEANS
$15,034
SAMUEL RUDOLPH
SISSETON
SD
SOYBEANS
$15,002
TERRY STOTERAU
SHERMAN
SD
HOGS
$14,996
PAUL L VAN DUYN
COLTON
SD
SOYBEANS
$14,955
ROGER D HINKER
FORESTBURG
SD
SOYBEANS
$14,919
THOMAS RUDOLPH KASUSKE
MILBANK
SD
SOYBEANS
$14,887
BRYCE DUANE HEINJE
WILMOT
SD
SOYBEANS
$14,876
BROKEN JN FARMS LLC
GARRETSON
SD
SOYBEANS
$14,850
WARD F KOPMAN
BRYANT
SD
SOYBEANS
$14,795
MAXWELL C KOPMAN
BRYANT
SD
SOYBEANS
$14,795
MDM FARMS
PARKER
SD
SOYBEANS
$14,758
VERN JERRY SNOW
TOLSTOY
SD
SOYBEANS
$14,725
GARNER DEWAYNE SIVERTSEN
REE HEIGHTS
SD
SOYBEANS
$14,702
RODNEY JOSEPH VAN SAMBEEK
CORONA
SD
SOYBEANS
$14,692
RICHARD MEAGHER
MILBANK
SD
SOYBEANS
$14,620
DILLON BALOUN
HIGHMORE
SD
SOYBEANS
$14,594
WILDROSE DAIRY LLC
BRANDT
SD
DAIRY
$14,584
RONALD SAUER
ROSCOE
SD
SOYBEANS
$14,454
ROBERT ALLEN FREDRICKSON
ARLINGTON
SD
SOYBEANS
$14,444
RANDY WIESE
MADISON
SD
SOYBEANS
$14,399
ARHART FARMS INC
ALPENA
SD
HOGS
$14,332
DONALD ELROY HINZ
ABERDEEN
SD
SOYBEANS
$14,328
LANCE L HOFFMAN
IPSWICH
SD
SOYBEANS
$14,315
LESTER MOELLER LIVING TRUST
SAINT LAWRENCE
SD
SORGHUM
$14,313
SJOVALL FEEDYARD INC
LANGFORD
SD
SOYBEANS
$14,239
RICHARD ALLEN PETERSON
VERMILLION
SD
SOYBEANS
$14,183
RAYMOND A KONTZ JR
BROOKINGS
SD
SOYBEANS
$14,063
CLAYTON HAROLD KLOSS
TULARE
SD
SOYBEANS
$14,038
DAVID RUPPELT
TYNDALL
SD
SOYBEANS
$14,027
BRADLEY WARNKE
FAIRFAX
SD
SOYBEANS
$14,025
CURTIS CURRAN
SISSETON
SD
SOYBEANS
$14,017
NORMAN ERNEST KOEHLMOOS
DE SMET
SD
SOYBEANS
$13,984
JAYME FRASIER
FAULKTON
SD
SOYBEANS
$13,937
KATHLEEN M GERAETS LIVING TRUST
DELL RAPIDS
SD
SOYBEANS
$13,924
WOODS INC
BROOKINGS
SD
SOYBEANS
$13,914
LONG LAKE HUTTERIAN BRETHREN INC
WETONKA
SD
SOYBEANS
$13,847
ANDREW GORDON SCHILTZ
ROSHOLT
SD
SOYBEANS
$13,734
PHILIP PENNER
IROQUOIS
SD
SOYBEANS
$13,724
JAMES DEAN LOLLING
LAKE PRESTON
SD
SOYBEANS
$13,700
KEVIN JAY MAST
VOLGA
SD
SOYBEANS
$13,569
RICK STERNBERG
PLATTE
SD
SOYBEANS
$13,546
WILLIAM LEE RYDBOM
DE SMET
SD
HOGS
$13,540
MARK DANIEL MAROHL
SISSETON
SD
SOYBEANS
$13,493
BAUMAN FARMS INC
HURON
SD
SOYBEANS
$13,472
TOM E BAUMBERGER
WENTWORTH
SD
HOGS
$13,464
LUCAS FARMS INC
PLATTE
SD
SOYBEANS
$13,351
MICHAEL HARMON
MANSFIELD
SD
SOYBEANS
$13,299
MARK WAYNE PETERSON
SISSETON
SD
SOYBEANS
$13,281
JAMES FRANCIS HORNIG
HURON
SD
SOYBEANS
$13,278
DOUGLAS FRED ECKMANN
CAVOUR
SD
SOYBEANS
$13,219
DELTON GIMBEL
REE HEIGHTS
SD
HOGS
$13,200
PAUL STEILEN
ALEXANDRIA
SD
SOYBEANS
$13,164
GARY LEE BOOMSMA
WOLSEY
SD
SOYBEANS
$13,136
JOHN HOFFMANN
WESSINGTON
SD
SOYBEANS
$13,099
CURTIS RAY ALSAKER
ROSHOLT
SD
SOYBEANS
$13,007
MURRAY WAYNE RIES
PARKER
SD
SOYBEANS
$13,004
KARLYN JON RIES
PARKER
SD
SOYBEANS
$13,004
JOSHUA J HAVRANEK
LAKE ANDES
SD
SOYBEANS
$12,936
RAYMOND FOLTZ
ROSHOLT
SD
SOYBEANS
$12,929
JESS R SONDGEROTH
PLATTE
SD
SOYBEANS
$12,927
CHARLES WARD HEINJE
WILMOT
SD
SOYBEANS
$12,905
TERRY L ROTH
OLIVET
SD
HOGS
$12,900
KIRK NAVRATIL
ROSHOLT
SD
SOYBEANS
$12,894
LEONARD GAUER
IPSWICH
SD
SOYBEANS
$12,882
THOMAS CHRIS BERNDT
WHITE
SD
SOYBEANS
$12,858
MICHAEL GORDER
ESTELLINE
SD
SOYBEANS
$12,788
WILLIAM STEMPER
REDFIELD
SD
SOYBEANS
$12,776
HOMER STANLEY CREAGER
SAINT LAWRENCE
SD
SOYBEANS
$12,711
EKSTRUM FARMS
KIMBALL
SD
HOGS
$12,700
HOLGER W CHRISTENSEN
BADGER
SD
SOYBEANS
$12,627
ROBERT LOUIS TENNIS
CONDE
SD
SOYBEANS
$12,623
BRENT L GRAVES
HARTFORD
SD
SOYBEANS
$12,600
DAVID BOOMSMA
WOLSEY
SD
SOYBEANS
$12,596
JOHN J HAUGLID
COLMAN
SD
SOYBEANS
$12,575
KEVIN LEO STORMO
LAKE NORDEN
SD
SOYBEANS
$12,572
DENNIS E BECK
MADISON
SD
SOYBEANS
$12,531
STEVE ROTI
LANE
SD
SOYBEANS
$12,518
ADAM E MOHRHAUSER
CROOKS
SD
SOYBEANS
$12,507
DANIEL J WELBIG
DELL RAPIDS
SD
SOYBEANS
$12,479
WILLIS R HANSON
MARVIN
SD
SOYBEANS
$12,420
DERRIK BOOMSMA
WOLSEY
SD
SOYBEANS
$12,413
DEAN D UNRUH
MARION
SD
SOYBEANS
$12,404
FIEBER'S DAIRY INC
GOODWIN
SD
DAIRY
$12,392
TRAVIS JOST
GETTYSBURG
SD
SOYBEANS
$12,377
PFEIFER INC
MC LAUGHLIN
SD
WHEAT
$12,369
DEBORA ANN PFEIFER
MC LAUGHLIN
SD
WHEAT
$12,369
PATRICK JAMES HUGGINS
GEDDES
SD
SOYBEANS
$12,352
JONATHAN KLEINJAN
BROOKINGS
SD
SOYBEANS
$12,344
MATTHEW J CONNOR
WINFRED
SD
SOYBEANS
$12,323
BARRY RICHARD PETERSON
VERMILLION
SD
SOYBEANS
$12,292
KEITH LEO LARSEN
WOLSEY
SD
SOYBEANS
$12,228
DEREK JOSEPH LASKA
LAKE ANDES
SD
SOYBEANS
$12,218
MARK A HAUGE
DELL RAPIDS
SD
SOYBEANS
$12,197
JUSTIN JAMES ROTHSCHADL
TYNDALL
SD
HOGS
$12,160
STARR BROS
ALPENA
SD
SOYBEANS
$12,152
TERRY SPILDE LIVING TRUST
HIGHMORE
SD
SOYBEANS
$12,123
JOHN A EBSEN
MADISON
SD
SOYBEANS
$12,118
BARRY D CALLIES
WINFRED
SD
SOYBEANS
$12,059
TRIPLE B FARMS
BRANDON
SD
SOYBEANS
$12,031
HERBERT MISCHKE
HAZEL
SD
SOYBEANS
$12,025
DANIEL MADSEN
ARLINGTON
SD
SOYBEANS
$12,014
DAVID E WIESE
MADISON
SD
SOYBEANS
$12,007
SAMUEL AND CONNIE RUDOLPH REV LIVING TRUST
SISSETON
SD
SOYBEANS
$11,990
TODD THIESSE
TRIPP
SD
HOGS
$11,980
GENE RAYMOND HOEFERT
PLANKINTON
SD
SOYBEANS
$11,965
MARK GANT FARMS INC
GEDDES
SD
SOYBEANS
$11,954
GERALD NOBLE
IPSWICH
SD
SOYBEANS
$11,930
MACC LLC
ARTESIAN
SD
SOYBEANS
$11,813
LAWRENCE WOODWARD
DUPREE
SD
WHEAT
$11,804
JOSEPH WILLIAM KANTHAK
REVILLO
SD
SOYBEANS
$11,794
KNIPPLING HEREFORD LLC
GANN VALLEY
SD
SOYBEANS
$11,749
MERLE H BUYERT
CLEAR LAKE
SD
SOYBEANS
$11,748
WESLEY C SCHAIBLE
HOSMER
SD
SOYBEANS
$11,720
NIKOLAS P HOFER
DOLAND
SD
SOYBEANS
$11,711
BRYANT J HOFER
DOLAND
SD
SOYBEANS
$11,711
DANIEL JON FRITZ
NEW EFFINGTON
SD
SOYBEANS
$11,688
DANIEL NIELAND
SISSETON
SD
SOYBEANS
$11,674
JAN MARK VOLD
BRITTON
SD
SOYBEANS
$11,651
S & S FARM CORP
ABERDEEN
SD
SOYBEANS
$11,639
KENNETH NICHOLAS COMES
WAVERLY
SD
SOYBEANS
$11,611
OBERLANDER FARMS
NEW UNDERWOOD
SD
SORGHUM
$11,610
KENNETH YMKER
ARMOUR
SD
HOGS
$11,580
JOHN SCHULTZ
FREEMAN
SD
DAIRY
$11,574
JEFF M SCHULTZ
FREEMAN
SD
DAIRY
$11,574
TRAVIS MASUR
GEDDES
SD
SOYBEANS
$11,553
ERIK J PETERSON
REVILLO
SD
SOYBEANS
$11,535
RYAN J WOLLSCHLAGER
REVILLO
SD
SOYBEANS
$11,509
JAMES P MCAREAVEY
MADISON
SD
SOYBEANS
$11,485
RODGER HARTS
YANKTON
SD
SOYBEANS
$11,473
LOREN KLAAS TUCHOLKE
LABOLT
SD
SOYBEANS
$11,471
RICKY LEE AMMANN
WILMOT
SD
SOYBEANS
$11,386
MAXWELL GORDER
ESTELLINE
SD
SOYBEANS
$11,385
DELANO KEITH DEVRIES
CORSICA
SD
SOYBEANS
$11,378
EVERETT DOERING
WESSINGTON SPRINGS
SD
SOYBEANS
$11,377
CHARLES VEDVEI
HETLAND
SD
SOYBEANS
$11,329
RANDALL LARRY TASCHNER
HAYTI
SD
SOYBEANS
$11,326
GLOBAL DAIRY LP
ESTELLINE
SD
SOYBEANS
$11,280
DALLAS WALTER
YALE
SD
SOYBEANS
$11,243
LARRY A HASZ
MITCHELL
SD
SOYBEANS
$11,233
MARA MEIER
WESSINGTON SPRINGS
SD
WHEAT
$11,166
AL MEIER
WESSINGTON SPRINGS
SD
WHEAT
$11,166
PERRY E DEPOY
EAGLE BUTTE
SD
WHEAT
$11,162
DEPOY FARMS INC
LANTRY
SD
WHEAT
$11,162
SHERMAN DAIRY LLP
ESTELLINE
SD
SOYBEANS
$11,156
VERNON CHARLES HEIDINGER
PLANKINTON
SD
SOYBEANS
$11,138
ALAN KROUPA
KIMBALL
SD
SOYBEANS
$11,113
KYLAN MEIER
ALPENA
SD
WHEAT
$11,096
ASHLEY MEIER
ALPENA
SD
WHEAT
$11,096
RICK L BRASKAMP
RAMONA
SD
SOYBEANS
$11,083
MOES FEEDLOT LLC
WATERTOWN
SD
SOYBEANS
$11,018
WAYNE & CAROL JORENBY LIVING TRUST
VOLGA
SD
SOYBEANS
$11,006
BRENNAN KJERSTAD
WALL
SD
WHEAT
$10,972
DWIGHT LYREN
CONDE
SD
SOYBEANS
$10,964
CRAIG A KIRKHOLM
RAPID CITY
SD
SOYBEANS
$10,956
KEITH GRAGE
GREGORY
SD
SOYBEANS
$10,948
SHERMAN VOMACKA
GREGORY
SD
SOYBEANS
$10,926
MICHAEL H BRASKAMP
RAMONA
SD
SOYBEANS
$10,925
JON C GILBERT
IPSWICH
SD
SOYBEANS
$10,925
BROOKER FARMS
TULARE
SD
SOYBEANS
$10,918
BYRON HENRY
MADISON
SD
SOYBEANS
$10,864
DWAIN BUNTROCK
COLUMBIA
SD
SOYBEANS
$10,826
RAHM HUGHES COUNTY FARMS
TURTON
SD
SOYBEANS
$10,789
LORNE HILL
SISSETON
SD
SOYBEANS
$10,786
STEPHAN JOHN ALBRECHT
DE SMET
SD
SOYBEANS
$10,773
2J FARMS LLP
NEW EFFINGTON
SD
SOYBEANS
$10,752
JEFFREY K HINKER
ARTESIAN
SD
SOYBEANS
$10,713
KLT FARMS LLC
KENNEBEC
SD
WHEAT
$10,668
ROSS HALTER
HURON
SD
SOYBEANS
$10,644
MICHAEL HALTER
CAVOUR
SD
SOYBEANS
$10,644
SCOTT LEROY HINTZ
YALE
SD
SOYBEANS
$10,636
BRETT LEE HEEZEN
WESSINGTON SPRINGS
SD
SOYBEANS
$10,614
DOUGLAS LANGAGER
SISSETON
SD
SOYBEANS
$10,579
BENJAMIN ROBERT HANSON
SISSETON
SD
SOYBEANS
$10,568
CHARLES LORDEN
ELKTON
SD
SOYBEANS
$10,547
STANLEY TERRANCE KASKIE
HUDSON
SD
SOYBEANS
$10,503
MIKE FEENSTRA
STICKNEY
SD
SOYBEANS
$10,495
DWIGHT S FEENSTRA
STICKNEY
SD
SOYBEANS
$10,495
JACOB HENRY WAGNER
MILBANK
SD
SOYBEANS
$10,492
KINKLER FARMS PARTNERSHIP
ONIDA
SD
WHEAT
$10,486
JON SEATON
ABERDEEN
SD
SOYBEANS
$10,474
TERRY KUETER
SIOUX FALLS
SD
SOYBEANS
$10,460
KEVIN MICHEL
DELL RAPIDS
SD
SOYBEANS
$10,456
THOMAS JOHN HEYLENS
VOLGA
SD
SOYBEANS
$10,343
CANDAK FARMS INC
BRIDGEWATER
SD
HOGS
$10,340
TIMOTHY SCOTT RICE
PEEVER
SD
SOYBEANS
$10,316
BRANDON PAUL BEUTLER
EUREKA
SD
SOYBEANS
$10,286
WILLIAM K NELSON
DELL RAPIDS
SD
SOYBEANS
$10,279
JAMES MICHAEL ANDERSON
HAYTI
SD
SOYBEANS
$10,223
FRANK ZWEBER INC
HOVEN
SD
SOYBEANS
$10,193
SYLTE BROS
IPSWICH
SD
WHEAT
$10,156
TROY M WILLIAMSON
GARRETSON
SD
SOYBEANS
$10,125
DUANE MARTCHINSKE
MIRANDA
SD
SOYBEANS
$10,090
NATHAN JAMES STEVENS
HURON
SD
SOYBEANS
$10,049
WESTON THOMAS LEVERSON
SISSETON
SD
SOYBEANS
$9,998
JEREMY GORDER
ESTELLINE
SD
SOYBEANS
$9,998
ELDON PETERSON
REVILLO
SD
SOYBEANS
$9,984
STACY LANE BRITZMAN
WATERTOWN
SD
SOYBEANS
$9,959
TODD J HINRICHER
FLANDREAU
SD
SOYBEANS
$9,951
STEVEN VINCENT RUNGE
WESSINGTON
SD
SOYBEANS
$9,924
RODNEY MARLOWE FOSTER
GARDEN CITY
SD
HOGS
$9,924
BARNEY JOSEPH ROLING
SALEM
SD
HOGS
$9,816
LOREN J HASS
CHESTER
SD
SOYBEANS
$9,773
JAMES VALLEY FARMING COMPANY
LETCHER
SD
SOYBEANS
$9,732
CURTIS DERTIEN
PLATTE
SD
SOYBEANS
$9,727
HANSEN BROTHERS COMPANY LLP
EGAN
SD
SOYBEANS
$9,704
DYLAN TROSKE
NORTHVILLE
SD
SOYBEANS
$9,692
BRUCE M LINGLE
MADISON
SD
SOYBEANS
$9,622
RONALD R BAKER
MOUNT VERNON
SD
SOYBEANS
$9,530
KEVIN TODD WAGNER
WINNER
SD
SOYBEANS
$9,491
JEFFREY CURRENCE
SISSETON
SD
SOYBEANS
$9,451
RICHARD GREGOIRE
WAKONDA
SD
SOYBEANS
$9,432
COLBY WILLIAM SIEBRASSE
GETTYSBURG
SD
SOYBEANS
$9,432
MERLYN MYLES PETERSON
ROSHOLT
SD
SOYBEANS
$9,427
DEAN MYLES PETERSON
ROSHOLT
SD
SOYBEANS
$9,427
JAMES R EVANS
WHITE LAKE
SD
SOYBEANS
$9,420
LAVERNE TETZLAFF
HAYTI
SD
SOYBEANS
$9,417
MATZEN PARTNERSHIP
ONIDA
SD
WHEAT
$9,413
VOLKERS FARM LLC
BROOKINGS
SD
SOYBEANS
$9,382
RYAN SCHOENFELDER
DE SMET
SD
SOYBEANS
$9,342
MICHAEL J HOOK JR
PEEVER
SD
SOYBEANS
$9,337
LOWELL O LUNDSTROM JR
SISSETON
SD
SOYBEANS
$9,337
CHARLES M FRIDLEY
ARTESIAN
SD
SOYBEANS
$9,226
BERWALD FAMILY RLLP
TORONTO
SD
DAIRY
$9,215
DAKOTA SWINE SERVICES INC.
SIOUX FALLS
SD
HOGS
$9,200
CARROLL'S PLACE LLC
SIOUX FALLS
SD
SOYBEANS
$9,191
KENNETH RAY VELDKAMP
DELL RAPIDS
SD
SOYBEANS
$9,182
LANCE KEIZER
PLANKINTON
SD
SOYBEANS
$9,179
JPANT ENTERPRISES LLC
SIOUX FALLS
SD
SOYBEANS
$9,160
LOREN HOFER
HITCHCOCK
SD
SOYBEANS
$9,156
HOFF FARM INC
ARLINGTON
SD
SOYBEANS
$9,116
CEDAR GROVE HUTT BRETH INC
PLATTE
SD
DAIRY
$9,109
ELI THOMAS NISSEN
NEW EFFINGTON
SD
SOYBEANS
$9,081
TOM TOMSHA
TULARE
SD
SOYBEANS
$9,075
ROGER PAGE
DE SMET
SD
SOYBEANS
$9,055
BROKEN ANVIL INC
DUPREE
SD
WHEAT
$9,036
JOEL E SINGREY
HAZEL
SD
SOYBEANS
$9,032
LEONARD PETER JOHNSON
GARRETSON
SD
SOYBEANS
$9,020
DARALD J BAUMAN
GARY
SD
SOYBEANS
$9,020
MCPECK LLC
GETTYSBURG
SD
WHEAT
$9,016
DENNIS SIMONS
SAINT LAWRENCE
SD
SOYBEANS
$8,988
JOHN RICHARD BOOMSMA
HITCHCOCK
SD
SOYBEANS
$8,961
BRIAN WOLLSCHLAGER
LABOLT
SD
SOYBEANS
$8,958
BRADLEY JOHN OLAND
BRITTON
SD
SOYBEANS
$8,957
JERRY A OSTERBERG
SALEM
SD
SOYBEANS
$8,917
MATT MIKKELSON
ALPENA
SD
SOYBEANS
$8,910
LESLIE BURLAGE
ELKTON
SD
SOYBEANS
$8,898
KURT E MERAGER
WENTWORTH
SD
SOYBEANS
$8,852
CHARLES D WOLF
HOSMER
SD
SOYBEANS
$8,844
JACK BENNY SNODGRASS
MILLER
SD
SOYBEANS
$8,823
BLACKFORK FARMS LLC
BROOKINGS
SD
SOYBEANS
$8,822
LAKEVIEW HUTTERIAN BRETHREN INC
LAKE ANDES
SD
WHEAT
$8,814
MARY RIEGER
BOWDLE
SD
SOYBEANS
$8,772
LOEL A RIEGER
BOWDLE
SD
SOYBEANS
$8,772
DUBBELDE FAMILY LIVING TRUST
VALLEY SPRINGS
SD
SOYBEANS
$8,771
BRYAN W SONNENBURG
ESTELLINE
SD
SOYBEANS
$8,733
RYAN LEE PETERSON
HITCHCOCK
SD
SOYBEANS
$8,701
DONNLEY J ELSEN
HECLA
SD
SOYBEANS
$8,687
TERRY SCHLAGEL
CLARK
SD
SOYBEANS
$8,681
ADAM RICHARD ALT
FORESTBURG
SD
SOYBEANS
$8,677
PAUL WARRINER
BLUNT
SD
SOYBEANS
$8,637
BRYAN C JATON
RAMONA
SD
SOYBEANS
$8,631
DOUGLAS R DOESCHER
ARLINGTON
SD
SOYBEANS
$8,630
DUANE MALDE
MOUNT VERNON
SD
SOYBEANS
$8,620
MATTHEW R SORENSEN
VERMILLION
SD
SOYBEANS
$8,612
JERRY JOHN NELSON
VEBLEN
SD
SOYBEANS
$8,582
CHARLES UNTERBRUNNER
ARTESIAN
SD
SOYBEANS
$8,580
PLATTE HUTTERIAN BRETHREN INC
PLATTE
SD
WHEAT
$8,516
DOUGLAS EDWARDS
MILLER
SD
SOYBEANS
$8,513
DONALD L PALMER
PRAIRIE CITY
SD
WHEAT
$8,508
DARREL D DUVALL
PUKWANA
SD
SOYBEANS
$8,500
LAZY J DAIRY LLC
WOLSEY
SD
DAIRY
$8,486
DAVID DEAN THOMPSON
SISSETON
SD
SOYBEANS
$8,474
DONALD BIETZ
SCOTLAND
SD
HOGS
$8,464
JASON H. DYKSTRA
SIOUX FALLS
SD
SOYBEANS
$8,444
COLUMBIA RIDGE DAIRY LLC
CASTLEWOOD
SD
DAIRY
$8,394
RONALD A NELSON
HARTFORD
SD
SOYBEANS
$8,340
BRIAN DOUGLAS ECKMANN
CAVOUR
SD
SOYBEANS
$8,314
JEFF S LANGBEHN
WOLSEY
SD
SOYBEANS
$8,290
JACK H LEGRAND
WESSINGTON
SD
SOYBEANS
$8,251
DAVID KOCH
PLANKINTON
SD
SOYBEANS
$8,251
GLEN RONALD BUEHNER
WHITE
SD
SOYBEANS
$8,250
DEAN ALBERT GOETZ
ONAKA
SD
SOYBEANS
$8,250
MICHAEL J GERAETS LIVING TRUST
DELL RAPIDS
SD
SOYBEANS
$8,214
BOESEN FARM LLC
KIMBALL
SD
SORGHUM
$8,171
BENJAMEN CULVER
AURORA
SD
SOYBEANS
$8,132
RYAN L GUTHMILLER
YANKTON
SD
SOYBEANS
$8,108
K C DAIRIES LLP
BROOKINGS
SD
DAIRY
$8,097
DENNIS BAADE
ARTESIAN
SD
SOYBEANS
$8,084
DARRYL DEAN MOORE
ARLINGTON
SD
SOYBEANS
$8,080
DENNIS GANT FARMS INC
GEDDES
SD
SOYBEANS
$8,032
GLENN MICHAEL FOLK
MILBANK
SD
SOYBEANS
$7,978
CAROL JEAN MAYER
WAKONDA
SD
SOYBEANS
$7,961
JEROLD KRUEGER
NEW EFFINGTON
SD
SOYBEANS
$7,916
MARK BUSCHENFELD
TORONTO
SD
SOYBEANS
$7,913
STEVEN R MINDER
WILMOT
SD
SOYBEANS
$7,897
RANDAL J NIELSEN
HOWARD
SD
SOYBEANS
$7,840
DELBERT HENRY KLICKER
WOLSEY
SD
SOYBEANS
$7,838
KIRSTEN RENBACK
LENNOX
SD
SOYBEANS
$7,819
TERRILL LANE WHEELER
CLARK
SD
SOYBEANS
$7,818
JOYCE FJELLAND
CLARK
SD
SOYBEANS
$7,714
KENNETH A SAYLER
TABOR
SD
HOGS
$7,688
RONALD PETERSON
SISSETON
SD
SOYBEANS
$7,672
MICHAEL M COOK
REE HEIGHTS
SD
SOYBEANS
$7,639
MARK ERICKSON
ABERDEEN
SD
SOYBEANS
$7,636
GENE MAHER
REDFIELD
SD
SOYBEANS
$7,631
RICKY A VELDKAMP
TRENT
SD
SOYBEANS
$7,624
KENNLEY S WRIGHT
COLMAN
SD
HOGS
$7,572
GARY D WENDLING
BRYANT
SD
SOYBEANS
$7,523
ROGER DEAN EVANS
HAMILL
SD
SOYBEANS
$7,509
BRIAN HOSTUTLER
MIDLAND
SD
WHEAT
$7,491
RICHARD JOHNSON
GARRETSON
SD
SOYBEANS
$7,487
MARK FOLAND
MIDLAND
SD
WHEAT
$7,460
KAREN FOLAND
MIDLAND
SD
WHEAT
$7,460
WRIGHT BROTHERS FARMS INC
REDFIELD
SD
SOYBEANS
$7,439
RUSSELL SCHUELKE
REVILLO
SD
SOYBEANS
$7,435
RONALD WILLIAM FUOSS
ARMOUR
SD
HOGS
$7,416
MARK ALAN FUOSS
ARMOUR
SD
HOGS
$7,416
EDINGER BROTHERS PARTNERSHIP
MITCHELL
SD
WHEAT
$7,408
DOUGLAS D ANDERSON
VALLEY SPRINGS
SD
SOYBEANS
$7,406
SCOTT SCHUURMANS FARMS LLC
TYNDALL
SD
HOGS
$7,404
LOWELL GORDON JONES
REE HEIGHTS
SD
SOYBEANS
$7,383
DEAN HANSEN
HARROLD
SD
SOYBEANS
$7,365
BRETT JOEL KNUTSON
WHITE
SD
SOYBEANS
$7,322
LAWRENCE EVERETT EVERS
WOONSOCKET
SD
SOYBEANS
$7,320
JACQUELINE JACKIE RAE EVERS
WOONSOCKET
SD
SOYBEANS
$7,320
AUSTIN JAMES BOSTROM
NEW EFFINGTON
SD
SOYBEANS
$7,300
BLY FAMILY FARM
GARRETSON
SD
SOYBEANS
$7,288
ROBERT L GANSCHOW
WAKONDA
SD
SOYBEANS
$7,278
JOHN K SORENSEN
IRENE
SD
SOYBEANS
$7,276
EISENBEISZ FARMS INC
BOWDLE
SD
WHEAT
$7,271
LARRY JORGENSON
TRENT
SD
SOYBEANS
$7,242
LEESMAN RANCH
PIERRE
SD
WHEAT
$7,200
BRAD BOOMSMA
FRANKFORT
SD
SOYBEANS
$7,167
EUGENE R BLOKER
WENTWORTH
SD
SOYBEANS
$7,156
DAVID C MOUSEL
DELL RAPIDS
SD
SOYBEANS
$7,153
PAUL KEVIN JOHNSON
OLDHAM
SD
SOYBEANS
$7,138
RANDY HAROLD HAIGH
TULARE
SD
SOYBEANS
$7,116
LEROY C SONNENBURG
ESTELLINE
SD
SOYBEANS
$7,093
TAYLOR JOHN FORBES
HARRISBURG
SD
SOYBEANS
$7,075
NATHAN L TJADEN
BRANDT
SD
SOYBEANS
$7,073
DENNIS LELAND
MITCHELL
SD
SOYBEANS
$7,061
TERRY MIEDEMA
HURON
SD
SOYBEANS
$7,059
BRIAN MICHAEL FISCHER
DE SMET
SD
SOYBEANS
$7,033
JAMIE HEIDINGER
PLANKINTON
SD
SOYBEANS
$7,013
GERALD EILERS
UTICA
SD
SOYBEANS
$7,005
MICHAEL MEYER
HARROLD
SD
SOYBEANS
$6,970
SHIRLEY JOHNSON
GARRETSON
SD
SOYBEANS
$6,937
CHARLES J JOHNSON
MADISON
SD
SOYBEANS
$6,920
ALLAN P JOHNSON
MADISON
SD
SOYBEANS
$6,920
DAROLD E RENKLY TRUST
VOLGA
SD
SOYBEANS
$6,918
DARWIN TUSCHERER
CRESBARD
SD
SOYBEANS
$6,866
ALLAN KAROLEVITZ
YANKTON
SD
SOYBEANS
$6,848
LONNY HELLER
REVILLO
SD
SOYBEANS
$6,834
DONALD HELLER
REVILLO
SD
SOYBEANS
$6,824
TIMOTHY MASON
PLATTE
SD
SOYBEANS
$6,778
ARNOLD - ARNOLD KLEIN TRUST
NEW EFFINGTON
SD
SOYBEANS
$6,762
PATSY KLEIN-PATSY A KLEIN TRUST
ROSHOLT
SD
SOYBEANS
$6,711
PRH FARMS INC
GETTYSBURG
SD
WHEAT
$6,700
HOUCK FARMS INC
GETTYSBURG
SD
WHEAT
$6,700
FOTH FARMS INC
ONIDA
SD
WHEAT
$6,682
ROBERT LE ROY NIELSON
ARLINGTON
SD
SOYBEANS
$6,657
MIKEL DOUGLAS HOFER
DOLAND
SD
SOYBEANS
$6,654
DOUGLAS MAGNUS
SIOUX FALLS
SD
SOYBEANS
$6,641
THEODORE W SUTTON
CASTLEWOOD
SD
SOYBEANS
$6,637
HANSMEIER & SON INC
BRISTOL
SD
WHEAT
$6,635
THEODORE LEWIS LACEY
TRENT
SD
SOYBEANS
$6,600
SHAWNA L STROSCHEIN
CLEAR LAKE
SD
SOYBEANS
$6,600
DONALD J BECKLER
HARROLD
SD
SOYBEANS
$6,597
TRACEY A BECKLER
HARROLD
SD
SOYBEANS
$6,595
TODD SWENSON
GOODWIN
SD
SOYBEANS
$6,588
AGECY II LLC
IPSWICH
SD
WHEAT
$6,541
FREDERICK W STAUDY
BRYANT
SD
SOYBEANS
$6,512
WILLIAM LEROY KOCH
SHERMAN
SD
SOYBEANS
$6,485
DEWALD FARM
ROSCOE
SD
WHEAT
$6,460
WILLIAM M ARBACH FAMILY REVOCABLE TRUST
HOVEN
SD
SOYBEANS
$6,456
TIM PEPPER
FAIRFAX
SD
SOYBEANS
$6,446
MARK D MULDER
IPSWICH
SD
SOYBEANS
$6,404
WAYNE TEBBE
COLTON
SD
SOYBEANS
$6,392
DYLAN ECKMAN
BRUCE
SD
SOYBEANS
$6,377
LLOYD J BAKKEN
PLATTE
SD
SOYBEANS
$6,373
DANNY OSWALD
HURON
SD
SOYBEANS
$6,346
SCHROEDER LIVING TRUST
SIOUX FALLS
SD
SOYBEANS
$6,332
JUNE MARY HELGESON
PEEVER
SD
SOYBEANS
$6,321
JEREMY BLOKER
VOLGA
SD
SOYBEANS
$6,311
ROBERT HENRY STANGE
WOONSOCKET
SD
SOYBEANS
$6,300
DANNY CURTIS PHELPS
BADGER
SD
SOYBEANS
$6,299
PAUL REURINK
MADISON
SD
SOYBEANS
$6,278
JOHN ZIMMERMAN
PIERRE
SD
WHEAT
$6,273
DARRELL NEUHARTH
ALPENA
SD
SOYBEANS
$6,269
DEREK MERKEL
LEOLA
SD
SOYBEANS
$6,266
ANGELA K GROSS
BLUNT
SD
WHEAT
$6,265
ALAN J GROSS
BLUNT
SD
WHEAT
$6,265
STEVE EICHSTADT
WOLSEY
SD
SOYBEANS
$6,257
SIMONS FARMS INC
ST LAWRENCE
SD
SOYBEANS
$6,256
TOM MANNING
VERMILLION
SD
SOYBEANS
$6,246
NORBERT A HOERNER
BOWDLE
SD
WHEAT
$6,246
PHEIFER FARMS LTD
PLATTE
SD
HOGS
$6,240
DEREK B WOLLSCHLAGER
REVILLO
SD
SOYBEANS
$6,237
JACK WENDELL JOHNSON
IRENE
SD
SOYBEANS
$6,227
MARK BERG
DELL RAPIDS
SD
SOYBEANS
$6,225
ORAN A SORENSON
GARRETSON
SD
SOYBEANS
$6,211
CURTIS D ANDERSON
VIBORG
SD
SOYBEANS
$6,199
SCHINDLER AG PARTNERSHIP
RELIANCE
SD
WHEAT
$6,194
DUANE D CHRISTENSEN
SIOUX FALLS
SD
SOYBEANS
$6,152
GARY EUGENE PETERSON
BERESFORD
SD
SOYBEANS
$6,151
CLAYTON K KJERSTAD
WALL
SD
WHEAT
$6,142
SCOTT SUELFLOW
MITCHELL
SD
SOYBEANS
$6,141
DILLON J MOORE
ARTESIAN
SD
SOYBEANS
$6,117
DOUGLAS FRERICKS
NORTHVILLE
SD
SOYBEANS
$6,103
CALVIN RAY SANDINE
SALEM
SD
SOYBEANS
$6,078
DICK FUNKE
BRANDON
SD
SOYBEANS
$6,075
RYAN C SPILDE
HIGHMORE
SD
SOYBEANS
$6,073
MATTHEW RAYMOND ORTBERG
CLARK
SD
SOYBEANS
$6,065
PAUL MEYER
ROSHOLT
SD
SOYBEANS
$6,055
KEVIN VOSTAD
VOLGA
SD
SOYBEANS
$6,037
BRUCE E STOCKWELL
HUMBOLDT
SD
SOYBEANS
$6,032
PHILIP MALDE
MOUNT VERNON
SD
SOYBEANS
$6,019
ORVILLE G DOERING
CAVOUR
SD
SOYBEANS
$6,018
CHAD BUDDE
WOONSOCKET
SD
SOYBEANS
$5,997
RONALD LYNN NELSON
CENTERVILLE
SD
HOGS
$5,980
STEVE GESSNER
SALEM
SD
SOYBEANS
$5,978
LAUREN WITTE
FREDERICK
SD
SOYBEANS
$5,974
SYDELL FARMS
BURBANK
SD
HOGS
$5,948
NICK RAUSCH FARMS INC
GETTYSBURG
SD
WHEAT
$5,938
BETHANY ABELN
GROTON
SD
SOYBEANS
$5,914
GREG'S FARMS INC
ROSCOE
SD
WHEAT
$5,908
DELBERT E PETERSON
VOLGA
SD
SOYBEANS
$5,890
NIELSON FARMS INCORPORATED
SIOUX FALLS
SD
DAIRY
$5,865
FRANCIS J ESSER
REDFIELD
SD
SOYBEANS
$5,864
JAMES PATRICK HENRY
JEFFERSON
SD
SOYBEANS
$5,851
KROGSTAD BROTHERS
BALTIC
SD
DAIRY
$5,816
JONATHAN MOEN
ROSLYN
SD
SOYBEANS
$5,792
KREIN LIVING TRUST
ESTELLINE
SD
SOYBEANS
$5,775
SCOTT FOLTZ
ROSHOLT
SD
SOYBEANS
$5,758
AARON M PISTORIUS
SISSETON
SD
SOYBEANS
$5,754
LARRY DEAN HEIDEBRECHT
SIOUX FALLS
SD
SOYBEANS
$5,751
RANDY TEGETHOFF
PLATTE
SD
SOYBEANS
$5,749
CURT GEVESHAUSEN
KIMBALL
SD
SOYBEANS
$5,739
CLARE KERR
ESTELLINE
SD
SOYBEANS
$5,733
NEAL BUSSER
COLTON
SD
SOYBEANS
$5,731
CARL ELIASON
RENNER
SD
SOYBEANS
$5,699
STEVEN DALE MC CLEEREY
SISSETON
SD
SOYBEANS
$5,693
LEONARD R SAATHOFF
ESTELLINE
SD
SOYBEANS
$5,663
GREGORY D LANNERS
CLEAR LAKE
SD
SOYBEANS
$5,651
JOHN P CARSTEN
PLATTE
SD
SOYBEANS
$5,647
MICHELE ANN NELSON
LAKE PRESTON
SD
SOYBEANS
$5,630
MERRILL ALLEN NELSON
LAKE PRESTON
SD
SOYBEANS
$5,630
RAD JASON BORTNEM
VOLGA
SD
SOYBEANS
$5,621
ROBERT GREGORY & DOUGLAS ODE PTRS-ROYALWOOD FARMS LLC
BRANDON
SD
DAIRY
$5,605
JAMES BINGAMAN
PRAIRIE CITY
SD
WHEAT
$5,565
LYNN WAEGE
SOUTH SHORE
SD
SOYBEANS
$5,552
BRIAN LOUIS DOLD
HOWARD
SD
SOYBEANS
$5,512
TODD A DIETRICH
FLANDREAU
SD
SOYBEANS
$5,490
WILLIAM J MUSHITZ
GEDDES
SD
SOYBEANS
$5,487
DEAN LA VERN THOMPSON
SISSETON
SD
SOYBEANS
$5,478
MARY LOU MARTENS
WENTWORTH
SD
SOYBEANS
$5,477
DELTON GIMBEL
REE HEIGHTS
SD
SOYBEANS
$5,469
TIMOTHY BRAUN
ROSHOLT
SD
SOYBEANS
$5,444
RUSSMAN ENTERPRISES INC
HENRY
SD
SOYBEANS
$5,439
PAUL SCHAUNAMAN
SISSETON
SD
SOYBEANS
$5,439
RODNEY ZELL
DE SMET
SD
SOYBEANS
$5,430
BRADLEY LARSON
WILLOW LAKE
SD
SOYBEANS
$5,414
DAVID KROUPA
KIMBALL
SD
SOYBEANS
$5,398
HAROLD D LEIGHTON
MADISON
SD
SOYBEANS
$5,385
DENNIS L PEARSON
SALEM
SD
SOYBEANS
$5,376
TERRENCE M BOHNENKAMP
BALTIC
SD
SOYBEANS
$5,371
KIRK HUBER
BOWDLE
SD
WHEAT
$5,355
EDWARD J FROELICH
LEMMON
SD
WHEAT
$5,338
ROGER VANDER PLAATS
HARTFORD
SD
SOYBEANS
$5,320
BRETT L SUMNER
SUMMIT
SD
SOYBEANS
$5,314
THOMAS VONEYE
SIOUX FALLS
SD
WHEAT
$5,312
GRAYDEN HEITMANN
FAULKTON
SD
SOYBEANS
$5,309
ORRIN FREEMAN
MELLETTE
SD
SOYBEANS
$5,304
GREGORY W RAHM
TURTON
SD
SOYBEANS
$5,303
CYD T RAHM
TURTON
SD
SOYBEANS
$5,303
CHARLENE KJERSTAD
WALL
SD
WHEAT
$5,292
WM D SCHULER
TWIN BROOKS
SD
SOYBEANS
$5,291
JUSTIN FULLER
HITCHCOCK
SD
SOYBEANS
$5,289
BON HOMME HUTTERIAN BRETHREN INC
TABOR
SD
DAIRY
$5,280
PHILIP CARRICO
CONDE
SD
SOYBEANS
$5,270
JOHN BOLTJES
ELKTON
SD
SOYBEANS
$5,254
DAN E MCKAY
CLEAR LAKE
SD
SOYBEANS
$5,244
CRAIG K STOTZ
MC LAUGHLIN
SD
WHEAT
$5,234
SOUTH VIEW DAIRY
WATERTOWN
SD
DAIRY
$5,202
LAZY DIAMOND M RANCH
GETTYSBURG
SD
WHEAT
$5,202
TANNER SONN
LEMMON
SD
WHEAT
$5,201
BYRON PARSONS
MILESVILLE
SD
WHEAT
$5,180
DALE LEE YORK
BURKE
SD
SOYBEANS
$5,176
ROBERT D FITCH LIVING TRUST
HUDSON
SD
SOYBEANS
$5,149
CRAIG L WALKER
MADISON
SD
SOYBEANS
$5,131
HAFNER BROS
ALPENA
SD
SOYBEANS
$5,124
KENNETH D MIZERA
MC LAUGHLIN
SD
WHEAT
$5,112
BRUCE W MIZERA
MC LAUGHLIN
SD
WHEAT
$5,112
JUSTIN MARK CARL BOLDEN
CLEAR LAKE
SD
SOYBEANS
$5,111
MICHAEL J MILLER
WOONSOCKET
SD
SOYBEANS
$5,107
MARK CARL LOESCHKE
MILBANK
SD
SOYBEANS
$5,096
PAUL MUNSEN
WHITE LAKE
SD
SOYBEANS
$5,095
ROGER E GROENEVELD
LENNOX
SD
SOYBEANS
$5,087
WILLIAM L FARGO
YANKTON
SD
SOYBEANS
$5,080
KENNETH GOENS
WHITE
SD
SOYBEANS
$5,076
TYLER MEYER
HURON
SD
SOYBEANS
$5,073
GERRIT OVERWEG
WHITE LAKE
SD
SOYBEANS
$5,061
JOE G AZEVEDO
ORIENT
SD
DAIRY
$5,056
MR GREGORY J HAUGLID
DELL RAPIDS
SD
SOYBEANS
$5,023
PRESZLER'S FARMS INC
ROSCOE
SD
WHEAT
$4,990
JEFFREY DEAN MAASSEN
VALLEY SPRINGS
SD
SOYBEANS
$4,959
DOUGLAS ZENS
TULARE
SD
SOYBEANS
$4,950
DWIGHT TJEERDSMA
SPRINGFIELD
SD
SOYBEANS
$4,942
CODY A CLARK
AURORA
SD
SOYBEANS
$4,940
CHRISTENSEN GRAIN FARM PARTNERSHIP
CHAMBERLAIN
SD
WHEAT
$4,920
VANDEWEERD FAMILY FARMS LLC
BRUCE
SD
SOYBEANS
$4,881
ROBERT DUNN
WHITE LAKE
SD
SOYBEANS
$4,863
MICHAEL DAVID HANSEN
WILMOT
SD
SOYBEANS
$4,849
DARREL E JENSEN
REDFIELD
SD
SOYBEANS
$4,848
NICK A & MATT S KRANZ INC
WATERTOWN
SD
SOYBEANS
$4,846
P J WERDEL & SONS INC
REE HEIGHTS
SD
WHEAT
$4,842
WILLARD WILLIS WALLMAN
YALE
SD
WHEAT
$4,836
ALLEN W FREDRICKSON
ARLINGTON
SD
SOYBEANS
$4,798
RON TAGGART
WINNER
SD
WHEAT
$4,795
NOLT FARMS INC
GETTYSBURG
SD
WHEAT
$4,778
CLINTON C ALLEMAN
HAYES
SD
WHEAT
$4,769
BTB AG LLC
TRAIL CITY
SD
WHEAT
$4,768
WAYNE W JOHNSON & PATRICIA A JOHNSON REV LIVING TR
SISSETON
SD
SOYBEANS
$4,760
JSH ENTERPRISES LLC
YANKTON
SD
SOYBEANS
$4,758
MATTHEW D JUNGERS
WATERTOWN
SD
HOGS
$4,740
JOHN & JUDI FRITZ REV TRUST
NEW EFFINGTON
SD
SOYBEANS
$4,739
JIM D PULFORD
MADISON
SD
SOYBEANS
$4,739
ALAN WILLIAMS
WOLSEY
SD
SOYBEANS
$4,727
RICHARD FAULHABER
PLANKINTON
SD
SOYBEANS
$4,720
BILL CARLSON
ARLINGTON
SD
SOYBEANS
$4,713
ERIC ASSMUS
STICKNEY
SD
SOYBEANS
$4,711
LARRY DAHL
ESTELLINE
SD
SOYBEANS
$4,703
RYAN TAYLOR KOECK
REE HEIGHTS
SD
SOYBEANS
$4,696
JEANNE BENSON
FLANDREAU
SD
SOYBEANS
$4,669
NATHANIEL ROBERT HORNIG
HURON
SD
SOYBEANS
$4,661
IRON POST LLC
SIOUX FALLS
SD
SOYBEANS
$4,660
DAVID ALLEN FUEGEN
GANN VALLEY
SD
SORGHUM
$4,659
HARLAN D BOHN
TWIN BROOKS
SD
SOYBEANS
$4,655
SHANE A SORENSEN
FLANDREAU
SD
SOYBEANS
$4,651
DAVE ALBRECHT
REDFIELD
SD
SOYBEANS
$4,640
COREY CLELLAND
ARLINGTON
SD
SOYBEANS
$4,640
LANCE OLSEN
MITCHELL
SD
SOYBEANS
$4,623
SPRING VALLEY HUTTERIAN BRETHREN INC
WESSINGTON SPRINGS
SD
WHEAT
$4,612
TAYLOR S OSTERBERG
SALEM
SD
SOYBEANS
$4,608
CRAIG & KIRK SCHAUNAMAN
ABERDEEN
SD
WHEAT
$4,604
MARIAN WIESE
MADISON
SD
SOYBEANS
$4,561
DUANE JACOBSON
WATERTOWN
SD
SOYBEANS
$4,548
RALPH RABENBERG
GLENHAM
SD
SOYBEANS
$4,538
MELIUS FARMS & FEEDLOT
FAULKTON
SD
WHEAT
$4,524
STUART NEUHARTH
ALPENA
SD
HOGS
$4,512
G & K FARMS INC
ROSCOE
SD
WHEAT
$4,512
LORRAINE CATHERINE KELLER
EAGLE BUTTE
SD
WHEAT
$4,509
DANIEL MICHAEL KELLER
EAGLE BUTTE
SD
WHEAT
$4,509
DAVID REULAND
WHITE LAKE
SD
SOYBEANS
$4,508
GEORGE OLSON
WITTEN
SD
SOYBEANS
$4,499
KEITH NIELSEN
SISSETON
SD
SOYBEANS
$4,491
DOUG JOACHIM
AGAR
SD
WHEAT
$4,463
JOHN FREDERICK KROHMER
WESSINGTON SPRINGS
SD
SOYBEANS
$4,461
TIMOTHY A NELSON REVOCABLE LIVING TRUST
WAVERLY
SD
SOYBEANS
$4,439
GARY W EDMAN
ARLINGTON
SD
SOYBEANS
$4,430
DALE EDMAN
ARLINGTON
SD
SOYBEANS
$4,430
BRIAN FREDRICK IBURG
MITCHELL
SD
SOYBEANS
$4,427
AARON D VAN HULL
CENTERVILLE
SD
HOGS
$4,420
JEFFREY SCOTT KLEBSCH
FRANKFORT
SD
SOYBEANS
$4,413
DOUGLAS GENE KATS
HUDSON
SD
HOGS
$4,400
KEVIN MOE
YANKTON
SD
SOYBEANS
$4,398
NICK PETERSON
VOLGA
SD
SOYBEANS
$4,395
MIKE MICKELSON
MC LAUGHLIN
SD
WHEAT
$4,395
BRIAN NIELSEN
SISSETON
SD
SOYBEANS
$4,378
MICHAEL BEARE
ESTELLINE
SD
SOYBEANS
$4,367
DARRELL V NIELSON
MISSION HILL
SD
SOYBEANS
$4,360
DENNIS P PETERSON
SISSETON
SD
SOYBEANS
$4,349
LOIS PALMER
MELLETTE
SD
SOYBEANS
$4,347
RANDY D FODS
MADISON
SD
SOYBEANS
$4,340
NEAL KREBER
SPRINGFIELD
SD
SOYBEANS
$4,331
HINCKLEY BROTHERS PTN
GETTYSBURG
SD
WHEAT
$4,330
NEAL W HEGG
HURON
SD
SOYBEANS
$4,300
JOSHUA EDWARD WINQUIST
ALCESTER
SD
DAIRY
$4,296
DAVID J VAN EDE
ELKTON
SD
SOYBEANS
$4,264
TREVOR JOHNSON
HIGHMORE
SD
SOYBEANS
$4,263
MERLIN J TEBBE
COLTON
SD
SOYBEANS
$4,261
STEVEN G KITTELSON
HENRY
SD
SOYBEANS
$4,243
THOMAS R YACKLEY
ONIDA
SD
SOYBEANS
$4,226
THOMAS P ERICKSON
ABERDEEN
SD
SOYBEANS
$4,190
PAUL DARCY PATTERSON
DRAPER
SD
WHEAT
$4,170
DANIEL ALBRECHT
DE SMET
SD
SOYBEANS
$4,162
RYAN SCHILLING
CLEAR LAKE
SD
SOYBEANS
$4,136
ROBERT BRAASCH
MELLETTE
SD
SOYBEANS
$4,130
PATRICIA BRAASCH
MELLETTE
SD
SOYBEANS
$4,130
DIAMOND FARMS PARTNERSHIP
WALL
SD
WHEAT
$4,115
DWAYNE DAVID
HENRY
SD
SOYBEANS
$4,107
BRANDON L YORK
BURKE
SD
SOYBEANS
$4,093
KURT ALLEN DICKSON
CAVOUR
SD
SOYBEANS
$4,091
CHARLES RUSSELL PYLE
HURON
SD
SOYBEANS
$4,086
R & M POEPPEL INC
GETTYSBURG
SD
WHEAT
$4,062
FAST DAIRY
IROQUOIS
SD
DAIRY
$4,060
DOUGLAS P LINNEMAN
CASTLEWOOD
SD
SOYBEANS
$4,060
AARON SWANSON
LAKE NORDEN
SD
SOYBEANS
$4,053
JASON D NELSON
GEDDES
SD
SOYBEANS
$4,043
BLAKE A BAADE
ARTESIAN
SD
SOYBEANS
$4,041
RYAN BOOMSMA
REDFIELD
SD
SOYBEANS
$4,035
AGECY I LLC
IPSWICH
SD
WHEAT
$3,984
SHANNON HUTTERIAN BRETHREN
WINFRED
SD
DAIRY
$3,969
ART BRANDENBURGER
NEW EFFINGTON
SD
SOYBEANS
$3,961
PHILIP L WIPF
WESSINGTON SPRINGS
SD
SOYBEANS
$3,944
JONATHAN WACHTER
HURON
SD
SOYBEANS
$3,932
MICHAEL ROLSTAD
SISSETON
SD
SOYBEANS
$3,931
JARED J BARTNICK
NEW EFFINGTON
SD
HOGS
$3,924
THOMAS WILLIAM BIDDLE
GEDDES
SD
WHEAT
$3,922
GANGLE FARM
LAKE CITY
SD
SOYBEANS
$3,921
STANLEY ROBERT KOEPSELL
CANOVA
SD
SOYBEANS
$3,912
JUSTIN T REAVES
COLMAN
SD
SOYBEANS
$3,911
RYAN HARVEY ROBINSON
DUPREE
SD
WHEAT
$3,909
BOEKELHEIDE & SONS
NORTHVILLE
SD
WHEAT
$3,866
DENNIS C ELLWEIN
MITCHELL
SD
SOYBEANS
$3,858
JACOB DANIEL HACECKY
MISSION HILL
SD
SOYBEANS
$3,854
KENNETH M JONES JR
LANGFORD
SD
SOYBEANS
$3,845
ALBERT BRAUN & MARCEIL BRAUN TRUST
ROSHOLT
SD
SOYBEANS
$3,834
DARIN R PETERSON
SISSETON
SD
SOYBEANS
$3,825
TOM LEVERSON
SISSETON
SD
SOYBEANS
$3,819
SCOTTY PARMELY
SAINT LAWRENCE
SD
SOYBEANS
$3,811
SCOTT W TERCA
PRESHO
SD
WHEAT
$3,809
LARRY SCHWEIGERT
GREGORY
SD
SOYBEANS
$3,808
SCOTT S HOWE
GARRETSON
SD
SOYBEANS
$3,805
WAYNE SMEDSRUD
VOLGA
SD
SOYBEANS
$3,795
BRIAN LIND
HARRISBURG
SD
SOYBEANS
$3,788
DAVID ALAN ENFIELD
WOONSOCKET
SD
SOYBEANS
$3,775
MR GLEN H HOSTUTLER
RAPID CITY
SD
WHEAT
$3,745
JOYCE HOSTUTLER
RAPID CITY
SD
WHEAT
$3,745
TYRELL TEVELDAL
SIOUX FALLS
SD
SOYBEANS
$3,735
TATE A TEVELDAL
SIOUX FALLS
SD
SOYBEANS
$3,735
A M FARMS INC
WATERTOWN
SD
WHEAT
$3,732
WAYNE ALLEN KOST
VIBORG
SD
SOYBEANS
$3,713
TODD M TUSCHEN REVOCABLE TRUST AGREEMENT- TODD M TUSCHEN
SALEM
SD
SOYBEANS
$3,710
DORCAS STORER
GETTYSBURG
SD
WHEAT
$3,689
CARLTON PENNER
DE SMET
SD
SOYBEANS
$3,688
HARRISON IOWA TRUST
BRANDON
SD
HOGS
$3,684
STEPHEN PORTER
HIGHMORE
SD
WHEAT
$3,682
WALTER G & PATRICIA M SCHAEFER FAMILY REVOCABLE TRUST
WINFRED
SD
SOYBEANS
$3,680
JAMES S RENSCH GRANTOR TRUST
RAMONA
SD
SOYBEANS
$3,671
DALE HANSON
VALLEY SPRINGS
SD
SOYBEANS
$3,651
LINCOLN J SWENSON
GOODWIN
SD
SOYBEANS
$3,637
JAMES EDD MCGREGOR
SALEM
SD
DAIRY
$3,618
JEFF LOWE
GARRETSON
SD
SOYBEANS
$3,610
SCOTT ROEBER
TULARE
SD
SOYBEANS
$3,604
BRADLEY W SCHOCK
SPENCER
SD
SOYBEANS
$3,603
LORI HOLZAPFEL
GARRETSON
SD
SOYBEANS
$3,601
DALE RALPH KROUPA
MOUNT VERNON
SD
SOYBEANS
$3,601
GREENWOOD HUTTERIAN BRETHREN INC
DELMONT
SD
WHEAT
$3,600
MARSHALL E NYGARD
HUDSON
SD
SOYBEANS
$3,595
MELVIN D JOHNSON
ASTORIA
SD
SOYBEANS
$3,593
GEIER FAMILY FARM LLC
BOWDLE
SD
WHEAT
$3,590
COLE EMIL HAUGE
BROOKINGS
SD
SOYBEANS
$3,586
MARY J KLATT
SIOUX FALLS
SD
SOYBEANS
$3,582
MICK ROWE
CARTER
SD
WHEAT
$3,571
JOSHUA C COATS
DOLAND
SD
SOYBEANS
$3,563
GLEN KRUGER
SIOUX FALLS
SD
SOYBEANS
$3,562
RANDY S FRENG
MISSION HILL
SD
SOYBEANS
$3,546
EDWARD D TIMM
ELKTON
SD
SOYBEANS
$3,541
TRACY D SUMNER
FLORENCE
SD
SOYBEANS
$3,536
HORIZON VIEW FARMS LLC
CANOVA
SD
SOYBEANS
$3,516
BOESEN FARM LLC
KIMBALL
SD
SOYBEANS
$3,513
JOHN L ZECK
GROTON
SD
SOYBEANS
$3,509
EUGENE M BERG
EMERY
SD
SOYBEANS
$3,491
MICHAEL D HALEY
MITCHELL
SD
SOYBEANS
$3,489
MICHAEL CRISP
DELL RAPIDS
SD
SOYBEANS
$3,480
LARRY BAKKE
ESTELLINE
SD
SOYBEANS
$3,478
HERB HELGESON
SISSETON
SD
SOYBEANS
$3,477
JON CASPER
LAKE PRESTON
SD
SOYBEANS
$3,476
BARBARA RAE LEESMAN
BLUNT
SD
WHEAT
$3,474
ANDREW ERICKSON
ABERDEEN
SD
SOYBEANS
$3,471
LAVONNE GRIMSRUD REV LIVING TRUST
SISSETON
SD
SOYBEANS
$3,466
ROGER A PEDERSON
GARY
SD
SOYBEANS
$3,459
ROBERT DENNIS GROON
ARLINGTON
SD
SOYBEANS
$3,442
DONALD L CARPENTER
COLTON
SD
SOYBEANS
$3,441
LARRY HONEYMAN
MORRISTOWN
SD
WHEAT
$3,437
GENE TOENNIES
CRESBARD
SD
SOYBEANS
$3,436
JAMES L LAMONT
WILLOW LAKE
SD
SOYBEANS
$3,426
BARBARA A KLEIN-BARBARA A KLEIN TRUST
WATERTOWN
SD
SOYBEANS
$3,421
ANTHONY EHRICH
ROCKHAM
SD
SOYBEANS
$3,411
RICHARD LEE KEATING
WILLOW LAKE
SD
SOYBEANS
$3,395
CONRAD KJERSTAD
WALL
SD
WHEAT
$3,393
TOM MUNTEFERING
DIMOCK
SD
SOYBEANS
$3,392
WILLIAM ALBERT PIEPER
WATERTOWN
SD
SOYBEANS
$3,386
KOLBY P JOHNSON
GARRETSON
SD
SOYBEANS
$3,379
SCOTT MIEDEMA
WOLSEY
SD
SOYBEANS
$3,375
TYLER STUEFEN
ELKTON
SD
SOYBEANS
$3,374
MICHAEL EDWARDS
MILLER
SD
SOYBEANS
$3,338
BRIAN HOWE
SHERMAN
SD
DAIRY
$3,338
OLSON GRAIN INC
PLATTE
SD
WHEAT
$3,329
ALEX JERVIK
HUDSON
SD
SOYBEANS
$3,324
WORTH BROTHERS 4-D RANCH
GETTYSBURG
SD
HOGS
$3,312
KENNETH G KURLE
EUREKA
SD
SOYBEANS
$3,306
MARK ALLEN HUBERT
VERMILLION
SD
SOYBEANS
$3,291
KATHLEEN SCHAUNAMAN TRUST
SISSETON
SD
SOYBEANS
$3,283
MARK BUCHHOLZ
PHILIP
SD
WHEAT
$3,277
LUFCO INC
HARTFORD
SD
SOYBEANS
$3,275
WILKES T OBERMEIER
CLARK
SD
SOYBEANS
$3,261
STEVEN CHILSON
WATERTOWN
SD
SOYBEANS
$3,247
LEVI NEUHARTH
FORT PIERRE
SD
SORGHUM
$3,240
CRYSTAL DIANNE NEUHARTH
FORT PIERRE
SD
SORGHUM
$3,240
MICHAEL J BOLLWEG
HARROLD
SD
WHEAT
$3,231
ROBERT BANKS
FEDORA
SD
SOYBEANS
$3,203
DUANE UNDERSTOCK
DOLAND
SD
SOYBEANS
$3,199
JAN BUSSE - JAN J BUSSE REVOCABLE LIVING TRUST
HIGHMORE
SD
SOYBEANS
$3,187
DANIEL PAUL SCHLAFFMAN
ETHAN
SD
SOYBEANS
$3,179
RICHARD ARNESON
TULARE
SD
SOYBEANS
$3,178
DOUGLAS ALLEN KOISTINEN
ERWIN
SD
SOYBEANS
$3,176
BRIAN PIERCE
WILMOT
SD
SOYBEANS
$3,165
D & K PARTNERSHIP
AGAR
SD
WHEAT
$3,160
TRACEY A BECKLER
HARROLD
SD
WHEAT
$3,155
DONALD J BECKLER
HARROLD
SD
WHEAT
$3,155
KEVIN L & TERRY M JOHNSON PTR
ISABEL
SD
WHEAT
$3,150
KEITH E NELSON
LAKE PRESTON
SD
SOYBEANS
$3,142
DAVID ROBBINS
HAMILL
SD
WHEAT
$3,138
TONY RAY BINGER
TULARE
SD
SOYBEANS
$3,135
BERINGER FARMS PTN
GETTYSBURG
SD
WHEAT
$3,132
ROBERT PFEIL
CLEAR LAKE
SD
SOYBEANS
$3,125
AARON JACOBSON
WINFRED
SD
SOYBEANS
$3,102
DONALD J BUNKERS
BALTIC
SD
SOYBEANS
$3,095
LOREN ROTH
FREEMAN
SD
HOGS
$3,084
GORDON ROTH
HURLEY
SD
HOGS
$3,084
ROCKPORT HUTTERIAN BRETHREN INC
ALEXANDRIA
SD
DAIRY
$3,077
BLAKE D NELSON
BRANDON
SD
SOYBEANS
$3,074
DELORES KROUPA
MOUNT VERNON
SD
SOYBEANS
$3,069
RANDY W MARTIN
BURKE
SD
SOYBEANS
$3,058
BLACKPIPE PARTNERSHIP
KADOKA
SD
WHEAT
$3,057
MATTHEW NIEDERMAN
MORRISTOWN
SD
WHEAT
$3,056
COREY DORHOUT
MADISON
SD
SOYBEANS
$3,056
TURNER COUNTY DAIRY LLP
PARKER
SD
DAIRY
$3,055
LADELL E GOODROAD
BRANDT
SD
SOYBEANS
$3,053
ELI J LITTLE
CASTLEWOOD
SD
SOYBEANS
$3,053
PAUL A HERREN
DUPREE
SD
WHEAT
$3,044
ROBERT D BAUER
HARROLD
SD
WHEAT
$3,043
MATTHEW JORDAN SELLAND
LETCHER
SD
SOYBEANS
$3,043
M & J CRONIN INC
GETTYSBURG
SD
WHEAT
$3,034
JOANNE M SHELLUM
TRENT
SD
SOYBEANS
$3,004
WEILAND FARMS LLC
DELL RAPIDS
SD
DAIRY
$3,003
DAVID BALVIN
CLAIRE CITY
SD
SOYBEANS
$3,001
TUSCHEN PROPERTIES LLC
SALEM
SD
SORGHUM
$2,996
FLOYD BURBACH
TABOR
SD
SOYBEANS
$2,991
PAUL NORDSTROM
FORT PIERRE
SD
SOYBEANS
$2,989
WILLIAM N KLEIN - WILLIAM N KLEIN TRUST
WATERTOWN
SD
SOYBEANS
$2,987
HOWARD HEINJE
WILMOT
SD
SOYBEANS
$2,981
CHAD M EILERS
UTICA
SD
SOYBEANS
$2,981
CURTIS ALBERT RAHM
TURTON
SD
WHEAT
$2,954
BRENT SCHILDER
FAULKTON
SD
SOYBEANS
$2,953
DYLAN A LAPKA
LEOLA
SD
SOYBEANS
$2,950
BRIAN D LINTVEDT
PRESHO
SD
WHEAT
$2,920
SHARON D DADY REV TRUST
MOBRIDGE
SD
SOYBEANS
$2,895
CLAYTON SCHOENEFELD
HERRICK
SD
SOYBEANS
$2,886
SCOTT GLANZER
BRIDGEWATER
SD
SOYBEANS
$2,880
DIAMOND W LAND AND CATTLE CO
MILLER
SD
WHEAT
$2,873
KURT G PRESZLER
ROSCOE
SD
WHEAT
$2,866
KAY DON JONS
BONESTEEL
SD
DAIRY
$2,865
MICHAEL J DAHL
CLEAR LAKE
SD
SOYBEANS
$2,859
DARIN B STRICHERZ
REVILLO
SD
SOYBEANS
$2,852
DAVID ALLEN GROTEWOLD
CANTON
SD
SOYBEANS
$2,847
WILLIAM PERRY MC CLEEREY
SISSETON
SD
SOYBEANS
$2,846
EAGLE PASS RANCH LP
HIGHMORE
SD
WHEAT
$2,845
WAYNE ALLEN FONDER
SISSETON
SD
SOYBEANS
$2,843
BRADY MILES
CONDE
SD
SOYBEANS
$2,837
TERRY BUCHERT
PHILIP
SD
WHEAT
$2,826
M & N CRONIN INC
GETTYSBURG
SD
WHEAT
$2,826
DONNA MAE FONDER
SISSETON
SD
SOYBEANS
$2,806
ROBERT WILLIAM LANDIS
COLMAN
SD
SOYBEANS
$2,805
TIMOTHY MICHAEL HAJEK
TYNDALL
SD
HOGS
$2,800
SAMUEL S HAJEK
TYNDALL
SD
HOGS
$2,800
JOEY M SYKORA
SCOTLAND
SD
HOGS
$2,800
BRADLEY POWELL
SIOUX FALLS
SD
SOYBEANS
$2,800
LOUANN R EVERSON TRUST
HAYTI
SD
SOYBEANS
$2,797
POINSETT HUTTERIAN BRETHREN INC
ESTELLINE
SD
CORN
$2,793
CODY R BURBACH
TABOR
SD
SOYBEANS
$2,774
DARIN NAESCHER
PHILIP
SD
WHEAT
$2,765
DANIEL GEORGE MEYER
FLORENCE
SD
SOYBEANS
$2,765
MATTHEW JOSEPH MUSHITZ
GEDDES
SD
SOYBEANS
$2,763
BARBARA CAMPBELL
MC INTOSH
SD
WHEAT
$2,760
JOE NORDSTROM
SIOUX FALLS
SD
SOYBEANS
$2,758
J & N HAEFNER INC
MOUND CITY
SD
WHEAT
$2,758
LEIGH JOHNSON
WEBSTER
SD
WHEAT
$2,754
MICHAEL L VIS
VALLEY SPRINGS
SD
SOYBEANS
$2,748
PUGH BROS
MILLER
SD
CORN
$2,740
TODD KOEDAM
CANTON
SD
SOYBEANS
$2,737
CNC FARMS INC
GETTYSBURG
SD
WHEAT
$2,730
AARON MICHAEL DAHL
ESTELLINE
SD
SOYBEANS
$2,723
CORY REIFF
WENTWORTH
SD
SOYBEANS
$2,721
SHIRLEY A BARBER
ONIDA
SD
WHEAT
$2,716
RYAN ZELMER
SALEM
SD
SOYBEANS
$2,716
MARK E BARBER
ONIDA
SD
WHEAT
$2,716
TYLER HINTZ
YALE
SD
SOYBEANS
$2,714
ROLLAND BARRIE
TURTON
SD
SOYBEANS
$2,714
LISA VIRCHOW
WILLOW LAKE
SD
SOYBEANS
$2,707
DOUGLAS ROBERT LARSEN
HOWARD
SD
SOYBEANS
$2,705
HOERNER FARMS LLC
BOWDLE
SD
WHEAT
$2,702
SCOTT PATTERSON
KADOKA
SD
WHEAT
$2,694
LAURIE KJERSTAD
WALL
SD
WHEAT
$2,693
SHANE GUSTAVE LYNCH
KELDRON
SD
WHEAT
$2,687
JOHN RYAN SJAARDA
VALLEY SPRINGS
SD
HOGS
$2,684
JOHN EUGENE SJAARDA
VALLEY SPRINGS
SD
HOGS
$2,684
MICHAEL NAESCHER
WALL
SD
WHEAT
$2,681
ROBERT A RUMPZA
WAUBAY
SD
WHEAT
$2,680
RODNEY P HORNIG
SPEARFISH
SD
SOYBEANS
$2,679
LARRY L TASCHNER LIVING TRUST
BRYANT
SD
SOYBEANS
$2,661
RANDALL R WIRT
PARKER
SD
HOGS
$2,652
ADRIANUS HENRICUS BROK
WINFRED
SD
DAIRY
$2,652
ALLEN STARK
WATERTOWN
SD
SOYBEANS
$2,644
JUSTIN LANDIS
COLMAN
SD
SOYBEANS
$2,640
JASON WILLIAM LANDIS
FLANDREAU
SD
SOYBEANS
$2,640
TSC FARMS INC
GETTYSBURG
SD
WHEAT
$2,634
FREY-VIEW DAIRY FARM INC
CLAREMONT
SD
DAIRY
$2,632
ARLEN HATLE
MEADOW
SD
WHEAT
$2,631
JARED J SCHOTT
MC LAUGHLIN
SD
WHEAT
$2,620
ROBBIE A CWACH
PLATTE
SD
WHEAT
$2,619
DWIGHT LAWSON
GROTON
SD
SOYBEANS
$2,614
MELVIN E. CONNOT
WINNER
SD
SOYBEANS
$2,601
BILLIE PARSONS
MILESVILLE
SD
WHEAT
$2,600
DOUGLAS L SIMONS REVOCABLE LIVING TR
SAINT LAWRENCE
SD
WHEAT
$2,598
KENT SPOELSTRA
NEW HOLLAND
SD
SOYBEANS
$2,583
KORTH FARMS
WATERTOWN
SD
WHEAT
$2,576
K & K FARMS INC
CLEAR LAKE
SD
WHEAT
$2,574
CLEARFIELD HUTTERIAN BRETHREN INC
DELMONT
SD
WHEAT
$2,570
JOEL W VETTER
CHELSEA
SD
SOYBEANS
$2,566
ROBERT E ELLINGSON
SIOUX FALLS
SD
SOYBEANS
$2,564
TIMOTHY F BRANAUGH
YANKTON
SD
SOYBEANS
$2,559
RICHARD A BRAUN
ROSHOLT
SD
SOYBEANS
$2,556
GREGORY R BRAUN
ROSHOLT
SD
SOYBEANS
$2,556
BRADY J WENDLING
BRYANT
SD
SOYBEANS
$2,555
RICHARD C RICKETT
TEA
SD
SOYBEANS
$2,553
BILL CAMPBELL
MILLER
SD
SOYBEANS
$2,552
TRIPLE M DAIRY
GOODWIN
SD
DAIRY
$2,548
GREG ALAN KLIEGEL
WATERTOWN
SD
SOYBEANS
$2,537
DANNY WAYNE MIKKELSON
MILBANK
SD
SOYBEANS
$2,525
HEESCH FARMS INC
ELKTON
SD
SOYBEANS
$2,521
RICHARD A BECVAR
SCOTLAND
SD
SOYBEANS
$2,514
EUGENE BROUGHTON
TEA
SD
SOYBEANS
$2,511
JEFFREY R BECKER
LEOLA
SD
SOYBEANS
$2,509
WAYNE M NIICHEL
BRANDON
SD
SOYBEANS
$2,508
JEREMY J SYROVATKA
LESTERVILLE
SD
SOYBEANS
$2,508
DANIEL FOLTZ
ROSHOLT
SD
SOYBEANS
$2,497
ARNOLD A BAHR
GROTON
SD
SOYBEANS
$2,493
MARVIN VAN OVERSCHELDE
MITCHELL
SD
SOYBEANS
$2,486
MALVERN A JONS
BONESTEEL
SD
SOYBEANS
$2,469
MICHAEL A EICHACKER
SALEM
SD
DAIRY
$2,466
LOUDER FARMS INC
DRAPER
SD
WHEAT
$2,466
CASEY GLANZER
CARPENTER
SD
SOYBEANS
$2,455
AARON JOHNSON
MADISON
SD
SOYBEANS
$2,454
CYDNEE CECILIA JEAN DAVIS
WOLSEY
SD
SOYBEANS
$2,453
JAMES R SWANSON
PUKWANA
SD
SOYBEANS
$2,450
J & K FARMS LLC
WENTWORTH
SD
HOGS
$2,445
BK SEIDEL INC
BISON
SD
WHEAT
$2,444
RICHARD SEIDEL
BISON
SD
WHEAT
$2,443
WILLIAM S MUTH
ORIENT
SD
SOYBEANS
$2,440
MERRITT PATTERSON AND SONS
WALL
SD
WHEAT
$2,429
RAYMOND BUSCHENFELD
TORONTO
SD
SOYBEANS
$2,423
HARRELL BROS
MILLER
SD
WHEAT
$2,414
EDWARD COOMES
COLTON
SD
SOYBEANS
$2,397
ROGER T RUST
GOODWIN
SD
SOYBEANS
$2,396
JEANETTE SINGREY
HAZEL
SD
SOYBEANS
$2,394
LARRY SINGREY
WATERTOWN
SD
SOYBEANS
$2,393
DUAYNE SINGREY
HAZEL
SD
SOYBEANS
$2,393
ZARNEKE FARMS PARTNERSHIP
ABERDEEN
SD
SOYBEANS
$2,389
LARRY LORREL LARSON
VERMILLION
SD
SOYBEANS
$2,373
SCHULTE FARMS LLC
GEDDES
SD
WHEAT
$2,371
LLOYD ENGLUND
ROSHOLT
SD
SOYBEANS
$2,369
ROBERT C ELLSWORTH
FORT THOMPSON
SD
WHEAT
$2,361
KATHLEEN ELLSWORTH
FORT THOMPSON
SD
WHEAT
$2,361
GRANT SIMONS
WHITE OWL
SD
WHEAT
$2,360
DUSTIN J FOSTER
ESTELLINE
SD
SOYBEANS
$2,355
CARRIE L LEWIS
PLANKINTON
SD
SOYBEANS
$2,355
RANDOL GARY HOLT
SUMMIT
SD
SOYBEANS
$2,343
JAMES NELSON
PIERRE
SD
SOYBEANS
$2,335
KEITH ALAN KAUP
HOVEN
SD
WHEAT
$2,301
DARIN GREENHOFF
MADISON
SD
SOYBEANS
$2,292
CRAIG DARYL JOHNSON
VERMILLION
SD
HOGS
$2,288
SHERRY DISTAD
BROOKINGS
SD
SOYBEANS
$2,282
PAUL JAMES KARELS
MILBANK
SD
SOYBEANS
$2,265
GUY MACKNER
SISSETON
SD
SOYBEANS
$2,264
BJ MCNEIL
HURON
SD
WHEAT
$2,253
MARPLE FARM LLC
DUPREE
SD
WHEAT
$2,252
GREGORY L SCHNIEDERS
DELL RAPIDS
SD
SOYBEANS
$2,251
WAYNE E KNUTSON
VOLIN
SD
SOYBEANS
$2,246
SCHLEUSNER DAIRY INC
WATERTOWN
SD
WHEAT
$2,240
RANDALL HAROLD SIMON
HOVEN
SD
WHEAT
$2,237
WILLIAM EARL KELLOGG
GETTYSBURG
SD
WHEAT
$2,235
JAMES L HANSON
GARRETSON
SD
SOYBEANS
$2,235
CORLISS ANN KELLOGG
GETTYSBURG
SD
WHEAT
$2,235
REETTA R SIEH
LEOLA
SD
WHEAT
$2,234
CHRISTOPHER SIEH
LEOLA
SD
WHEAT
$2,234
MARK MUELLENBERG
ROCKHAM
SD
WHEAT
$2,230
COLLIS L DAHLE
MILBANK
SD
SOYBEANS
$2,222
BRANDT FARMS INC
CLEAR LAKE
SD
WHEAT
$2,212
MELVIN N RIES
WATERTOWN
SD
DAIRY
$2,205
JESSIE K FISCHER
WAKONDA
SD
SOYBEANS
$2,203
ARTHUR G POLLREISZ
ETHAN
SD
SOYBEANS
$2,186
MARY L KLEIN
ROSHOLT
SD
SOYBEANS
$2,181
VAN DYKE FARMS INC
WESSINGTON SPRINGS
SD
WHEAT
$2,173
DAVID JOHNSON
KELDRON
SD
WHEAT
$2,158
DAVID WENSING
FLORENCE
SD
SOYBEANS
$2,156
BRUCE WALTER SCHREIBER
GETTYSBURG
SD
WHEAT
$2,154
JAMES G SCHOTT
MC LAUGHLIN
SD
WHEAT
$2,153
ERWIN AND ETHEL PETRICH FAMILY TRUST
ABERDEEN
SD
SOYBEANS
$2,151
JAMES E KNADLE
HAYTI
SD
SOYBEANS
$2,150
BETTY R KNADLE
HAYTI
SD
SOYBEANS
$2,150
WESLEY KOEHLER
ROSHOLT
SD
SOYBEANS
$2,148
DANIEL FELTMAN
CHAMBERLAIN
SD
WHEAT
$2,148
BRUCH RANCH LLC
STURGIS
SD
WHEAT
$2,148
ELROY KLEIN-ELROY G KLEIN TRUST
ROSHOLT
SD
SOYBEANS
$2,147
DELWIN JOHNKE
LENNOX
SD
SOYBEANS
$2,147
GORDON W JOHNSON
CENTERVILLE
SD
SOYBEANS
$2,146
AMAN BROTHERS
HOSMER
SD
WHEAT
$2,144
NORMA PHELPS
ARLINGTON
SD
SOYBEANS
$2,141
CRYSTAL MARIE JOSEPHSEN
ARLINGTON
SD
SOYBEANS
$2,137
STEVEN ROUS
MARTIN
SD
WHEAT
$2,134
SHARON L PISTORIUS
SISSETON
SD
SOYBEANS
$2,131
JEFF ESSER
REDFIELD
SD
SOYBEANS
$2,130
PRESTON L BOWAR
FAULKTON
SD
WHEAT
$2,127
BOESEN FARM LLC
KIMBALL
SD
WHEAT
$2,127
WYATT S DAVIS
TWIN BROOKS
SD
SOYBEANS
$2,125
GREGORY EFFLING
ARTESIAN
SD
SOYBEANS
$2,122
DONALD ULRIKSON TRUST
CANTON
SD
SOYBEANS
$2,120
K & M 3 LLP
PRESHO
SD
WHEAT
$2,118
GREGORY A YACKLEY
ONIDA
SD
SOYBEANS
$2,113
GEORGE & CAROL JOHNSON LIVING TRUST
HURON
SD
SOYBEANS
$2,110
NATHAN LICHTY
WESSINGTON
SD
SOYBEANS
$2,101
SPINK HUTTERIAN INC
FRANKFORT
SD
DAIRY
$2,100
STEPHEN T OHARA
MADISON
SD
SOYBEANS
$2,096
DARWIN EVERETT REINDL
WESSINGTON SPRINGS
SD
SOYBEANS
$2,095
WARRINER EUGENE/JOAN
BLUNT
SD
WHEAT
$2,092
GULCH ROAD FARMS LLC
GETTYSBURG
SD
WHEAT
$2,092
MIKE GROSS
GARRETSON
SD
SOYBEANS
$2,089
JOE D ZORC
LEMMON
SD
WHEAT
$2,087
GAIL L BOOTH
VIVIAN
SD
WHEAT
$2,085
ROBERT J ZELLMER
SHERMAN
SD
SOYBEANS
$2,072
CHERYL J. BERGER LIMITED PARTNERSHIP
ORTLEY
SD
WHEAT
$2,072
LYNDEL JOHNSON
BISON
SD
WHEAT
$2,065
THOMAS J SCHRAMM
WINNER
SD
SOYBEANS
$2,061
STANLEY BOE
PIERPONT
SD
SOYBEANS
$2,060
EUGENE F REINBOLD
TIMBER LAKE
SD
WHEAT
$2,058
TIM K LARSON
BERESFORD
SD
DAIRY
$2,053
RANDY BERG
EMERY
SD
SOYBEANS
$2,053
FULTON RANCH INC
MILLER
SD
WHEAT
$2,050
JOHN M VANERDEWYK
MITCHELL
SD
SOYBEANS
$2,041
NATHAN A DAVIS
IPSWICH
SD
WHEAT
$2,039
VANZEE RANCH & FEED LOT INC
PLATTE
SD
WHEAT
$2,036
PAUL W KLEIN
DELL RAPIDS
SD
DAIRY
$2,035
STANLEY L HALVERSON
KENNEBEC
SD
WHEAT
$2,034
RON KLINGENBERG
COLTON
SD
SOYBEANS
$2,032
TIM K LARSON
BERESFORD
SD
SOYBEANS
$2,031
DONALD LINNEMAN
CASTLEWOOD
SD
SOYBEANS
$2,030
KENNETH SHEPARDSON
RAPID CITY
SD
WHEAT
$2,025
B-F JAMES & SONS INC
WEBSTER
SD
WHEAT
$2,019
HERBERT ULRIKSON
CANTON
SD
SOYBEANS
$2,017
IVAN S VAN DUSSELDORP
PLATTE
SD
HOGS
$2,012
HUBERT UHING
YANKTON
SD
SOYBEANS
$2,001
THE NEWBORG FAMILY LIVING TRUST
SIOUX FALLS
SD
SOYBEANS
$2,000
HORTON RANCH
WALL
SD
WHEAT
$1,995
BRYCE EGGERS
WAGNER
SD
SOYBEANS
$1,992
CEDAR GROVE HUTT BRETH INC
PLATTE
SD
CORN
$1,981
ROBERT SWENSON
MITCHELL
SD
SOYBEANS
$1,978
WILCOX GRASS CREEK RANCH LIMITED
FORT PIERRE
SD
SORGHUM
$1,976
ROBERT SCHROEDER
BERESFORD
SD
DAIRY
$1,975
KRISTI LYNN WALLMAN
YALE
SD
WHEAT
$1,971
JEREMY RYAN WALLMAN
YALE
SD
WHEAT
$1,971
E & M FARMS INC
MILBANK
SD
WHEAT
$1,965
CRONIN FARMS INC
GETTYSBURG
SD
WHEAT
$1,964
ANTHONY L LYREN
CONDE
SD
SOYBEANS
$1,960
JESSE LEE MOREHOUSE
ANDOVER
SD
WHEAT
$1,956
L J RANCH INC
PUKWANA
SD
SOYBEANS
$1,944
JAMES E HANLEY
RAPID CITY
SD
WHEAT
$1,940
ROBERT ALLEN FREDRICKSON
ARLINGTON
SD
DAIRY
$1,935
NEIL LYNN SPAID
BLUNT
SD
WHEAT
$1,934
RICHARD DEAN NELSON
SALEM
SD
SOYBEANS
$1,931
DUSTIN HOLT
SUMMIT
SD
SOYBEANS
$1,917
JOHNNY LINDSKOV
DOLAND
SD
SOYBEANS
$1,910
JERRY NELSON
VOLGA
SD
SOYBEANS
$1,907
KADEN ROBERT GASSMAN
HOWARD
SD
HOGS
$1,904
TORNBERG FARMS INC
BERESFORD
SD
DAIRY
$1,903
ABELN FARM INC
GROTON
SD
WHEAT
$1,897
GWENDA LU GULLICKSON
FLANDREAU
SD
SOYBEANS
$1,885
RONALD JASPERS
EDEN
SD
SOYBEANS
$1,870
SHIRLEY KNOCK
SIOUX FALLS
SD
SOYBEANS
$1,868
RANDY LEWIS FLYGER
HURLEY
SD
SOYBEANS
$1,865
OTTO SCHINKEL
FERNEY
SD
SOYBEANS
$1,865
MARK TESCH
WATERTOWN
SD
SOYBEANS
$1,865
KELLY TESCH
WATERTOWN
SD
SOYBEANS
$1,865
JAY ALAN JONES
BROOKINGS
SD
SOYBEANS
$1,865
DANIEL SCHINKEL
GROTON
SD
SOYBEANS
$1,865
RONALD BOWDEN
SIOUX FALLS
SD
SOYBEANS
$1,860
RICHARD BOWDEN
SIOUX FALLS
SD
SOYBEANS
$1,860
LARRY SWENSON
BRANDON
SD
SOYBEANS
$1,859
O F M PARTNERSHIP
CREIGHTON
SD
WHEAT
$1,856
B & D NIELSEN FARMS INC
WINNER
SD
WHEAT
$1,856
SWANSON BROTHERS LLC
PUKWANA
SD
WHEAT
$1,854
KIRBY R RINGLING
PLATTE
SD
SOYBEANS
$1,850
DENNIS STOCKERT
ROSCOE
SD
SOYBEANS
$1,840
WALTER D NEDVED
WAGNER
SD
SOYBEANS
$1,837
HARLYN R BOKKER
TRENT
SD
SOYBEANS
$1,834
TERESA SCHILTZ REVOCABLE TRUST
ROSHOLT
SD
SOYBEANS
$1,826
FAST FARMS LLC
YALE
SD
WHEAT
$1,826
VALERY F JASPERS JR
WATERTOWN
SD
SOYBEANS
$1,821
SUNSET HUTTERIAN BRETHREN INC
BRITTON
SD
DAIRY
$1,820
DENNIS L ZABEL NORTHLAND FARMS
SELBY
SD
SOYBEANS
$1,812
NATHAN N LAKNESS
HAYTI
SD
WHEAT
$1,804
KEVIN NEUHAUSER
MIDLAND
SD
WHEAT
$1,803
COLLETTE CARLSON
SALEM
SD
SOYBEANS
$1,801
JARED G WIEBE
IROQUOIS
SD
SOYBEANS
$1,795
DODGE DRAW FARMS INC
GETTYSBURG
SD
WHEAT
$1,793
RODNEY HOFFMAN
MORRISTOWN
SD
WHEAT
$1,788
NEW HORIZON AG TECH INC
GROTON
SD
WHEAT
$1,787
TIMOTHY ZILVERBERG
HARROLD
SD
WHEAT
$1,771
RIVER VIEW FARMS
PLATTE
SD
WHEAT
$1,768
LEON SMITH
NORTHVILLE
SD
SOYBEANS
$1,768
BARTZ GRAIN FARM INC
SISSETON
SD
CORN
$1,765
RONALD K RUUD
COLMAN
SD
DAIRY
$1,763
KEVIN CLEMENS MEYERS
DRAPER
SD
WHEAT
$1,762
JIM MRAZ
DUPREE
SD
WHEAT
$1,759
AARON HOLSCHER
TWIN BROOKS
SD
DAIRY
$1,752
TKF FARMS INC
GETTYSBURG
SD
WHEAT
$1,744
DAVID CASPER
LAKE PRESTON
SD
SOYBEANS
$1,738
DENNIS JAMES ROUS
MARTIN
SD
WHEAT
$1,737
DOUGLAS JOHN SCHACKOW
LEMMON
SD
WHEAT
$1,736
AJAR FAMILY FARM LLC
VEBLEN
SD
WHEAT
$1,736
BRAD JESSEN
REDFIELD
SD
SOYBEANS
$1,735
LITZEN & SONS INC
TOLSTOY
SD
WHEAT
$1,730
KEVIN JOHNSON
MADISON
SD
SOYBEANS
$1,730
JORDAN P JOHNSON
MADISON
SD
SOYBEANS
$1,730
HAROLD C BUCK
BRANDON
SD
SOYBEANS
$1,728
PAUL KNOX
HIGHMORE
SD
WHEAT
$1,721
ERIC L LANNERS
GOODWIN
SD
SOYBEANS
$1,720
JORDON C KJERSTAD
WALL
SD
WHEAT
$1,715
WILLIAM M PLUSH
MC LAUGHLIN
SD
WHEAT
$1,708
MARVIN CHARLES BECKLER
TULARE
SD
SOYBEANS
$1,707
CAC CATTLE INC
GETTYSBURG
SD
WHEAT
$1,704
KATHERINE PORTER
HIGHMORE
SD
WHEAT
$1,702
ENGEL FARMS
HAMILL
SD
WHEAT
$1,696
ALAN SCHMIDT
SISSETON
SD
WHEAT
$1,694
V BAR K DAIRY
VALLEY SPRINGS
SD
DAIRY
$1,693
SYLVESTER DEAN HOFER
DOLAND
SD
WHEAT
$1,691
ROGER THEOBALD
FORT PIERRE
SD
WHEAT
$1,690
PATRICK M HICKS
TWIN BROOKS
SD
SOYBEANS
$1,690
LE ROY LEWANDOWSKI
WAUBAY
SD
SOYBEANS
$1,687
LESTER J FORKEL
IPSWICH
SD
WHEAT
$1,685
ALLEN TUSCHEN
MITCHELL
SD
SOYBEANS
$1,683
ALBERT E RAEDER
WATERTOWN
SD
SOYBEANS
$1,681
RICKIE SMITH
BRITTON
SD
SOYBEANS
$1,675
BRET LANNERS
CLEAR LAKE
SD
SOYBEANS
$1,650
BARRY BORK
VALLEY SPRINGS
SD
HOGS
$1,648
YK GRAIN
ONIDA
SD
WHEAT
$1,645
HOWARD A HAUGEN
BISON
SD
WHEAT
$1,644
KUECKER KOUNTRY FARMS PARTNERSHIP
WEBSTER
SD
WHEAT
$1,643
GRAMSTAD FARMS LLP
SIOUX FALLS
SD
SOYBEANS
$1,642
BRADY A HAM
SHADEHILL
SD
WHEAT
$1,639
LARRY ALVIN ANGLIN
MILLER
SD
SOYBEANS
$1,638
DWIGHT W LAMB
PRESHO
SD
WHEAT
$1,637
RAY NEYENS JR
WINNER
SD
WHEAT
$1,632
JOHN STEINHAUER
EGAN
SD
SOYBEANS
$1,629
LARRY PAULSEN
RAPID CITY
SD
SOYBEANS
$1,621
GEORGE OLSON
WITTEN
SD
WHEAT
$1,621
STEVEN HAUGER
IRENE
SD
SOYBEANS
$1,620
MARTIN TSCHAKERT
FLORENCE
SD
WHEAT
$1,619
TATE CYRUS THOMPSON
WANBLEE
SD
WHEAT
$1,616
ARNOLD J PAULSEN
FLANDREAU
SD
SOYBEANS
$1,613
SCOTT BRANDENBURGER
CLEAR LAKE
SD
SOYBEANS
$1,611
LEVI NEUHARTH
FORT PIERRE
SD
WHEAT
$1,610
CRYSTAL DIANNE NEUHARTH
FORT PIERRE
SD
WHEAT
$1,610
LARRY VEAL
BISON
SD
WHEAT
$1,607
JAY L JOHNSON
GEDDES
SD
WHEAT
$1,598
KEVIN GUY
SISSETON
SD
SOYBEANS
$1,597
WILLIAM GOTTSLEBEN
PHILIP
SD
WHEAT
$1,594
NORMAN GENE VIS
VALLEY SPRINGS
SD
DAIRY
$1,593
SCOTT LEE MCMANUS
FULTON
SD
WHEAT
$1,592
DAVID BUSCHENFELD
ESTELLINE
SD
SOYBEANS
$1,588
COLBY REYNOLD KAUP
HOVEN
SD
WHEAT
$1,583
TIMOTHY J STAMPE
PIERRE
SD
SOYBEANS
$1,578
PATRICK MAHER
TIMBER LAKE
SD
HOGS
$1,576
KASEY J MAHER
FIRESTEEL
SD
HOGS
$1,576
JARED P HANISCH
HUMBOLDT
SD
SOYBEANS
$1,563
EVERGREEN COLONY
FAULKTON
SD
CORN
$1,559
H DOUGLAS MILLER
REDFIELD
SD
SOYBEANS
$1,558
JASON J KELLER
MOBRIDGE
SD
WHEAT
$1,554
DILLON CUTLER
FREDERICK
SD
HOGS
$1,552
ROBERT FUOSS INC
DRAPER
SD
WHEAT
$1,549
PAUL R SHELLUM
GARRETSON
SD
SOYBEANS
$1,549
RICHARD J LACHER
MINA
SD
SOYBEANS
$1,547
CATTLE HAVEN LLC
YANKTON
SD
SOYBEANS
$1,547
STEPHAN JOEL HAWKINSON
BRITTON
SD
WHEAT
$1,546
JAMES E MAJOR
WESSINGTON
SD
SOYBEANS
$1,543
PAUL FULTON
ST LAWRENCE
SD
WHEAT
$1,542
MARK FULTON
MILLER
SD
WHEAT
$1,542
BAILEY FARMS GEN PRTN
WATAUGA
SD
WHEAT
$1,540
MR ROGER S REIFF
WENTWORTH
SD
SOYBEANS
$1,531
KENN ROBERT VAUGHAN
BANCROFT
SD
DAIRY
$1,530
S & K FARMS INC
NORTHVILLE
SD
WHEAT
$1,526
RICHARD R NELSEN
COLMAN
SD
SOYBEANS
$1,523
GIB G RODGERS
WESSINGTON
SD
SOYBEANS
$1,523
SOUTH HAND GOOD WILL CORP
MILLER
SD
SOYBEANS
$1,519
JAMES RUDY
CAVOUR
SD
SOYBEANS
$1,518
DANIEL J FROELICH
LEMMON
SD
WHEAT
$1,514
TF FARMS INC
ONIDA
SD
WHEAT
$1,512
BLAIN WAYNE BAIREY
CHAMBERLAIN
SD
WHEAT
$1,511
DOXIS INC
KELDRON
SD
WHEAT
$1,510
TIMOTHY SCOTT RICE
PEEVER
SD
WHEAT
$1,506
MARTIN ANDERSEN JR
MITCHELL
SD
SOYBEANS
$1,504
DARWIN TUSCHERER
CRESBARD
SD
WHEAT
$1,501
R & R FARMS LLP
CLARK
SD
WHEAT
$1,500
RICHARD SMITH
HAYTI
SD
SOYBEANS
$1,498
RONALD WILLIAM ASSMUS
PLANKINTON
SD
SOYBEANS
$1,496
FOSSUM FAMILY COMPANY
LILY
SD
WHEAT
$1,494
JACOB A ASLESEN
ORTLEY
SD
SOYBEANS
$1,486
KYLE WYLY
FORT PIERRE
SD
WHEAT
$1,485
JERRY KLING
MORRISTOWN
SD
WHEAT
$1,484
LOREN G SPRIK
GEDDES
SD
DAIRY
$1,483
SCOTT ALAN KNEELAND
SUMMIT
SD
WHEAT
$1,471
LAURIE ANN KNEELAND
SUMMIT
SD
WHEAT
$1,471
PAUL COMEAU
MC LAUGHLIN
SD
WHEAT
$1,470
JEFFREY TODD STEFFENS
NEW EFFINGTON
SD
DAIRY
$1,470
MITCHELL HINCKLEY
GETTYSBURG
SD
WHEAT
$1,465
ANDREW J SCARBOROUGH
MANSFIELD
SD
WHEAT
$1,465
TODD KOEDAM
CANTON
SD
DAIRY
$1,464
BERNARD MARTIN SCHELLING
ARMOUR
SD
WHEAT
$1,463
MIKE AMIOTTE
INTERIOR
SD
WHEAT
$1,456
JACE HANSEN
PEEVER
SD
SOYBEANS
$1,453
WALTER G SCHAEFER JR
SIOUX FALLS
SD
SOYBEANS
$1,447
KLEINJAN FARMS INC
BRUCE
SD
WHEAT
$1,446
MARLA KAY LICHTY LIVING TRUST
WESSINGTON
SD
WHEAT
$1,445
LEE WILLIAM LICHTY LIVING TRUST
WESSINGTON
SD
WHEAT
$1,445
CHRIS L VEAL
MEADOW
SD
WHEAT
$1,444
WILLIAM A FERGEN
ETHAN
SD
SOYBEANS
$1,441
SCHOENFELDER AG LLC
DIMOCK
SD
WHEAT
$1,441
FOX ANGUS FARMS
WATERTOWN
SD
WHEAT
$1,440
LA VONNA LEMS
CANTON
SD
SOYBEANS
$1,433
SAM KOEDAM
CANTON
SD
SOYBEANS
$1,431
VERNA J HOFER REVOCABLE LIVING TRUST
MITCHELL
SD
SOYBEANS
$1,429
THYEN FARMS
WAVERLY
SD
DAIRY
$1,421
NORMAN L JOHNSON
SIOUX FALLS
SD
SOYBEANS
$1,421
JANICE J SCHELLHOUSE
SIOUX FALLS
SD
SOYBEANS
$1,421
DEROLD D JOHNSON
SIOUX FALLS
SD
SOYBEANS
$1,421
THAD EDWARD BERINGER
GETTYSBURG
SD
WHEAT
$1,417
SCHAUNAMAN FARMS INC
ABERDEEN
SD
WHEAT
$1,413
MARK ANDREW COMES
WATERTOWN
SD
WHEAT
$1,413
JIMMY A JACKSON
BOWDLE
SD
WHEAT
$1,411
DONALD KARLSTAD
ARLINGTON
SD
SOYBEANS
$1,409
JERRY LYNN STEGER
NORTHVILLE
SD
WHEAT
$1,403
LINDA S EISENBRAUN
CREIGHTON
SD
WHEAT
$1,396
HARLAN R EISENBRAUN
CREIGHTON
SD
WHEAT
$1,396
EDWARD RAY ANSTINE REVOCABLE TRUST
SIOUX FALLS
SD
SOYBEANS
$1,394
JASON DAHL
ESTELLINE
SD
SOYBEANS
$1,392
WATERS FAMILY LIMITED PARTNERSHIP
CARTER
SD
WHEAT
$1,388
MILO KLEIN JR
DALLAS
SD
WHEAT
$1,383
KEITH MUSHITZ
GEDDES
SD
SOYBEANS
$1,381
EMF FARMS INC
ONIDA
SD
WHEAT
$1,378
KERMIT O JOHNSON LIVING TRUST
SIOUX FALLS
SD
SOYBEANS
$1,377
MATTHEW GARY PETERSON
SISSETON
SD
SOYBEANS
$1,367
RAYMOND PAUL JOHANNESON
LAKE ANDES
SD
WHEAT
$1,365
HANSEN RANCH INC
FAULKTON
SD
WHEAT
$1,362
KENNETH KEIMIG
ESTELLINE
SD
SOYBEANS
$1,361
GRIESE FARMS
GETTYSBURG
SD
WHEAT
$1,348
BERNARD J MALLETT
CHELSEA
SD
SOYBEANS
$1,348
LLOYD SCHAUNAMAN
SISSETON
SD
SOYBEANS
$1,346
DAVID WILLARD NORTH
HECLA
SD
WHEAT
$1,340
WIDHALM FARMS INC
ROSHOLT
SD
WHEAT
$1,337
WILLIAM FLOYD
PIERRE
SD
WHEAT
$1,336
KENNETH D KNUTSON
CHAMBERLAIN
SD
SOYBEANS
$1,330
PAUL D PAULSEN
WALL
SD
WHEAT
$1,327
RONALD J GEFFRE
LEOLA
SD
WHEAT
$1,323
VERLIN HOFFER
WAUBAY
SD
SOYBEANS
$1,321
LANDON LEE
HOWARD
SD
SOYBEANS
$1,316
JASON CURTIS RAHM
TURTON
SD
WHEAT
$1,314
TONY WILLOUGHBY
MIDLAND
SD
WHEAT
$1,312
SCOTT ALLAN VEURINK
HARRISON
SD
WHEAT
$1,306
LORI FREMARK
SAINT LAWRENCE
SD
WHEAT
$1,304
DAVID FREMARK
SAINT LAWRENCE
SD
WHEAT
$1,304
KENT HESLA
WEBSTER
SD
WHEAT
$1,302
DAHLKES RANCH
MURDO
SD
WHEAT
$1,302
DANNY BLY ROUS
MARTIN
SD
WHEAT
$1,301
SUNSET HUTTERIAN BRETHREN INC
BRITTON
SD
WHEAT
$1,300
STEPHANY KAY KOPMAN
BRYANT
SD
WHEAT
$1,300
LEONARD EDWARD KOPMAN
BRYANT
SD
WHEAT
$1,300
JOHN R AMANN
LILY
SD
WHEAT
$1,300
A JOHN DOBLAR
MADISON
SD
SOYBEANS
$1,299
MCENTEE FARMS LLC
MITCHELL
SD
WHEAT
$1,298
DENNIS RANSCHAU
IROQUOIS
SD
SOYBEANS
$1,293
ARMOND MINDER
WILMOT
SD
SOYBEANS
$1,289
RONALD ROBERT VAN HOORN JR
MILBANK
SD
SOYBEANS
$1,287
ORVAL WILLIAM FRAHM
OELRICHS
SD
WHEAT
$1,286
DEBRA L FRAHM
OELRICHS
SD
WHEAT
$1,286
MICHAEL C NEUHARTH
EUREKA
SD
SOYBEANS
$1,285
DOUGLAS WULF
BRUCE
SD
SOYBEANS
$1,282
RICHARD FOLTZ
ROSHOLT
SD
SOYBEANS
$1,279
LARRY G HAAK
HOWARD
SD
WHEAT
$1,279
JEFF WILLOUGHBY
MIDLAND
SD
WHEAT
$1,279
PHEIFER FARMS LTD
PLATTE
SD
WHEAT
$1,274
JOSEPH SCHOLL
WHITE
SD
SOYBEANS
$1,269
BRADLEY WAYNE NUSSBAUM
GARRETSON
SD
DAIRY
$1,264
THEODORE ABLIN
MANSFIELD
SD
SOYBEANS
$1,262
MARK ABLIN
MANSFIELD
SD
SOYBEANS
$1,262
TROY A BIERMAN
MANSFIELD
SD
WHEAT
$1,260
ROGER GUTHMILLER
MENNO
SD
DAIRY
$1,258
KENNETH OREN STEVENS
MILLER
SD
SOYBEANS
$1,256
STEVEN T HORNING
WATERTOWN
SD
WHEAT
$1,255
TERESA MAE JUNGERS
WATERTOWN
SD
WHEAT
$1,254
DUSTIN D WAGER
GETTYSBURG
SD
WHEAT
$1,251
JAMES KROPUENSKE
VIBORG
SD
SOYBEANS
$1,247
LONNIE ZEMLICKA
WATERTOWN
SD
DAIRY
$1,245
SHOUN SIMONS
ENNING
SD
WHEAT
$1,243
KENT JUHNKE
VIVIAN
SD
WHEAT
$1,243
JERRY DITTMAN
HIGHMORE
SD
WHEAT
$1,242
DOUGLAS D DAHL
WALL
SD
WHEAT
$1,242
CHRIS DYKSHORN
PLATTE
SD
HOGS
$1,236
RICHARD - RICHARD SMEINS REVOCABLE TRUST SMEINS
LANGFORD
SD
WHEAT
$1,232
WOODSTONE FARMS LLC
QUINN
SD
WHEAT
$1,230
JOSEPH JAY KOKES
DELMONT
SD
WHEAT
$1,225
DENNIS J DICK
MARION
SD
WHEAT
$1,222
PATRICK JAMES HUGGINS
GEDDES
SD
WHEAT
$1,219
WAYNE FRERICKS
NORTHVILLE
SD
WHEAT
$1,217
JON SPERL
BURKE
SD
WHEAT
$1,217
RAYMOND P RENELT
ROSHOLT
SD
SOYBEANS
$1,216
RONALD HANSON
YANKTON
SD
SOYBEANS
$1,209
JEROME F LAPKA
LEOLA
SD
SOYBEANS
$1,202
EDWIN FISCHBACH
MELLETTE
SD
WHEAT
$1,199
RONALD TRENT
OELRICHS
SD
WHEAT
$1,198
NICK A & MATT S KRANZ INC
WATERTOWN
SD
WHEAT
$1,198
KENNETH E GJERE
TORONTO
SD
SOYBEANS
$1,197
DONALD MATTHAEI
SPENCER
SD
SOYBEANS
$1,197
STEVE VOELLER
FREDERICK
SD
SOYBEANS
$1,192
STEVEN RUMPZA
WEBSTER
SD
WHEAT
$1,190
RICK ELROY SCHREMPP
GETTYSBURG
SD
WHEAT
$1,190
CEDAR GROVE HUTT BRETH INC
PLATTE
SD
WHEAT
$1,188
UPLAND HTT BRETH INC
ARTESIAN
SD
DAIRY
$1,187
RUSSELL D MIDDLEN
COLTON
SD
SOYBEANS
$1,187
CHELLE & NATE INC
BRENTFORD
SD
WHEAT
$1,184
JEFFREY ALLEN NORLING
BERESFORD
SD
DAIRY
$1,182
LT&B INC
POLLOCK
SD
WHEAT
$1,178
CLAIRE THOMAS
HURON
SD
SOYBEANS
$1,178
JOYCE NELSON
MONTROSE
SD
SOYBEANS
$1,175
JOHN JAMES TUNNISSEN
WINNER
SD
WHEAT
$1,165
SCHLOTTERBECK FARMS INC
WATERTOWN
SD
WHEAT
$1,160
LANNEY D NELSON
CENTERVILLE
SD
SOYBEANS
$1,160
STEVE W MOODY
GEDDES
SD
DAIRY
$1,158
LEON KOEPPE
SISSETON
SD
WHEAT
$1,158
DENNIS D SIELER
QUINN
SD
WHEAT
$1,158
JOSEPH W PITLICK
PIERRE
SD
WHEAT
$1,157
FARON SCHWEITZER
GLENCROSS
SD
WHEAT
$1,155
TIMOTHY RENELT
RAPID CITY
SD
SOYBEANS
$1,150
TERRY LANE BRITZMAN
WATERTOWN
SD
WHEAT
$1,150
DENNIS BUSE
BRIDGEWATER
SD
DAIRY
$1,150
LARRY G JOHNSON
HURON
SD
SOYBEANS
$1,148
MURIEL KALLSTROM
ROSHOLT
SD
SOYBEANS
$1,139
DONALD R THUE
LAKE NORDEN
SD
SOYBEANS
$1,139
JIM RONSPIES
ARMOUR
SD
SOYBEANS
$1,138
GARY I SCHOENROCK
FULTON
SD
WHEAT
$1,138
RONALD A RENELT
WATERTOWN
SD
SOYBEANS
$1,136
TROY D NELSON
MONTROSE
SD
SOYBEANS
$1,134
RAY GENZLINGER
WINFRED
SD
HOGS
$1,132
DAVID EUGENE PETERSON
ASHTON
SD
SOYBEANS
$1,129
WAYNE GRONSETH
MITCHELL
SD
WHEAT
$1,127
JANICE MARPLE
DUPREE
SD
WHEAT
$1,126
STANLEY HANSON-STANLEY R HANSON LIVING TRUST
GARRETSON
SD
SOYBEANS
$1,122
TROY STIMSON
WATERTOWN
SD
DAIRY
$1,117
LEVIN RANCH INC
STURGIS
SD
WHEAT
$1,115
RD RINGLING FARMS LLC
PLATTE
SD
WHEAT
$1,114
NATHAN HOWE
SHERMAN
SD
DAIRY
$1,113
LANCE H PEERY
BLUNT
SD
WHEAT
$1,111
TRAVIS JAMES KARST
HOVEN
SD
WHEAT
$1,107
KEVIN C DEBOER
CLEAR LAKE
SD
HOGS
$1,104
LOWELL TJEERDSMA
SPRINGFIELD
SD
WHEAT
$1,100
ROBERT IRWIN MEIER
DOLAND
SD
WHEAT
$1,098
CHRISTINE K MEIER
DOLAND
SD
WHEAT
$1,098
FAUSKE HOME RANCH
WALL
SD
WHEAT
$1,083
JAMES LARSEN
ROSHOLT
SD
SOYBEANS
$1,080
ROSE STEEN
WATERTOWN
SD
DAIRY
$1,078
KEVIN REX KILIAN
GETTYSBURG
SD
WHEAT
$1,073
ALLEN REIS
CHAMBERLAIN
SD
WHEAT
$1,069
TAMARA W WHEELER
MITCHELL
SD
SOYBEANS
$1,068
TERRY HOFFINE
HAMILL
SD
WHEAT
$1,064
ROBERT L PORCH
WANBLEE
SD
WHEAT
$1,064
MICHAEL J GRUNEWALDT
MIRANDA
SD
WHEAT
$1,064
KARELS FARMS PART
MILBANK
SD
WHEAT
$1,064
SOUTH SHORE INC
WARNER
SD
WHEAT
$1,062
TODD A NIELSEN
BRANDT
SD
WHEAT
$1,061
QUINTIN P NEMMERS
DELL RAPIDS
SD
SOYBEANS
$1,060
KENNETH SCHINDLER
RELIANCE
SD
WHEAT
$1,058
DYLAN TROSKE
NORTHVILLE
SD
WHEAT
$1,058
HAROLD CARNEY STEELE
GEDDES
SD
WHEAT
$1,057
HELEN MUELLENBERG LEGACY LAND TRUST
REDFIELD
SD
SOYBEANS
$1,050
MICHAEL L MEDRICKY
DANTE
SD
SOYBEANS
$1,049
LLOYD CAMPBELL
MOBRIDGE
SD
WHEAT
$1,048
SAMUEL SIMONS
ST LAWRENCE
SD
HOGS
$1,044
SYLVESTER PATOCKA
LAKE ANDES
SD
SOYBEANS
$1,042
HOYLE RANCH LLC
IPSWICH
SD
WHEAT
$1,042
SHONDRA JOHNSON
GEDDES
SD
WHEAT
$1,040
JEFFREY L SAPP
VOLGA
SD
DAIRY
$1,035
DANIEL BECKLER
TULARE
SD
SOYBEANS
$1,030
5Y FARMS
ONIDA
SD
WHEAT
$1,030
WILLIAM AARON OLSON
PLATTE
SD
WHEAT
$1,026
WAYNE JARMAN
WILMOT
SD
DAIRY
$1,023
S & A FARMS INC
HAYTI
SD
WHEAT
$1,020
NEWPORT HUTTERIAN BRETHREN INC
CLAREMONT
SD
WHEAT
$1,020
KDO FARMS INC
HAYTI
SD
WHEAT
$1,019
ERNEST M WALDNER
RAYMOND
SD
WHEAT
$1,018
HORNING FARMS INC
CRESBARD
SD
WHEAT
$1,017
RICH G FIEDLER
SELBY
SD
WHEAT
$1,015
COLLIN RICHARD FIEDLER
SELBY
SD
WHEAT
$1,015
CREASEY FARM INC
GEDDES
SD
WHEAT
$1,008
JASON MADSEN
ROSHOLT
SD
DAIRY
$1,007
BEDEANE & MILDRED KURTH IRREVOCABLE TRUST
SALEM
SD
SOYBEANS
$1,004
JODY LYNNE STOUT
KADOKA
SD
WHEAT
$1,003
EVERGREEN COLONY
FAULKTON
SD
WHEAT
$1,003
BRAD MUREL STOUT
KADOKA
SD
WHEAT
$1,003
MARK AND JOEL ERICKSON
LANGFORD
SD
WHEAT
$996
GERALD PESALL
LILY
SD
WHEAT
$995
GARY A JORGENSEN
MEADOW
SD
WHEAT
$994
ROSEDALE HUTTERIAN BRETHREN INCOR
MITCHELL
SD
WHEAT
$991
DALE OSTBY
NEW EFFINGTON
SD
SOYBEANS
$990
TIMOTHY ROSSOW
CLEAR LAKE
SD
DAIRY
$988
ED BRIGGS
MIDLAND
SD
WHEAT
$987
TIMOTHY J KRCIL
WAGNER
SD
DAIRY
$981
ROBERT CRAMER
WINFRED
SD
SOYBEANS
$980
DON JOSEPH HEARNEN
CONDE
SD
WHEAT
$977
MORRIS LINN
ELM SPRINGS
SD
WHEAT
$975
MARVIN L JORAY
WENTWORTH
SD
SOYBEANS
$975
DAVID JOHN THYEN
WAVERLY
SD
DAIRY
$975
ANDREW LINN
ELM SPRINGS
SD
WHEAT
$975
AL SHAR HOLSTEINS INC
GROTON
SD
DAIRY
$975
EDWARD P FLOM
MIDLAND
SD
WHEAT
$974
JUSTIN L CAMPBELL
MC INTOSH
SD
WHEAT
$972
PAUL PARADEIS
SPENCER
SD
HOGS
$968
LARRY WILCOX
WINNER
SD
SOYBEANS
$968
ROBERT E NEHL
MC INTOSH
SD
WHEAT
$966
RALPH RABENBERG
GLENHAM
SD
WHEAT
$966
STEVEN J BUCHER
PLANKINTON
SD
SOYBEANS
$963
STEVEN C SMITH
NORTHVILLE
SD
WHEAT
$960
ROBERT A EDINGER
MC INTOSH
SD
WHEAT
$960
CARROLL'S PLACE LLC
SIOUX FALLS
SD
WHEAT
$960
MICHAEL SEBEK
CLAIRE CITY
SD
WHEAT
$949
CHARLES MAULE
LONG LAKE
SD
WHEAT
$946
DONALD E BUDDE
PARKER
SD
SOYBEANS
$944
MARVIN MILLER
BALTIC
SD
SOYBEANS
$943
BRENT L GRAVES
HARTFORD
SD
WHEAT
$935
BERT C CORWIN
RAPID CITY
SD
WHEAT
$933
NEIL MYRON SHUCK
BERESFORD
SD
DAIRY
$932
ROBERT CERNEY DBA CERNEY RANCH
PHILIP
SD
WHEAT
$931
DANIEL R GRODE
BRISTOL
SD
WHEAT
$923
OTTO KAEPPELI
IRENE
SD
DAIRY
$921
POST LIVING TRUST
VOLGA
SD
DAIRY
$920
WILLIAM R MUELLER
BIG STONE CITY
SD
DAIRY
$918
RODNEY LOWE
GARRETSON
SD
SOYBEANS
$918
LYDIA CORWIN
RAPID CITY
SD
WHEAT
$918
BRIAN D JOHANNESON
LAKE ANDES
SD
WHEAT
$918
DAVID SCOTT REIL
CORONA
SD
WHEAT
$917
SLS FARMS
WARNER
SD
WHEAT
$916
LAWRENCE J GOLDADE
TIMBER LAKE
SD
WHEAT
$916
JAMES FINNEGAN
CLEAR LAKE
SD
SOYBEANS
$914
DEREK MERKEL
LEOLA
SD
WHEAT
$914
TOBY Q KELLER
TRAIL CITY
SD
WHEAT
$910
RONNIE BUCKLIN
SISSETON
SD
DAIRY
$910
JAMES F SCHAIBLE
HOSMER
SD
WHEAT
$910
TAYLOR S FLOOD
DE SMET
SD
SOYBEANS
$906
RONALD L GLISSENDORF
WHITE LAKE
SD
WHEAT
$906
STEVAN A KOISTINEN % ASC FARMS
WATERTOWN
SD
SOYBEANS
$904
NIKKI AMUNDSON
WEBSTER
SD
WHEAT
$902
LONNIE AMUNDSON
WEBSTER
SD
WHEAT
$902
ROSEDALE HUTTERIAN BRETHREN INCOR
MITCHELL
SD
DAIRY
$901
DAVID ALLEN EBBEN
WILMOT
SD
WHEAT
$900
KENNETH ROBERT CURRENCE JR
SISSETON
SD
WHEAT
$897
THOMAS C SIMMONS
NEW UNDERWOOD
SD
WHEAT
$895
TED KENZY
WINNER
SD
WHEAT
$895
ROBERT EDWARD PARROW
BRITTON
SD
SOYBEANS
$891
DALE KVALE
LEMMON
SD
WHEAT
$891
KIMBERLY RAE FOLK
CORONA
SD
WHEAT
$890
ANTHONY GERALD FOLK
CORONA
SD
WHEAT
$890
MIILLER LAND & CATTLE LLC
MOUNT VERNON
SD
CORN
$884
EDWIN P SIGMUND
MITCHELL
SD
SOYBEANS
$882
GAYE GRANVILLE
PIERRE
SD
WHEAT
$881
DONALD SCOTT LITTLE
CASTLEWOOD
SD
WHEAT
$880
TELKAMP FAMILY FARM
BROOKINGS
SD
SOYBEANS
$878
MICHAEL PAULSEN
HENRY
SD
WHEAT
$871
CHARLES TODD
ONIDA
SD
WHEAT
$871
JOHN E SIGDESTAD
BRISTOL
SD
WHEAT
$870
TIMOTHY GRYGIEL
FLORENCE
SD
WHEAT
$869
LONG LAKE HUTTERIAN BRETHREN INC
WETONKA
SD
WHEAT
$866
MOES FEEDLOT LLC
WATERTOWN
SD
WHEAT
$864
HAROLD R HAIGH
HITCHCOCK
SD
SOYBEANS
$863
TERRI MCLELLAN
LANTRY
SD
WHEAT
$858
DALTON LEE GRIMMIUS
BRANDON
SD
SOYBEANS
$858
DALE MCLELLAN
LANTRY
SD
WHEAT
$858
DUSTIN J HENDERSON
IPSWICH
SD
WHEAT
$853
CODY BURULL
RELIANCE
SD
WHEAT
$853
WILLIAM FRED KOEPPE
CLAIRE CITY
SD
WHEAT
$849
CHARLES D WOLF
HOSMER
SD
WHEAT
$848
ROBERT LIND
WORTHING
SD
SOYBEANS
$847
LUTHER E H LARSON
LANGFORD
SD
WHEAT
$847
RAECHEL M OTTER
ABERDEEN
SD
WHEAT
$846
KATUS RANCH JOINT VENTURE
WATAUGA
SD
WHEAT
$846
PAUL WARRINER
BLUNT
SD
WHEAT
$845
CHARLES RAYMOND WOLLSCHLAGER
REVILLO
SD
WHEAT
$845
DANIEL NIELAND
SISSETON
SD
WHEAT
$839
HERBERT A JENSEN
LANGFORD
SD
WHEAT
$837
LEIGH ANNE M GEORGE
SIOUX FALLS
SD
SOYBEANS
$833
DEAN MEHLHAFF
IPSWICH
SD
SOYBEANS
$832
PATRICK MAHER
TIMBER LAKE
SD
WHEAT
$829
JAYME FRASIER
FAULKTON
SD
WHEAT
$827
JANET ROESLER BALZER
HURLEY
SD
SOYBEANS
$827
LARRY GENE REIL
WILMOT
SD
WHEAT
$825
TIDEMAN FARMS INC
CARTER
SD
WHEAT
$824
JUDY SCHOCK
SALEM
SD
DAIRY
$823
FRANK BRINGMAN
RIDGEVIEW
SD
WHEAT
$821
ROBERT REINBOLD
TIMBER LAKE
SD
WHEAT
$820
RICHARD SANDO
ROSHOLT
SD
WHEAT
$820
BERNITA H SCHUMACHER
TIMBER LAKE
SD
WHEAT
$820
LEFT BOOT LLC
PUKWANA
SD
WHEAT
$816
WILLIAM JOSEPH FROST
GETTYSBURG
SD
WHEAT
$812
GERALD WILLIAM FROST
GETTYSBURG
SD
WHEAT
$812
DUFRAIN FARMS INC
GEDDES
SD
WHEAT
$812
GAIKOWSKI FARMS INC
WEBSTER
SD
WHEAT
$810
SADDLE BUTTE RANCH LLC
VALLEY SPRINGS
SD