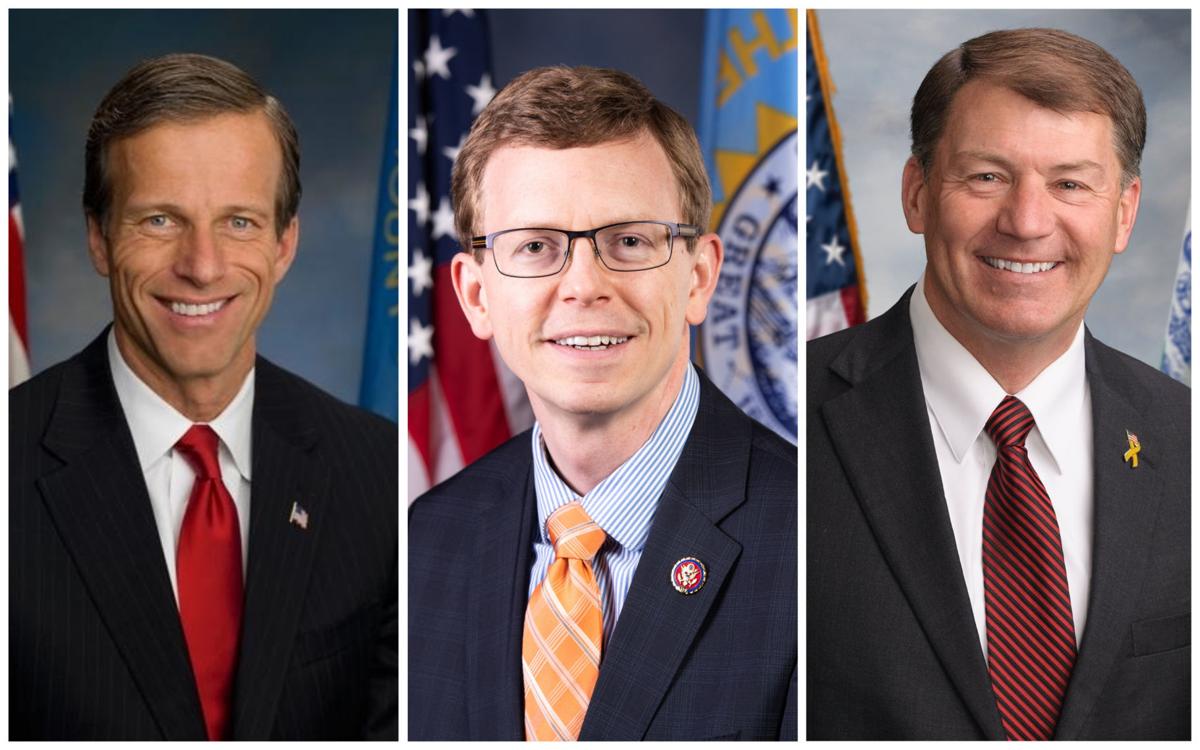 South Dakota's congressional delegation did not come out in support of tribal COVID-19 checkpoints but also did not call them illegal as Gov. Kristi Noem has done when they sent a May 27 letter to federal department secretaries. 
"There remains disagreement about legal authorities in this matter," Sen. John Thune, Sen. Mike Rounds and Rep. Dusty Johnson wrote in a joint letter to the U.S. Attorney General and Secretary of the Department of Interior. "We would appreciate if the Department of the Interior and Department of Justice would look into this matter promptly to provide additional guidance to both the state and the tribe."
The letter was posted on the Twitter page of Harold Frazier, chairman of the Cheyenne River Sioux Tribe.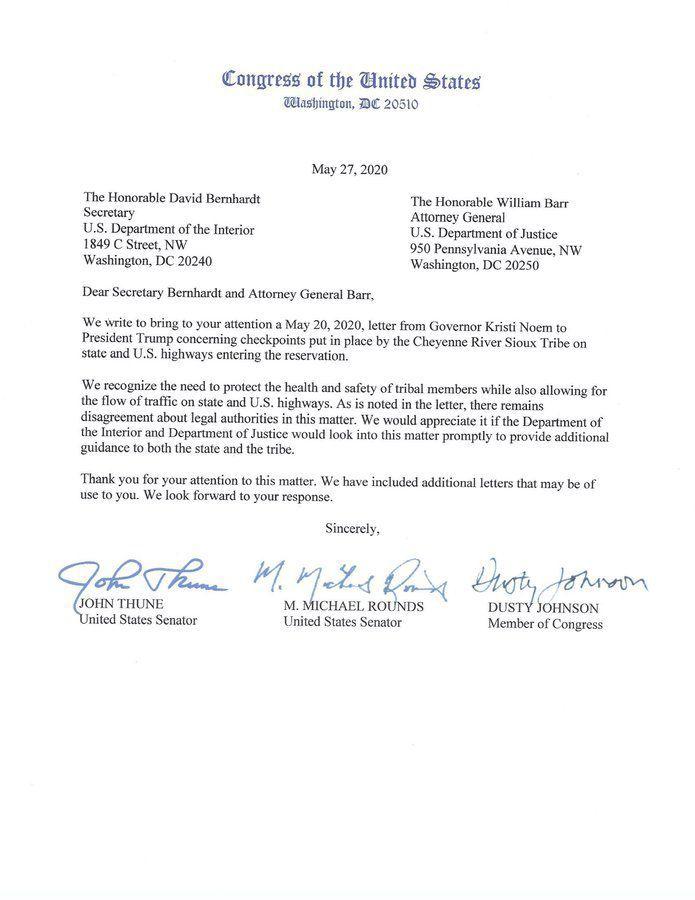 Noem asked Trump for federal assistance to "bring a prompt end" to the checkpoints on state and federal highways within the Cheyenne River Reservation, which she said are are illegal based on federal law and easements. She also said the checkpoints are interfering with interstate commerce and actually increasing the risk of spreading the virus by having checkpoint workers interact with drivers.
Frazier told the Journal on Thursday that checkpoint workers wear masks, are trained in how to interact with the drivers, and stand away while speaking with them.
Gov. Noem told Trump that the South Dakota Attorney General has been investigating the Cheyenne River Sioux Tribe and sent him five affidavits and videos. A Noem spokesperson said he couldn't share this evidence with the Journal since the investigation is ongoing.
"We have nothing to hide," Frazier said when asked about the evidence. "We're operating the best we can with policies and procedures that we've evolved."
He said investigators are welcome to visit the checkpoints, they don't need to make any undercover visits.
The letters from the congressional delegation and Noem only mention the Cheyenne River Sioux Tribe but a spokesperson for Noem previously told the Journal that the investigation is also into the Oglala Sioux and other tribes with checkpoints.
The Oglala and Cheyenne River Sioux Tribes have checkpoints that limit some drivers from passing through or stopping on the reservations to help prevent the spread of COVID-19. The checkpoints are also used to inform travelers about COVID-19 policies on the reservations and collect information in case contact tracing is needed.
Rounds, Thune and Johnson also mentioned tribal health concerns but said ensuring traffic flow is also important.
"We recognize the need to protect the health and safety of tribal members while also allowing for the flow of traffic on state and U.S. highways," they wrote.
The "additional letters" mentioned in their letter included Noem's letter and her attachments, according to a spokeswoman for Sen. Rounds.
Frazier said he spoke with Thune's staff on Thursday morning.
"It went good," he said. It was an "opportunity for them to hear from us," they mostly asked questions and didn't share their opinion.
"We're still going to keep going" with the checkpoints, Frazier said. "Because everyday as we watch the app from the South Dakota Department of Health, we see that counties are growing, especially with community spread."
"We're really lucky and fortunate" that we still have only one case, Frazier added.
Concerned about COVID-19?
Sign up now to get the most recent coronavirus headlines and other important local and national news sent to your email inbox daily.