Parking spaces were a hot commodity on a recent Saturday at the unofficial trailhead for the natural swimming hole known as Devils Bathtub in the Northern Black Hills.
Dozens of vehicles from numerous states lined both sides of a gravel access road to the once secret site and overflowed onto the shoulders of the Spearfish Canyon Scenic Byway.
The user-created footpaths leading to the "bathtub" that meander along and across a tributary of Spearfish Creek were clogged with people of every kind, from toddlers riding on the backs of their parents to the cane-dependent elderly.
The "bathtub" itself teemed with swimmers, mostly in small groups except for a larger Taiwanese tour group that showed up trailing a guide. People crawled around on the rocks, slid down the rock slide and loitered in the stream-fed pools of cool water.
For many of them, it was an authentically natural experience that they couldn't wait to share in the same way they learned about the supposedly "hidden" spot: on their favorite social media website, blog or activity-tracking smartphone app.
But for the owners of several private cabins adjacent to the unofficial trailhead, including George Dunlap, of Gillette, Wyo., it was just further aggravation.
During the past several years, he's had difficulty driving through all the parked vehicles to reach his cabin. He's also heard of people being hauled out of the area with broken limbs, presumably from slipping on rocks while crossing the trails with no bridges, and he's seen people dumping garbage into the creek.
"It's an unfortunate deal that so many people have found out about it," Dunlap said of Devils Bathtub. "Now it's not hidden. It's not anything right now except a mess."
Because of relentless sharing of information on the internet, similar problems are afflicting other natural sites on public land in the Black Hills that were formerly described as secret, undiscovered or known only to locals, and the management of the sites is coming under scrutiny.
The sites include Poet's Table, a high granite alcove at the end of a user-created trail in Custer State Park; Hippie Hole, a natural swimming hole accessible via gravel roads and then a hike near Rockerville; and the Rock Maze, a labyrinthine cluster of rock formations up the slope from an unmarked pullout alongside Nemo Road.
With no infrastructure at any of the sites to control the flow of visitors, the increased visitation has caused congestion, public safety concerns and environmental damage — sometimes by accident, and sometimes by vandalism. Both Hippie Hole and the Rock Maze have been especially beset with graffiti.
The problems are causing some land managers to shift from loosely permissive oversight of the areas to aggressive intervention.
Recently, no-parking signs went up along the highway curve near the gravel access road that leads to the unofficial trailhead for Devils Bathtub.
And last week, Custer State Park officials removed in-ground fire pits and a shelter made of logs and branches that were constructed by rogue visitors to Poet's Table.
Meanwhile, land managers are pondering longer-term plans that could prevent environmental damage but could also rob the sites of the natural charm that attracted people there in the first place.
And so a question arises: In this Information Age, how do we seek out, enjoy and share the hidden gems of the Black Hills without ruining them?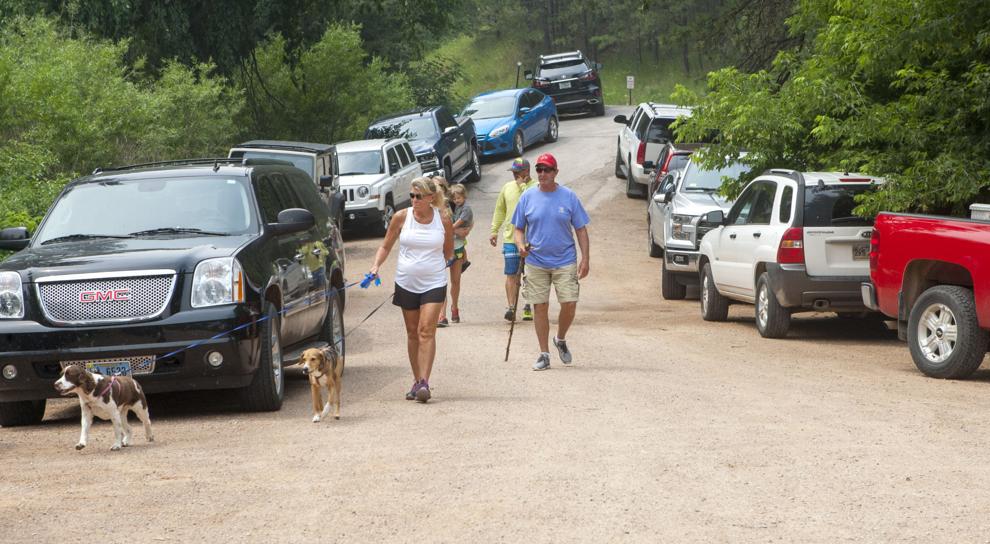 Jim Hagen, secretary of the state Department of Tourism, is a proponent of an approach being considered at Devils Bathtub: The installation of a bigger parking lot, signs, a designated trail, bridges and fences to funnel people away from environmentally sensitive areas, thereby limiting damage while still allowing public access.
He acknowledged the reluctance of people to support even limited development of beautiful natural sites. But he also contends that longing for bygone days when undiscovered places were still undiscovered will do no good, and might enable further damage of natural resources.
Online information sharing is here to stay, Hagen said, and so are growing crowds of visitors at previously secret sites.
"We can either do nothing and let the damage occur, or we can manage it," Hagen said, "and I think the responsible thing to do is to manage it the best that we can."
Hagen said he has not detected any resentment among South Dakotans about the flood of visitors into natural places that were formerly known mostly to locals. But exactly that kind of resentment seemed to underpin a recent backlash by some locals against the state's proposal to create a state park in Spearfish Canyon.
The proposal fell apart under intense pressure from the local opponents, some of whom said they do not want Spearfish Canyon to become as packed with tourists as Custer State Park. Some of the opponents recalled memories of a time when there was no infrastructure and tourists were few at canyon sites such as Roughlock Falls, which is now a state recreation area with man-made platforms, trails and fences.
Yet even while the state park plan for Spearfish Canyon was moved into "pause" mode by state officials, state land managers installed new man-made viewing platforms at Spearfish Falls, a canyon site that is state-owned and previously had little infrastructure. The installation was seen as a needed addition, in part to protect the falls and the area around them.
The same kind of sanitized future may now be likely for Devils Bathtub and Poet's Table, according to state officials who told the Journal that conversations are under way about the future of both places.
Although Custer State Park officials said it's too early to say what might happen at Poet's Table, at Devils Bathtub there is talk of developing an officially designated trailhead and trail system, according to Mike Kintigh, of the state Department of Game, Fish & Parks.
The state owns the land where the unofficial Devils Bathtub trailhead is currently located. The state also owns a former gold-mining hydropower plant just down the road that could serve as a new trailhead site.
Any project to address the problems at Devils Bathtub will have to involve Dunlap and the other private landowners adjacent to the site, plus the U.S. Forest Service, which owns the actual Devils Bathtub area farther up the creek. Kintigh said preliminary talks among all the affected parties have begun.
Silver lining: 'A new constituency'?
Some people, not content to stand by as natural sites are overrun with visitors and then reflexively outfitted with man-made control structures, have adopted novel forms of opposition and protest.
On some social media platforms, for example, there are users who post scenic photographs with hashtags such as #nogeotags or #secretplaces, as part of a movement to conceal the location of remaining secret spots. Geotags are place marks that pop up on digital maps to pinpoint the exact location of users as they post content to a social-media website or app.
Hagen said that is an unsustainable approach, since it takes only one visitor with a smartphone to share information with hundreds or even thousands of online friends and followers, thereby undoing years of determined secret-keeping.
Some chroniclers of the problem are adopting a cautiously optimistic outlook, including High Country News writer Jonathan Thompson, who wrote an essay titled "Is tech ruining the wilderness?" in 2015.
Perhaps, he theorized, the rush to discover natural places will evolve into environmental activism.
"Our growing desire to 'perform' outdoors to impress our friends and social media voyeurs is pushing us deeper into the wilderness and exposing once-hidden places to millions of strangers," Thompson wrote. "But that increased visibility has the potential to build a new constituency that cares about those places."
Hagen, the state tourism official, shares that hope. He said his department has decided to urge respect for natural resources whenever an unofficial natural attraction like Devils Bathtub is promoted, and he said the department will also refrain from providing detailed directions to such places.
But he realizes the popularity of formerly secret spots will only continue to grow as people discover them with the aid of technology, and he doesn't think that's all bad.
"As people come to appreciate these gems, they may also realize the importance of preserving them and keeping them pristine," Hagen said. "And that, I think, is a silver lining."