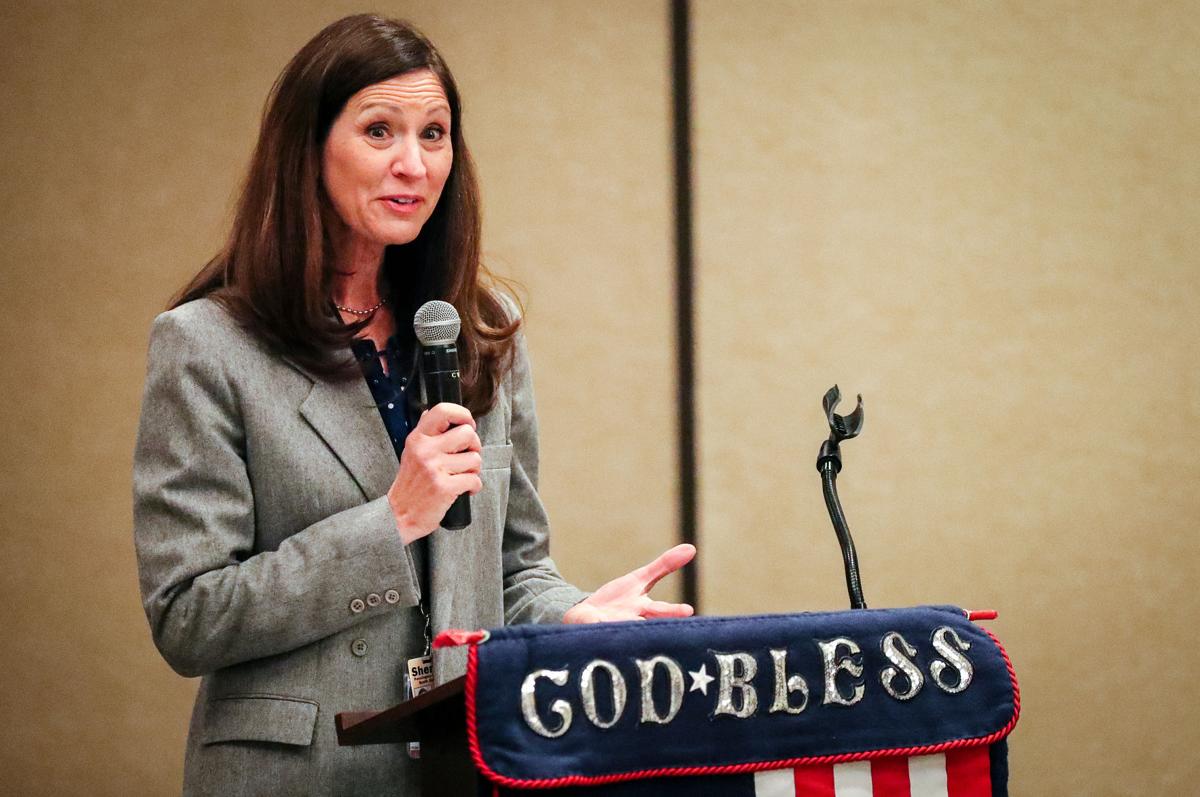 A bill that would make it illegal to point a laser at police officers was deferred Tuesday after lawmakers and lobbyists raised concerns about it being vague, unnecessary and only applying to law enforcement.
"This is unneeded legislation" already covered by assault statutes and will lead to stacked charges, Justin Bell, a lobbyist for the defense lawyer association, said during a Tuesday meeting of the Senate Judiciary Committee.
The bill is "awfully broad" since it would make it illegal to point the laser anywhere at an officer, not just at their eyes, said Sen. Timothy Johns, a Republican from Lead.
A citizen attending the hearing asked why it only focuses on police officers when lasers can be used to harm anyone while a lawmaker said the bill doesn't explain if it only applies to on-duty officers. 
Senate Bill 79 was introduced by Sen. Helene Duhamel, a Republican who represents Rapid City and also works as the spokesperson for the Pennington County Sheriff's Office.
One of the people who spoke in favor of her bill is her co-worker, Captain Tony Harrison. Representatives or lobbyists from the sheriffs', police chiefs' and state's attorneys' associations all support the bill.
Duhamel requested to defer the bill until Thursday after its wording and purpose were questioned.
She and other supporters argued the bill was necessary due to protesters using lasers to hurt officers or prevent them from doing their work during Black Lives Matter protests this summer.
"Protesters began to use new tactics to try to injure officers and render them unable to perform their duties and crowd control" this summer, Duhamel said.
Lasers made for civilians warn users not to point it into people's eyes, but it's easy to go online to buy cheap, dangerous and unregulated lasers that can reach as far as five miles, she said.
"These lasers can damage an unprotected officer's eyes in seconds. Standard eye protection actually magnifies the effects of the laser rather than protecting an officer," she said.
Duhamel said eye damage or blindness could force them to retire.
Harrison, who also spoke on behalf of the South Dakota Fraternal Order of Police, said he talked with a Washington, D.C., police officer whose eyes were damaged by a protester using a laser.
The officer was taken to the hospital, saw multiple eye doctors over two weeks and still suffers from adjusting to changes in the light, Harrison said. He said the pain felt like a sunburn on his eyeballs.
Harrison said people have shined lasers at South Dakota officers, but he's not aware of any officers who were injured.
"Everything that happens on the east and the west coast always comes here" so this law is needed and his office will be buying special laser protection gear, Harrison said. 
"If a police officer can't see, he can't tell what you're pulling out of your pocket and so this is also a safety measure for the person on the other side," said Yvonne Taylor, a lobbyist for the police chiefs' association.
Shining a light in an officer's eye would already count as an assault, Bell said. Assault statutes that are "incredibly broad" in what actions constitutes assault and include putting someone in fear of being harmed but not actually harming them. 
Creating a new crime that could be covered under an existing one will result in defendants being charged with two crimes, he said.
"When you stack several different (charges), you're essentially adding additional criminal conduct for the exact same act," Bell said.
Bell said he's concerned the bill's definition of a laser is too broad and could prevent civilians from using infrared cameras to film or take photos of police.
He also pointed to a comment made by made by Dick Tieszen, a lobbyist and lawyer for the sheriffs' association, about lasers being used to blind drivers and cause car crashes. 
"Well this doesn't solve that" since the bill only applies to officers, Bell said.
Another speaker agreed it "seems strange" to only make it illegal to harm officers, not everyone, with lasers.
Sen. Johns said the bill should be amended to say it's illegal to intentionally point a laser in an officer's eye, not just in their direction.
Tieszen agreed shining a laser in an officer's eyes would count as assault, but there should still be a law banning people from pointing lasers anywhere on an officer.
"Shining it on your body is probably not going to create any injury or harm to you, but it would be nice for it to be a crime because that's the thing we're trying to deter," he said. "If you shine that on me it should be a crime because why are you doing it unless you are trying to deter me from performing my duty."