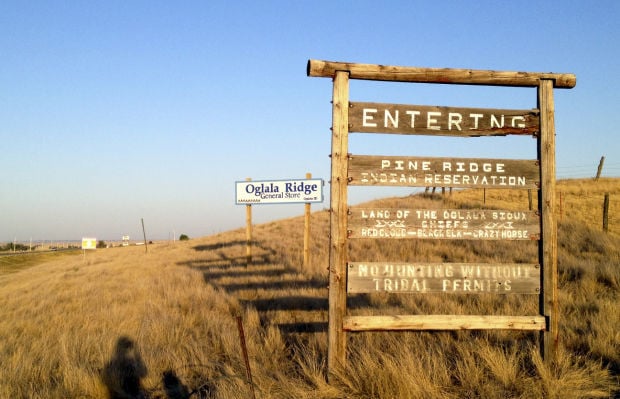 In the November general election, voters in Shannon County overwhelmingly approved changing the name to Oglala Lakota County, but the new name cannot go into effect without legislative action.
Patrick Weber with the Gov. Dennis Daugaard's office said it's unknown when the South Dakota Legislature intends to pass the needed joint resolution to rename Shannon County.
The county includes the majority of the land on the Pine Ridge Indian Reservation. It had been named after Peter Shannon, a chief justice of the Dakota Territory Supreme Court who later helped negotiate land deals with the Lakota. Shannon isn't well thought of among many Native Americans.
When the name change is finalized, it will mark the first time in more than 100 years that a South Dakota county has undergone a name change, according to the South Dakota Historical Society.
But in the past few years, a state panel has been replacing names considered insensitive, such as Negro and Squaw from creeks and formations, and this year a proposal surfaced to replace Harney Peak in the Black Hills with Black Elk Peak.
Shannon County Commissioner Anna Takes the Shield has said the county with the majority of the Pine Ridge Indian Reservation land should have a name reflecting the people, "our strong background and where we come from."
But changing a county name will be much more involved than switching up the name of a creek or hill.
Once the Legislature passes the joint resolution, Daugaard will issue a public proclamation, and Shannon County will officially become Oglala Lakota County on the first day of the month following the proclamation.
Then the South Dakota Department of Transportation will have to change highway maps and roadside signs.
Oglala Lakota County's new name will have to be recorded at the federal level. 
The U.S. Census Bureau keeps the official list of county names, according to Lou Yost, executive secretary of the U.S. Board of Geographic Names in Virginia. 
Changes in the U.S. Geological Survey's mapping system also will be made.
The county will need new stationery and seals for all official business.
The name change probably also will affect the Shannon County School District.
Some other changes to counties have occurred in state history, though more by merging than through true name changes.
Ziebach County was created in 1911 when portions of Schnasse, Armstrong and Sterling counties were merged to form Ziebach. And in 1983, Washabaugh County, an unorganized county within the Pine Ridge reservation boundaries, was absorbed by Jackson County.
The Associated Press contributed to this story.
Get local news delivered to your inbox!
Subscribe to our Daily Headlines newsletter.