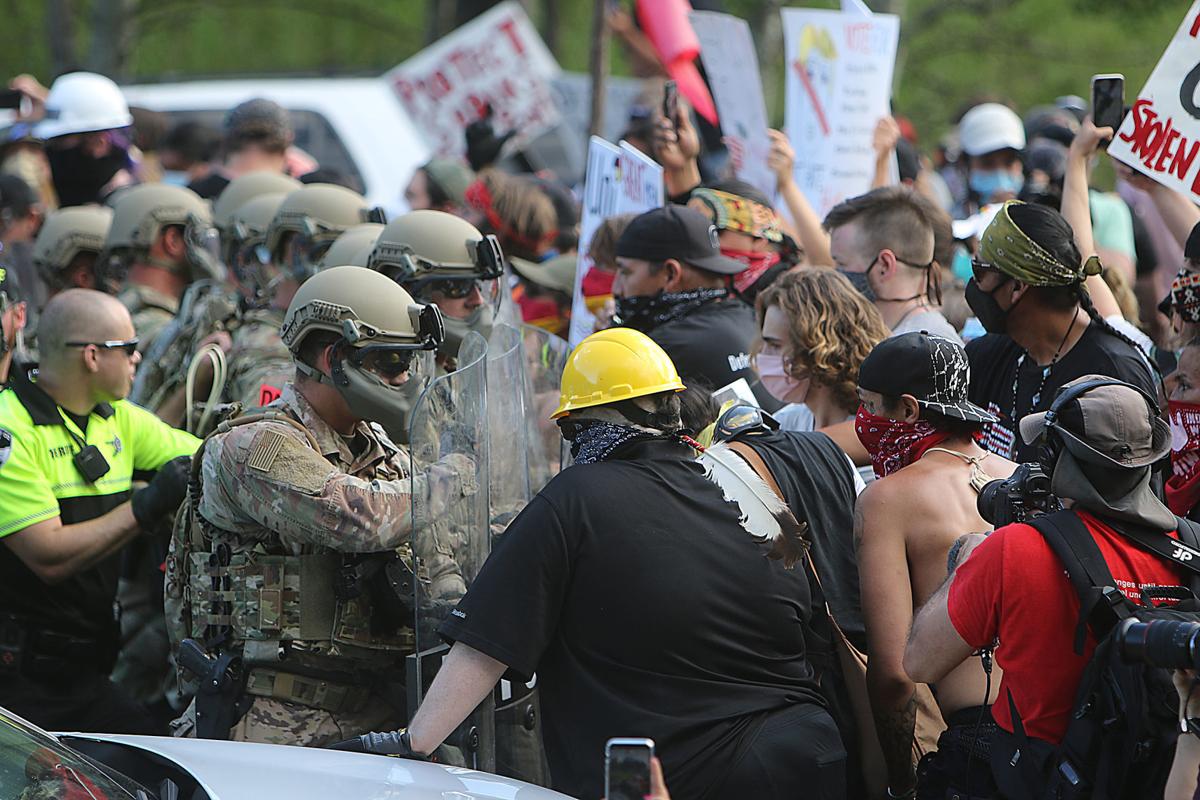 "This entire thing was entirely mismanaged by Sheriff (Kevin) Thom and the Pennington County Sheriff's Office," said Nick Tilsen, president of NDN Collective. "The only people who were violent that day was the police force."
It's the protesters, not the riot police, who broke their plan and escalated the situation, Thom said Wednesday.
"We had established some ground rules" with NDN Collective, he said. "Immediately the ground rules were not regarded" once the group occupied Highway 244, preventing ticket holders from taking the Keystone entrance to the Independence Day fireworks celebration speech at Mount Rushmore with President Donald Trump.
Thom also defended the decision by the Unified Command Team — comprised of him and leaders from other law enforcement agencies at the scene — to call in the National Guard who used shields, pepper spray and pepper balls to try to encourage or physically move people off the roadway. 
"The reason we brought in additional resources is we needed to take control of the situation," which was no longer lawful or peaceful, Thom said. He said it was a success that no one was seriously injured.
He called the demonstration a success after he was released from jail on Monday.
"We let the world know and reminded the world who the rightful owners of the Black Hills are — the Oceti Sakowin," he said in a news release.
NDN Collective is asking for the "trumped-up" charges to be dropped against Tilsen and 20 other protesters who were arrested. 
Thom said he expects the opposite to happen. 
"We anticipate many more arrests," he said. "Our investigators are sifting through a mountain of information on video."
Thom said he had a "cordial discussion" with Bruce Ellison, a lawyer representing NDN Collective and Tilsen who reached out to him before the protest. Ellison similarly characterized the conversation, which Thom said occurred over phone, email and text.
Ellison said he told Thom that NDN Collective wants a peaceful protest, but there will be civil disobedience. He said they went over "potential scenarios," such as how people who lay in the street could be arrested and how cars blocking the road could be towed.
Thom said they agreed upon some "ground rules" and deputies mowed grass and set up cones in an area where people could demonstrate between Keystone and the checkpoint at Iron Mountain Road. He said the ground rules were "immediately" broken once the group exited that area and occupied the highway around 4 p.m. 
Video by Unicorn Riot shows people standing and chanting in the street, against the orders of deputies. Ksenia Veropaeva, who Tilsen said was the group's police liaison, can be seen communicating with Thom. Candi Brings Plenty, Indigenous justice organizer for the ACLU, counts down time for the group. 
Brings Plenty told the Journal that law enforcement told her the group could stay on the road for 15 minutes. 
Deputies eventually break up the group, which heads back to the side of the road. Some then run down the highway, where other protesters parked three vans across the street to block traffic. Tilsen said he couldn't comment if that was a pre-planned or spontaneous action.
A Journal reporter did not witness any violence from protesters or police during this time, and first heard deputies use a speaker to declare an unlawful assembly and order protesters to move away around 4:30 p.m. The National Guard and other law enforcement carrying shields approached protesters from both directions around 5 p.m.
Thom said the Unified Command Team requested the National Guard's assistance to help ensure safety.
"We did not have full control of the situation, and we needed the additional resources to take control of the situation before we could start making arrests" in a safe way, Thom said.
He also said the protest was no longer legal or peaceful, and there were already multiple orders to vacate.
Thom said the team requested the National Guard through the Pennington County emergency manager, who contacted the South Dakota Office of Emergency Management who reached out to Gov. Kristi Noem.
The Air and Army National Guards were already pre-staged for security reasons due to Trump's visit and Noem agreed to activate them when the protesters unlawfully blocked the road, said Noem spokesman Ian Fury.
Thom said members of a multi-agency SWAT unit and Mobile Response Team — which handles crowd control — also helped the Guard and some members may have been dressed in fatigues.
Tilsen said bringing in the Guard and riot police wasn't necessary — "we weren't dangerous."
"Somehow a group of people, a group of Native people gathered, all of a sudden means that it's dangerous," he said. Law enforcement and the state are "trying to coin us as these radical Indigenous protesters when the reality is many of us are active participants and pillars of the community" engaged in social, economic and education projects.
The Guard moved towards protesters with shields multiple times and some pushed or hit back with their hands, signs or other items, including a shield taken from law enforcement. Sheriff's deputies pepper sprayed several people in the face during one of those times, police records say. Another deputy fired pepper balls on the ground in front of protesters who weren't fighting with police. The deputy said he did so because they weren't listening to orders to stop approaching the police line. 
Veropaeva was the first person arrested. She was charged with disorderly conduct for engaging in an unlawful assembly, according to a news release from the Pennington County Sheriff's Office.
Tilsen said he had introduced Veropaeva to Thom and called her arrest an "act of aggression."
Thom said he couldn't speak to the specifics as to why she was arrested.
Tilsen said he repeatedly asked to negotiate with Thom but that never happened, and that the protesters were the ones who ultimately de-escalated the situation by leaving or deciding to be peacefully arrested.
Thom rejected both claims. He said he continued to negotiate with liaisons throughout the demonstration "to no avail," and that while a small group of protesters were peacefully arrested, they only did so after they were surrounded by law enforcement and had been demonstrating for hours. 
"We support everybody's First Amendment right and they can be vocal and they can be loud," Thom said. 
But the sheriff said NDN Collective has "lost credibility" when it comes to protests though he's willing to rebuild trust with them. "I'm not saying NDN Collective is a bad organization ... I know they do other work."