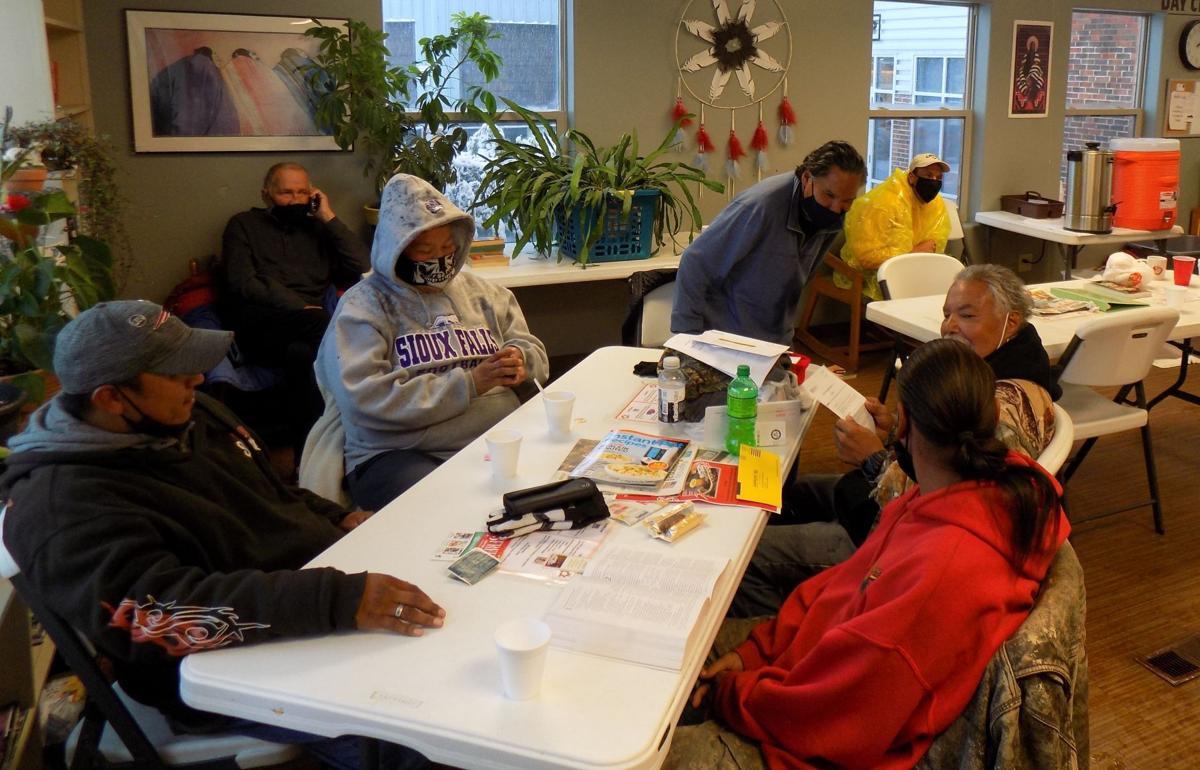 When James Burroughs seeks out a place to stay at night, warmth and quiet become prime objects of his search.
"I find a dark spot and wear a couple pairs of pants when it's colder," he said.
Those are tasks that become even more excruciating when the weather turns rough, as it did on Tuesday.
Burroughs said that he's been homeless for years, and he explained that he qualifies for Section 8 rental assistance — a federal program based on financial need. He said he's been unable, though, to find available units where he can put his eligibility to use.
On a cold grey snowy Tuesday afternoon, Burroughs was among dozens of people gathered at the Hope Center in Rapid City. Later they would seek places to stay for the night.
"We come here for support," Mabel Black Elk said, referring to the Hope Center. "We know we're going to be safe."
The Hope Center, at 615 Kansas City Street, is now an independent nonprofit organization founded about 10 years ago by the First United Methodist Church, said Melanie Timm, the center's executive director. She said the Hope Center is also a ministry.
Timm said the crowd gathered inside the center on Tuesday did not necessarily point to unusually large numbers of people seeking help.
"It's just today they're staying indoors more," Timm said. "Normally people come and go multiple times during the day."
Timm said the number of people who come to the center surged from 150 a day to about 250 a day as the pandemic settled in during the summer of 2020.
"We haven't really decreased at all," she said.
The pandemic, she explained, pushed people already struggling into deeper trouble.
"We saw a lot of situational homelessness, where there were families of people who were living in hotels when the pandemic first hit," she said.
Karen Mosher, a volunteer at Hope Center, has noticed more mothers and children at the center than in past years. And for those families and others who are struggling, Mosher called for patience on the part of those who don't find themselves in similar positions.
"You have to see people where they are," she said. "You don't know where they came from."
As winter looms — with vivid early signs such as Tuesday's snowstorm — staff and volunteers at the Hope Center are bolstering their supplies of winter clothes, warm blankets and other materials.
Hats, gloves, coats, shoes and boots, and lots of dry socks are key, staff members said. Community support has kept the stock of these items robust, said Roxanne André, day center coordinator at the center.
"But sometimes sizes are an issue," added volunteer Trina Wilcken. "Sometimes small (sizes) will come in, but we'll need an extra-large or a 3x."
Those large sizes become especially vital in the cold weather when people layer up to keep warm, staff members explained. Warm shoes and socks also become valuable.
"Foot care is a really big issue," Timm said. "They walk many, many miles a day."
As physical needs become more acute, staff and volunteers at the center are working to balance those needs with longer-term help. Timm said a guest advocate on staff, Kara Nesbitt, helps people to "maneuver through housing paperwork" for various tasks, such as applying for employment or seeking medical treatment.
Timm noted that more people began coming to the Hope Center after the pandemic hit, for a time receiving services outdoors for safety. And yet fewer guests of the Center secured large-scale necessities such as housing and employment in 2020, the year the pandemic descended.
Records from the Hope Center show that staff advocated for guests 4,881 times in 2020, compared with 2,563 times in 2019. At the same time, 60 guests received housing and 68 guests received employment in 2020, compared with 107 who received housing and 151 who obtained employment in 2019.
Office closures and limited access to computers helped to drive down the numbers of people finding housing and employment, Timm said. The fundamental task of obtaining an identification card — an underpinning for employment, housing and other necessities — became much more difficult as well.
Timm said the Hope Center also began providing regular meals when COVID-19 struck.
"Meals are something new to Hope Center," she said. "We did do meals but it wasn't a (regular) expectation until the pandemic hit."
Now the Hope Center offers meals at 1 p.m. on Mondays, Wednesdays and Fridays in the Rapid City Skatepark, on New York Street. The Center draws on community support to provide food at other times, as well.
Physical needs may become more sorely felt as the seasons grow colder, but people in the center on Tuesday tended to talk about other kinds of ways a place such as the Hope Center can fortify them, as well.
"Assistance, nutrition, security and the opportunity to look for a job" were among the ways Manual Hatchett said the center helped him. And Mabel Black Elk, who earlier talked about support and safety, stressed the importance of gathering together.
"We visit amongst each other," she said. "The way I think about it is that we're a big family. All of us come back together."
People with questions can call the Hope Center at 605-716-4673 (HOPE).