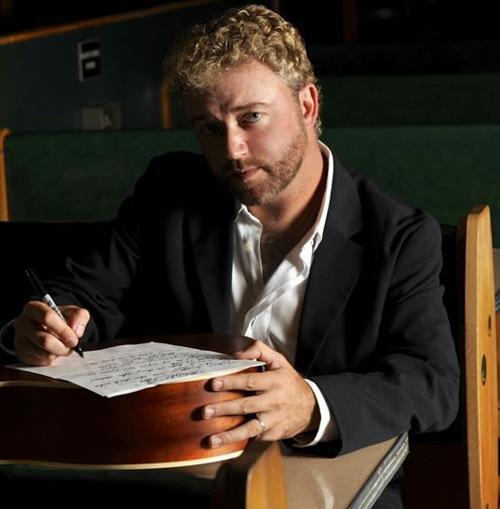 LEAD | Years before Tom Wurth graduated from high school in a small Iowa farming community, set out to start a music career in Nashville, Tenn., and got his first Grammy nod at age 20, only to be beaten by Linda Ronstadt, he went on a family vacation to the Black Hills.
The Wurths toured the Badlands, gazed at the four famous faces on Mount Rushmore, and cooled off at Evans Plunge in Hot Springs. He still recalls the terror of that steep waterslide, but after his first attempt, his parents could barely pull him away.
"You had to go down head-first, and I was scared to death," Wurth said Thursday. "But after I did it once, I spent the rest of the afternoon on that thing."
A quarter-century later, driving across South Dakota this week on his first trip back to the Black Hills with two young sons in tow, is a lot like coming home, Wurth said. The singer-songwriter who has performed with many of the legends of country music will play at the Black Hills Opry at 7 p.m. Saturday in the old-time country classic concert series staged at the Historic Homestake Opera House, 313 W. Main St., Lead.
"This is a lot like coming home for me," Wurth said during a stop at the Corn Palace in Mitchell. "I remember going to Wall Drug, Mount Rushmore and the Badlands, and I wanted my own kids to see some of the country and experience what I did with my family so long ago."
Growing up in Marcus, Iowa, a farming town of 1,500 residents about 100 miles southeast of Sioux Falls, Marcus dreamed of playing music under the bright lights of a Nashville stage, even before he left high school. The son of a special education teacher and a mother who taught music at a Catholic school in nearby Sheldon, Wurth said music had always been a part of their household.
"I grew up in church, singing in church where so many of us have found inspiration," Wurth said. "For us, country and blues and gospel were all kissing cousins. I always tell people that Marcus was a great place to be from. But it was a little challenging. I didn't grow up in a place with honky-tonks but music was always in our family."
You have free articles remaining.
He set out for Music City U.S.A. a few days after graduation in 1994, and soon found himself working in the mailroom of Jaba Records, a small recording company. Several nights a week he'd gather with fellow musicians and showcase the songs they'd written.
One night, he performed an original song and a secretary at his work happened to hear it. The next morning, the president of Jaba Records called him into his office and asked Wurth to be the voice of a new album the company was producing. Six months later he was sitting in Madison Square Garden, nominated for a Grammy Award at 20 years old.
"It was a crazy time," he recalled. "Halfway through the ceremonies I started laughing and I couldn't stop. I was surrounded by stars. Someone asked me why I was laughing and I said, 'I bet I'm the only one here who is working in a mailroom for six bucks an hour. I lost the Grammy to Linda Ronstadt, so I really didn't feel too bad, and I got my first record deal about six days later."
Since that meteoric start, Wurth has written songs for some of the largest recording companies in the country, scored three Top 30 singles, recorded four albums, and performed with a bevy of music stars, including Vince Gill, John Ford Coley, T. Graham Brown, Eddie Money, Larry Gatlin and The Gatlin Brothers, Lonestar, Billy Dean, Ronnie Milsap, Rascal Flatts, Billy Currington, LoCash, Pam Tillis, Mel Tillis, Thompson Square, Marty Stuart, Tim Rushlow, Trick Pony and Clay Walker.
"I'm proud of that," the 43-year-old singer-songwriter said. "The people I've gotten to work with over the years have helped define me as an artist, a songwriter and a performer. You learn the trade secrets, and you feel like you're adopted in some sense."
Wurth, who will perform with South Dakota native Sherry Ann Taylor, said his audience should expect to have some fun on Saturday night.
"I'm a family-friendly guy," he said. "We'll bring some soulful sounds to the stage. Great songs need to be performed and shared and that's what we're going to do."
And while he's performing at the Historic Homestake Opera House and when he's showing his sons around the Black Hills this week, Wurst said he'll be remembering his family's original Black Hills vacation and his stop in Marcus to see his folks this week, the first visit his busy schedule has allowed in five years.
"I'm a modern-day frustrated cowboy," he said with a laugh. "You live in Nashville, a big city, but I like to go out in the woods and do backwoods camping. I miss that stuff, because that's where my roots are. Like one of my songs says, I come from good ground."