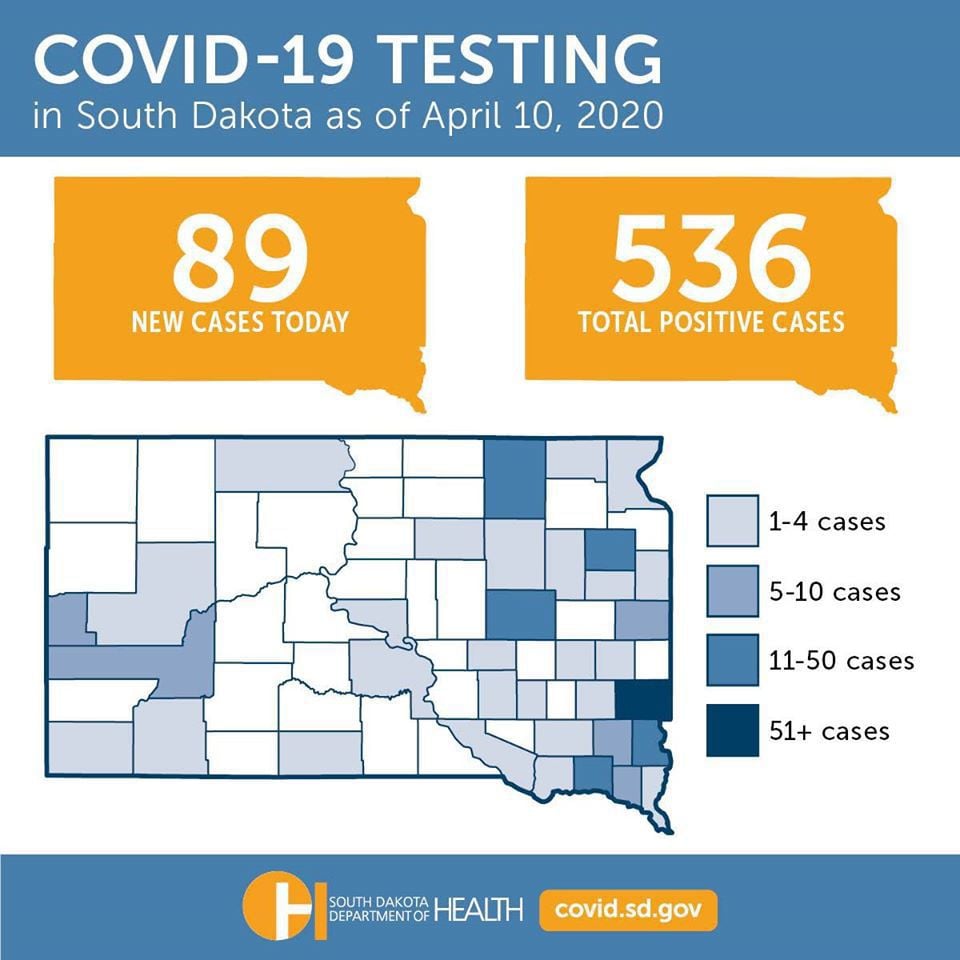 The state Health Department announced that 89 new positive coronavirus tests have been reported in South Dakota, which also has 7,111 negative tests on record after 411 more negative tests Friday.
Overall, 536 have tested positive for the coronavirus in the state.
Six infected people in the state have died and 177 have recovered. Only 29 of the 536 have required hospitalization so far.
There is one new case reported in Pennington County — now eight total with five of those recovered while one resident died in Sioux Falls.
Minnehaha County has been identified as a COVID-19 hotspot, with 190 cases tied to Smithfield Foods' pork processing facility in Sioux Falls. The facility has closed for a three-day period to mitigate the disease and instigated additional precautions based on CDC guidelines, Gov. Kristi Noem said Friday in her daily briefing. Across all of Minnehaha County, there are 352 confirmed cases of COVID-19.
According to data compiled by the New York Times, the Smithfield Foods facility in Sioux Falls is now the fourth-largest COVID-19 hotspot in the nation. The other hotspots that are higher than Sioux Falls are the Cook County Jail in Chicago, the U.S.S Theodore Roosevelt and the Parnell Correction Facility in Jackson, Michigan.
Because of the outbreak in Sioux Falls, Noem gave Secretary of Health Kim Malsom-Rysdon the authority Friday to declare a public health emergency in Minnehaha County only.
"This is an additional enforcement tool that we are going to utilize and make sure we have all of the tools available, should we need them in the future," Noem said. "This is a proactive step that we are using to make sure the authorities are in place should the time arise in the future that we would need to use them."
Malsam-Rysdon said the public and Smithfield Foods in the Sioux Falls metro area are cooperating with state health officials to mitigate the spread of COVID-19. The secretary said she would only declare a public health emergency in Minnehaha County if there was a need to.
"The action today (Friday) is a preventative step in the event that we have individuals who need to be quarantined, who are not cooperating with that effort," Malsam-Rysdon said. "The next step there would be to issue a public health intervention order that is outlined in statute. If a person does not comply with that order, then we would seek judicial enforcement of the order, as the governor just indicated. The public health emergency gives us the ability to work with the judicial branch to make sure people are staying safe and not infecting other people."
During the COVID-19 outbreak, Malsam-Rysdon said there has only been one public health intervention order and that was a person in Lyman County. Malsam-Rysdon said she could not share any more information about that individual or details on the order.
Noem said the community spread in Sioux Falls was expected because of the population density of the metro area. The majority of state health mitigation resources are now being focused on Minnehaha County, as other locations in South Dakota appear to be practicing social distancing protocols to limit the spread of COVID-19, Noem said.
"We have been preparing for this for weeks. We know this virus will spread throughout our state," Noem said. "We'll continue to focus on each area and make sure we are getting people the care that will help them get through this.
State Epidemiologist Dr. Joshua Clayton said the community spread from the outbreak at Smithfield Foods is a case where everyone in the state needs to realize the impact of community spread. Clayton said that it is easy to estimate that individuals who are COVID-19 positive may have come in contact with at least 10 people each.
"It's important to note that this is not a single employer concern. We've known and made sure we've been very transparent with the continued transmission of COVID-19 in our communities," Clayton said. "It's unfortunate that we have seen COVID-19 impact one of our local businesses negatively like this, but we are really focused on trying to decrease any sort of transmission or spread of this virus in any business."
South Dakota has seen the number of positive cases of COVID-19 more than double since Sunday — 536 now compared to 240.
Clayton said there are rumors driven by uninformed, speculative posts on social media that COVID-19 will be seasonal, and that once it warms up, the virus will slow. Clayton said that is not yet known.
"There's a lot we still don't know about this virus and how it may continue to spread," Clayton said. "With COVID-19 being a novel virus, we don't know exactly how it will act, whether we will see a little decrease over the summer months. One of the main differences between COVID-19 and what we see with our other viruses — influenza and other common respiratory viruses — is that it is the first time we have seen it in the human population."
Concerned about COVID-19?
Sign up now to get the most recent coronavirus headlines and other important local and national news sent to your email inbox daily.