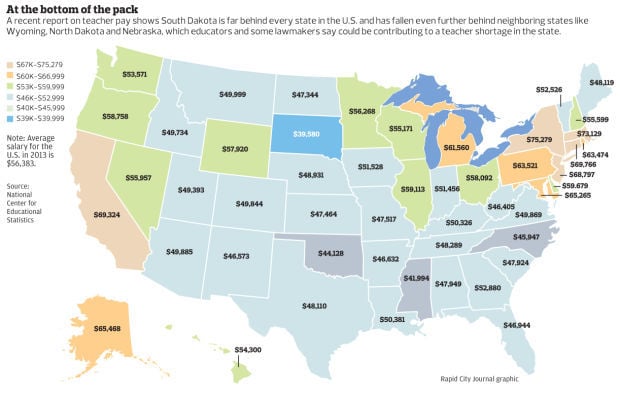 When it was reported recently that South Dakota again ranked last in the nation in teacher pay, it surprised few in a state that has become accustomed to the dubious ranking.
But now South Dakota appears to be falling further behind other states, and educators and a handful of lawmakers believe it is one of the primary reasons the state is suffering a teacher shortage.
A legislative study committee led by state Rep. Jacqueline Sly of Rapid City concluded this past summer "that teachers are in short supply in this state and that school districts of all sizes are now struggling to retain qualified teachers and to fill teacher vacancies."
The committee, on a 10-4 vote, urged the Legislature that convened this past week to address a problem that has become all too familiar to school districts across the state.
Tim Mitchell, the superintendent of the Rapid City Area Schools district, said that even the state's second largest city has trouble recruiting and retaining what he calls the "best and the brightest."
"Rapid City is struggling," he said. "We don't have specific data because the teachers don't tell us exactly why they are leaving, but we know there are teachers who leave for Wyoming and North Dakota and other places. We are losing our best and brightest because of our inability to be competitive."
According to the National Center for Educational Statistics, the average annual pay is $39,580 for South Dakota teachers.
Mississippi, which in the past has vied for the unenviable ranking of last in teacher pay, now pays its educators an average of $41,994 annually, which ranks it 49th.
South Dakota's neighbors, meanwhile, all pay considerably more. Wyoming's teachers earn an average of $57,920 a year; in Montana it is $49,999; Nebraska is at $48,931, and North Dakota is at $47,344.
State officials like the governor's communications director, Tony Venhuizen, downplay the disparity in pay, citing a business-friendly environment while defending the administration's commitment to education.
"There are a lot of different statistics in education," Venhuizen said. "South Dakota is not 50th in what we spend per student, we're higher than that … and the governor mentioned in the State of the State address that South Dakota has the lowest cost of living. You will find that in a lot of career fields, the salary is lower if you don't adjust for the fact that we have very low taxes and the lowest cost of living."
Earlier this year, Gov. Dennis Daugaard proposed a 3 percent increase in funding for the state's public schools. While it was widely reported that school officials were grateful the governor didn't propose less, they also say it doesn't mean that it is adequate when it was only two years ago he cut the state's contribution to public education by 10 percent to help balance the budget.
Mitchell said only a fraction of the governor's proposed increase could be directed at teacher pay.
"On this issue, they would say the decision should be made on a local level," he said. "But we have talked about when the governor gives a 3 percent increase in funding to schools it is for everything. But when you give 3 percent to state employees for salary specific increases, there is a difference. It makes it difficult because everything else has to be funded."
In Rapid City, first-year teachers with a bachelor's degree start at $30,753 a year and a teacher with five years experience and a master's degree earns $37,554.
Sly said teacher pay and teacher shortages came up repeatedly during her committee's research. While the panel had no authority to introduce legislation to boost teacher pay, it did pass House Concurrent Resolution 1002 that says low pay and the lack of college students interested in teaching are contributing to the shortage.
It is a situation that Dennis Rieckman, the superintendent of the Wall School District, has been dealing with for years.
"We always seem to get applicants but not that many," he said. "We have to compete with Wyoming and the bigger school districts and their higher pay. It would be nice if we could pay them more."
The starting pay in Wall for first-year teachers with a bachelor's degree is $30,600 a year.
It is a far different story in Gillette, Wyo., a community of around 30,000 about an hour from South Dakota's western border. 
Larry Reznicek, the human relations director for the Campbell County school district, said he sees a number of applicants from South Dakota who are anxious to work in a community where the pay for first-year teachers with a bachelor's degree is $46,000 a year.
"We've been very fortunate," Reznicek said in a phone interview last week. "It's been 10 years now since we raised our wages. It's a good thing. We absolutely have good pools of candidates."
He pointed out that great pay attracts great teachers, which pays off for students.
"I do know that it's unfortunate when you're not paying teachers," Reznicek said. "The single most important thing to improve student achievement is to have good teachers in front of those students."
In South Dakota, meanwhile, the remediation rates for high school graduates entering the state's public higher education institutions show that a significant number of students are not prepared for the next step in their academic careers.
The rate of high school graduates having to take remedial courses for basics like English and math before they can begin college coursework has been hovering around 30 percent for years.
And while it has fallen from a high of 34.2 percent in 2003 to just over 27 percent in 2012, it is still considered too high.
South Dakota Secretary of Education Melody Schopp disputes, however, that this statistic accurately reflects the quality of teachers in the state.
"The teacher shortage is one issue, and I'm sure pay we could attribute as one factor in that," she said. "That could be one contributing factor, but to attach that to college and career readiness, I don't think the quality has changed at all. I'd hate to attach quality to quantity."
Wade Pogany, executive director of the Associated School Board of South Dakota, said he doesn't believe the state is facing an achievement crisis yet, but he worries this could change if lawmakers fail to address teacher pay and shortages.
"You want your best teachers in front of the children for a strong education system, which we have," he said. "But if you're not reinvesting in that, what happens down the road?"
Get local news delivered to your inbox!
Subscribe to our Daily Headlines newsletter.