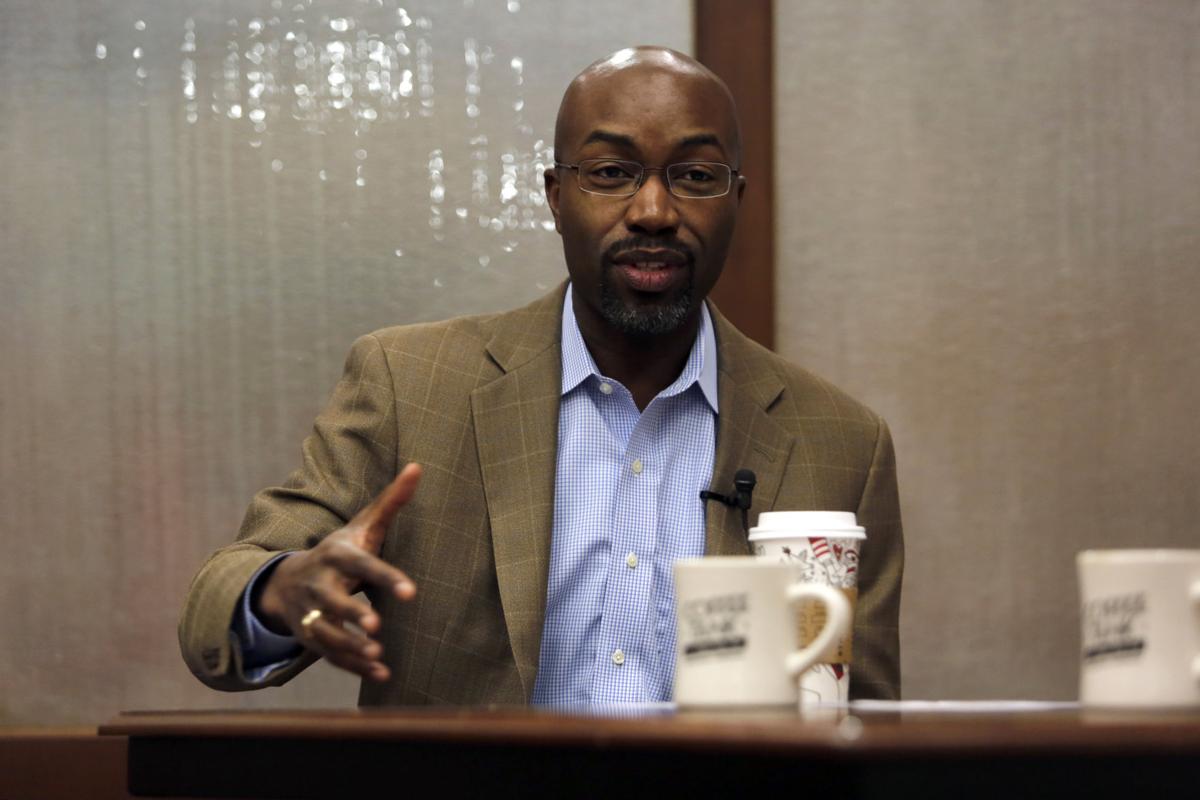 He was talking about disadvantaged African-Americans in St. Louis, but Jason Purnell's words were just as applicable to Native Americans in South Dakota.
Purnell, an associate professor at Washington University, spoke Thursday morning at The Garage co-working space in downtown Rapid City as part of the Morning Fill Up series. He stressed the importance of hard work and individual responsibility and said both are necessary — but not sufficient — to ensure success for people born with disadvantages in housing, education, health care, personal safety, economic opportunity and other aspects of life.
Expecting individual effort alone to overcome such disadvantages, Purnell said, is like expecting water to become ice without freezing temperatures. He said a change in mindset is needed to stimulate public policies that will help people overcome disadvantages that have accumulated over the course of generations.
"We've gotten so caught up in this notion of individual effort that we ask children who are born in boiling cauldrons, 'Why haven't you become ice?'" Purnell said. "And we celebrate children who were born in deep freezes for how icy they are."
In St. Louis, the "boiling cauldron" is the northern part of the city, where there is a higher concentration of African-Americans. Purnell illustrated the city's divide with the example of two ZIP code areas that are only about 9 miles apart but have an 18-year gap in life expectancy.
"You don't just explain that away by the personal choices that people are making in those ZIP codes," Purnell said. "Part of the explanation is the income, and the education, and the employment, and the quality of neighborhoods and resources that people have access to."
Although it was not discussed at Thursday's event, a similar situation exists in South Dakota.
Earlier this year, a study published in the Journal of the American Medical Association found that South Dakota's Oglala Lakota County, where more than 90 percent of residents are Native American, has the shortest life expectancy of any county in the nation, at 66.8 years. Meanwhile, the county with the longest life expectancy in South Dakota — and the 20th longest among all counties in the nation — is Lincoln, where more than 90 percent of residents are white and the life expectancy is 83.03 years. That's a gap of 16.23 years between the two extremes.
Back in St. Louis, Purnell is part of an effort to improve life for African-Americans as part of a project called "For the Sake of All."
The project, for which Purnell is the principal investigator, focuses on a broad definition of health and the ways in which individual and community health is impacted by factors including education, income, the quality and composition of neighborhoods, and access to resources such as healthy food and safe public spaces.
The project's 77-page final report is packed with statistics to encourage the kind of changed mindset that Purnell spoke about Thursday. Much of the data is translated into economic terms, to help people understand how deficiencies in the health and well-being of certain groups holds back the community as a whole.
For example, the report's findings indicated that in just one year, the shortened lifespans associated with poverty and low levels of education among African-Americans translated to a $4 billion economic loss.
"We cannot afford to continue like this," said the report's executive summary. "Something has to change in order for everyone in the St. Louis region to be able to thrive and contribute to its growth and vitality."
The project has spawned policy proposals including larger investments in early childhood education; universal college savings accounts for children from birth; the installation of health clinics at high-poverty schools; improving access to mental health centers; better enforcement of fair-housing laws; and expanded chronic and infectious disease prevention programs, among many other proposals, which are explained online at forthesakeofall.org.
Purnell borrowed from several analogies to illustrate the importance of addressing the root causes of life outcomes, rather than only treating the symptoms of those causes. In one analogy, he compared disadvantaged groups of people to an endless string of babies being whisked helplessly down a river. People should obviously try to save the drowning babies, Purnell said, but someone should also go upstream to figure out how the babies are ending up in the water.
"You very often need policy to cut off what's happening upstream," Purnell said. "And you still need those more immediate interventions."
To illustrate the importance of moving beyond equality and toward equity, Purnell referenced a cartoon depicting kids straining to look over a fence at a baseball game. Equality, he said, is giving every kid the same-sized box. Equity is recognizing that shorter kids might need two boxes.
"It's essentially giving people what they need in order to have an equal opportunity at success," Purnell said.
Purnell, who is African-American, said his own success is largely attributable to the good luck of having exceptional parents. Their extreme devotion to their children included taking out a second mortgage, Purnell said, so he could attend Harvard University.
Purnell's work with the For the Sake of All project is driven by a desire to create better circumstances for kids who are not so lucky.
"I want every child to be bathed in those kinds of resources and that kind of opportunity," he said.