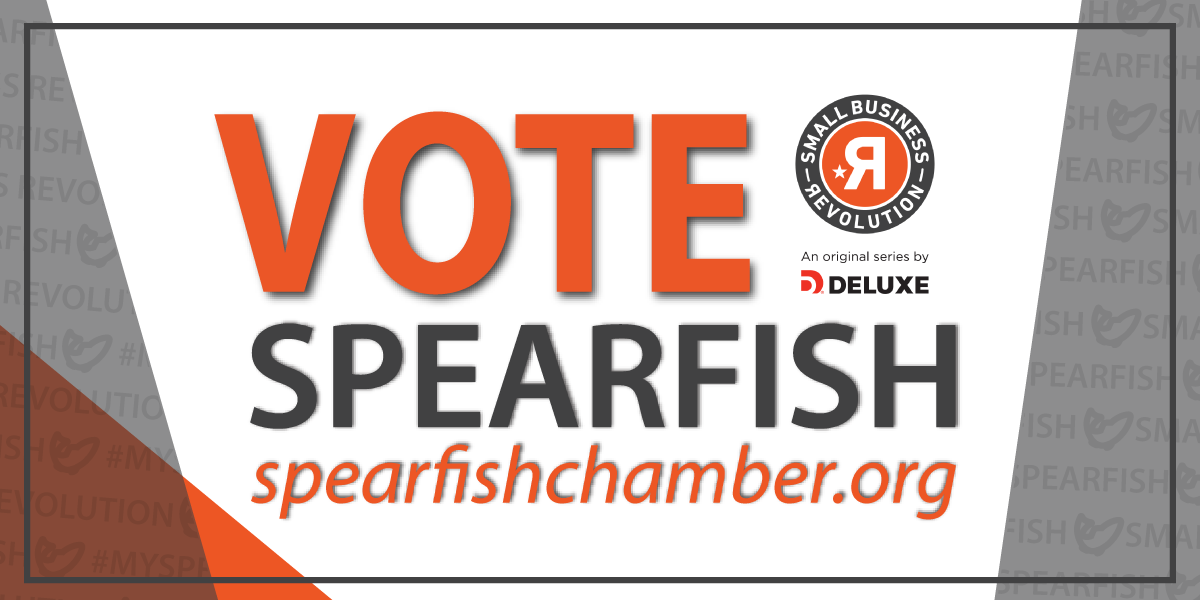 Spearfish is one step closer to winning the starring role on season five of the online reality series "Small Business Revolution." Out of 10 small towns originally competing for a chance to be on the show, Spearfish is a top five finalist. The winner will be chosen in a public vote.
Today through Jan. 21, residents, visitors and anyone who loves Spearfish can vote and help the town nab its spot on the series and a $500,000 prize. Vote online at smallbusinessrevolution.org or spearfishchamber.org. Individuals can vote once per day from each of their devices. Anyone age 18 or older from throughout the United States can vote. The other finalists are Benicia, Calif., Livingston, Mont., The Dalles, Ore., and Fredonia, N.Y.
"We have a strong community spirit that thrives through our teamwork and neighborly attitude. Gaining a top five spot recognizes all the support and hard work of all the local businesses and community organizations. We will continue to work together, as we always do to rally votes," said Melissa Barth, executive director of Spearfish Area Chamber of Commerce. "We need you to spread the word and vote daily."
On Tuesday, Barth released a list of ideas people and businesses can use to help Spearfish win:
Vote every day, from every internet-connected device you have.
Share daily on social media and ask everyone to share your post and vote for Spearfish. If you're not sure what to wording to use, Barth suggests the following: The nationwide vote is on! Help Spearfish, South Dakota win $500,000 for small business. The winning town is decided by popular vote. We need you to rally your friends, family, co-workers from across the nation to vote for Spearfish. Let's get the word out to vote for Spearfish.
Continue using the hashtags #myspearfish and #smallbusinessrevolution on social media. Follow the Spearfish Area Chamber of Commerce on Facebook for updates. The chamber's Facebook page also has a sharable "Vote Spearfish" graphic.
Call, text, email or message friends, relatives and acquaintances throughout the United States. Tell them about voting.
Have your business offer a discount to anyone who voted.
Have a dedicated time for your staff to vote every day.
Update your marquees and signs to encourage voting.
Wear your Spearfish shirts and merchandise on Jan. 20.
"Winning top honors is going to take a real grassroots effort from the entire community," said Kory Menken, executive director of the Spearfish Economic Development Corporation.
"Small Business Revolution" was created by Minnesota-based Deluxe Corporation. Spearfish and the other top five finalists were announced Tuesday by "Small Business Revolution" co-hosts Ty Pennington of TLC's "Trading Spaces" and ABC's "Extreme Makeover: Home Edition," and Amanda Brinkman, Deluxe Corporation's chief brand and content officer. 
For each season of the show, "Small Business Revolution" has selected a town and its small businesses to spotlight. Marketing experts and other high-profile industry specialists help make over the winning town's small businesses.
Deluxe seeks towns that seem to be on the upswing and have a lot of good things to celebrate, but also have needs Deluxe can meet, said Julie Gordon, director of marketing partnerships for Deluxe.
Typically, six businesses in the winning town are each featured in their own episode, Gordon said. Building a new website, payroll services, branding and logo design are among the types of support a business might receive, Gordon said. Pennington assists with physical renovations.