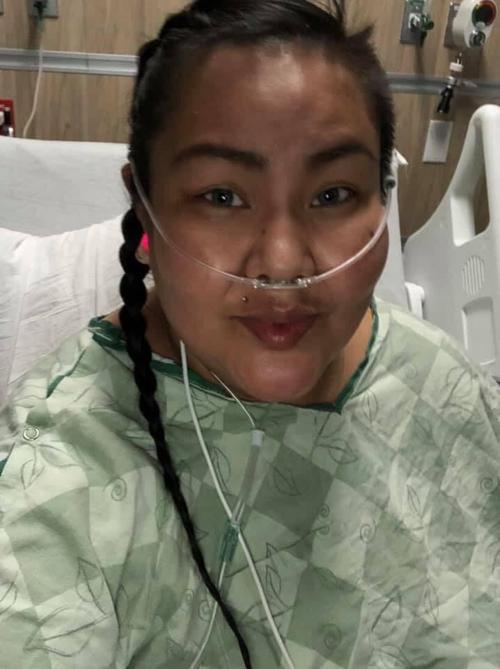 "I thought about how scary it would be to have COVID-19, especially as a single parent and sole provider. My worst-case scenario was ending up in the hospital, and that's exactly what happened to me."
Candi Brings Plenty, 39, a single mother of two teenage girls, tested positive for COVID-19 in late September. Her children and multiple other family members also contracted the virus, including her grandmother who died from it.
Candi was living on the Pine Ridge Reservation in a cabin when the pandemic hit South Dakota in March. The cabin they were living in got sold to the tribe, so Candi and her two children, now 17 and 15, moved to Rapid City.
"I was very comfortable living out in the middle of nowhere during this pandemic, but once I came into Rapid City, I knew (we) were in a pod of exposure," Candi said.
She and her children were always cautious to wear masks, social distance and wash their hands. They had been working to sew masks for people and helped deliver meals and supplies for Meals for Relatives.
"I was always on board with masking up and protecting our Oyate, our people, and especially the elders and the vulnerable and myself," Candi said. "I have pre-existing conditions. I have diabetes and I have asthma. Being a single parent and being their sole provider, I knew it was very important for me to keep myself safe."
Candi said that when her family moved to Rapid City, they felt their prayers were answered because they were able to find a beautiful new home. By the time she moved, she saw a need to help cook for Meals for Relatives.
"In our culture, it's called Wopila, 'to give back.' I told (my children) this is what we're going to do for our Wopila, we're going to give back and we're going to cook for these COVID-19 families," Candi said.
Every week from May until the time she contracted COVID-19, Candi and her children took a night to cook for Indigenous families who have COVID-19 and would deliver the meals to their homes with no contact, eliminating any chance of transmission.
One day, Candi delivered food to an elder's home, and the elder invited her inside.
"I contracted COVID-19 because for one moment, I forgot," Candi said. "I didn't wear my mask when I went to visit an elder. I went into their home because they offered me coffee and wanted to visit. We're supposed to protect our elders and keep our distance from our elders, and I had a meal with them for over 20 minutes until I noticed they were coughing."
Once Candi realized the elders were coughing and kept their heater on despite the warm weather due to chills, another COVID-19 symptom, she got up to leave and asked that they all get tested for COVID-19 the next day.
The elders were positive, and Candi tested positive within days.
Candi made sure to stay home and quarantine after exposure and continued to isolate at home after her test came back positive. Despite her best efforts, several of her relatives became sick with COVID-19 in a matter of days.
"I had some relatives living with me at the time who were temporarily staying with me, and I am so shocked at how quick I infected five other people almost all in one day because they stopped in at my house," Candi said.
Her brother, sister, niece, two daughters and a person who had entered Candi's home without her consent all tested positive for COVID-19 in a short time.
"I just watched it spread like wildfire," Candi said. "To this day, I still feel horrible watching how it impacted my relatives and how they had to take time off from work and how they lost paychecks, and all the effort that I worked towards" in staying safe from COVID-19.
Candi's symptom onset began when she was sleeping and woke up at 5 a.m. freezing with the "worst cold I've ever felt." She put on blankets, sweatpants and a hoodie and couldn't stay warm.
"I knew at that moment, something was wrong. I could feel it in my bones," Candi said.
She took a hot shower and began to feel nauseous. After the shower, she laid down and felt the body aches, all sure signs of COVID-19.
"It was just like it all came on at once," Candi said. "For me, they weren't body aches. They felt like someone was stabbing me. It was just horrible. Later it felt as if it was like lightning strikes. Now that I think about it, I feel like it was nerve pain. I've had muscle aches, but this was horrendous."
Soon she felt a fever. The next day, she felt coughing and shortness of breath. She suffered the symptoms at home for nearly a week before she was hospitalized.
Candi said she had a "strong network" of friends, family and neighbors who sent care packages to her home and supported her and her two children while they were sick.
"My worst case scenario was I was in the hospital fighting for my life and my two children were at home, COVID-19 positive and quarantining, and they were scared," Candi said.
Candi said she thanks the Meals for Relatives group again because without a care package that contained a pulse oximeter, she might not have known the warning signs for hospitalization.
"I didn't know what readings were normal, or what readings were devastating," Candi said.
Her oxygen level was at 85% for a few days, she said. Normal readings are at least 95%. She became lethargic, and described her mental health as "delirious" from the lack of oxygen.
"At the time, I didn't know I was passing out but I couldn't stay awake," Candi said. "There was a time when I slept for 18 hours straight and I just kept falling asleep and telling myself that if I sleep, I will wake up in a few days and I'll be better. My body will heal itself, and my body wants to sleep."
Her dog, Tika, kept coming into her room and barking at her. Candi said she's glad she let Tika in because she kept licking Candi's face to wake her up.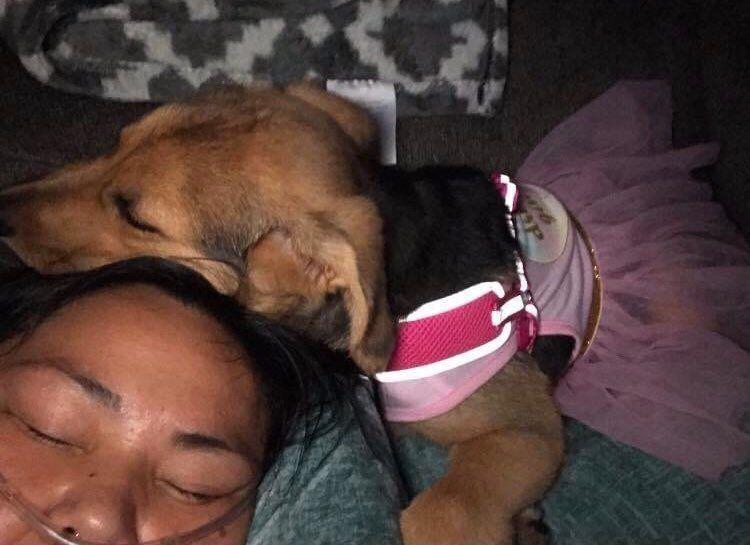 Candi noticed her feet and palms began to turn white and her mouth was turning blue. Candi texted her daughter and told her she needs to go to the emergency room. Her daughter asked if she should call an ambulance.
"There was a moment where I didn't want to wake up," Candi said. "I didn't want to call an ambulance because I didn't want to traumatize my daughters. I didn't feel I needed an ambulance, but it took me seven hours to get out of bed. I kept falling back asleep and dreaming that I went to the emergency room."
When she eventually made it to the emergency room without the help of an ambulance, Candi was admitted right away after caregivers checked her vitals.
"The doctor came in and told me if you went to sleep, you would have been one of the COVID-19 victims who fell asleep and didn't wake up," Candi said.
Candi said she was "very impressed" by the doctors and caregivers who took care of her at Monument Health while she was sick with COVID-19.
"They were very warm and comforting," Candi said. "I would think that our health care workers would kind of have this fear in them for being so close, but they were so comforting."
While she was hospitalized, Candi left the TV in her hospital room at a high volume and barely slept.
"I didn't sleep because in my window, I would see the nurses, even my nurse, go running. Sometimes they would be walking and then take off running," Candi said. "If I didn't have the TV on, I could hear all the different alarms and I would hear horrible things."
At one point, Candi could hear that the person in the room adjacent to hers had "coded," or went into cardiac arrest.
"That was really hard to comprehend while you're there fighting for your own life," she said. "I watched (the staff) being overworked."
The South Dakota Department of Health called to check Candi's symptoms 10 days from their onset while she was in the hospital.
"They asked, when did your symptoms start? People could say anything because they don't want to be in quarantine," she said. "I felt like they weren't a strong resource for the community. I had other relatives who said (their) 10 days are up and the DOH released (them from isolation), but they're still coughing and have symptoms. I feel like this is part of the reason we're spreading COVID-19 the way we are."
'I still have nightmares'
Candi said she feels her illness was longer than two weeks because she's on oxygen right now and may have to stay on oxygen for the rest of her life.
"I feel like I'm still impacted by it," Candi said. "I have lung damage because I waited so long, and because my oxygen levels were so low for so long. I didn't realize I was causing myself organ damage."
She was hospitalized a second time during her COVID-19 journey due to a lung infection. She still wears her oxygen tank. Candi still hasn't regained her taste and smell, and said she has PTSD from her illness.
"I still have bad dreams or nightmares about not being able to wake up that night," Candi said. "It was horrible to know that I almost allowed myself to be another COVID-19 death."
Candi said as someone who survived COVID-19, she's upset that not enough of the CARES Act money went to people who were directly impacted by the pandemic and instead went to businesses.
"There's millions of dollars out there, and it's the people who need it the most," Candi said. "It's not even about the people, it's about the economy. That really upsets me."
"Elders who have no fighting chance against COVID-19 are leaving us way too soon," Candi said. "We've lost so many elders, so many prominent wisdom keepers and medicine people. Our youth are struggling so much."
Candi lost her grandmother, Florence Ten Fingers, to COVID-19. Traditionally death ceremonies are four days long, Candi noted, but her grandmother's ceremony was two hours long.
Candi said ultimately, she believes the tribal lockdowns were the best response and that the state was attacking the tribes by attempting to dismantle sovereign border patrol that was taking care of the Oyate.
"We knew what was going to happen. What's happening now is what we were trying to prevent," she said. "Now we're at a rate where I'm witnessing two to three relatives dying from COVID-19 each day."