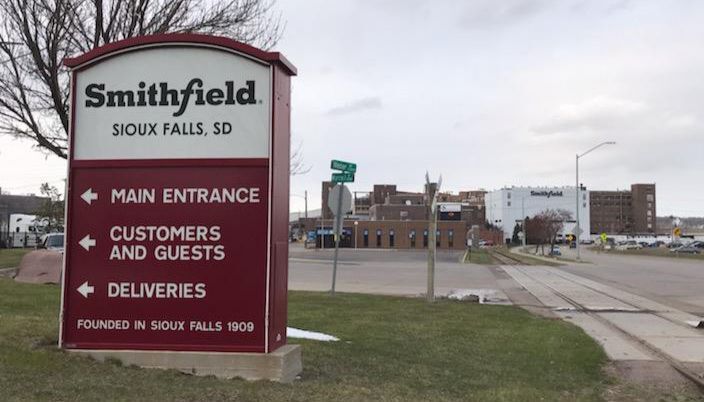 The CDC has released a study in its Morbidity and Mortality Weekly Report detailing how COVID-19 spread inside Smithfield Foods, which accounted for more than 1,100 coronavirus cases in South Dakota between March and April and 41% of the cases in community residents at the time.
The state health department had previously reported that 853 employees and 245 of their close contacts had contracted COVID-19 in the outbreak, but the CDC study shows that 929 employees and 210 of their close contacts contracted coronavirus from March 16 to April 25.
State epidemiologist Joshua Clayton said the difference in employee case numbers is because the DOH identified additional cases after matching a staffing list they received from Smithfield Foods, which employs 3,635 people in 38 departments.
The lead CDC researcher on the project, Jonathan Steinberg, updated South Dakota reporters on the study in a call Thursday morning. Steinberg said the CDC analysis shows "COVID-19 spread rapidly" among Smithfield employees.
"In less than three weeks, the number of identified COVID-19 cases increased from one to more than 300," Steinberg said. "In a total of five weeks, the number of cases surpassed 900. This report highlights potential for rapid spread of (coronavirus) among employees in meat and poultry processing facilities."
Steinberg said employers should prioritize implementing multiple control measures to limit the risk of exposure to COVID-19 "because no single measure will eliminate transmission."
Examples include promoting physical distance between employees when possible, encouraging mask use and hand hygiene, and screening employees for possible symptoms, Steinberg said.
The study states that the first employee to get COVID-19 at Smithfield had last worked March 14 in department A on the first shift before he developed symptoms March 16 and was tested March 22. The study says the DOH was notified of the positive result on March 24.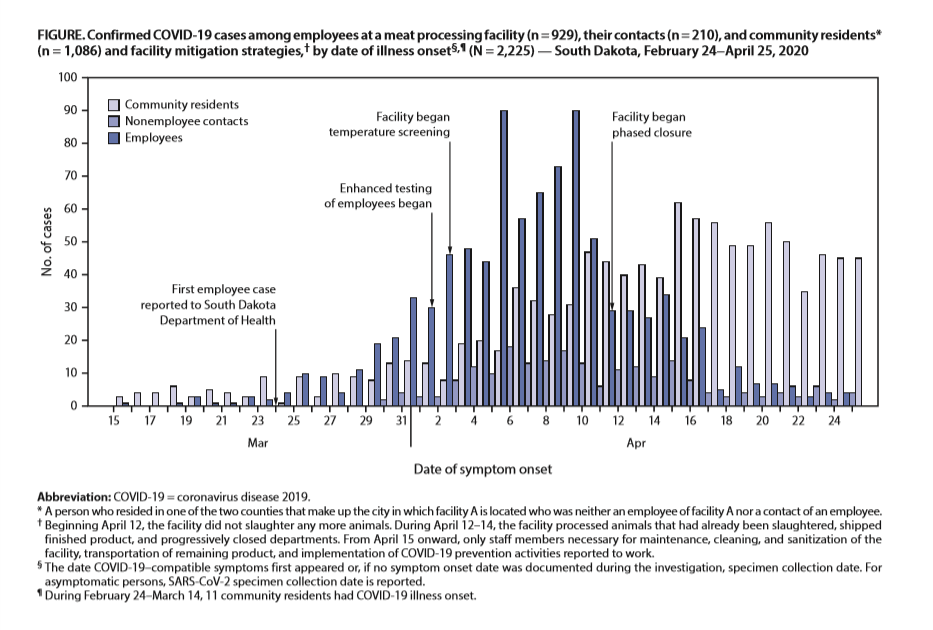 A second employee became ill March 19 in department B. The following day, two additional first-shift department A employees and a second-shift department C employee had symptoms.
On March 21, one first-shift department B employee developed symptoms for a total of six cases among employees.
From March 22 to 28, 18 employees from department B developed symptoms.
By April 2, 19 cases were confirmed among employees and the facility implemented "enhanced testing," according to the study, "so that any employee with a COVID-19 symptom could receive a test from a local health care facility."
Department B closed temporarily on April 3. Fifteen cases in employees from nine other departments also appeared that week, the study states. 
By April 3, Smithfield began screening all employees for fever, installed physical barriers on the production line, and amended the employee dress code to include optional masks.
By April 4, a total of 247 employees from 23 departments had COVID-19. A week later, on April 11, 369 COVID-19 cases had been confirmed among employees.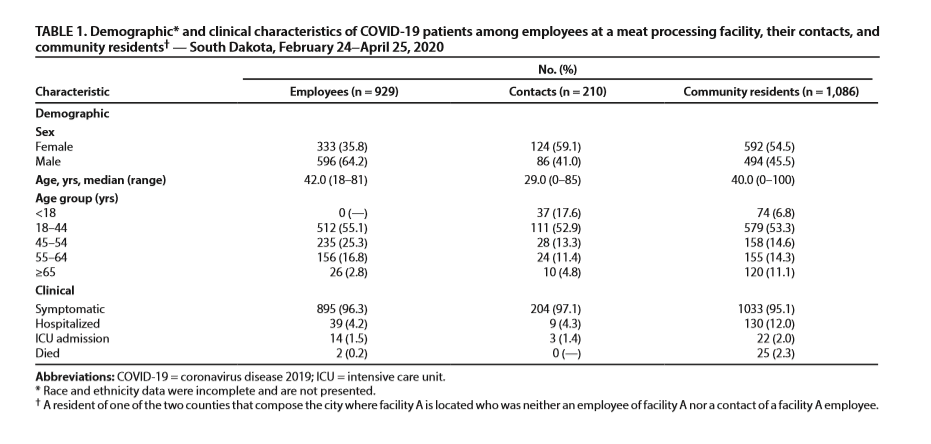 On April 12, Smithfield began a "phased closure" and didn't reopen for several weeks. Masks were required as of April 13, a day after the facility closed.
Cases among employees and their close contacts declined to 10 per day within seven days of facility closure. By April 15, a CDC team arrived to investigate the facility.
At the outbreak's peak, an average of 67 cases occurred each day. 48 people were hospitalized, including 39 employees and nine close contacts, with the median age of hospitalized patients for both groups at 60 and 64 years old, respectively. Two employees died: Augustin Rodriguez and Craig Franken.
Attack rates were highest among department groups where employees worked in close proximity, less than six feet apart on production lines. 
Among seven departments — bacon, conversion, cut, harvest, sausage, smoke meat and other — the highest infection rates were in the cut (30.2%), conversion (30.1%) and harvest (29.4%) departments.
Salaried employees had lower infection rates, as they typically had workstations that could be adjusted to maintain distancing and didn't work in close proximity to those on the production line, highlighting the importance of both engineering controls and administrative controls in mitigating COVID-19 transmission, the study reads.
"Consistent and correct use of masks can also prevent pre-symptomatic or asymptomatic employees with SARS-CoV-2 infection from transmitting the virus to others," the study said.
The large outbreak of COVID-19 at this meat processing facility highlights the "potential for rapid transmission of SARS-CoV-2 in these types of facilities," the study states.
Factors that may have contributed to spread of COVID-19 includes high employee density in work and common areas, prolonged close contact between employees during a shift and substantial COVID-19 transmission in the surrounding community.