"My family's experience with this sickness right now … it's a nightmare," Carrie MiddleTent said. "We knew this was going to happen though."
Carrie MiddleTent, 43, is a stay-at-home grandmother and Native woman from Rapid City. She said 15 family members, herself included, contracted COVID-19 in mid-May across four different households.
MiddleTent, and her boyfriend, daughter and granddaughter got sick in her house around the same time that her daughter, son-in-law and nephew got sick in her daughter's household.
MiddleTent's mother and niece also got sick around the same time. Almost everyone in her brother's house — him, his wife and four of their five children — all contracted COVID-19, too.
Only three family members were spared: MiddleTent's eldest son, grandson and nephew.
"It was really devastating to find out that much of my family had the virus," she said. "I know it's not a death sentence, because my family is recovering, but it could be for somebody like my mother who is diabetic and has a pacemaker."
Statewide data shows that Native people have been historically susceptible to pandemics like COVID-19 and have been impacted at higher rates than other races in Pennington County and at higher rates than other minorities in the state.
While Native Americans are 13.1% of Pennington County's population, they are overrepresented in the county's COVID-19 cases and disproportionately hospitalized.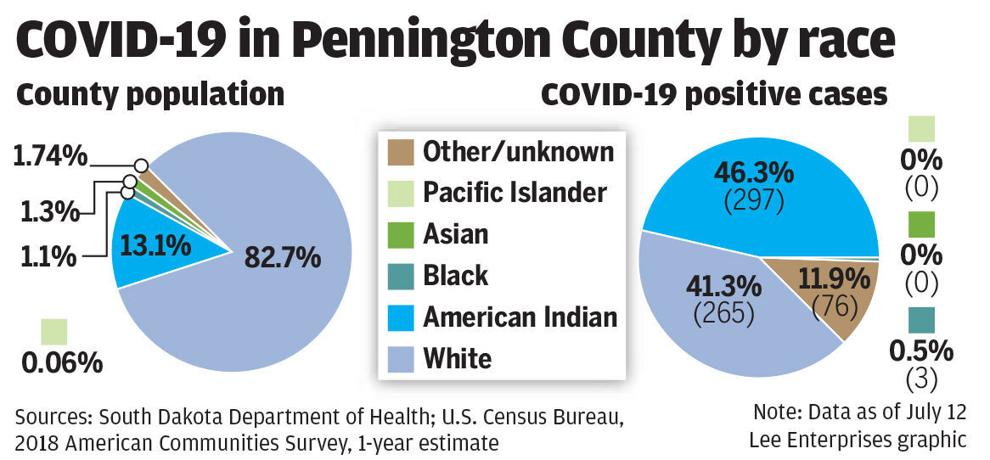 According to data from July 12, which was sent to the Journal by the South Dakota Department of Health on July 15, Native Americans accounted for 297, or 46.3%, of Pennington County's 641 total coronavirus cases at the time.
White people, who are 82.7% of the county's population, had 265, or 41.3%, of the county's COVID-19 cases on that same date.
There were only three cases among Black people in the county on that same date, and 76 cases among a category for "other/unknown" race.
The case rate per 100,000 residents is staggering. While white people were at 286.7 per 100,000 cases, Natives were at 2,025.2 cases per 100,000, according to county data.
Hospitalizations were also greater among Native Americans. The DOH reported that as of July 15, 65 Native people had been hospitalized at some point, compared to 47 white people, three Black people and four people of other races.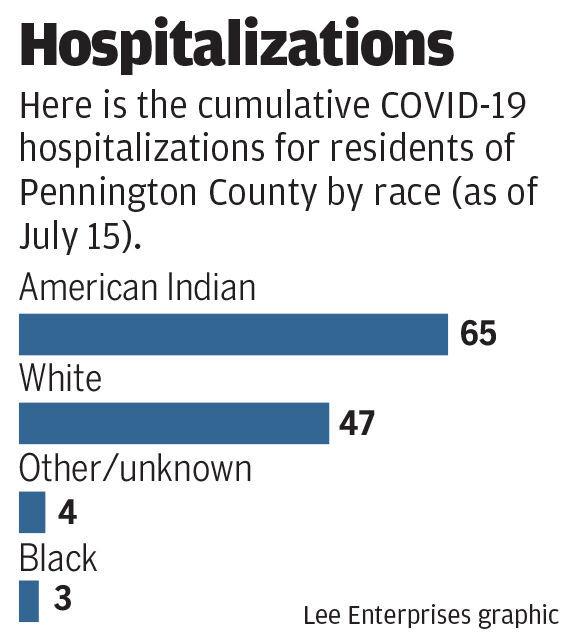 Across all of South Dakota, the latest data from the Department of Health shows that while Native American people are about 9% of the state's population, they make up 16% of COVID-19 cases.
The Great Plains Tribal Chairmen's Health Board first noticed the racial disparities on June 25 when they stated in a press release that Native American people in Rapid City accounted for 53% of the COVID-19 cases in the county.
Their statement was based on data from June 23, which showed that in the 475 cases of COVID-19 in Pennington County at that time, 250 were tribal members.
Church, looking back on other epidemics and pandemics that have hit the state, said "our community has not always fared well" during those times "from the beginning of European contact, from smallpox to tuberculosis" and H1N1, she said.
First, Natives see higher rates of preexisting conditions — such as heart disease and diabetes — that can make people more vulnerable to the virus and dying from its complications. Second, many families live in crowded or multi-generational homes where social distancing and self-isolation are difficult.
'Can't afford to get sick'
For MiddleTent's family, both of those socioeconomic health barriers factors hit home. She said close contact contributed to the spread among her 15 family members, in addition to the fact that she and others have diabetes.
"We can't afford to get sick. We have elders in our family," she said. "Our parents have heart trouble. They're diabetic. I'm diabetic. (My brother's) kids are asthmatics. We talked about this and knew that if any of us ended up getting sick … we (wouldn't) get the help that (white) people get."
MiddleTent said elected officials didn't do enough to contain the virus earlier in the pandemic, and many Native families can't afford to stay home from work.
"It doesn't surprise me at all because it wasn't really being contained," she said. "When you have the doctors, governors and mayors not really experiencing (COVID-19) themselves, they don't understand it. The Native people, other minorities and poor people are the ones that work. We all have to survive somehow, so we didn't have the luxury of staying home."
MiddleTent said her family didn't have the luxury of buying their groceries online, working from home, or using a computer to shop or work.
"Things like that made it difficult to completely try to stay home and avoid the virus," she said. "Being a mother, I have no time for this virus. I still have to get up and take care of my family, and that's what I've been trying to do all this time."
MiddleTent said not enough of the jobs that Native people have could be done from home or remotely during the pandemic. In other words, "it was only going to be a matter of time when it was going to be a lot of Natives that were going to be real sick," she said.
"We still have to go out there and work to pay our bills, to get food," she added. "There's some of us that live paycheck to paycheck. Right now, we're the majority that has to go out there and work."
MiddleTent said her mother was hardest hit in the family because of her pre-existing conditions — heart trouble and diabetes — and because it took three attempts to get her mother admitted to the hospital.
"Every day, her symptoms weren't getting any better," she said. "For the most part, they don't really check on you."
MiddleTent said she's glad her mother didn't have to be put on a ventilator. She also said she's thankful that her mom has recovered: "To me, that was a miracle. The power of prayer."
MiddleTent said after her mother was hospitalized and recovered from COVID-19, she still has to be on oxygen, still has shortness of breath and still has body aches and pains.
"Everything that she was going through, it's a little worse now," she said. "She has good days and bad days."
Ruth Ann Henry is a member of the Oglala Sioux Tribe. She and her husband both had COVID-19 in mid-June with symptoms ranging from a sinus infection, headaches, chills, vomiting and dizziness.
"My whole body was not my body anymore," Henry said. She tried steaming, but "the more I steamed, the more I got worse."
A few days after she tested positive, Henry went to the Oyate Health Center where she was told she was going into septic shock. She was later hospitalized at Monument Health for eight-and-a-half days with infectious pneumonia.
Both her lungs were filled with mucus. Her oxygen levels were decreasing, and she said she went into hypoxia, "where you're fighting for air."
"My health was OK (before this). I don't have diabetes or heart problems, no lung problems," she said, adding that her pneumonia soon turned to bronchitis. "All of a sudden, after COVID-19, I'm on oxygen and on medication for diabetes. It's like this whole thing just blew me off. This isn't my body anymore. It's just surreal for me."
Henry said it's tradition for families to take care of each other.
"In a family unit, a Tiospaye, if our elders got sick, it was the young people that took care of them," she said. "None of us asked for this virus. None of us asked to be sick. None of us asked to be hospitalized."
Britt Red, a 29-year-old from Pine Ridge, had six other family members contract COVID-19 around the same time she did: her son's father, four of her cousins and her cousin's daughter.
Red said she tested positive for COVID-19 at a nearby Indian Health Service facility. Eight days after her test result came back, she became more severely ill and went to the emergency room with shortness of breath.
Two days after she was hospitalized at IHS, her pulse rate and temperature were high. She had to be airlifted to Monument Health for treatment, where she stayed from May 29 to June 12.
Red was on a ventilator for seven of the 14 days she was hospitalized. She said she must have had a severe case, because she has no underlying conditions.
"I was only given a 20 percent chance to come off alive off the ventilator," she said. "It was a blur, the day they put me under ventilation. ... They said they asked me, but I don't remember. I just kind of woke up, and it was seven days later."
Being on the ventilator took muscle mass away from her body, Red said, so it took a while for her legs to regain strength. She's on heart medication now because her heart beats faster than it normally should after COVID-19. Red said she still has some recovery to do.
Red's employer let her go the week she got sick with COVID-19, which was one month ago, she said. She is now unemployed and unsure if she was let go because she missed work while sick.
The statewide data for Native Americans affected by COVID-19 is "kind of surprising," Red said, "but we didn't meet our peak yet, so who knows what those numbers will be like in the weeks to come."
Red said others should take the threat of COVID-19 seriously.
"You never know how hard it's going to hit you," she said. "I'm young with no underlying health conditions. I've been telling (people) to be safe. I could've died from the virus, given that 20 percent chance to live."