Two posts went up on the Gettysburg Police Department's Facebook page in 24 hours: One was a new profile picture, one was taken down within an hour after it was posted.
The new profile picture states "Enough Is Enough" with a thin blue line.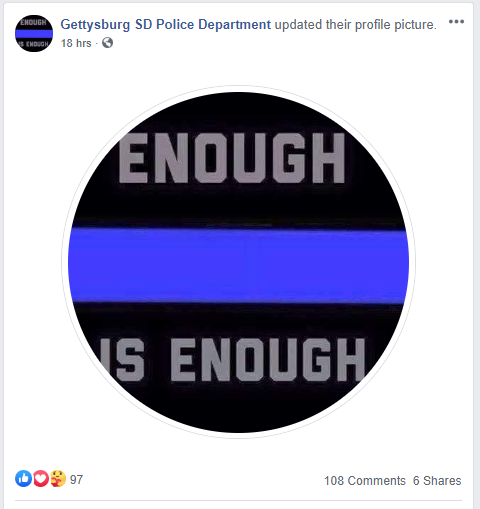 Gettysburg Police Chief Dave Mogard said he posted this image because there is too much violence in the U.S. right now.
Yet, Mogard didn't specify whether the "violence" he refers to was about violence towards people of color, police brutality, violence towards police or violence ensuing from Black Lives Matter protests across the nation after the death of George Floyd in the custody of Minneapolis police. Mogard also didn't say if he is referring to violence within his own community.
"Enough is enough. Violence needs to end," Mogard said. "It's not meant towards anybody personally."
The second post, which has since been deleted, stated "It's only racist to those that make it racist," and was posted with a photo of the Confederate flag and a caption that attempts to link the flag's meaning to religious and historical symbols.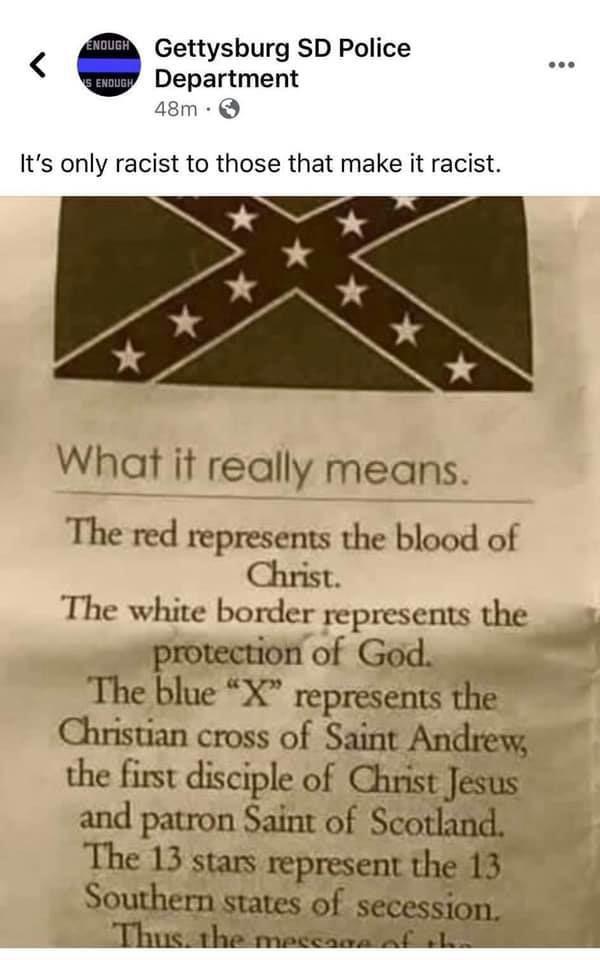 Gettysburg mayor Bill Wuttke sent the photo to a Journal reporter Wednesday, which the Journal refrained from using in its original story about the patch.
Wuttke said Mogard posted the photo and that he's not sure why Mogard took it down, "but I'll find out." He said he might revisit the logo at the next City Council meeting.
Mogard said the mayor sent it to him, and he posted it because "we're trying to explain what the Confederate flag originally meant," he said. "So many people had a fit about it being up so I thought I'll be nice and take it down. I tried to be considerate."
Mogard, who is from South Dakota and joined the department in 2018, said the post about the Confederate flag "wasn't meant to mean harm. It wasn't meant to offend anybody."
Mogard said he didn't want to comment when asked if he thinks the Confederate flag is appropriate to be on the police department's logo.
Mogard previously did not comment for the original Journal story, but said in a Facebook comment for the department's new profile picture that he referred the issue to the mayor and City Council for reconsideration at the next council meeting.

Mogard said he hopes there is a special meeting before July, and said he thinks there will be a Zoom link for people to join the meeting due to COVID-19. Gettysburg schedules their City Council meetings the first week of every month.
Mogard also commented in reply to a Facebook user who posted a screenshot of the since-deleted post that it "was not meant to offend anyone. It was to help people understand what that flag was originally meant," he said.

Former Gettysburg Police Chief Bill Wainman sent an email to the Journal Wednesday morning and said he did not leave Gettysburg "because of anything to do with the patch," but that he moved to Hot Springs to be closer to family and to further his career there as police captain.