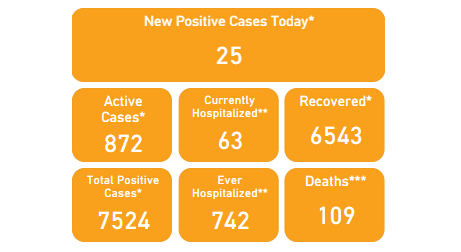 A state epidemiologist said in a call Monday with reporters that no public notices or trends in the data reflect an outbreak resulting from the July 3 fireworks show attended by President Trump at Mount Rushmore.
Dr. Joshua Clayton, epidemiologist for the Department of Health, said in this instance, no public notices need to go out to those who went to the event. 
Clayton also said the DOH isn't seeing any specific trends related to new cases in Pennington, Custer, Meade or other surrounding counties as related to the July 3 fireworks show.
"What we typically have seen is that our cases have some amount of travel out of the state (or) individuals are known close contacts to a confirmed case," he said. "The remainder, as reflected in the community impact map, are those cases that have been identified with no exposure, or potential exposure."
Pennington, Meade and Oglala Lakota counties are listed as having substantial community spread, while Lawrence County has minimal to moderate spread of COVID-19. Custer and Fall River counties have no community spread of the coronavirus.
"We have not seen a difference in terms of our overall number of cases related to community spread for other counties at this time," he added.
Since July 3, Pennington County has seen cases increase as follows: 10 new cases on July 4, 4 on July 5, 15 each on July 6 and July 7, 16 on July 8, 10 on July 9, 8 on July 10, 6 on July 11 and 5 on July 12.
Of the 25 new cases of coronavirus reported in South Dakota on Monday, six came from Pennington County. New cases were also found in these counties: Brown (1), Custer (1), Davison (1), Dewey (2), Hanson (1), Lake (6), Lincoln (1), Meade (1), Minnehaha (4) and Roberts (1).
Four people were newly hospitalized with COVID-19 across the state Monday to reflect 63 current hospitalizations. 742 people have been hospitalized at some point in South Dakota during the pandemic.
21 people were newly recovered from COVID-19 on Monday, contributing to 6,543 total recoveries. 7,524 people have had the coronavirus, with 872 active cases and 109 total fatalities.
Concerned about COVID-19?
Sign up now to get the most recent coronavirus headlines and other important local and national news sent to your email inbox daily.