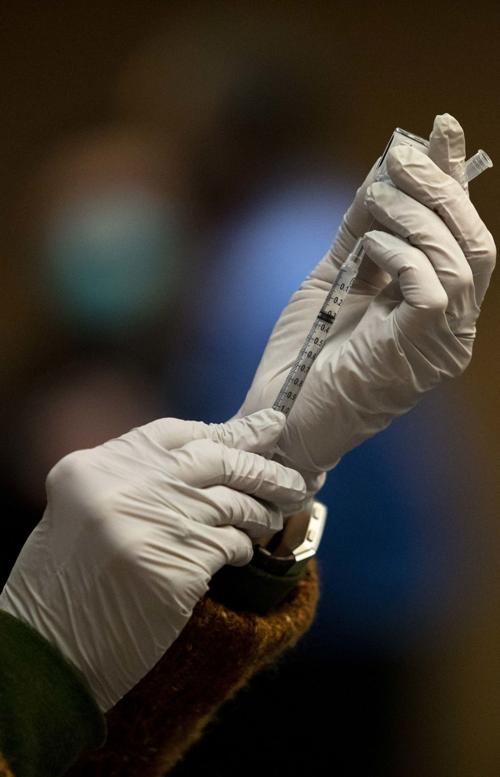 Operation Warp Speed and the Department of Health and Human Services have indicated they plan to release all available doses immediately to speed up vaccinations nationwide, but Malsam-Rysdon said the DOH is waiting for final details about "exactly what that will look like."
"I can assure that if this happens and when this happens, we are prepared and ready to mobilize very quickly," she said, adding that the state expects to receive 11,100 doses next week and will be "substantially" through Phase 1C by then before moving to Phase 1D.
Phase 1D's population is "quite large," Malsam-Rysdon said, so the DOH will focus initially on those 80 years and older and those at the highest risk of poor health outcomes if they contract COVID-19. DOH data has shown more than 265,000 people are in Phase 1D.
An updated graphic from the DOH shows they expect Phase 1D to begin Monday, Jan. 18. After older residents and those with pre-existing conditions are vaccinated, the state will move to educators and other school and college staff and before vaccinating funeral service workers, who may see vaccines by February and March.
Phase 1E, which includes public safety personnel and critical infrastructure workers, may see vaccines beginning in April, the DOH estimates. Those in Phase 2, which includes adults who have not yet been vaccinated, will start receiving COVID-19 shots in May, according to the DOH.
The recommendation for people to receive both doses of vaccine has not changed, Malsam-Rysdon said, noting the DOH anticipates that they will still get two doses in a timely fashion. The DOH reports 7,998 South Dakotans have completed their COVID-19 vaccine two-dose series.
The DOH is working to understand the supply chain and to get assurance from HHS that second doses will be available to people because "that is a very important aspect of this operation," Malsam-Rysdon said.
State epidemiologist Joshua Clayton said the DOH is working to identify COVID-19 variants that originate in both the UK and South Africa and that as of Monday, a UK variant had been seen in 10 states including Minnesota but not South Dakota.
Malsam-Rysdon also said any COVID-19 cases identified in people visiting Pierre or working temporarily there during the legislative session would not be counted as COVID-19 cases in Hughes County but in their resident county.