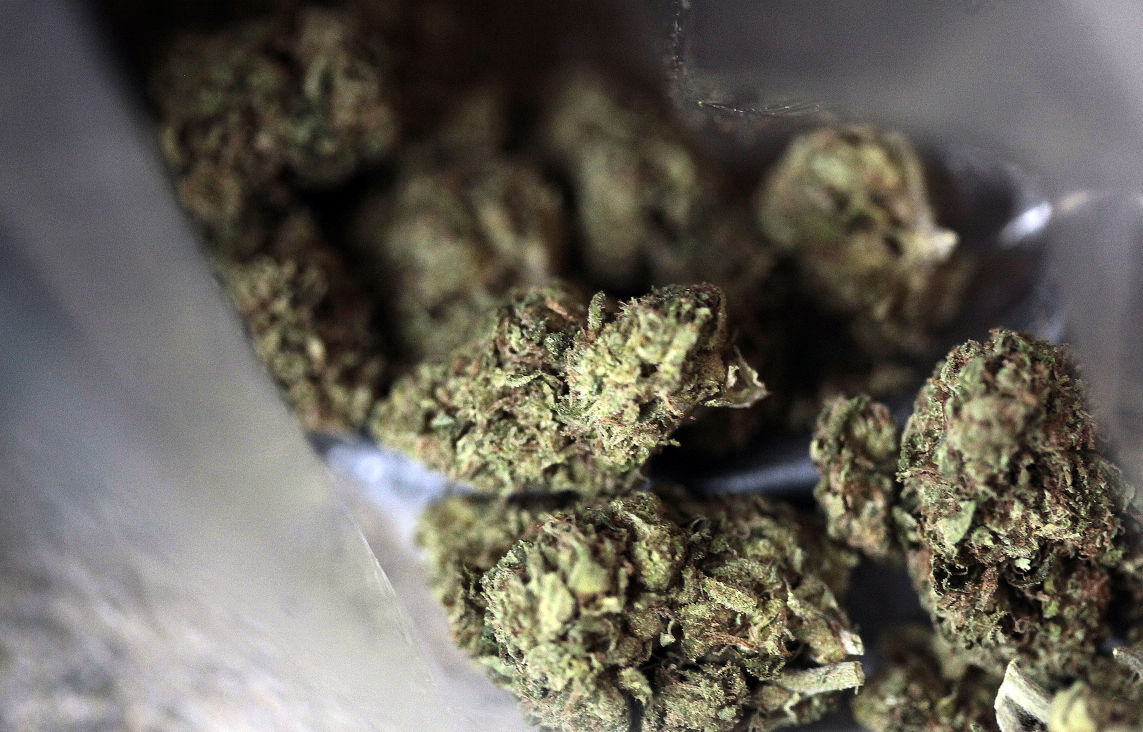 South Dakota voters will determine the future of both medicinal and recreational marijuana in the state on Election Day through Initiated Measure 26 and Constitutional Amendment A, respectively.
A poll by the Argus Leader and KELO shows South Dakota voters overwhelmingly support legalizing medical marijuana by 74%, but only show slim support (51%) for the recreational amendment. Less than 650 voters were polled by phone Oct. 19-21 for the poll, with a margin of error plus or minus four.
While the federal government still considers cannabis a schedule 1 controlled substance, 33 other states have legalized medical marijuana use, and 11 more states and Washington, D.C., have legalized recreational marijuana.
Initiated Measure 26 would legalize medical use of marijuana for qualifying patients, including minors. 
The medical use would include the use, delivery, manufacture and for state residents the cultivation of marijuana and marijuana-based products to treat or alleviate debilitating medical conditions certified by the patients' practitioners.
If passed, patients would obtain a registration card from the Department of Health and may possess three ounces of marijuana and additional amounts of marijuana products. Cardholders who are allowed to grow marijuana plants could possess a minimum of three plants. Marijuana dispensaries would register with the DOH.
Legalizing cannabis for medical use would initially cost the state $677,309, according to the ballot. Once the program is operational, ongoing program revenues would cover program costs and will likely have minimal impact on prison and jail costs, the ballot states.
Constitutional Amendment A would legalize, regulate and tax marijuana, and require the Legislature to pass laws regarding hemp and also create laws ensuring access to marijuana for medical use.
The possession, use, transport and distribution of marijuana and paraphernalia by those 21 and older would be legalized, and people could possess or distribute one ounce or less of marijuana. Marijuana plants could also be possessed under certain conditions, the ballot said.
The state Department of Revenue would issue marijuana licenses for commercial cultivators and manufacturers, testing facilities, wholesalers and retailers. Local governments can also regulate or ban the establishment of licensees within their jurisdictions.
The amendment would also require the Legislature to pass laws regarding medical use of marijuana. The amendment would not legalize hemp, but requires the Legislature to pass laws regulating its cultivation, processing and sale.
A tax of 15% on all marijuana sales would also go into effect. The tax revenue will be used for the Department's costs incurred in implementing the amendment, and the remaining revenue will be divided between supporting public schools and the state's general fund, as stated on the ballot.
A fiscal note on the ballot said legalizing cannabis could provide revenues from licensing fees, sales tax and the 15% excise tax. The ballot says incarceration costs could also decrease due to a decriminalization of several current laws.
The ballot estimates $355,705 in net revenues for FY2021, more than $10 million for FY2022, more than $19 million for FY2023 and more than $29 million for FY2024.
Leading the opposition to recreational marijuana is the group "No Way on A," which said the amendment is putting South Dakota's children, roads and businesses at risk.
The group cites concerns that increased exposure will lead to increased use by young people, that more people will drive high frequently, and that the amendment will lead to workplace issues like decreased productivity, high turnover and lawsuits.
David Owen, president and chief lobbyist of the South Dakota Chamber of Commerce and Industry, said one of the most critical things to realize is that the amendment is not directly related to medical marijuana, and added the group is neutral on IM 26. 
Owen also said if Constitutional Amendment A passes, children could have more ready access to marijuana, as easy to access as "gummy bears, brownies or candy."
"It's evident there's a lot of support for (IM 26), but Constitutional Amendment A is not needed for medical," Owen said. "We think (Constitutional Amendment A) is dangerous for kids. They're going to use it, they're going to get it. We know people are going to drive high."
Owen said the group's "most vehement objection" to Amendment A is that it shouldn't be in the state's constitution.
"Tobacco is not in the constitution, so we don't need to put recreational pot in the constitution," Owen said.
On the other hand, South Dakotans for Better Marijuana Laws say both medical and recreational marijuana will help patients, provide new revenue for the state and help public safety.
"It's obvious that if it's legalized for adults, law enforcement would not be arresting those people and it opens up our criminal justice system," Samuelson said. "A fair amount of them go to prison. If it's legal, our law enforcement officers will not arrest those people and it will free them up to work on more serious crimes."
Owen said the laws could decriminalize marijuana and address law enforcement costs, but that "you don't need to make pot available to reduce the cost of incarceration."
"One of the most persuasive reasons to support Constitutional Amendment A is that it will generate $250 million in tax revenue by 2030, half of which will go to public schools," Samuelson said.
Owen estimates that 50 to 60 more agents would have to join the Department of Revenue if Constitutional Amendment A passes, which he said might cost the state the first $5 million to $8 million in earnings from salaries alone.
"There will be social consequences to introducing marijuana, which will take another we don't know how much," Owen said. "Whatever revenue is there won't be enough of a panacea for school funding. There will be money, but you don't get to spend it all on schools and the general fund."
South Dakotans for Better Marijuana Laws has more financial support than the opposition group. More than 115 individual supporters of mostly South Dakota residents have raised $145,000 for the group, and the Washington D.C. New Approach PAC has contributed $435,000 to the group. 
No Way on A has $8,010 from eight individual South Dakota supporters, a $20,000 donation from Avera Health, $10,000 from former Gov. Dennis Daugaard's campaign committee and more contributions but none from out-of-state or federal PACs.