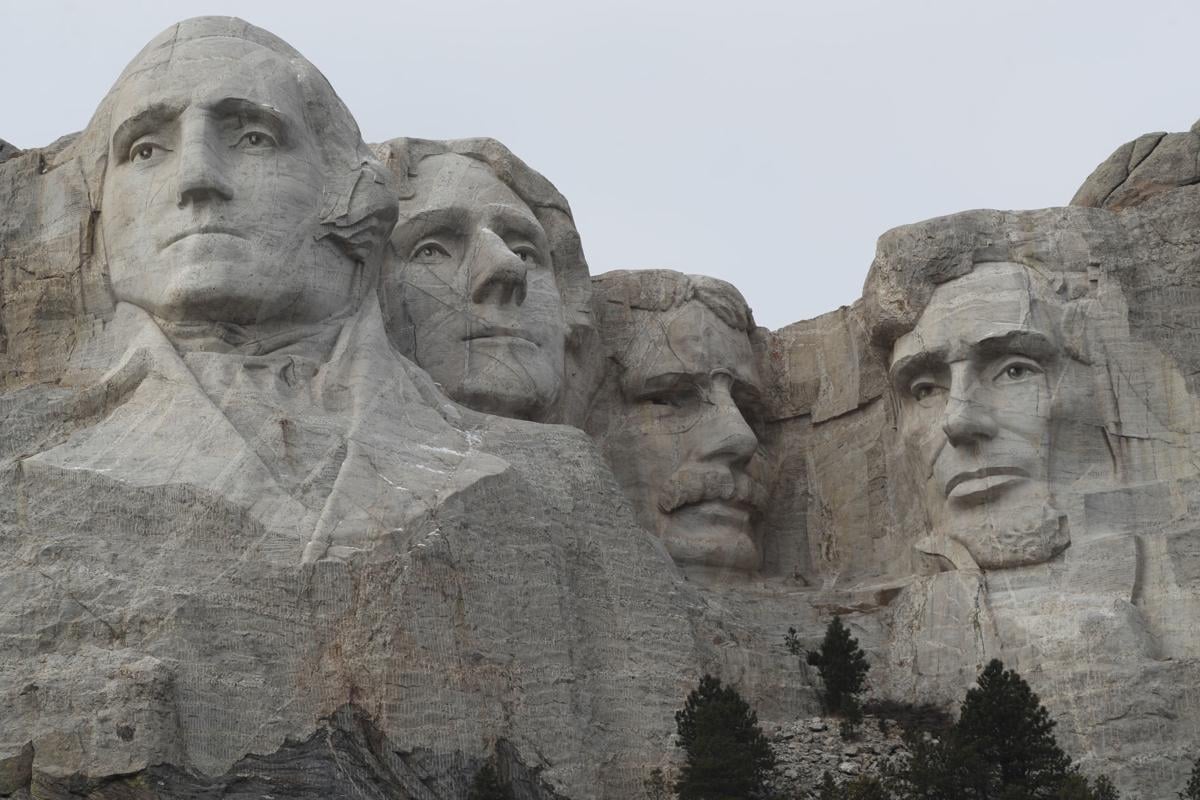 Mount Rushmore National Memorial will welcome visitors for Memorial Day weekend, about three weeks earlier than previously planned.
The announcement was made Tuesday on the Mount Rushmore National Memorial Facebook page.
"After careful consideration and consultation with local and state health authorities, we are pleased to announce that Mount Rushmore's parking lot, retail shops, and Memorial Team Ice Cream will open earlier than expected on Saturday, May 23," according to a post at facebook.com/mtrushmorenationalmemorial.
As of Thursday, the banner on Mount Rushmore National Memorial's website said the park is closed and won't reopen until June 14, but a notice elsewhere on the home page confirms the memorial's restaurants and facilities will open Saturday.
The National Park Service website provided some specifics about what will be available to visitors. The grounds will be open from 5 a.m. to 11 p.m. until further notice, the parking garage is open and parking is free until further notice. The Nature Trail and the Presidential Trail will be open to the base of the mountain, and the Sculptor's Studio will be open.
The outdoor area in front of Carvers' Café is open for viewing Mount Rushmore, although the café is closed. As a health and safety precaution, the National Park Service website said the Information Center is closed, all educational and interpretive programs are suspended, and the Gift Shop is closed.
Because of deferred maintenance projects, the Lincoln Borglum Visitor Center, amphitheater, Avenue of Flags and a short section of the Presidential Trail are closed.
More information about which amenities would be open to visitors was not available Thursday from Mount Rushmore National Memorial or Xanterra, the company that operates the restaurant and other park facilities at Mount Rushmore.
The National Park Service said on its website that it is increasing access and services in a phased approach throughout the national park system.
The memorial will open days after Pennington County — which includes Mount Rushmore — reached 100 confirmed cases of COVID-19. In response to the continued spread of the virus, safety measures are in effect and are listed on the websites of Mount Rushmore National Memorial, Xanterra, and the National Park Service.
The safety measures include vigilant cleaning, encouraging guests and employees to maintain physical distancing, and hand sanitizer dispensers in multiple locations. Employees will be trained on COVID-19 safety and sanitation protocols. Employees will wear personal protective equipment that is appropriate for their job responsibilities. For more information, go to mtrushmorenationalmemorial.com/health-and-safety.
Concerned about COVID-19?
Sign up now to get the most recent coronavirus headlines and other important local and national news sent to your email inbox daily.