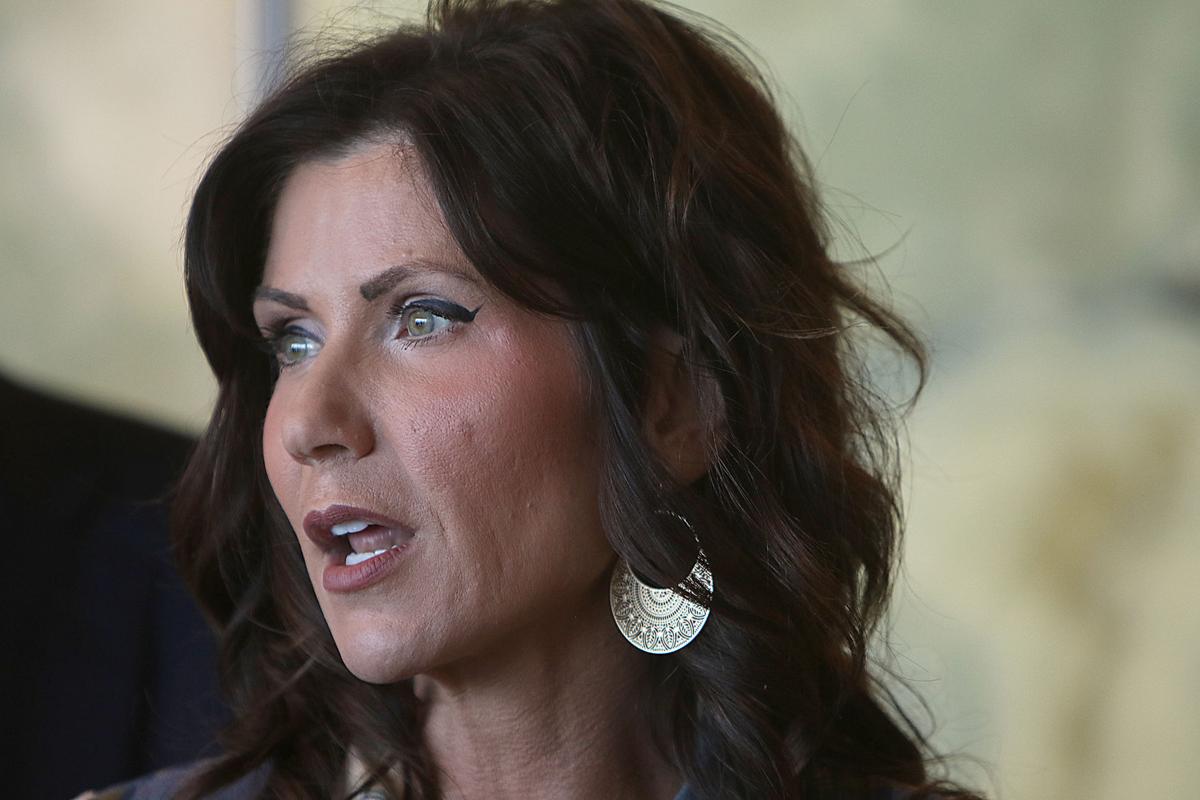 From the time she initially deployed the National Guard to Sioux Falls in the wake of a riot at the mall, Gov. Kristi Noem said she has pre-deployed the National Guard to Rapid City and Pierre.
The incident at the Sioux Falls mall followed a day of peaceful protest Sunday where Black Lives Matter protesters walked from one end of the city to the other in condemnation of George Floyd's death while in Minneapolis police custody.
The Guard was deployed later Sunday night after the peaceful crowd moved away and more violent protesters began throwing rocks at police cars and shattering windows of buildings and stores nearby the mall.
Noem said the National Guard still has a presence in Sioux Falls, in addition to being "pre-deployed" in Rapid City and Pierre. She said there's a conversation "every couple of hours" about where they think extra assistance and backup may be needed.
The Guard in Rapid City is "poised and ready when the local leadership asks for their assistance," Noem said.
"They have been engaged in these communities and will continue to stay available to us," Noem said. "They have specialized training that's helpful in crowd control and situations that could potentially turn violent. They are only there to assist local law enforcement, so it's when local law enforcement and the mayor asks, that's when they come in and assist."
Noem said the National Guard is usually in a "supporting role" to local law enforcement, although they are trained as security personnel and military police.
Neither Noem nor Rapid City Mayor Steve Allender would say Wednesday how many National Guard are deployed at this time in Rapid City, citing security reasons.
Allender said the governor's office was present in the Emergency Operations Center on Monday and Tuesday nights in Rapid City.
Allender also said there isn't a "mathematical algorithm or formula" that determines when he would request Gov. Noem to deploy the National Guard or enforce a citywide curfew, but the decision would depend on "a higher level of disorder and unrest, property damage, widespread chaos and defiance of orders to break up unlawful assemblies."
"We accommodate protesters for their own protection and general public safety," Allender said. "We will even block roads and help with navigation. We proactively contact event organizers."
Although the city works to contact event organizers to hear their plans ahead of time, some groups are reluctant to share their plans, their routes or their desire to move into city streets.
"That all has to be seen first-hand and analyzed on the spot but when property damage occurs, when traffic is stopped, when the behavior of the group becomes more threatening, we would move in with a higher level response," Allender said. "It is largely a 'know it when you see it' criteria, but I estimate it would be accompanied with criminal behavior."
Allender also echoed Noem's comments from early Wednesday regarding disappointment she had upon seeing the Confederate flag flown at Rapid City protests.
"Agitation of any kind is not productive, it's only meant to anger and escalate," Allender said. "People riding around in pickup trucks with Confederate flags? How embarrassing. We strive all the time to be better. You're not taking us back to the Confederacy, but certainly it seems to be the best way to anger these protesters because we see it's working."
Allender said the crowd of Black Lives Matter protesters he's been seeing are larger groups of young people such as high schoolers, college students and people in their 20s and 30s.
"The crowd we're seeing protesting, we've not seen many of them before," he said. "We've not heard from them in official channels. The door's open. There are ways to solve problems and they will not be done in the streets," he said, noting not many of the protesters have directly reached out to him asking to meet and talk about the issues at hand.
When asked if the highway patrol plane is being used to monitor Rapid City for the last few days, Noem said the plane has been utilized but couldn't say specifically where it's been used.
Noem also said she hasn't received a request from President Trump to send the state's National Guard to Washington D.C. where similar Black Lives Matter protests have erupted.