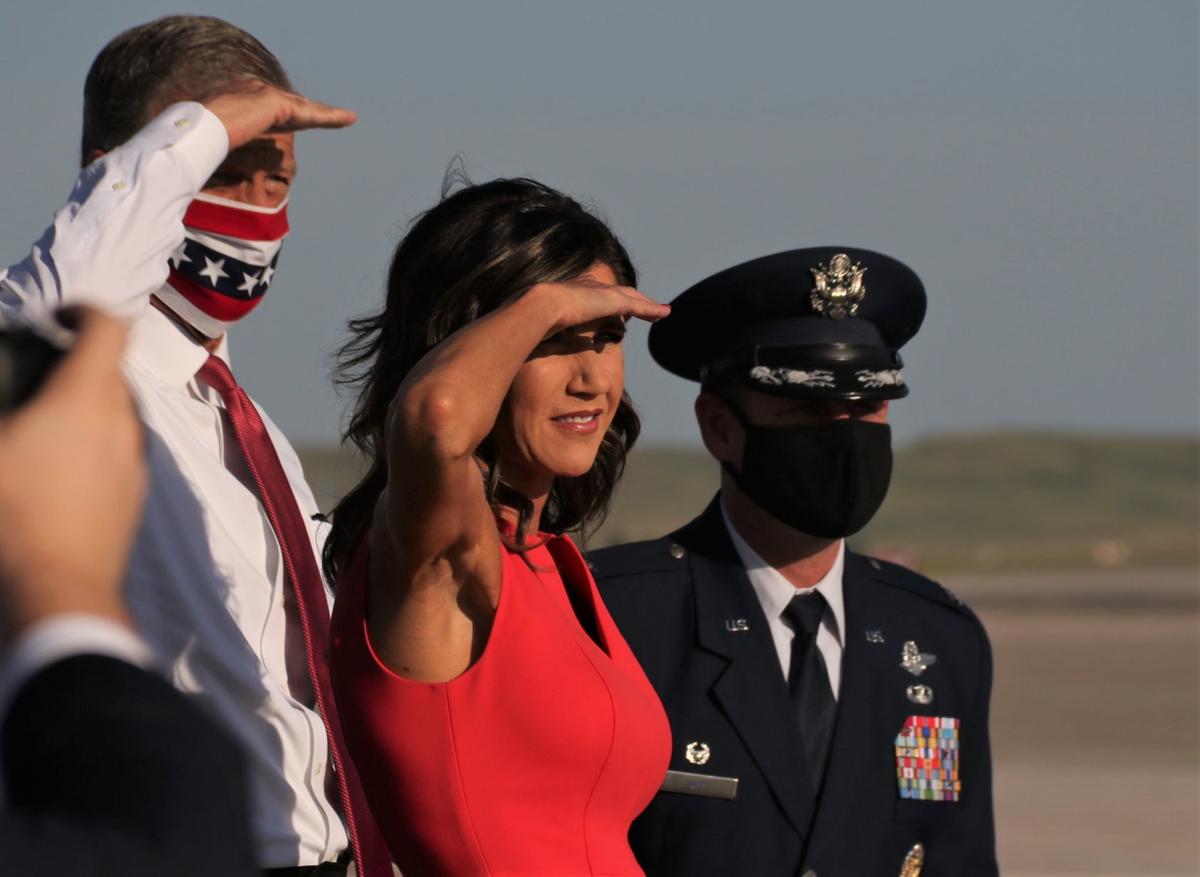 A spokesman for Gov. Kristi Noem declined to say Monday whether she will forgo a 14-day isolation period after hugging Kimberly Guilfoyle, a top fundraising official for the Trump campaign, a day before Guilfoyle tested positive for coronavirus.
Ian Fury, communications director for Noem, said Noem tested negative for COVID-19 on Friday before greeting President Trump at Mount Rushmore ahead of the fireworks display.
"Why would people who test negative self-quarantine?" Fury said in an email to the Journal.
Noem also flew on Air Force One to Washington, D.C., with President Trump and first lady Melania Trump after the July 3 fireworks show at Mount Rushmore.
Fury said Noem conferred with a White House doctor immediately before boarding Air Force One and that the doctor confirmed it was safe for her to travel.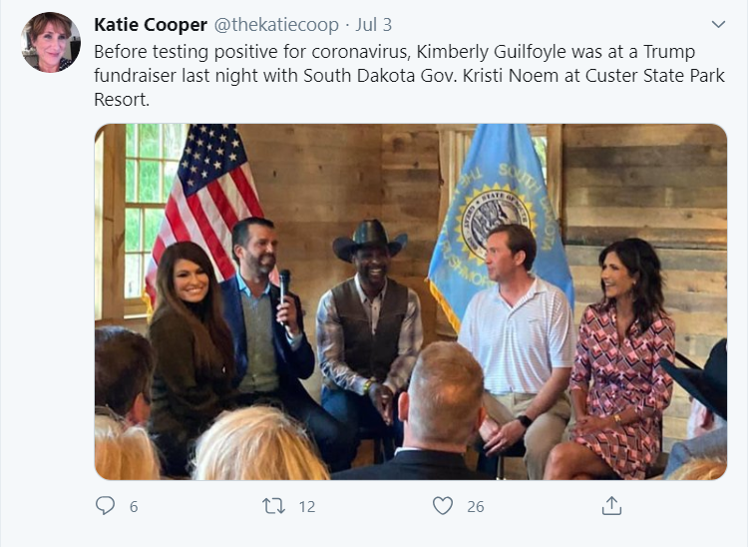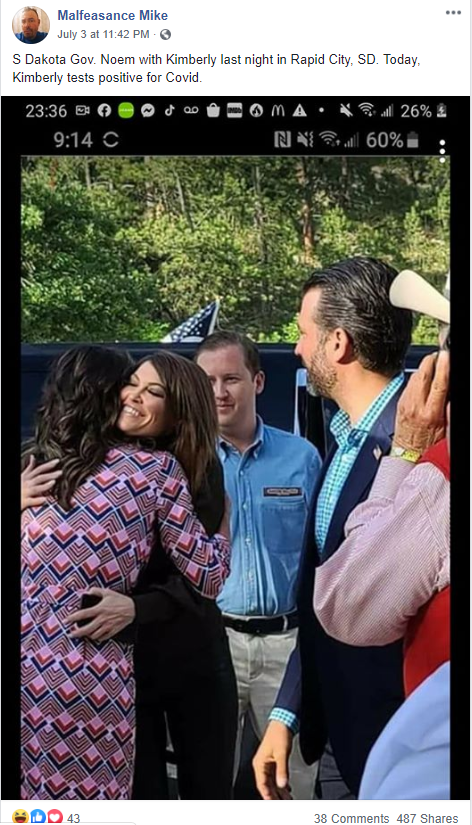 During Monday's White House press briefing, press secretary Kayleigh McEnany said the president is "tested constantly, has tested negative, and those around him are tested as well." When asked why Noem was allowed to fly on Air Force One after having close contact with Guilfoyle, McEnany referred reporters to the Secret Service for an answer. However, the White House, not the Secret Service, decides who flies on Air Force One.
Guilfoyle's infection prompted some Republicans, such as Rep. Greg Gianforte of Montana, to take precautions against the spread of the coronavirus. He suspended in-person campaigning for his gubernatorial bid after his wife and his running mate both attended a fundraiser with Guilfoyle earlier in the week.
Noem doesn't plan anything similar, according to Maggie Seidel, another spokesperson in the governor's office. She cast Noem's decision to fly on Air Force One as a demonstration of how to live with the virus. Seidel pointed to comments from the World Health Organization that the spread of the virus is "rare" from asymptomatic people.
Fury said all VIPs, including South Dakota's congressional delegation, were tested at Mount Rushmore before coming into contact with President Trump.
But health officials say one day after exposure may not be enough time for the incubation period — the time between exposure to the virus and the onset of symptoms — to run its course.
The World Health Organization says the average incubation period is five to six days but for some incubation can take up to 14 days, which is why doctors recommend a 14-day self-quarantine after exposure to the coronavirus. Fury didn't say whether Noem would self-quarantine for the recommended 14 days.
Dr. Shankar Kurra, vice president of medical affairs at Monument Health, said for those exposed to COVID-19 symptoms typically take three to five days after exposure to appear.
"If you have no symptoms, testing for COVID-19 probably won't show positive results until three days after exposure," Kurra said.
Ty White, director of infection prevention and control at Monument Health, said he would advise against testing someone directly after an exposure.
"The viral load would not be at a level that would be detected," White said. "If you would collect the sample at this time, it would likely be negative, even though the person could develop the disease later and test positive once symptoms developed. If you are identified as an exposure, you should isolate the entire 14 days."
Jonathan Steinberg, a member of the state's epidemiology team, said based on knowledge about the incubation period of COVID-19, the earliest incubation period is two days from the time of exposure, and the median incubation period is five days.
"It might make sense if symptoms haven't developed and the health care provider is still wanting to test in the absence of symptoms to wait until after that lower end of the incubation period has passed until testing," Steinberg said, noting that the decision for testing is at the discretion of the health care provider.
Kim Malsam-Rysdon, state health secretary, couldn't comment Monday on any specific plans the DOH has for contact tracing after the fundraiser that Noem attended on Thursday.
"Any close contacts of a positive case, while that positive case was potentially infectious, would be advised to self-quarantine for 14 days," she said. "A close contact is a person who has been within six feet of a person for 15 minutes."
Malsam-Rysdon said it can take time before the DOH is notified of any test results that may be tied directly to the July 3 fireworks show at Mount Rushmore.
"There can be a delay in getting that information," she said. "I can't give you a firm date in terms of when we will see all test results from a particular event or not, but it's typically within a few days."
Concerned about COVID-19?
Sign up now to get the most recent coronavirus headlines and other important local and national news sent to your email inbox daily.