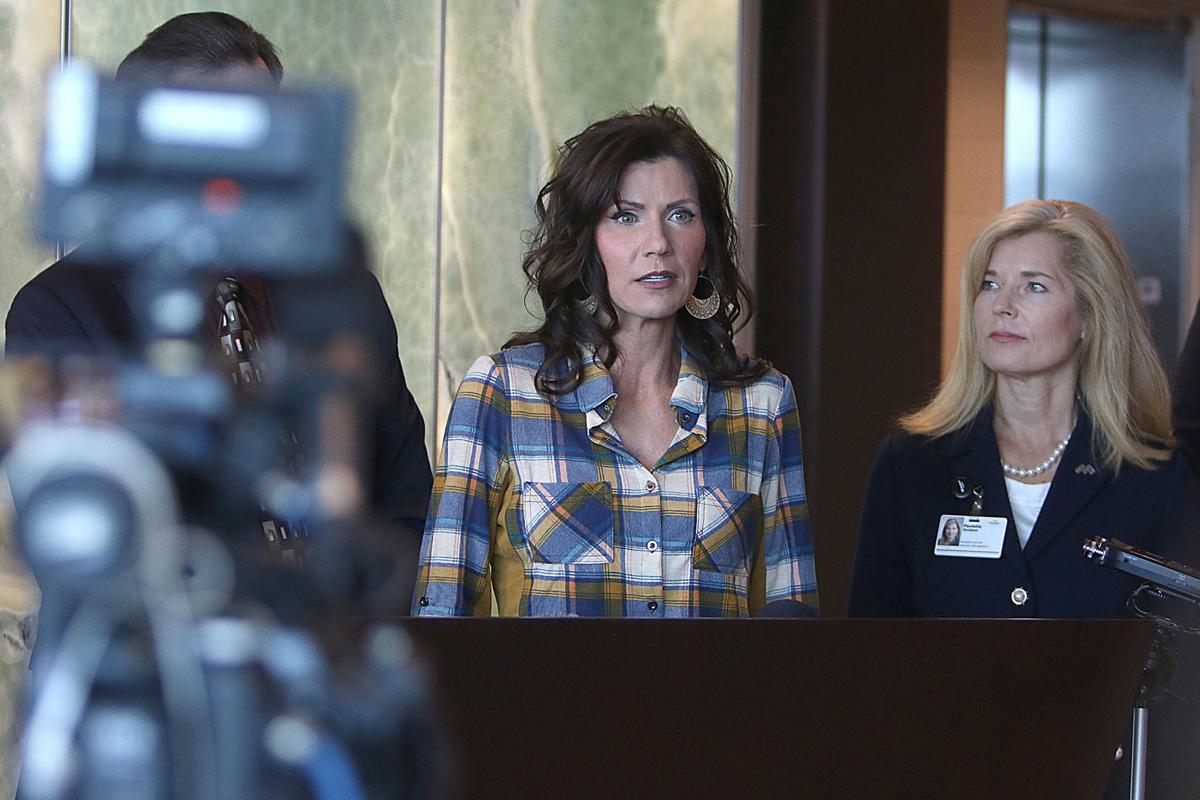 Gov. Kristi Noem confirmed Monday morning that there is evidence of community spread of COVID-19 in the state, beginning in Beadle County where there are now 12 positive cases.
On Monday morning, Noem and Department of Health Secretary Kim Malsam-Rysdon announced there were seven new cases in the state: two more in Beadle County, and individual cases in Codington, Davison, Hughes, Lyman and McCook Counties. Three of the new cases are hospitalized.
State Representative Bob Glanzer, R-Beadle and Kingsbury counties, said he's one of the positive cases in Beadle County.
Projections of the spread of the virus suggest that 30 percent of South Dakota's population may contract COVID-19, Noem said.
"That is literally tens of thousands of people in our state," Noem said. "I understand that's scary for some of you. Remember that more than 80 percent of infections are asymptomatic or cause mild illnesses."
Noem said to reporters Monday that from this date forward it would be increasingly difficult to continue to provide details such as age, gender, travel history and other background information on each case as the virus spreads to other parts of the state.
Noem also said that "this is not a two-week problem in the state," suggesting that positive cases will increase into the summer months.
"Our projections indicate that we will not peak, but we will continue to increase in positive COVID-19 tests into May, possibly early June," she said. "We project that we will continue to see dramatic increases in infections for the next eight weeks and work to continue to proactively take care of people."
Ohio and Louisiana are the most recent states to announce lockdowns, or stay-at-home orders, which will take effect Monday night.
Noem said we're "not at that point" of issuing lockdowns in South Dakota, and that there are plans in place in case we get to that point. She said the National Guard has the resources for that.
Hospitals and schools
Malsam-Rysdon said that the $4.5 million the state received from the Centers for Disease Control on March 11 will go towards support for hospitals across the state. 
She didn't specify whether the funding would go towards ventilators or personal protective equipment; both are in short supply across the U.S., and both are needed in hospitals for any patients who will be hospitalized with COVID-19 symptoms.
"We are currently working to see how we can support hospitals in particular with those funds to ensure we have what they need to buy the supplies that they need moving forward," she said. "We will be announcing opportunities for that yet this week, but so far, funding has not been an impediment to (our response)."
As of Monday, schools are closed until March 30. If the virus continues to spread until May, Noem said she's working on plans with different school districts and administrators about school closures for what could happen to schools in the coming months and would have a plan "in the next day or two."
"Obviously, we want to limit group sizes. We want to limit interaction (and infections), but we also want to make sure that our kids are having an opportunity to stay educated," she said. "That's what's been encouraging is to watch how our teachers and administrators have gone above and beyond to make sure they're still delivering educational materials and opportunities to our kids."
Unemployment
Unemployment in the state continues to rise as schools are shut down this week, and as bars and restaurants close in Rapid City, other cities in the state will likely follow suit with closing non-essential businesses.
Gov. Noem said she has no plan at this time to freeze rent payments or mortgage payments in the state.
Noem said Monday that the state received 185 unemployment claims in the week of March 2 alone, and that the state has added 23 phone lines to their call center. This makes 27 employees working 115 phone lines to file unemployment claims.
"Under normal circumstances, the unemployment insurance call center operates with 11 staff. Since the significant influx of claims, we have added 16 more staff members," Noem said. This makes 27 staff working 115 phone lines to file unemployment claims.
"Many of the claimants are first-time users of the system; they're unfamiliar with the process," she said. "Know that we are working to get as many lines up and going and getting more staff online to respond to the unemployment requests we are getting."
"We have tens of thousands of people in South Dakota whose lives depend on a functioning economy and that deserves compassion, that they pay their bills, keep a roof over their head, and have the ability to buy food for their families," she added.
Concerned about COVID-19?
Sign up now to get the most recent coronavirus headlines and other important local and national news sent to your email inbox daily.