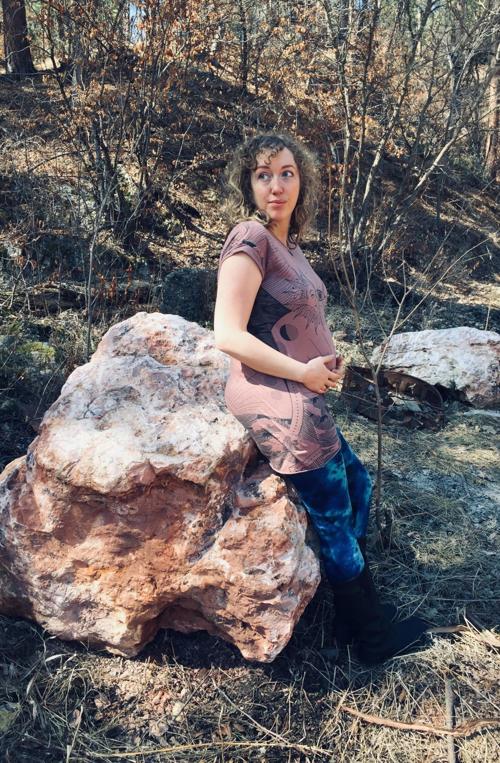 NaTasha Carman has two kids and a third on the way, due in July. But Carman said this time is different for her. She is pregnant during a global pandemic.
"I thought this would be over by (July), but I don't feel that way anymore. Now that's our peak time," Carman said. "I'm still just afraid. I want real medicine, and it sucks that there could be a virus around."
Carman, the owner of The Cave Collective in Rapid City who worked as a nurse in the dialysis unit at Monument Health until September, said she has many family members and friends who tell her to consider a home birth, as more hospitals around the world and in the U.S. have stopped allowing spouses or family members to be with a mother during labor and delivery.
"Being a nurse and being in multiple births that have gone wrong and have had to go to C-sections and NICU, I'm afraid to do that," she said. 
Health care changes
Right now, Carman gets her prenatal care at Monument Health in Rapid City and plans to go into labor and delivery there, where they still allow mothers to have one support person in the delivery room with them.
However, Carman said if she did opt for a home birth by July, she has a friend, Cassie Applegate, who is a Certified Nurse-Midwife with Apple Tree Midwifery.
Applegate said she's seen an increase in mothers inquiring about home births during the COVID-19 pandemic.
"Typically, we see about four consultations a month, four home births. This past week alone, we did six consultations in the week. We've seen quite a bit of inquiries into home birth," she said. "I think they're considering the risk of going into the hospital where there may be known exposure. Staying home sounds appealing if they can."
Applegate said she only recommends home births for "normal, low-risk women and babies." For anything outside of a normal pregnancy or delivery, Applegate said she has mothers consult with their normal provider. If anything deviates from the norm during labor or delivery, she said she transfers mothers to a hospital if needed.
Applegate also said she only consults with patients who want a home birth and aren't just afraid of the hospital during the pandemic.
High vs. low risk
Some medical professionals don't recommend home births. Dr. Michelle Krohn is an OBGYN at Monument Health in Spearfish and says the American College of Obstetricians and Gynecologists advises against home births completely.
"It is associated with fewer maternal interventions than a planned hospital birth, but it's associated with more than a twofold increased risk of prenatal death and threefold increased risk of neonatal seizures or serious neurological dysfunction," Krohn said. "We still feel like the hospital is the safest place for women to give birth."
Krohn said a hospital is the safest place to be because they screen all the visitors that come into the labor and delivery area, use protection, and constantly clean everything. 
Applegate has a similar approach to cleaning and screening and says the work she and the other midwives do at Apple Tree can help offset the patient load for hospitals across the U.S.
"Around the country, we're seeing that more places are utilizing midwives in every setting during the pandemic, either in hospitals or out of hospitals. It allows for the obstetricians to take more high-risk cases if the midwives take the normal low-risk women and do normal births," Applegate said. "It's an all-hands-on approach."
Telehealth
At Monument Health OBGYN in Spearfish, they are keeping appointments for pregnant patients and some other essential appointments, but doing less essential appointments via telemedicine. They're not doing any elective procedures or surgeries in their office visits.
In regular visits if patients want to bring along a partner, family member or friend, they can use FaceTime or a phone call to keep them in the loop. Patients can also have one support person with them during labor and delivery to decrease the exposure of patients and staff.
Telehealth is also utilized for patients early in their pregnancy, patients who are in-between appointments, and for moms at their two-week postpartum mood checkup, Krohn said.
Krohn also said new and expectant mothers don't have an increased risk of contracting COVID-19, but that there's "still a lot we don't know about the virus in pregnant women." 
If a mom is positive for COVID-19 while she is in labor, the baby would be separated from the mother after delivery to keep the child safe from contracting the virus, Krohn said.
The World Health Organization says close contact is still okay for mothers with COVID-19. WHO says mothers should be supported to breastfeed safely with good respiratory hygiene, hold your newborn skin-to-skin and share a room with your baby.
Applegate also said she does telehealth for many of her new and expectant mothers and tries to reduce prenatal visits with moms.