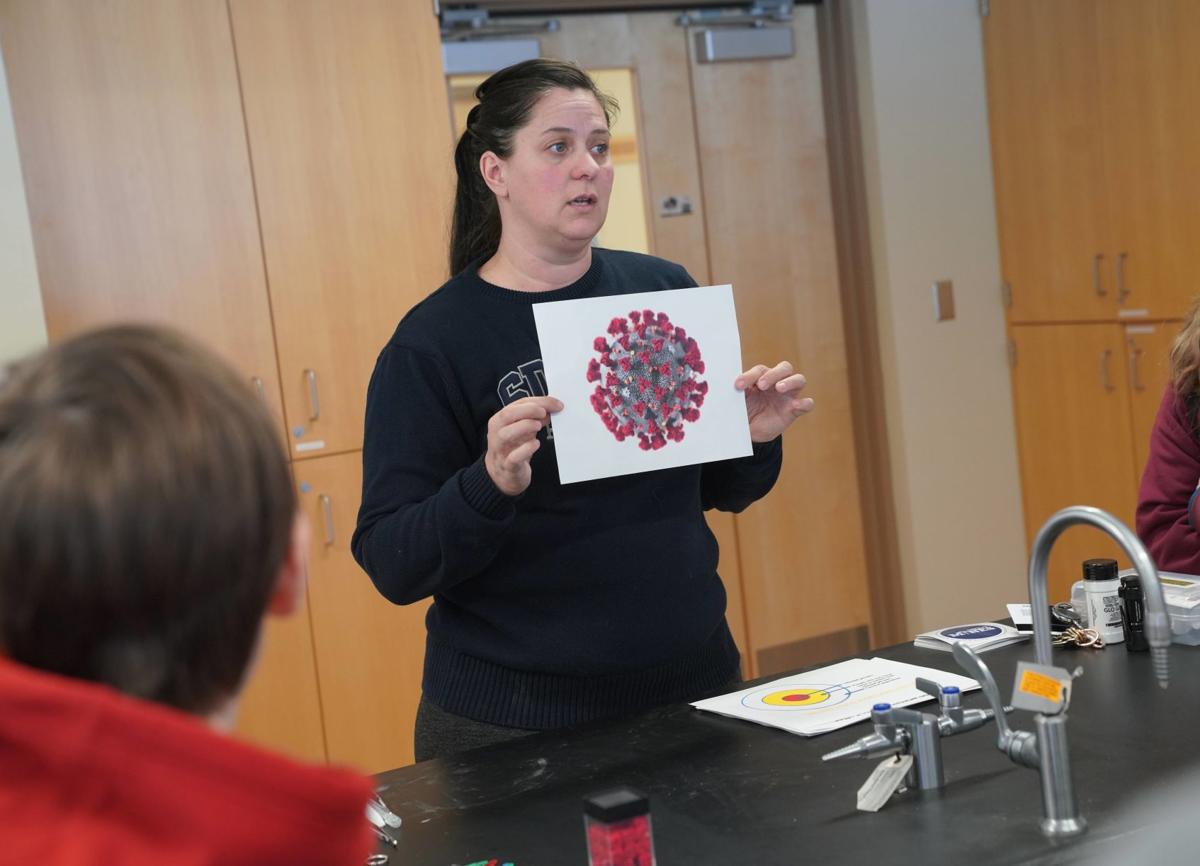 "Our bodies have never seen this before. Our bodies are naive to (coronavirus)."
— Elizabeth Racz, epidemiologist at the South Dakota School of Mines & Technology
Coronavirus, formally known as COVID-19, has infected more than 83,650 people globally and there were 15 confirmed cases in the U.S. as of Friday, according to the CDC. On Saturday, it was reported by health officials that a Washington state man in his 50s had died from the disease. The virus is becoming a major concern for governments as it spreads rapidly beyond its epicenter in China.
State government, schools, colleges and hospitals in South Dakota are taking steps to prepare for the coronavirus, as it nears a pandemic status as defined by the Centers for Disease Control and Prevention.
There are no reported cases in South Dakota, but Gov. Noem announced Thursday that the state is preparing for the coronavirus even though she considers the risk "very low" here. Noem and the state Department of Health (DOH) have formed a task force to prepare for any potential outbreak of the virus.
The CDC has deemed the potential public health threat posed by COVID-19 as high — both globally and in the United States. However, the CDC also states that the immediate health risk to the American public from COVID-19 is considered low.
Yet, the CDC writes that current global circumstances suggest it's likely the virus will cause a pandemic.
"The fact that this disease has caused illness, including illness resulting in death and sustained person-to-person spread is concerning," the CDC said on its website. "These factors meet two of the criteria of a pandemic."
Racz, who lectures in chemistry, biology and health sciences at the School of Mines, said that many people who are infected are asymptomatic, meaning that they don't exhibit symptoms of the virus but could spread it to others.
"You're carrying the virus around, and you don't know it," said Racz, adding that children nine or younger are the typical population with stronger immune systems who don't show symptoms. She said people over 60 are more likely to show symptoms as the immune system weakens with age.
Because so many people are asymptomatic, the coronavirus is going to spread rapidly, Racz said. She said she was recently in Pierre and met a legislator who was in China in December.
"When they're looking to see where this virus might have come from, they're looking at cases from early December to late November," Racz said. "When something like that happens, you're thinking it's here. It's not as far away as we think."
Racz said this is a very "sober" and serious situation, and that we're not overreacting at this point.
"People are wondering how much they should be doing. I had questions from my students for two hours (Friday) about (coronavirus)," she said. "I think that public health officials need more information, and I think we're trying to respond as best we can without all the information."
South Dakota has formed a task force made up of officials from the Office of Public Health Preparedness and Response, the Office of Disease Prevention Services and state DOH leadership.
The state also has developed an action plan for information management, incident management and surveillance for people at risk of infection.
Kim Malsam-Rysdon, state Secretary of Health, said the state has taken steps to prepare for and monitor potential cases of COVID-19 in South Dakota. She said they will continue to update South Dakotans through its website and social media.
The Pennington County Health and Human Services office, meanwhile, has deferred all questions to the state DOH.
State epidemiologist Dr. Joshua Clayton said the immediate health risk to the general public is low but urged South Dakotans to wash their hands regularly, cover coughs and sneezes and stay home if they're sick.
Symptoms of the virus can include fever, cough and shortness of breath and may appear anywhere from two to 14 days after exposure.
The DOH's website recommends travelers returning from China to self-monitor for 14 days for any symptoms. Advice for medical providers includes asking patients about recent international travel and to consider the severity of a patient's symptoms.
The state communicates regularly with health-care providers through the SD Health Alert Network, which updates with information and guidance from the CDC. The state has also implemented a CDC test to allow the state Public Health Laboratory to detect the virus causing COVID-19.
Tyron White, director of infection prevention and control for Monument Health in Rapid City, said there's an "algorithm" that the caregivers at Monument will use to determine a patient's care going forward: Identify, Isolate and Inform. He said they've done preventative training with caregivers about which countries have active outbreaks and how to handle a patient who may be exhibiting symptoms of the virus.
"We do a screening and travel history on all patients," White said. "If they've traveled out in the last 30 days, they meet our definition of a person under investigation."
White said testing for the coronavirus could include anything from a nasopharyngeal swab (in the nasal cavity) to a sputum testing (identifies bacteria or fungi infecting the lungs and breathing passages).
From there, Monument Health would work with the DOH and the CDC to determine the severity of the illness. Depending on the case, they may be transferred to a negative airflow room or be sent home to be "self-quarantined."
Patients who are determined to have coronavirus-like symptoms would have to don a surgical mask and stay in a room in isolation in the hospital.
"(The mask) prevents secretion, and they would be roomed right away," White said. "We're doing that so it's engineering controls, they can get seen right away and get distanced from other people."
Certain people have an increased risk of infection, such as health-care workers who care for patients with COVID-19 and other close contacts of patients with the virus. The CDC has guidelines to aid in risk assessment and management of people who may have been exposed to the coronavirus.
Caregivers would use their everyday personal protective equipment as well as powered air purifying respirators to protect themselves from the airborne disease.
In Sioux Falls, doctors at Sanford Health are monitoring the spread of the disease. Wendell Hoffman, an infectious disease doctor, said he's more worried about the flu that has taken 16,000 lives this year in the U.S. than the coronavirus, which has killed less than 3,000 goblally thus far.
"I'm far more concerned about the flu than I am about the coronavirus," Dr. Hoffman said. "Encourage people not to panic, go about their lives with the same kind of awareness that they should be with regards to the flu."
Shawn Neistadt, a media relations specialist for Sanford Health, said all patients are being screened for recent travel history and coronavirus symptoms.
"If that screening indicates the potential for novel coronavirus, the patient is isolated and staff members take the appropriate precautions," Neistadt said. "Sanford will then offer appropriate care for the patient while notifying the proper agencies, as identified by the CDC."
At Avera Health in Sioux Falls, patients with respiratory symptoms will be given masks when they enter any Avera facility; patients will be asked travel history questions in the clinic, emergency department or hospital; caregivers will also follow the same algorithm as Monument Health of Identify, Isolate and Inform. Avera is preparing for any possible surge in patient volumes, it said in a statement.
"Our goal is to provide the best possible care while doing everything we can to protect our patients and communities from the spread of disease," said Kevin Post, chief medical officer at Avera Medical Group.
The S.D. Board of Regents is monitoring the outbreak, stating that each of their six campuses follow their normal processes for addressing issues like this, and "no special system action has been taken with respect to the coronavirus specifically."
The School of Mines has an emergency management plan and team that meets and trains regularly to address situations such as a virus outbreak. If coronavirus broke out on campus, the university would follow the CDC, DOH and state epidemiologist's recommendations.
A statement from Rapid City Area Schools notified parents and families that "if there was a confirmed case (of coronavirus) in our schools, we would notify staff and parents/guardians in the district. In the event of an outbreak in our community, we would follow our public health partners' lead on any quarantines, closures or other health measures as necessary."
In the statement, one of the school's tips for prevention includes to "stay home when sick."
Katy Urban, community relations manager for Rapid City Area Schools, said RCAS has received prevention strategies from the CDC and dispersed them to teachers, school nurses and medical technicians.
"The typical 'avoid close contact, avoid touching the eyes, hands and mouth,'" Urban said.
The University of South Dakota issued a statement to students that the school is revising the university's Emergency Operation Plan to prepare for and respond to a possible pandemic.
"Currently, we are not suggesting any changes in university operations or plans, other than certain travel restrictions," said Sheila K. Gestring, USD President, in the statement.
As the U.S. steps up its response to the coronavirus outbreak, the Department of Homeland Security has warned airline passengers that their flights may wind up rerouted if officials discover mid-flight that someone onboard has been in China in the last 14 days.
Patrick Dame, executive director for the Rapid City Regional Airport, said the airport receives guidance from the CDC and local authorities on how to handle spread of the coronavirus. So far, they haven't seen any changes as far as flight cancellations.
"This is something we're required to plan for," Dame said. "Anytime that you look at the risk that is part of the pandemic side, we have had these things come up in the past."
He said so far, the airport has worked on continuity planning for staffing people and looking into options for certain airport staff to work from home.
"Coronavirus has the potential to have an impact," Dame said. "If people decide not to travel, that could have an impact on the employment numbers for the airport."
Dame said he's monitoring the virus to see if there will be any effects on travel, but for now, "we're not seeing much change."
Racz said that while we don't have an international airport in Rapid City, people still visit from destinations like Los Angeles and New York City.
"I see it progressing through South Dakota," Racz said. "Our ability to slow it down will depend on peoples' personal actions, and the community's response and actions. One size doesn't fit all when it comes to the response."
Concerned about COVID-19?
Sign up now to get the most recent coronavirus headlines and other important local and national news sent to your email inbox daily.