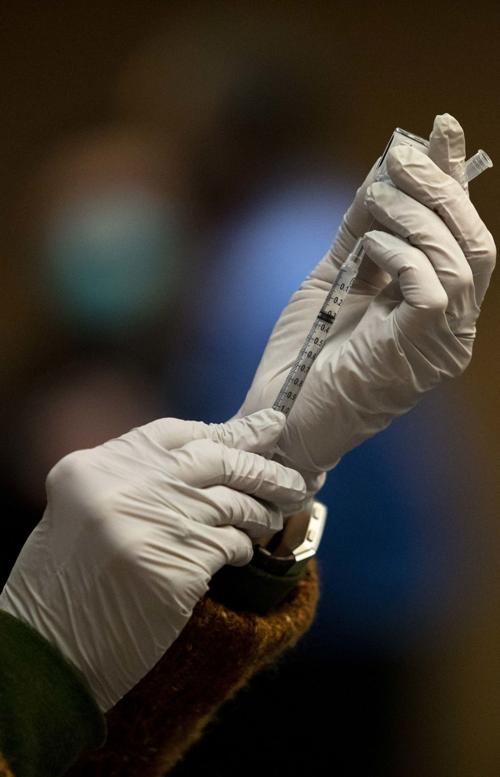 Data from the South Dakota Department of Health shows more COVID-19 vaccines have been administered east of the Missouri River than west of the river, which health officials say is due to the number of health care workers.
The state has administered 27,260 total doses to date, counties west of the river account for only 3,057 of those doses. Pennington County has given 1,821 doses.
The Sioux Falls area has administered the most vaccines so far, with 8,627 doses in Minnehaha County and 3,336 doses in Lincoln County.
Scott Peterson, director of pharmacy at Monument Health, said the difference in vaccine allocations between Rapid City and Sioux Falls "does make sense" because there are more people in Phases 1A through 1C in Sioux Falls than West River, he said.
Daniel Bucheli, spokesman for the DOH, said he estimates the number of front line health care personnel who work with COVID-19 patients in Minnehaha County is 1,900, and Lincoln county has 42 such personnel, while Pennington county has 417 who would fit that Phase 1A category.
South Dakota led the nation Tuesday for administering first doses to residents per 100,000, according to CDC data. As many as 3,231 per 100,000 have had their first dose in the state, followed only by West Virginia at 3,162 per 100,000 and North Dakota at 2,934 per 100,000.
Across the state, people who were the first to receive a vaccine in mid-December will receive their second dose this week. Tim Heath, immunizations coordinator for the DOH, said the DOH website will soon begin to reflect this change, noting the total number of doses will surpass the total number of persons. Both numbers stood at 27,260 Tuesday.
In a call with health care providers Tuesday, Heath said South Dakota has received more than 54,000 doses in the following amounts over time:
Week of Dec. 13: 7,800 Pfizer doses

Week of Dec. 20: 5,850 Pfizer doses and 14,600 Moderna doses

Week of Dec. 27: 6,825 Pfizer doses, 5,100 Moderna doses and 7,800 second Pfizer doses

Week of Jan. 3: 5,100 Pfizer doses and 975 second Pfizer doses
Heath said he expects that through mid-January to late January, the "status quo" will be shipments of 5,850 Pfizer doses and 5,100 Moderna doses each week. The state will also continue to receive additional amounts of second doses for those who've had their first shot. Second doses are held in reserve by the manufacturers, he said.
Heath also gave estimated population sizes for Phases 1A through 1E with the following progress, noting the state is finalizing Phase 1A and working through Phases 1B and 1C:
Phase 1A has 19,265 people, 18,278 have been vaccinated

Phase 1B has 10,867 people, 824 have been vaccinated (not including CVS/Walgreens data)

Phase 1C has 49,642 people, 4,637 have been vaccinated

Phase 1D has 265,561 people

Phase 1E has 227,448 people
In the Tuesday call with health care providers, Heath said he wanted to remind people that there are often bonus doses in vaccine vials and that "especially with the Pfizer, you can maybe get one or two extra doses out of there," he said. Moderna vaccines can also yield an extra dose.
"It's acceptable to use them," he said, "but you cannot pool vaccines from multiple vials. You can't take leftover at the end of a Moderna vial and pool it with another leftover Moderna vial. It's unacceptable vaccination practice."
Monument Health received 975 doses in the first week of distribution and administration, 2,300 doses the second week and 800 the third week.
After all vaccines were given last week, the hospital system had received 4,075 doses, with 890 going to locations outside of the Monument Health system such as Hot Springs, Philip and Martin, Peterson said. Caregivers at Monument Health also administered 2,214 doses by the end of last week.
By Monday, Monument Health received 1,800 first doses for new patients in Phases 1A and 1C, and 975 second doses for those who got their shots the first week, Peterson said.
Peterson said Monument Health staff administered over 600 doses Monday, with plans to administer the remaining vaccines this week.
Monument Health's vaccines are shipped directly to the Rapid City Hospital via Fedex or UPS by the manufacturer. The hospital is notified a few hours before they arrive so they can have staff at the ready.
Despite Heath's "status quo" estimate for the state, Peterson said he doesn't have a "good feel" for how many first doses Monument Health specifically will receive for new patients in the coming weeks.
"We don't truly learn until Tuesday or Wednesday," Peterson said in a phone call with the Journal on Tuesday morning. "I may have an indication this afternoon in a meeting with the (DOH), but sometimes it's not until Wednesday that we know how many we're going to receive next week, which is obviously a challenge."
The challenge, Peterson said, is in creating schedules each week to ensure enough staff are on the clock to administer the COVID-19 vaccines.
"We don't want to overschedule people, either," he said. "It's very much dependent on how much we get in, and we're dealing with just a few days between receiving the vaccine and then needing to give that vaccine."
Peterson does anticipate the hospital will continue to receive shipments of second doses for people who got their first shot in weeks prior, he said. For example, the 2,300 people who got their first shot at Monument Health in the second week of distribution should be able to get their second dose in time.
Some people have questioned giving out second doses when the supply is still so limited, but Peterson said since all vaccine trials were done with two doses, "to change course without proof that one dose will work is a very high-level decision that can't be done locally."
The FDA has said making such changes not supported by adequate scientific evidence "may ultimately be counterproductive to public health."
The hospital system is looking to add more vaccinators to its staff and is opening up positions for LPNs, pharmacists and others who could help administer doses, Peterson said.
At the Pine Ridge Service Unit of IHS, staff are continuing to provide COVID-19 vaccines to those in Phase 1A (health care personnel and long-term care facility residents and staff), and have started Phase 1B (those age 70 and older, and front line essential workers).
The Pine Ridge COVID-19 vaccination team is contacting community elders to schedule their appointments to get their first dose.
At the Great Plains Tribal Leaders Health Board and Oyate Health Center, health officials said they are awaiting the arrival of more vaccines to distribute to the community. Patients can make sure they're on the list to receive vaccination by filling out forms online.