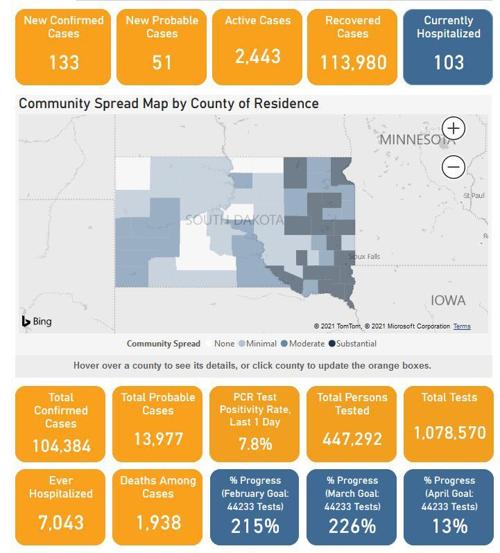 The South Dakota Department of Health reported 184 new cases of COVID-19 and no new deaths Saturday. Active infections increased, but the number of people in the hospital stayed the same from Friday's report.
According to Saturday's report, active cases of the virus increased by 26 from Friday's data and hospitalizations remained at 103 patients. Seventeen people are in intensive care units across the state, down two from Friday's report, and six are on ventilators. There are 11 patients being treated in Black Hills area hospitals for COVID-19, none of them in the ICU.
Thirty-nine of the 184 new cases statewide are in children under 19 and only one person over 70 tested positive.
Pennington County reported eight positive tests, Meade County reported three, and Butte, Custer and Lawrence counties each reported two new cases.
There were no new positive tests reported in Fall River, Haakon, Oglala-Lakota or Ziebach counties.
Minnehaha County had the most new infections reported with 54 positive tests. Brookings County reported 16 new cases and Lincoln County recorded 15. Brown and Codington counties had nine new infections each and Kingsbury County had eight.
Yankton County recorded seven positive tests and Hughes and Union counties each reported five. Clark, Lake, Roberts and Turner counties each had four new cases and Beadle and Hamlin counties recorded three each.
Two positive tests each were returned in Deuel, Grant and McPherson counties. Aurora, Bennett, Bon Homme, Clay, Hutchinson, Lyman, Sanborn, Tripp and Walworth counties each reported one new case.
Since the beginning of the pandemic, 118,361 South Dakotans have tested positive for COVID-19 and 1,938 have died from illnesses caused by the virus.