The Department of Public Safety will release its investigation into the attorney general fatally hitting a pedestrian with his car on Saturday night.
"We are adding an extra level of transparency and accountability that I think is necessary in this case," Gov. Kristi Noem said at a Tuesday news conference.
"It's something we take very seriously," DPS Secretary Craig Price said about avoiding any appearance of conflict of interest related to the top law enforcement official in the state. 
Attorney General Jason Ravnsborg crashed at 10:30 p.m. on U.S. Highway 14, one mile west of Highmore, DPS said in a news release.
Ravnsborg said in a statement Monday night that he thought he hit a deer but realized he killed a man when he searched the site the next morning while on his way to return the car he borrowed form the local sheriff.
The victim was later identified as Joe Boever, a 55-year-old from Highmore. Boever's relatives say he was walking back to the car he crashed in the ditch earlier in the day. 
Highway Patrol, which is part of DPS, is leading the investigation, Price said at the news conference. 
He said the Highway Patrol often asks the Division of Criminal Investigation to help investigate fatal crashes but that wouldn't be appropriate in this case since DCI is under Ravnsborg's office.
"Since they work for the attorney general, we thought that it was in the best interest to ask an independent out-of-state investigative agency" to help, he said.
The North Dakota Bureau of Criminal Investigation has been filling in for DCI's role, Price said. Its agents are leading the interviews of Ravnsborg and other witnesses with the help of Highway Patrol troopers.
DPS is using a third-party crash reconstruction expert from Wyoming, Price said. The expert is John Daly from Jackson Hole Scientific Investigations, DPS Spokesman Tony Mangan said.
Price said Noem directed him to release the investigation, including all relevant 911 calls, once it's complete. He said he doesn't have an estimate for when the investigation will be finished.
We're "all hands on deck" and want a "complete and thorough investigation for everybody involved," he said.
Price said Boever's autopsy was conducted Monday in Ramsey County, Minnesota, since no South Dakota medical examiner was available. The findings are still being processed.
Price said his office has been in touch with the Hyde County State's Attorney Office, which will decide whether criminal charges should be filed. He said he expects State's Attorney Merlin Voorhees to recuse himself if he has any conflict of interest with Ravnsborg. Voorhees did not respond to messages from the Journal. 
Noem did not say if she would like Ravnsborg to take a paid leave of absence during the investigation.
"That has not been an issue that's been addressed yet," she said.
Noem wouldn't comment on Ravnsborg's Monday evening statement and walked away before a reporter finished asking if she has spoken with him since the fatal crash.
Ravnsborg attended the Pennington County Lincoln Day Dinner in Rapid City last Friday and returned home to Pierre around 1:15 a.m. Saturday morning, according to his Facebook post.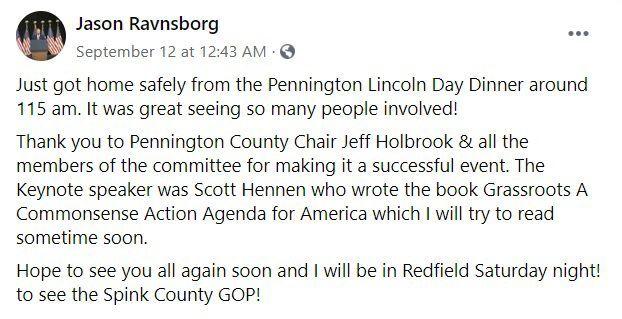 Ravnsborg said he left the event around 9:15 p.m and DPS said he crashed near Highmore around 10:30 p.m. It takes one hour and seven minutes to drive from the restaurant to the crash site, according to Google Maps. Photos by the Argus Leader show the crash occurred on a straight and flat stretch of highway near street lamps and a few businesses. 
Ravnsborg said he didn't drink any alcohol at the event.
"As the first persons there, and the last attendees to leave in the evening, we can personally attest to the fact that (we) did not observe the attorney general consume any alcohol," the chairman and vice chairwomen of the Spink County Republican Party wrote on the group's Facebook page. We "offer our prayers and sympathies to the Boever family."
The event was small and attendees sat at tables in the restaurant, according to photos posted by the group. 
Ravnsborg said he hit what he thought was a large animal, likely a deer, after passing through Highmore. He said he immediately called 911 and was met by Hyde County Sheriff Mike Volek, who helped him search the area.
Ravnsborg said his car was likely totaled and that Volek let him drive his personal car to Pierre.
KELOLAND obtained photos of a car that appears to be the wrecked vehicle. It's a red Ford Taurus — the make and model DPS said Ravnsborg was driving — and the windshield glass is broken on the passenger side. The vehicle appears to match a car that Ravnsborg posted about on Facebook and Boever's cousin told the Journal that his friend saw red car parts at the crash scene. 
Ravnsborg said he drove back to Highmore the next morning to return the sheriff's car and stopped by the crash site to see if he could find what he hit. Instead, Ravnsborg and his chief of staff/spokesperson Tim Bormann found Boever's body. They then drove to Volek's house to notify him.
Bormann said Tuesday that he followed Ravnsborg — who he's known for 25 years — to Highmore and gave him a ride back to Pierre outside of work hours and in his personal vehicle.
"I went to help my friend," he said.
Bormann said they found Boever in a ditch, but he didn't share any other details about where he was found since the investigation is ongoing. Ravnsborg wrote in his statement that Boever was "in the grass just off the roadway."
It was quicker to drive to Volek's house — who lives less than 1/3 mile from the crash scene — to report the body than to call 911 and wait for someone to arrive, Bormann said.
He said everything about Ravnsborg's report aligns with his experience and that he's been interviewed by the BCI.
Volek did not respond to messages from the Journal.