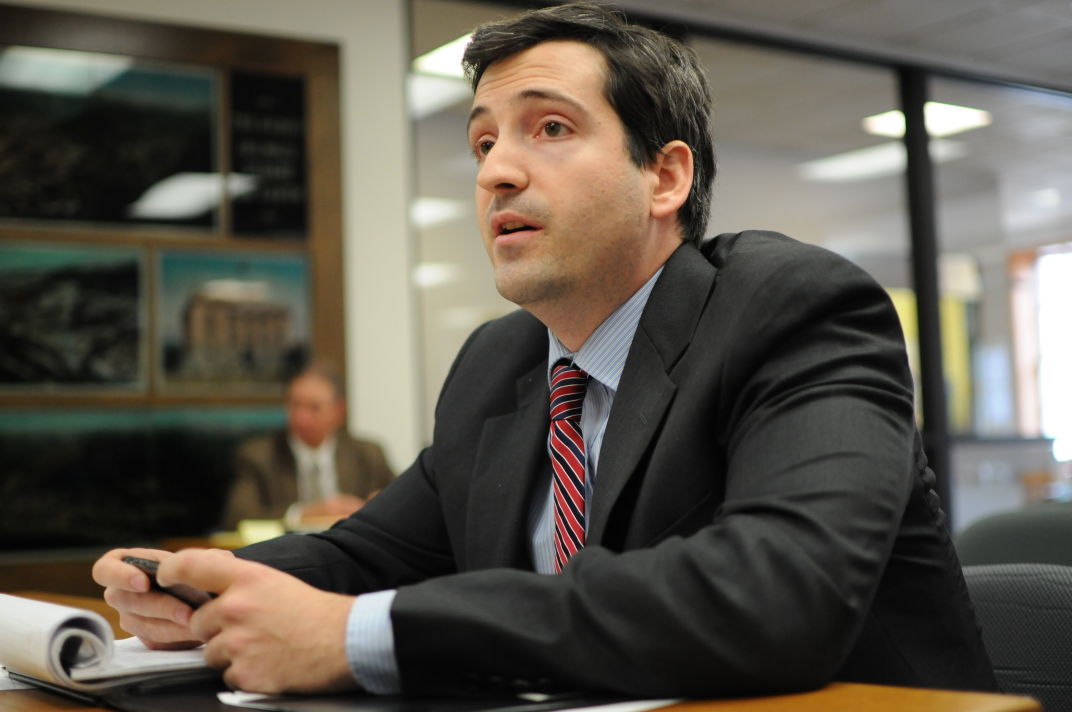 DEADWOOD | South Dakota gaming officials say they don't have legal authority to regulate the fantasy sports betting craze that has swept up millions of players and billions of dollars across the country.
Several members of the state Commission on Gaming and their agency's lawyer said Wednesday the panel doesn't have any legal authority to regulate or enforce fantasy sports wagering on the Internet.
Griffin Finan, a lawyer for DraftKings, one of the national fantasy-sports betting sites, told the commission that betting on fantasy sports games is legal in South Dakota because players rely on skill more than luck. That is the same argument officials from the two major players in the fantasy sports betting industry, DraftKings and Fan Duel, have made in other states like New Jersey that have declared the web sites to be illegal gambling and tried to shut them down.
Finan said he would be willing to work with state regulators if they want input.
"The number of factors that skilled players are considering is enormous," Finan said. He added, "Chance is not the predominant factor in the outcome of a fantasy sports contest."
Finan works in Washington, D.C., for Boston-based DraftKings. He said Wednesday he also was representing FanDuel, and the Fantasy Sports Trade Association.
South Dakota law currently bans using the Internet to place wagers. State Attorney General Marty Jackley said Friday he would wait until the gaming commission held its discussion before deciding how he might proceed.
Roger Tellinghuisen, a lawyer representing the Deadwood Gaming Association, told the commission casino operators believe fantasy sports betting should be regulated and would work with the commission to develop regulations.
New York Attorney General Eric Schneiderman has banned the sites from operating in that state because he has said they constitute illegal gambling. A Yahoo-based fantasy betting platform was added to the ban this week; the two main betting sites have filed court paperwork for a restraining order to overturn the ban until legal arguments can be sorted out.
Earlier, a New Jersey congressman questioned the legality of the gaming sites and has called for a congressional hearing to examine them.
So, the legality remains an open question, said Tellinghuisen, who was state attorney general when Deadwood gambling became legal in 1989.
"There are other forces at work that ultimately are going to determine that," Tellinghuisen said.
Finan said estimates based on DraftKings and FanDuel information indicated about 25,000 people in South Dakota were playing Internet fantasy football at the start of the 2015 season this fall.
Larry Eliason, executive secretary for the commission, estimated that approximately 23,500 people were playing, based on published national estimates. An estimated 16 million people play the games nationally, according to published reports. The two sites have spent millions on advertising during nationally televised sporting events and have paid big money to sponsors.
Bets are also known as player fees. Eliason estimated there has been about $2.5 million spent in player fees. If those were bets placed in Deadwood, the state would collect about $22,500 in taxes.
"We're kind of in the ether here. We don't have jurisdiction," said one of the commissioners, Harry Christianson of Rapid City. "There's really nothing we can do that would assist you or harm you, frankly."
Christianson said reasonable people could come to different conclusions whether Internet fantasy-sports betting constitutes gaming. To be decided is whether the money placed by a player is a bet or an entry fee, he said.
"A court is going to have to make that determination, ultimately," Christianson said.
"Well put," replied another commissioner, Ralph "Chip" Kemnitz of Phillip.
Eliason said two of commission's five members had asked him to develop a background paper and put the topic on the meeting agenda.